With the evolution of the smartphone and the increasing adoption of smart devices, people are relying less on traditional paper guides and maps. Instead, they prefer to use online tools to find information. Google discovered this trend and saw an opportunity to provide more relevant search results that appeal to this new digitally driven audience.
Google Discover was born in 2011 and was originally a small project inside Google Labs. The idea behind it was to dig deeper into a user's interests and hobbies to provide highly relevant results when they enter a search query.
Since then, Google Discover has evolved into a complete digital magazine that covers a diverse range of topics from lifestyle to culture. It is now available as a standalone app and as a feature within Google News. Launching Google Discover inside your News app is a great way to have a steady stream of fresh content at the tips of your fingers.
While Google News is a reliable source of news content that brands can use to inform their stories, consumers may find that Google Discover is a more engaging experience.
Simply put, it's a feed that delivers content from various websites and platforms regularly to your Google app or webpage. As the name suggests, Google Discover is designed to be user-friendly and intuitive. It is a great choice for those who want to stay abreast of what's new without having to sift through hundreds of blog posts or articles.
The fact is, we live in a world that is constantly evolving, and so is the way we consume content. What was popular last year might not be so this year, and vice versa. With this in mind, it's essential to stay up-to-date with the news to have a better understanding of what is going on in the world.
But where do I start? How can I stay informed without having to resort to reading hundreds of blog posts daily?
The answer is straightforward – subscribe to newsletters or follow certain social media accounts. While these options allow you to stay informed without getting overwhelmed, they don't exactly fit the bill when it comes to consuming content on the go, especially when travel and tourism is one of the industries that rely heavily on the internet to reach potential customers.
What if there was a way I could get all the breaking news stories and the latest trends in travel and tourism without having to spend a fortune on newspaper subscriptions or pay for a monthly travel site subscription?
The answer might lie in the palm of your hands, thanks to the evolution of mobile search and the rise of voice search. Now, through the use of speech recognition engines such as Google Speech API, it is possible to have your smartphone or tablet read out content to you in the form of a text-to-speech message. So rather than having to open up a digital newspaper on a small screen, you might be able to have the news read to you by machine!
This is where Google Discover comes in, providing a solution that is completely optimized for mobile users looking for news on the go.
The App
If you've used Google News in the past, you'll know that it's a great way to quickly access the stories that matter to you. You get content tailored to your interests and, because it's curated by human eyes rather than an algorithm, you get a nice variety of content to choose from. If you love history, you'll get to read about recent news stories related to world history or the history of your country. If you're an avid reader, you'll enjoy using Google Discover as an excuse to read books or watch TV series that you might not have time for otherwise.
Inside Google Discover, you'll find articles, blogs, and videos covering a range of topics from technology to media to arts and culture. These are engaging topics that hold great interest to many people, so it's no wonder that Google saw this app as a potential flagship product.
With over 40 million downloads globally, Google Discover is one of the most popular apps in the RSS reader space. This shows just how much consumers enjoy the content that is highly relevant to their interests.
The Audience
Based on consumer research, we know that people want information that is relevant to them. According to HubSpot Blog's research, people expect the content that they consume to reflect their interests and lifestyles. However, content that is created and published without any consideration of the target audience tends to perform poorly.
When creating content for digital consumption, it's essential to consider who you are writing for and what they want. If you want to hit a chord with your audience, produce content that they can relate to. For example, if you are a fashion publication and your audience consists of women, ensure that the content that you put out reflects a female perspective. Don't simply regurgitate what other publications say about the subject matter – consider what makes your readers tick and write for them.
If you want to grow your platform, develop a blog that is as engaging as possible. This way, you'll gain followers and eventually, a following.
Consider the audience when developing ideas for new content, whether this is a blog post, an article, or a vlog. In today's ever-changing digital society, your content will only ever be as good as your audience perceives it to be. Creating engaging content is a great way to build credibility and gain trust – as long as you do this with honesty, you will gain popularity and inspire confidence in your content.
An Open Platform For Travel and Tourism Innovation
At first glance, Google Discover might not seem like a unique product. After all, we've seen many similar apps and websites built around the idea of aggregating content from multiple sources into one place.
The difference is that Google Discover is open to all. While most news apps and websites are closed systems, designed to provide content exclusively to users within the app or site, Google Discover is an open platform that allows anyone with an internet connection to create a custom feed.
As a result, you could potentially tap into an incredible pool of content that is not restricted to just your travel and tourism industry – including business, sports, entertainment, and more. This ensures that you always have access to the most relevant content regardless of your area of interest or area of expertise.
Easier For Everyone To Find And Follow
An important feature of Google Discover is that it makes it much easier for people to find and follow the content that they want. Because it aggregates content from a variety of platforms and sources, you will see that there is a lot of content to choose from. This in turn makes it much easier for people to discover and follow the content that they find interesting.
Another nice thing about Google Discover is how it's evolving. Like many other products developed by Google, the app is always trying to understand what users want and need by constantly making improvements and innovating. As a result, you will always see new features and improvements as the app evolves.
By integrating with other services such as TikTok, which is owned by TikTok co-founder and CEO Joe Lubin, CoinFox, and others, Google Discover can gain even more value and become an even more useful tool for its users.
Faster Updates
Since Google Discover is constantly evolving and adding new features, it means that news articles and blog posts are always being updated. As a result, you will always see that fresh content is being added regularly.
This is especially useful for those who want to stay informed about breaking news stories that could have significant implications for their work. For instance, if you're an airline or a travel agency, you might want to know as soon as possible about the latest restrictions or regulations that could affect your industry.
More Engagement With Content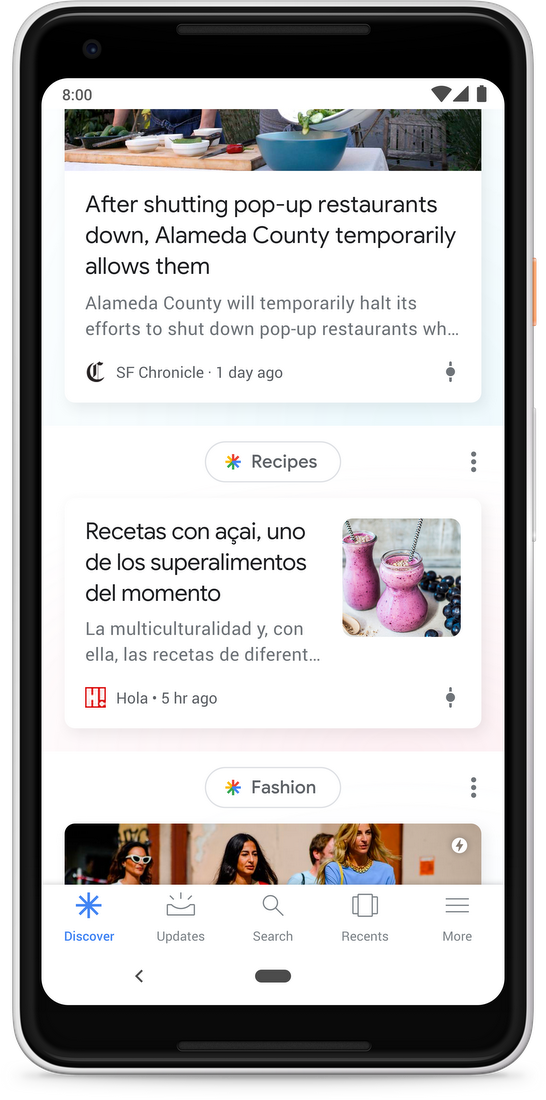 Another important aspect of Google Discover is how it engages with its users through the content that they discover and follow. As previously mentioned, Google Discover aggregates content from various platforms and sources, so it follows that you will see a lot of different types of content alongside each other. This is meant to encourage more engagement with the content that users discover.
This is something that Facebook and other social platforms have started experimenting with as well. For example, if you follow the travel blog of a solo travel entrepreneur on Instagram, you will see that they often post a link to an interesting article about travel in a foreign country. More and more, we're seeing businesses partner with media and digital influencers to gain credibility and authority in their chosen fields.
By encouraging more engagement with content, Google Discover is hoping to eventually drive more business and website traffic to its users' blogs and websites. In theory, this could potentially lead to increased revenues and a better chance of boosting a brand or business.
Boosting User Engagement
The fact is, not everyone who uses Google Discover comes back time and time again to check out the latest news stories. Instead, some people might explore the app's features or follow an interesting piece of content without having to commit to regularly checking in on the app.
This type of active user behaviour is known as "sticky" or "sustained" content. When it comes to travel and tourism, it is essential to understand the different ways that people are engaging with content daily. For example, if you are using a travel blog platform, you will want to know how much time and effort the blogger puts into their content on a day-to-day basis. This way, you can decide if their content is worth pursuing or trying out.
Similarly, if you're a brand or marketing agency, you might want to look into whether or not a travel blogger is using their platform to promote your product. As mentioned, engagement with content is a two-way street, and it can often be difficult to gain traction without any reciprocation. However, with the right tools, it is possible to track and measure all types of user engagement, including clicks, comments, and shares to get a better idea of how well your content is performing.
A More Effective Learning Environment
One of the things that research has shown is that learners absorb information better when it is presented in short, interesting videos. The reason behind this is that watching short videos takes less time than reading lengthy articles. And thanks to the popularity of TikTok, we now have a wealth of short-form videos that can be used to educate and entertain audiences at the same time.
This is why, instead of simply reading an encyclopedia to learn about the Renaissance, you could watch a couple of minutes of Tudor Bedding Patterns and then move on to something more informative. When it comes to travel and tourism, short-form videos can be an incredibly effective tool for learning about different cultures, meeting residents, and getting a peek behind the scenes of what makes a destination unique. Thanks to the internet and the rise of TikTok, we now have an entire digital landscape that can be used for educational purposes.
More For Everyone
In a world that is rapidly evolving and changing, it's important to have a wide variety of content to choose from. As the internet, social media, and digital technologies continue to evolve, so do the methods by which we consume content.
Thanks to Google Discover, we have an open platform from which anyone can easily create their custom feed that includes all the content that they want. This way, everyone – regardless of area of interest or industry – can benefit from an endless stream of content that is constantly updated with the most relevant news stories and digital innovations.
Features Of Google Discover
If you're planning on using Google Discover, you'll notice that it's quite similar to the Google Play Store. The app stores a wide array of games, popular movies, books, and more. And since it uses the same search engine that the Play Store does, you're going to have access to thousands of apps and games that are available for download. If that's not enough, Google Discover also has a daily deal section that compiles all the major discounts from various businesses.
So basically, if you're looking for an app or game store, you're going to find everything you need in Google Discover. And if you're looking for content, you can also find all the popular articles, books, and other such content in one place.
User Interface Of Google Discover
Since Google Play Store and Google Discover are such popular apps, it's no surprise that Android users prefer them over other mobile search apps. And you'll quickly realize that this is because of the user interface. When you open either of these apps, you'll notice that there's a Cover Feed at the top of the screen. This is where all the content is displayed, and it's similar to the Twitter stream.
Below the cover feed, you'll see a list of cards. These are similar to stories you see on social media sites like Twitter and Instagram. When you tap on a card, you'll see a short video explaining the contents of that card.
The beauty of this interface is that it's very easy to use. Even if you have no previous experience with mobile phones or touchscreen devices, you'll find navigating the app quite a breeze. Since everything is visible on the screen and there are no complicated gestures required, you'll have no trouble using the app even if you're on the go. This is one of the big reasons why Android users prefer Google Discover over other apps.
Security And Privacy Of Google Discover
You might be wondering if there's any security risk involved with using Google Discover. After all, the app provides easy access to your personal information, and since it's popular, you may be wondering if this is where your data is going. The short answer is no, there's no known security risk. But like with all finance/risk-related questions, you should consult with a financial advisor before making any financial decision.
As for privacy, Google Discover is quite a safe app to use. The company makes sure to always comply with the new data privacy laws in place. This means that they never really store your personal information or sell your data to third parties. Even more impressively, Android users give the app 4.5 stars on average, which is higher than any other app on the market. So clearly, Google puts a lot of thought into ensuring that its users are kept safe and informed about what data is being collected and how it's being used.
Recommended Apps That You Might Not Know About
When we talk about security and privacy, we often think about big tech companies like Apple, Google, and Facebook. While those companies deserve our attention and concern, dozens more companies deserve our consideration when it comes to keeping our data secure and private. Some of these companies might also give you a discount if you use their services while applying for a mortgage, student loan, or other financial products. That's one way of keeping your data secure and private without ever leaving the app!
Here are just some of the dozens of companies that you might want to check out:
Allianz
AXA
Credit Suisse
HSBC
Laurence Perkins
Lloyds Bank
Mercantile Investments Limited
NHS England
Norwich Union
Sumitomo Mitsui
Takeda
Wells Fargo Bank
And, if you use an iPhone, you might want to check out these apps as well…
Where Can I Go From Here?
Hopefully, you now have enough information to decide whether or not to download Google Discover. If so, feel free to do so, but also make sure to read our best practices guide on how to install an Android app if you're using Android devices. And, if you found this article interesting, be sure to read our best practices guide for Installing Apps effectively if you're using iOS devices.