What's a WordPress Page Builder?
A WordPress page builder is a WordPress plugin that enables you to create, customize, and edit website layouts and landing pages without writing a single line of code.
They're the reason it's possible to be a developer in the modern era with no coding skills.
You don't have to be really nice with codes to earn the title of  Website Builders. Gone are the days when getting a single site up meant spending a couple of sleepless nights working around crude codes. Nowadays, even the most inexperienced web developers you know can easily create a stunning website with little to no strain on their part, and it's all thanks to the magic toolboxes that are Website Builders.
What was once limited to only professional web developers can now be accessed by anyone. In point of fact, there are loads of stuff that you can easily achieve with a simple web builder that even professional web designers can't get their hands around were they to even try.
The only question is, which among the long list of web builders best guarantees you smooth web development results? Which one among the bunch you're likely to find online offers the best web development solutions?
Well, these posts aim to get everything in the clear by helping you choose a fitting web builder for your website. It does this by focusing on the pros and cons of the best available builder options out there.
---
Top 13 WordPress Page Builders
It used to be that when you want to build a website, you first had to learn how to code.
Well, those days are far behind us now.
Hiring a developer could still have done the trick, but we all know how costly that can be.
Then came page builders, simple tools that made it possible to build professional WordPress sites cheaply on your own without laying down a single line of code.
With a page builder, the contact page is the easiest page you can create. 
Let's get one thing clear: a page builder isn't limited to beginners only. They accommodate developers of all skill levels to design professional websites, by:
Helping them build custom web pages with no coding skills

Enabling them to customize complex features and elements on your website with just a few clicks

Including a drag-and-drop functionality, for arranging different page elements on your screen exactly as you'd want to see them

An option to preview how your website will look like after you publish it
That explains why when choosing a page builder, your focus should be on two key criteria: 
Their collection of elements and features to add to your website

User-friendliness
With that out of the way, let's look at 13 WordPress Page Builders that fit the two bills:
1. Elementor
Link: https://elementor.com/
Price: Free and $49 for their Pro Version
This is the most popular WordPress page builder, boasting a 5-star rating and more than five million active installations. 
The plugin can be downloaded for free, but it's better to go with their paid version, which comes with more customization options and free support. 
One of its key features is instantaneous support. That means, with every new tweak you make, the changes appear instantaneously in a preview screen. 
That way, you get to see how your website will look after you've made all the changes. Better, every change will be logged and detailed on a history page, just in case you'd want to revert anything or end up making any error. 
Why Use Elementor?
Elementor is everything you're looking for in a WordPress page builder plugin. 
Featuring over 80 design elements (including a widget for generating traffic and leads), the plugin allows you to customize any part of your website just by clicking on it).
The plugin also comes with readymade templates that you can easily import and get your site up and running in a matter of minutes. All that's left for you to do is utilize their drag-and-drop feature to customize everything.
---
2. Divi Page Builder
LINK: https://www.elegantthemes.com/gallery/divi/
Pricing: $89/Year
Divi Page Builder is another popular WordPress page builder with a built-in drag-and-drop feature.
Similar to Visual Composer and Beaver Builder, Divi is a true WYSIWYG editor that displays the tweaks and changes you make on your website in real-time. 
The plugin allows you to customize every aspect of your website, including your website's fonts, colours, spacing, and sizing, all to create a unique page layout. 
The plugin comes with 46-page elements to play around with or directly add to your website.
Why Use Divi Builder? 
Divi builder is one of the easiest page builders to use. 
It can also work with a majority of page builders on the market. 
It comes with 20 pre-made WordPress templates that you can easily import and get your design running. 
What's more? You can save the Divi layout you create and even export them to a different site to use. 
While the Divi builder is the foundation at which the popular Divi Theme is built, the plugin can work with any WordPress theme out there. 
Moreover, buying this plugin gives you access to the whole enchilada of premium products from Elegant Themes, the company behind Divi page builder.
---
3. Brizy
Pricing: They have a free version and a pro version, which goes for a once-off fee of $231. While this may appear expensive to some people, you have to remember that you're not paying for a subscription, but paying to access all their features and updates for life. 
Brizy is the newest kid on the block.
The builder was developed by ThemeFuse, the company behind dozens of popular WordPress themes.
Their focus has always been to make the web design process as hassle-free as possible for those who can't code.  
Why Use Brizy?
Here are a few reasons Brizy stands out as one of the best page builders on the market:
Their licensing for presale version. 
You pay a once-off fee and get lifetime access to all their features and future updates. 
Works with All WordPress Themes
There isn't a specific theme that the builder has to work with. Meaning, it can work with almost any WordPress theme on the market.
They have one of the most intuitive UIs you'll ever see in a page builder – easy to figure out and work with.

More than 150 pre-made drag-and-drop blocks to play around with or incorporate into your page layout

An autosaving feature that automatically saves your changes. Meaning you won't be losing anything, unless otherwise

They have an active Facebook for interacting with other Brizy users and exchanging ideas
---
4. Visual Page Builder
Link: https://motopress.com/products/content-editor/
Price: They have a free version. Their premium version starts at $39. 
Visual Page Builder might not be as popular as the other page builders on the list, but it's just as good as any of them, if not better.
It's affordable (at $29), and can work with any WordPress theme you dare throw at it. 
The plugin comes with dozens of ready-made themes and an intuitive multilingual interface that's easy for anyone to figure out. 
Their developer's bundles give you access to lots of premium add-ons, including:
A count-down module

Google Maps

Image Hotspots

Professional contact forms

A countdown module

Video sliders

White-labelling support

A WooCommerce add-on
Why Use Visual Page Editor?
It's one of the cheapest page builders on the list.

It's one of the best real-time, frontend page builders. So, if you're not interested in the backend editor, then it might make the best page editor you'll ever come across.

Dozens of pre-made themes to choose from

Multisite compatible
---
5. Site Origin Page Builder
LINK: https://siteorigin.com/page-builder/
Pricing: They have a free version. Their premium version goes for $29. 
Site Origin's page builder comes with both a free and paid version. 
All you need to do is head over to the official Site Origin website and download the plugin for free and without providing your email address.
Their widget bundle comes with modules for headlines, Google maps, price tables, image grids, and post carousels, to name a few.
It's a simple drag-and-drop page builder, built using grid-based technology. The plugin can also be integrated with third-party widgets.
They have both a frontend and backend editor, both of which work by moving the different elements around. 
 Why Use Site's Origin's Page Builder?
A smooth page builder with dozens of free widgets to take advantage of

They have an active forum and all the supportive documents you need to fix any issue you encounter while using the page builder

Live previews of the changes you make, for both the frontend and backend editor

A simple, sleek toolbar that's easy to figure out. The learning curve isn't steep

Integrates with third-party widgets and themes
---
6. SeedProd
LINK: https://www.seedprod.com/
Pricing: $39.50 for their single site licence
SeedProd is one of the best page builders to ever exist. In my opinion, it's – by far – one of the best WordPress page builders on the market in terms of speed and ease of use.
First, they have more than 100 ready-made themes to choose from. Alternatively, you can create your own customised layout using their simple, drag-and-drop page builder. 
It goes without mentioning that they have ready-made themes for sales pages, landing pages, webinar registration, coming soon pages, 404 errors, and so on. 
Better, the page builder was designed with speed in mind. Meaning, if your site happens to load slow, then it won't be because you chose this page builder. 
Why Use SeedPro?
Comes with a smart page building system. It's designed to save you from doing the same thing over and over again. In other words, the page builder is here to help you save your time.

It has all the page building blocks and elements you'd expect to find in a premium page builder – social profiles, all kinds of content blocks, countdown times, contact forms, and more. 
Some of the blocks even come with premade themes that you can use to speed up the design process or check out for inspiration in case you get stuck
Allows you to customise almost every aspect of your website

Easy to use and figure out
---
7. Beaver Builder
LINK: https://www.wpbeaverbuilder.com/?fla=172
Pricing: $99 for an unlimited number of websites. No free version
Beaver Builder is another popular WordPress page builder.
It features a live drag-and-drop interface that lets you see the changes you're making in real-time. 
You can edit any of your website's elements by simply clicking on it. 
It also features modules for almost everything you can imagine, including carousel, sliders, content blocks, backgrounds, buttons, and more. 
Also featured in the page builders are 30+ premade templates that make it super fast and easy for you to design stunning website layouts and landing pages.
Why Use Beaver Builder?
Beaver Builder is compatible with the WordPress Gutenberg editor. 
The plugin also comes with 30+ ready-made themes and templates that you can use to set up a fully functional WordPress website within minutes.
So many web design agencies use this page builder to design websites for their clients.
---
8. GeneratePress
LINK: https://generatepress.com/#learn-more
Pricing: They have two pricing options:
$59/Year, which gives you one year access to all their premium features and a year of updates

A Once-off fee of $249, which gives you access to all their premium features and lifetime updates
Generate Press is a free WordPress theme with a simplistic drag-and-drop page builder.
If you're a beginning WordPress developer, looking for the perfect page building solution, then look no further than GeneratePress. 
So, Why Use Generate Press?
Generate Press is a simple and lightweight theme, with lots of raving reviews from users. It has beautiful layouts for blogs, landing pages, sales pages, and business websites. 
They have clean and modern themes for absolutely any type of market you can think of. 
All the editing will be conducted via WordPress's live editor. But upon opting for their premium version, you'll be granted access to all their modules and addons, including sections.
---
9. Gutenberg
LINK: https://www.kadenceblocks.com/
Pricing: $59/Year
The Gutenberg is a drag-and-drop block editor built by Kadence. They have Kadence blocks, which makes the editing process a snap. 
For example, their row layout-block allows the user to control the size, number, and column's content. They can also be used to adjust the mobile and desktop layouts to make your website responsive. 
The Kadence blocks consist of 12 custom blocks, including gallery, heading blocks, and icons. The heading block allows you to customise the fonts on the heading.  
Why Use Gutenberg?
It comes with 20+ pre-made themes to choose from. The only thing left for you to do is add your content and tweak the themes to your preferred colour scheme and style.
With their premium version, you'll be granted access to premium features on-scroll animation, product carousel, and premium support.
---
10. Live Composer
LINK: https://livecomposerplugin.com
Pricing: It's a free plugin. However, to access restricted features, you'll be required to purchase their extension package, which ranges from $49 to $99. 
Live Composer features an easy-to-modify visual composer. 
It's a feature-rich page builder that enables the user to create portfolio projects, landing pages, news sites, and galleries using the drag and drop approach.  
The editor operates likes a blank canvas, with lots of pre-made themes to help you get started with your page building process.
Their editor is Gutenberg-compatible. Meaning it can work with the WordPress editor. 
Why Choose Live Composer?
Live Composer supports responsive design. So, you can bet your web project is going to look across devices. 
It's also an open-source plugin. Meaning, it can be customised at the code level to fit your unique design needs.
It's also one of the easiest page builders to download and use. 
However, to access restricted modules such as Google maps and advanced animation, you'll be required to purchase their extension pack.
---
11. Thrive Architect

LINK: https://thrivethemes.com/architect/
Pricing: $19
Thrive Architect is a premium WordPress page builder primarily designed for business websites. 
It features pre-made conversion elements and modules, such as countdown timers, lead generation forms, and testimonials. Better, their lead generation forms can be integrated with the various marketing tools.
What's more? It has dozens of features for creating high-converting homepages and landing pages, including social share icons, opt-in forms, and a gallery of posts. 
Why Use Thrive Architect 
It's the cheapest page builder on the market, at $19 only. 
They have four different page layout options to choose from: blank, landing page, normal, and blank with header and footer. 
A normal page layout has a theme template that you can modify in case you don't want to start from scratch. It's a great option for creating common pages, such as About Us, Pricing, and Services. 
The blank page layout makes a great option when you're looking to create everything from scratch. 
Note that they have more than 270 pre-designed templates to choose from.
---
12. Enfold
Price: $59
Link: https://themeforest.net/item/enfold-responsive-multipurpose-theme/4519990
Enfold is one of the most versatile page builders you'll ever come across online. 
It's a responsive, multipurpose and super-flexible page builder with lots of customisable features.
It's an ideal page builder, especially for creating shop and business style websites. 
 Why Use Enfold?
It's a great page builder for creating incredibly mobile responsive websites, especially since it lets you customise everything – from colour scheme and element position to image height. 
It's a top-rated page builder and a great choice of a website builder for a photographer that wants to showcase their work online.
---
13. Themify Builder
LINK: http://themify.me/builder
Pricing: Free, $39 for their Addon Bundle
Themify Builder is a simple drag-and-drop page builder that doesn't necessarily have to work with the Themify theme. Meaning, it can work with almost any WordPress theme on the market. 
The theme comes with a wide collection of WordPress drag-and-drop modules and 40+ professionally designed themes to choose from. 
They also have an option for editing your themes from the frontend or backend. Either way, the editing process remains pretty much the same. You can freely move the different modules around and customize them however you prefer. 
Why Use Themify Builder?
Themify is a free WordPress page builder. Their add-on bundle is also priced fairly (at a once-off fee of $39). 
The builder comes with 60+ animation effects that you can use to make your website more visually engaging. 
---
What Factors Should I Consider When Selecting a Website Builder in Singapore
A website is one of the most important tools for doing business today, and you need to choose a website builder in Singapore that you can work with.
While choosing a website development agency seems like a more straightforward choice, building the website on your own will add to your competencies.
Besides, you do not want to rely on somebody else to fix your website related problems every time something goes wrong. Finding the best website builder in Singapore is not a problem faced by beginners only, but experienced developers usually go through a lot of trouble to find the best one for their needs.
For this reason, we will look at the factors you should consider when selecting a website builder in Singapore.
Website Builder Options In Singapore
Before we look at the factors to consider when selecting a website builder in Singapore, we will look at the options available today. For starters, some website builders require that you pay, while others are free.
Both free and paid website builders have their merits and demerits, which makes it necessary that you research and find the right website builder in Singapore for your brand. These are your website builder options available in Singapore today
Selecting the Best Website Builder in Singapore
The first step in selecting a website builder is in knowing what you want to achieve with your website. This includes establishing goals, such as selling your products and services, having a blog to share content in your field, and so much more.
Check out what your competitors are doing with their websites if you are unsure of what to do with the website. With that said, consider these factors when selecting a website builder in Singapore
If website development in Singapore was easy, everyone could be doing it. However, since it is not, many website builders offer drag and drop user interfaces to help novices and armatures build their websites.
The website builder should allow you to move around elements to create a unique website design. On top of this, you should consider a website builder that offers you growth options.
This is in line with the fact that as your brand grows; you will need to add pages, blog sections, make regular updates, and more. You also need to choose a website builder that has easy to understand tutorials on how to build a website.
Coupled with the builder's usability you need to consider the quality and quantity of the design templates. This will help you in creating a visually appealing website design in your niche. With that said, there are several aspects to consider in web design.
For one, you should consider the responsiveness of the template. By this, we mean that users can access your website from any device without having to pinch the screen or zoom.
This is especially important since Singapore is one of the leading countries with the highest smartphone penetration rate in the world.
A majority of your website traffic will be from search engines, and for this reason, you need a website builder in Singapore that will help you build an optimized website from search engines.
While there are some SEO activities that you can undertake on your own, the website builder ought to ensure that search engine crawlers can easily index your website.
The truth is that you will end up spending a lot on web development, and you do not want to go with an expensive website builder that does not meet your standards.
The good news is that most website builders will offer you a free trial period.
During these trials, you need to ensure that you try out the different features of the website to ensure that you get your money's worth.
With that said, the free trial period should be long enough to accommodate your tests, say 30 days at least.
Cybersecurity is a huge concern today in Singapore since over 90% of the population access at least one website ion a day.
However, reports indicate that there are at least 30,000 websites hacked every day, and for this reason, you need a website builder that offers a high level of security.
You should be on the lookout for SSL certificates, firewalls, and more to keep hackers at bay.
The worst that could happen is that your website could be used to spread malware. Google and other websites will add you to a blacklist, which is very difficult to leave once you have your affairs in order.
While you might have tens of reasons for building a website in Singapore, whether it is for it to act as an e-commerce platform, or blog, the last thing you want is a platform that limits your online activities. Ideally, the website builder in Singapore ought to offer you the necessary inventory space and bandwidth, which allows you to operate without limitations.
Many website builders in Singapore allow you to increase the amount of storage, but you need to be sure that it is available. This comes in handy when you want to expand your e-commerce section or photo gallery section without any hindrances to the amount of content you can upload.
This is a crucial aspect of owning a website since you need to ensure that users can access your website 24/7, especially with the advent of cloud hosting.
Web hosting can also be a nightmare and you need to ask or consider some very crucial pain points such as the type of web hosting facilitates that are provided to you as well as how you will contact them in case the website is down.
On top of this, you need to know how easy it will be for you to change web hosts. The process should be seamless and your visitors should not know that you changed hoists at any one time.
You could always hardcode your website, or hire a web development agency in Singapore, but why go through the trouble when you have a multitude of options? We hope that the options above and the points on how to choose a website builder in Singapore will set you on the right path to creating your agency.
However, creating a website is not easy and sometimes, a professional-looking website created in record time is what you need. Contact us today for web design services in Singapore today. Our team will walk with you along the web development journey and incorporate your suggestions.
---
What to Look for While Choosing a Suitable Builder for Your Website?
If you're looking for a simple website, with a substantial count of fancy features, then there's no need to hire a web developer – what you need is a few hours of your time to work around a web builder and create your own site.
All a simple site needs is a gallery, a spot to include text and video content, as well as a smorgasbord of other simple features. This works for a restaurant website, law firm website, news portal, membership site, and any other similar website.
However, before we get down to comparing different website builders, it's widely recommended that you come up with a list of things you wish to see on your website. It's also important that you try to list down your goals and all the features you wish to see on your site.
For instance, consider writing down if by any chance you expect your site to feature a photo gallery, blog section, reservation system, online store, slider, and a contact form to name a few.
Another trick would be to check out the site belonging to your competitors and pilfer out some of their ideas or to draw some meaningful inspiration from.
A great majority of the web builders you're likely to stumble across have a simple drag and drop user interface. This allows you to just move the different elements around to their ideal spot or until it matches the design you have in mind.
For some, you're allowed to access some of the premium features on the trial version before you make the final decision to pay for it.
It's also important that you reconsider your growth options. Are you planning on making regular features in the future? Will you be needing a blog section? If so, how do you want it to show on your home page? Or you could be planning on selling some of your products on the site. If so, how do you plan to go about it?
By answering these simple questions, you'll be able to decide which builder best addresses your business needs.
That being said, let's zone into a top list of web builders on the market today, together with their pros and cons.
Read this bearing in mind that this list is meant to help you make an informed decision as to the builder to choose while working on your own site:
WordPress.org is a self-hosted Content Management System that's has grown to be one of the leading and most popular website building platforms, powering upward of 28% of the websites you know.
It's worth noting that WordPress is served in two versions i.) WordPress.org and WordPress.com. This section of the post focus on WordPress.org.
WordPress.org is ranked atop in our list of web builders and it's all for a list of good reasons. Core among them are its popularity, scalability, ease of use, and the large number of powerful features it supports.
Also worth mentioning is that the CMS is offered gratis. It's also an open-source web builder that grants all the control to you. Meaning you have total power to work around it and customize it any way you see fit for an entirely new design and functionality.
To get started with self-hosted WordPress, there're two things you can't afford to miss: i) a hosting account and ii) a domain name for your site or blog.
Pros of Using a Self-hosted WordPress
With WordPress, there's no limit as to what you can do with the content management program. In which case, you can literally pull any kind of website on the CMS – from running an e-commerce store and a social network to developing a community forum and membership site.
Even better, the platform is loaded up with thousands of different pre-made themes that you'll only be installing and customizing a few of its features to get your site up and ready for use. Within it, there exists a number of page builder plugins such as Visual Composer, Elementor, Divi, and Beaver builder that you can use to customize your selected theme for an inimitable design, coming second to no other site out there.
To extend your site's functionalities or add new features, all it takes is for you to install a relevant plugin and you're good to go. Good thing is that the CMS offers more than 50, 000 plugins that you can use to incorporate new features and boost the site functionalities.
WordPress is offered at absolutely zero cost. But that's NOT to say you'll be setting up your site without spending a penny.
First, with WordPress, you'll be required to purchase some hosting space and your site's domain name – where domain name will cost you about $15 a year and a good hosting just about $80 a year. So in total, you're expected to shell out close to $100 every year to keep your site up.
---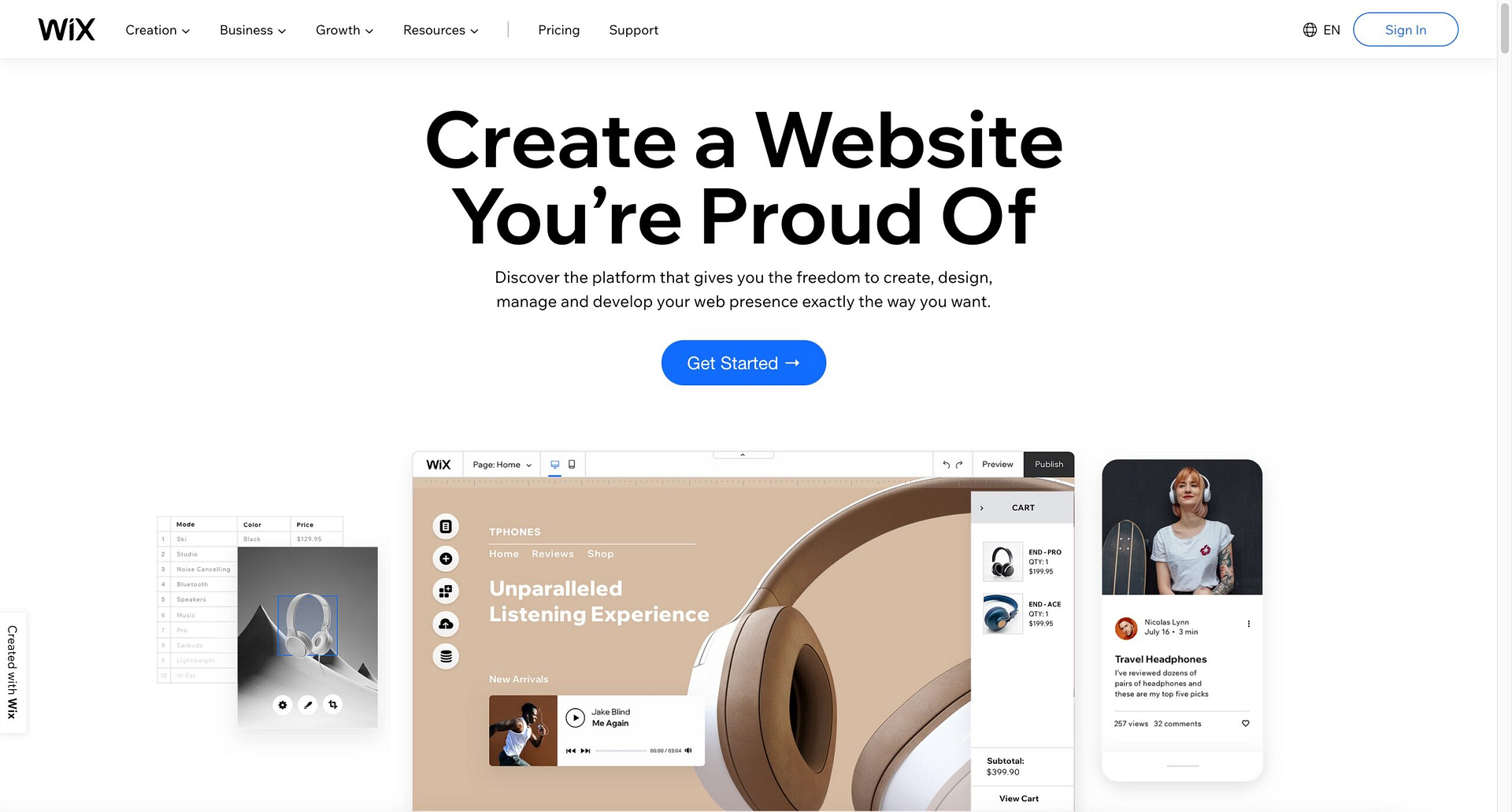 Wix is a world-renowned cloud-based web builder, powering a good chunk of sites filling up the World Wide Web. Designed to offer ease of use, coupled with a broad range of powerful features, the platform strives to make web development simple enough even for those with zero coding skills.
Pros
Wix is a fully hosted platform. Meaning you won't be paying up to host your site on the platform. You'll also be granted access to hundreds of different templates to choose from. Even more interesting is the fact that each template can be fully edited and customized using a simple drag and drop page builder.
Free and Paid Apps
Also offered are a long list of free and paid application that you can install with a single click of a button and get to add even more features and functionalities to your site. And while some of these apps are created by Wix, quite a good number of them are designed by third-party developers.
Free Plan
Wix has a free plan, which comes with limited storage and bandwidth. This plan works best if you're looking to test drive the builder before you can go ahead and shell out your hard-earned cash for their premium version.
The free plan doesn't however include a domain name. Meaning in case you settle for their free plan, your site will come out as a subdomain of Wix (in other words, with wix.com as an extension of your site). So just in case, you decide to call your site xxxxx, then the free plan URL for your site will be xxxxxx.wix.com.
Cons
Both their free and domain connect plans will display WIX ads on your site. Which is to say you'll be required to upgrade to their unlimited or combo plan to get rid of the ads.
Migrating your site from WIX to any other CMS is a bit complicated — not as easy as WordPress or Joomla.
Compared to WordPress, their price plans tend to be a bit costly. For instance, they'll be charging you $9.16 per month just to let you connect your site to a custom domain. Mind you, you'll still be required to purchase the domain separately, which comes as an added cost.
The platform offers a free plan, which allows you to use a WIX branded subdomain. And just in case you want to change it to your own domain, you'll be required to purchase the domain name elsewhere, and afterward charged an extra of 9.16 per month to link the domain name to your site.
The combo plans charge you $14.95 per month, whereas their eCommerce plan charges you $26.25 per month. Either of these two plans will arrive with a free domain name for your site.
From this, given the option to choose between WordPress and WIX, then WordPress is by far the better option.
---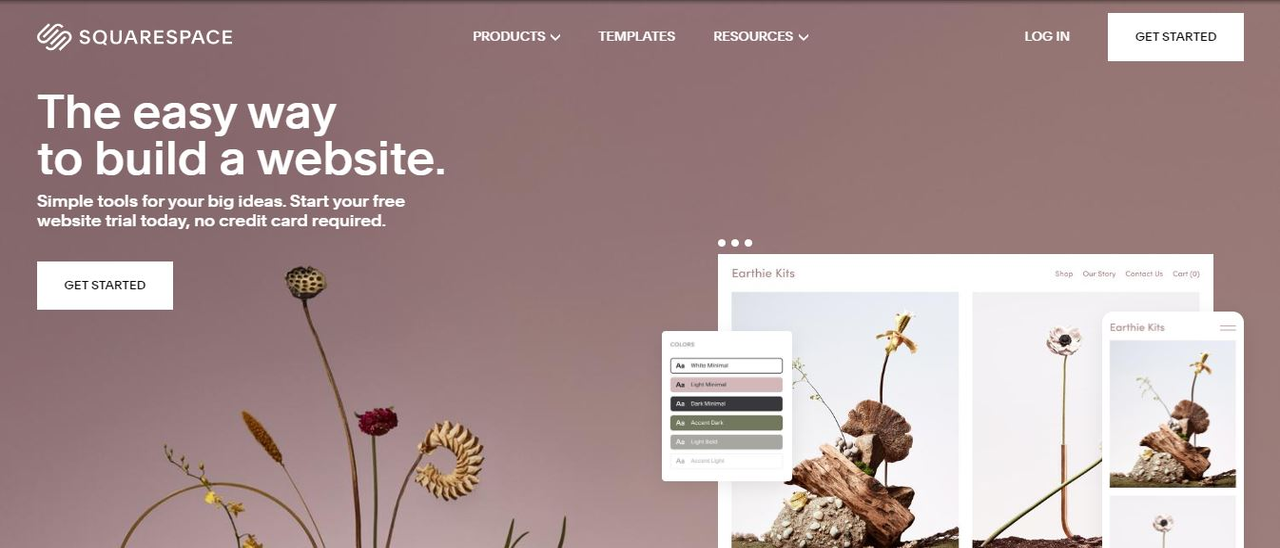 Squarespace is another popular self-hosted web builder well known for its ease of use and great designs.
Pros
The platform features an enterprise-grade infrastructure for site hosting. It's also ranked among the most secure and robust platforms. You can therefore focus on your site entirely as the platform handles hosting and security issues for you.
Getting started on Squarespace is a no-brainer or self-explanatory to put it a little different. All you have to do is visit the Squarespace site and sign up. After which you'll be presented with tons of designs to choose from. With this, you can pick one and proceed to tweak it in anyway you see fit.
Everything on the builder is pretty much editable. You're even allowed to run multiple themes at a go on the same site.
Nothing is complicated when it comes to adding content to your Squarespace site. All you have to do is point your cursor where you want the content to show and click on it. Next, paste or type your content therein and you're good to go.
Worth mentioning is the simple drag and drop feature stacked in the builder. With this feature, you can drag the various element around and drop them where you want them to appear. This allows you to set up your layouts in a matter of minutes with little strain on your part.
They have an eCommerce plan that you can use to incorporate an online store to your site. With this feature, you can manage your products, orders, inventory, sales, and discount coupons with so much ease.
Cons
Limited integration with third-party platforms, could hinder the growth of your company or business as a whole.
Their eCommerce plans only work with Stripe, PayPal, and Apple Pay as the payment gateways. You have no option to integrate any other payment gateway apart from the three.
Pricing
Running your site on Squarespace tends to cost anywhere between $12 and $18 a month, with $26 to $40 a month for an online store.
It's the platform you settle for if you're looking for an easy and super fast way to set up an online portal for your business.
Again, given the option to choose between WordPress and Squarespace, then you might want to choose WordPress for scalability and Squarespace if your concern is mainly with your site's security.
---
BoldGrid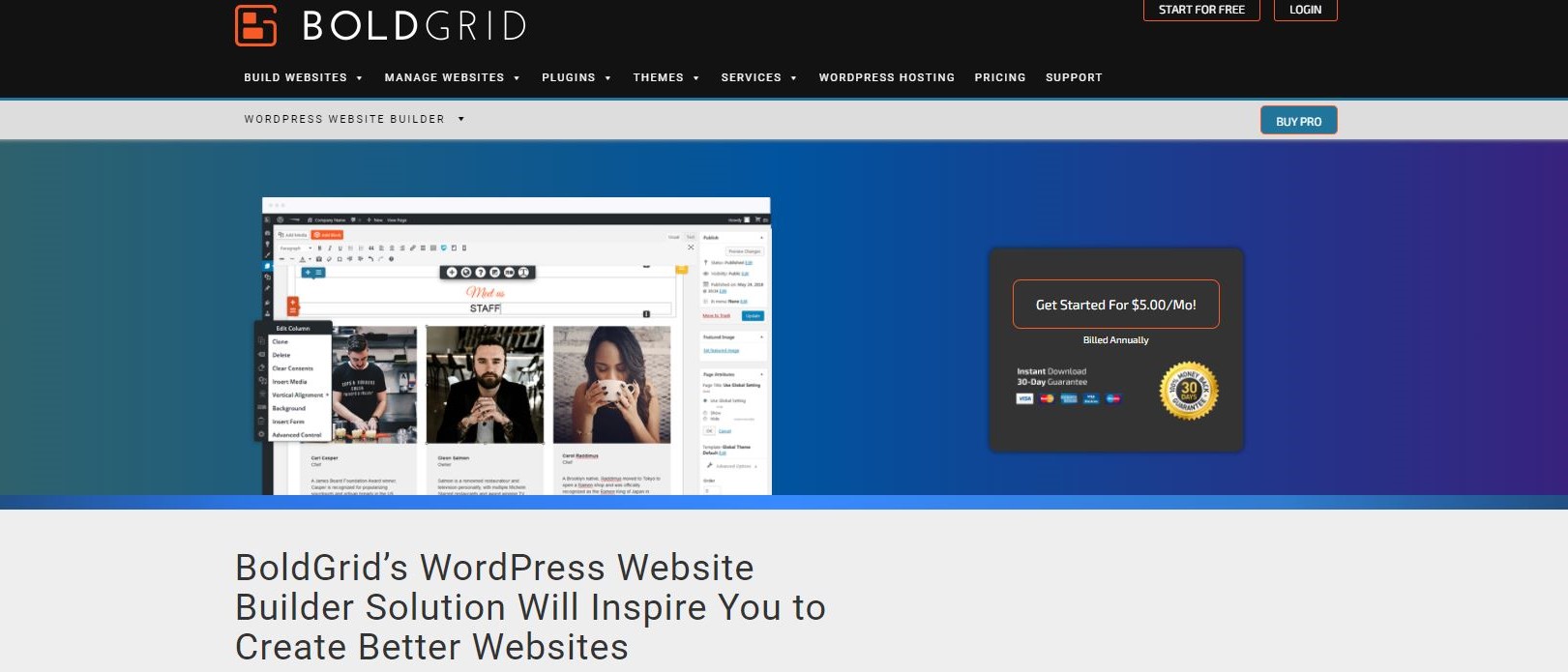 BoldGrid is a recently introduced website builder that runs on WordPress. The builder can be found as a standalone plugin for WordPress or a full-suite fully hosted website builder.
Pros
BoldGrid runs on WordPress, which allows you to take advantage of WordPress features. Meaning you have the option to customize your website just like you do on WordPress. It also stacks a number of professionally designed themes for you to choose from and use for your site.
Also featured is a drag and drop customizer that allows you to play around with your selected choice of theme for an off-the-wall design. This feature happens to be designed such that you can preview your changes in the middle of editing through the theme. In which case, you're allowed to change the theme color, fonts, navigation menus, layouts, and widgets with little effort and strain.
If you need a staging site, BoldGrid will create one for you with just a single click of a button. With the site you can test out the various elements associated with the builder. For instance, you can check out the new designs, layouts, themes and plugins before deciding on what to use or discard.
Also included in the theme is the WYSIWYG page editor. Which is to say you don't have to carry out your edits on a humble as there will be an editor window displaying everything on the page as they appear.
BoldGrid themes also work perfect with WooCommerce. Using the builder you can easily develop your storefront by simply dragging and dropping the various builder elements that come stacked with the theme.
Cons
Since the builder runs on WordPress, you'll be required to purchase hosting and a domain name for your site before you can go ahead and take advantage of it.
Pricing
The basic BoldGrid plugin is offered for free. So save for the hosting and domain name charges, there are absolutely no other charges to incur to use the builder.
If someone was to stack up all the builders on the list against each other and pick the best, then it's safe to point out that WordPress beats them all in terms of scalability, performance and ease of use. There's no limit as to what you can do with the CMS cum website builder.
This post should help you decide on a suitable builder for your business website, but just in case you need help or further clarification on anything, kindly consider reaching out to MediaOne today for a free consultation on builders and web development.
---
11 Factors to Consider When Selecting a Website Builder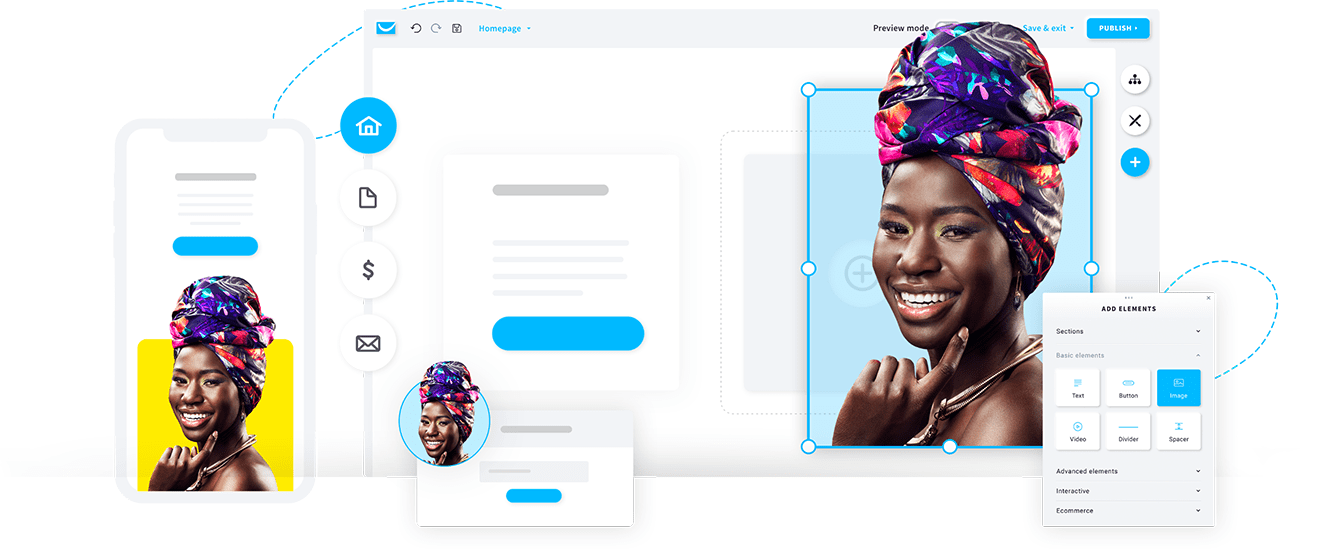 By now, you already know the different types of website builders in the market. The next crucial step that you need to take is picking the right one from the list. As you realized when reading the descriptions, each website builder has its own pros and cons. It is important to consider them to end up with one that matches your business model and the goals that you have set.
Here are the 11 crucial factors that you should consider when selecting a website builder.
1. What is Your Purpose
Failing to plan when creating a new website is equivalent to planning to fail. Before you start creating the website, write down all the functions or purposes of the website. Will it function as a landing page for potential customers looking you up on the internet, or do you want to establish a fully-fledged online store? 
The answer to this question will help you to know if you should go for the basic website builder or the sophisticated one. A simple website builder is perfect for a landing page and several other pages such as an about us page and support page. 
2. Cost
Creating a website is an investment on your business and you need to make sure that you get it right from the onset. Different website builders are priced differently and one of the factors that determine the cost is the features. The high-end builders have additional features that may not be available in the basic websites. 
Sure, it is OK to start off with a lowly priced website builder, but you should have a plan on how to transition to a better platform as the business grows. Keep in mind that cheap is expensive and thousands of other people could be using the same tool. So, chances of finding a unique design to help you stand out from the crowd could be a major hurdle.
As you evaluate the prices, budget for the cost of creating the content, images, videos, and other visuals that will be added to the pages. Most of the builders have free plans with limited features that you can experiment with to know if its worth purchasing the premium packages.
 If you are low on cash, scour the internet for bundle plans that have at least 80% of the features you need. Use those features to kickstart your business then invest in a better plan later. 
3. User-Friendly
Even though a website builder is meant to help you create a website on the fly, there are still some tasks that you have to do manually. For example, you will need to install plugins and page templates for various functions. 
Based on this fact, it is important to ensure that you choose a website builder that is easy to use. That way, you won't have to contact the support team regularly to fix things, especially once your business is up and running. 
That said, most of the companies that provide website builders have a support team that responds to queries. Premium members get round the clock access to the customer care and technical team. Consult other people who have in the past used your preferred builder to gauge how accessible the customer care team is before joining.
4. Additional Features
One of the reasons why most web developers discourage businesses from using website builders is because the same themes are used by millions of people from different parts of the world. As a result, it becomes challenging to provide a unique user experience to customers if another company in the same niche is using the same design or template.
Luckily, by selecting a platform that has additional features that are not on other platforms, you can use your creativity to come up with better designs. A simple and open-source builder will only offer basic social media buttons to help you conduct social media marketing, but a premium platform will give you a plethora of plugins that you can use to make your website as unique as possible.
You will get features that allow you to add forms, subscriptions, maps, and even campaign pop-ups. All these additional features will give you an upper hand in the market. If they are user-friendly, rest assured that your online business journey will start on the right foot and customers will appreciate what you have to offer.
Search engines will also notice that your website is user-friendly and has a low bounce rate. As a result, you will be rewarded with a high-rank spot on the search engine results page that will give you more exposure. Some website creation platforms are so customer-oriented that they allow clients to input their own code to the existing template to add specific features.
As you evaluate the features, consider what your site will need in the future to make the right decision. Otherwise, you may have to shift the whole website to a new platform if the current one is unable to support your website's growth.
5. E-Commerce Support/Capabilities
Singapore takes pride in having one of the most vibrant and fast-developing eCommerce industries in South East Asia. 90% of savvy Singaporeans research about a product or service online before they buy. 51% of the people polled use their mobile phones to shop at various online stores. 
Photo Credit: Data Reportal
As you select a website builder, it is of paramount importance to consider the eCommerce capabilities of the resulting website. Sure, you may not have an existing product at the moment since you are just getting started, but you need to consider the services that you will require in the near future and if the platform can offer it.
There are some platforms that allow entrepreneurs to sell a specific number of items. Steer clear of such platforms as they are not designed to help you scale up. And when you do get more customers and need to add more products, you will have no option but to close the entire website and create a new one from scratch. This will result in massive losses during the time when your website will not be available to the customers.
6. Is the Website Design Mobile Responsive
As mentioned in the previous factor, a majority of Singaporeans access online stores and make purchases using their smartphones. As an enthusiastic online business owner who wants to rival the existing online stores and website, you need to make sure that the website design is mobile responsive.
Prospects should be able to access the website using their smartphone, view all the pages, contact you, and even place orders securely using mobile phones. So, make sure that the platform you opt for has templates that are user-friendly. Otherwise, you will miss out on a huge number of customers who prefer browsing through websites and placing orders using their smartphones.
7. Credibility of the Website Builder
When developing a site using a website builder, often times you will be prompted to purchase the selected packages alongside the domain and hosting service. Most of the platforms have their own servers that they use to offer hosting services to their clients.
This means that all assets of your website will be in the hands of the platform. If any unforeseen thing happens on the server, you should be able to get back to your website. Customers' data should also not be lost or shared with third parties without your consent. 
The platform should also provide a backup to help you recover the website in such events. Even though such incidents are rare, there needs to a level of surety that you will not lose everything if the servers are hacked or breakdown. 
Bearing this in mind, only use a website builder that is credible and capable of cushioning you from such incidents. Consult widely and read reviews posted by other users before making your final decision. Website builders that have been around for several years are more reliable and have a track record that you can evaluate before you spend money on the package. 
8. Support
The level of customer support varies from one website builder to another. Just like pricing, you should compare and contrast the quality and reliability of the support before making any move. Does the platform have a technical team that can resolve an issue even during the wee hours of the night? How long does the platform take to respond to emails or return calls? 
The answers to such questions will help you make an informed decision. You should also be able to chat with the support team in real-time either through the website or mobile app. When doing research on the website builders we discussed earlier on in this article, I realized some of them have forums and no support teams. 
The best has a support team and a forum that you can join to interact with other users. While engaging with the other users, you will learn a few quarks and tricks that you can use to make your website more functional and useful to the target audience. You may also find quick answers to questions that you intend to ask the support team thereby saving valuable time. 
9. Compatible Integration Options
The mantra no man is an island also applies to website builders. There is no platform that has all the features that any user wants. Choose one that allows you to add third-party plugins and features to enhance the functionality of the website.
For example, if you intend to establish an online store, choose a builder that allows you to incorporate various payment plugins to securely receive payments. Concisely, the best website creation platforms offer a broad range of integration options to customers. 
10. Payment Options and Terms 
It would be unfortunate to spend the whole day or even an entire week creating a website only to realize that the payment options supported don't match your target audience. Avoid such scenarios by making sure that the website builder offers payment options that your customers use to shop online.
With that important aspect out of the way, proceed to look at the payment plants. Will you be charged per monthly or yearly? This information will help you to budget and prevent disputes down the road. You should also take a closer look at the refund policy. 
If the website builder, does not have a refund policy, you will not get your money back if the service rendered is poor. Look for another platform to be on the safe side. Remember creating a website is an investment and you need to get a return on investment (ROI).
The best platforms have a money-back guarantee policy. Be sure to read the terms and conditions of using the platform and its features to be sure that it meets your needs and preferences. On the same point, check if there is a free demo or trial that you can leverage before paying to test the themes and features. 
Credible builders have no problem offering custom packages and free trials to their customers because they know the themes are worth the money clients spend on them. 
11. Ability to Move the Website to Another Platform
Not many website builders allow their clients to move their websites to another platform. As your brand scales up, you may find it necessary to transition to another platform so as to accommodate the high traffic. 
The ideal website builder will delegate the task to a team of IT experts to help you move the website to the new platform. Others won't offer any support and so it is imperative to request additional information from the support team on how they handle such needs.
Conclusion
Creating a new website from scratch is not easy but we are happy to help you choose the best website builder and add all the content and features to make it fully functional. We have a team of highly trained and talented website developers and SEO experts who will work together to ensure that your website is up and running within the shortest time possible. Get in touch with us for a free and non-obligatory quote. 
---
FAQs
What are the popular website builders in Singapore?
1. Self-hosted WordPress
2. Wix
3. Squarespace
4. BoldGrid