Over 810 million websites run on WordPress. That represents 43% of all the websites on the internet. More impressive is that over 500 WordPress websites are launched every day. 
There's no denying that WordPress is the most popular website platform, but have you ever thought about how much it actually costs to create a WordPress website?
You've heard that WordPress is free, and it is — kind of. It's true that there are no costs for the basic software, but hosting, domain names, and other add-ons all come with a price tag.
So, if you're considering launching your own WordPress website in 2023, the real cost will be more than just the essential software. But don't worry! We're here to provide you with a detailed breakdown of all the costs associated with creating a WordPress website so you can be sure to budget for everything.
Why Do You Need a WordPress Site?
The WordPress CMS software is free, meaning you can install it on just about any website hosting service.
But if WordPress is free, why do you still incur costs?
As we've mentioned, WordPress is free as a CMS software solution. But your website will still require a web hosting provider, domain name, and custom plugins to exist and function.
The cost of building a WordPress site can be broken down into the following categories:
Hosting service provider for the WordPress site

Domain Name

Designing Services (if you're not designing it yourself)

Theme purchase (optional, as there are free themes you can use)

Plugins and extensions (apps)

Maintenance fees
How WordPress Works as a CMS
A website is a collection of web pages arranged in a hierarchical structure. It consists of different files with folders, subfolders, and databases.
The files are stored in a central place, and the content is managed using a Content Management System (CMS) like WordPress.
Think of a house built on a piece of land, where the house is the website, and the land is where all its parts are stored — that's what a WordPress site looks like.
Without a CMS, you'd have to manually handle crude code, HTML, and CSS to create a website, edit its content, adjust styling, publish posts, and more. With WordPress, however, all those tasks are made easier through settings and a drag-and-drop interface.
When building a WordPress site, you'll first need hosting. In other words, you'll need a place to store all your files, just like the land and house analogy we've highlighted. That's where the actual cost of creating a WordPress website lies. 
You'll also need a domain name. A domain name is an address that people will use to access your website (for example, www.abcdef.com). You can consider it your online home's street address and house number. 
And, of course, you'll need the WordPress software itself.
You'll also need a theme and some plugins. A WordPress theme is the design of your website. While there are many free themes you can use, a premium theme might set you back between $50 and $100. 
Plugins are pieces of software that add additional functionality to your website. Some are free, but many require a fee of around $50.
What is Next after Purchasing Hosting Services, Theme, Plugins, and Domain Name?
Assuming you're building the website yourself, here's a step-by-step breakdown of the things to do:
First, if you bought the domain and hosting services separately, you'll need to connect them. This is usually done through the hosting control panel and involves updating the DNS records.
Your hosting provider will send you the DNS details for your hosting account. Enter them into your domain registrar's 'Domain Management' section and click save.
Next, you must install the WordPress software on your hosting account. Again, this is usually done through the control panel provided by your host. Most hosts provide one-click installers, so you don't have to manually download and install the software.
Once your hosting is set up and WordPress is installed, it's time to install a theme. A theme is what controls the look and feel of your website, from the colours to the layout to the fonts. There are thousands of free and paid themes available, so there's no shortage of options.
You may also need to install plugins, which are small pieces of software that add extra features and functionalities to your site. Plugins can help you do anything, from adding contact forms and ecommerce features to creating a membership section and integrating social media.
So, How Much Does It Cost to Build a WordPress Site in 2023?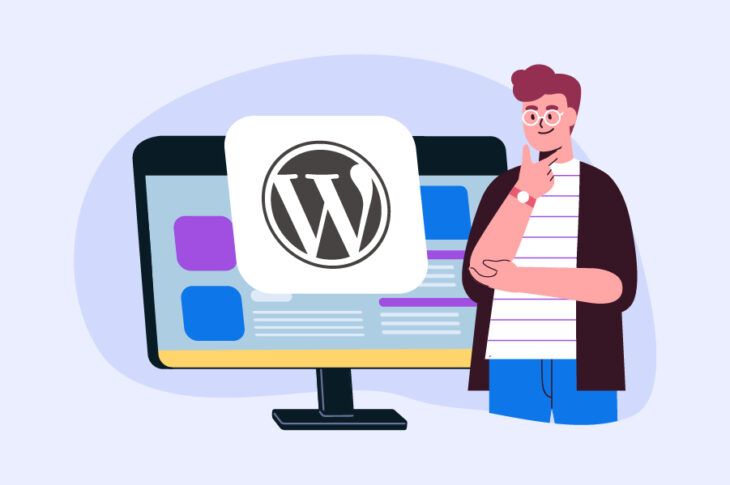 The answer is it depends on your website needs. But generally, it can range from $100 to $500 to $3000 and even go as high as $30,000 and even more.
Before you get to the cost, it helps to understand the website type you're building.
But don't worry. We'll go through different types of WordPress sites and try to estimate the cost for each. 
That said, here are the different categories of WordPress sites you might want to build:
A low-budget WordPress site

A WordPress site with more features

A WordPress site for a small business

A WordPress ecommerce site (WooCommerce Site)

A Custom WordPress Site
What's the Cost of Building a Low Budget WordPress
If you're operating with a super-tight budget and are looking to launch a WordPress site without spending too much, don't worry. You can build a fully functional WordPress site for as little as $100 (annual cost).
Let's break down the cost:
First, you'll need to purchase hosting services and a domain name. A basic hosting plan from a reliable web host such as Bluehost, SiteGround, or WP Engine can cost you as low as $3.95/month, while a domain name will cost you around $8-15/year.
Blue Host offers a free domain for the first year and up to a 60% discount on their hosting services. 
$2.75*12 = $33
Domain Name: Free
If you decide to go with Bluehost for both the domain name and hosting, it will only cost you $33 for the first year.
Remember, this option renews at $10.99/month and about $15 for the domain. So, for the second year, you should be prepared to spend about $155.
Next, you must purchase a theme after purchasing a hosting and domain plan. Depending on the features and designs you want for your website, you can expect to spend anywhere from $30 to $100 or more.
We suggest you go for the Enfold theme, which goes for a one-time fee of $59.
Enfold is a multipurpose theme featuring a drag-and-drop page builder with plenty of customization options. Plus, it is compatible with popular plugins such as Contact Form 7 and WooCommerce. 
It's also lightweight and SEO-friendly. It won't slow down your website and is easy to rank. 
But you don't have to take our word for it; there are plenty of Enfold reviews online if you want to learn more. 
Other options include Divi, Avada, and BeTheme. These themes offer various features and come with a one-time fee ranging from $59 to $89. 
And if you're looking for a free WordPress theme, there are many available options to check out.
After you've purchased a theme, you can go ahead and install WordPress. Go to cPanel and select the 'Softaculous Apps Installer to do that. 
You can access cPanel by adding '/cpanel' to your website's URL and using the login credential provided via email to sign in.
You can scroll to the bottom of the page until you see the 'WordPress' icon. Click on it, and follow the instructions on the setup page to install WordPress. 
A few things you want to observe while installing WordPress are the database name, username, and password. 
Once done, you can go to your WordPress dashboard by adding `/wp-admin to your website's URL. Use the username and password you entered during the installation to sign in. 
Afterward, you can go to Appearance, then Themes, to select a theme for your website. Now, install the theme and follow the instructions provided on the instruction page of the theme to customize it according to your needs. 
That's not all. You also need to install plugins to enhance the functionality of your website.
Installing a plugin is simple — go to the plugin section, search for the required plugin, install it, and then activate it. 
Here are some of the plugins you might need to install: 
The Total Cost
As you can see, building a themed WordPress website doesn't cost much. The total cost should range between $33 to $100 depending on the hosting service you choose and whether you decide to purchase a theme or use a free one.
The Cost of Building a WordPress Site with More Features
We recommend you start small and then gradually add features as your website grows. You can easily scale up a WordPress website; the cost should remain relatively low.
You can continue to use shared hosting if your website doesn't experience much traffic. But if your website is growing, upgrading to a Virtual Private Server (VPS) or a WordPress-managed hosting solution (such as SiteGround's GoGeek plan) might be wise. Depending on your chosen plan, these can cost between $20 and $50 monthly.
Here's how you tell if you should upgrade to a VPS or WordPress-managed hosting solution: if the number of visitors is above 20,000 per month and you have more than three plugins installed, then it's time to upgrade.  
SiteGround has a coupon that knocks 73% off the first year of hosting, significantly reducing the cost. 
Also, if you opted for a free theme earlier, this is your chance to upgrade to a premium one. It may cost you between $40 to $100, but it's worth the investment. 
For more features, you want to invest in a few paid plugins:
Here are a few paid plugins you might want to get:
There are many paid plugins you might want to invest in. 
So, what's the total cost of building a website with more features? Getting a premium theme and all the plugins listed above will easily set you back around $1000/year.
The Cost of Building a WordPress Site for a Small Business in 2023?
The cost of building a WordPress site for a small business lies somewhere in between the cost of building a basic website and one with more features. It requires an investment of around $800/year, depending on the plugins you choose and how complex your website is. 
Note that you don't need a full-fledged ecommerce solution for your site; you can always opt for a plugin like WooCommerce to get started and add more features as you go. 
If you're just starting with a website and don't have the budget for a fully-fledged WordPress site, you can also opt for one of the more affordable hosting packages on the market. These packages offer basic website tools and hosting for around $4/month. Bluehost and HostGator are two of the most popular options. 
But if you have a budget, we suggest you go with SiteGround's GrowBig Plan. It offers more features than the basic hosting packages, and it's only $14.99/month (3.99/month for the first year).
You also want to look for a WordPress theme that looks professional and modern. Premium themes can range from around $30 to over $100, depending on the features and design options they offer. 
Ensure the theme is responsive, loads fast, and has a high level of customization. It should also be SEO-friendly and have customer support if you need help with the installation process.
We recommend the popular and highly rated Divi Theme or Enfold Theme. Both have excellent reviews and cost about $60.
Now, look at the plugins to install on your WordPress website. Depending on their complexity and purpose, plugins can range from free to hundreds of dollars.
It helps to have a mix of free and paid plugins for maximum functionality. Some of the most popular and useful plugins are Gravity Forms, Yoast SEO, and WPForms.
Here are a few plugins you want to install:
So, how much does it cost to create a WordPress website for a small business in 2023? Well, depending on the theme you choose, and the plugins you decide to install, the cost can range anywhere from $300 to over $800.
What's the Cost of Building a WordPress Ecommerce Site in 2023?
Millions of ecommerce sites use WordPress as their website platform of choice. It's easy to use and has plenty of plugins and themes for you to choose from. 
WooCommerce is the most used eCommerce platform (powering over 6.1 million websites). 
It's closely followed by Shopify (powering 4.1 ecommerce websites) and PrestaShop (only powering 350K eCommerce websites).
The cost of building an ecommerce site is slightly higher than that of a regular website because you'll need more plugins and add-ons to power your online store. 
For instance, you'll need to install a payment gateway, shipping services, and other necessary tools and plugins.
You must begin by purchasing a domain name and web hosting. The cost of the domain name can range from free (with some hosting plans) to $15 per year. 
Shared hosting can work if you're starting and want to keep the costs low. However, if you're running a bigger ecommerce store, VPS or managed hosting is the way to go. 
That said, managed WordPress hosting can be an ideal choice for small businesses as it offers a hassle-free hosting experience with optimized performance and security features. 
Now that you have your domain name and website hosting all setup, it's time to install WordPress.
You'll also need to install an ecommerce plugin for WordPress. 
Popular ecommerce plugins include WooCommerce, Easy Digital Downloads, and WP Shopify. Depending on your needs, you can choose the plugin that best suits your needs. We recommend WooCommerce, as it's free, open-source, and offers many features.
Once you have everything up and running, it's time to shop around for an ecommerce theme for WordPress. Make sure the theme is compatible with the ecommerce plugin you chose.
Many free and paid themes are available, so browse around and find something that fits your needs.
Once you've settled on a theme, it's time to get down and dirty with the customization. 
You'll want to tweak the design and layout to showcase your products and services best and add extra features and functionality that won't overwhelm your users.
That can all be done with WordPress, but you might want to consider hiring a professional developer if you're uncomfortable doing it yourself.
Here are a few plugins that may come in handy during this stage: 
WooCommerce

(free) for setting up an e-commerce store

WPForms

(paid) for creating contact forms

Yoast SEO

(free) for optimizing your site for search engines

WP Mail SMTP

(paid) to ensure your emails are delivered

Uncanny Automator

(paid) to automate mundane tasks

FunnelKit

(paid) to create sales funnels, frictionless checkout, order bumps, one-click upsells, slide-out carts, and more.
So, what's the Total Cost of Building a WordPress eCommerce Site?
It all depends on the complexity of your site, but a general ballpark figure in 2023 would be between $1,000 to $3,000. Of course, the cost could be much higher if you're looking to build something intricate and feature-rich.
Still, for most eCommerce sites, the cost will be manageable. Don't forget to factor in the ongoing hosting costs and other tools needed to maintain the site. And don't be surprised if the final cost is a bit higher than your initial estimate — after all, the cost of living increases yearly.
What's the Cost of Building a Custom WordPress Site?
A custom WordPress requires hiring a developer to create a unique design specifically built for your business. It can be expensive, depending on the complexity of the project and all of the features you want to include. 
Usually, large and well-established businesses go this route.
Since we're talking about custom design, it makes more sense to just go for a VPS or WordPress-managed hosting. VPS gives you more control and flexibility but can also be expensive if you don't know how to manage it properly.
That said, hosting alone should set you back no more than a few hundred dollars per year (between $100 to $500), and that's a reasonable price for any business.
You'll also need at least one developer (or a development team) and a project manager for the development part. Depending on their experience, the price of hiring them can range from a few thousand dollars to tens of thousands.
We suggest you be prepared to spend between $5,000 and $30,000 for custom website development.
And last but not least, there are a few extras you might need to consider. For example, if you want to launch a fancy marketing campaign, you'll need to pay for Google Ads or other online ads; if you want to optimize your website, there are SEO services to consider; if you want to monitor the performance of your website, there are analytics tools to pay for.
These costs can add up fast, so it's best to do your research and budget for them as early on in the process as possible.
Overall, it should cost you between $5000 to $30,000 or more – to create a fully-function custom WordPress website in 2023. As daunting as that may sound, there are many ways to get creative with spending and still make your website project work. You can start small and then scale up as you grow. You can also look for ways to reuse existing components and templates and do your own DIY work.