Is Telegram popular with your target audience? If it is, you're in luck because telegram marketing is one of the hottest trends in business right now.
The latest statistics show Telegram has over 700 million monthly active users, projected to hit 1 billion by the end of the year. 
Since 2020, its user count has increased by more than 300 million people, making it one of the fastest-growing messaging apps. It is also one of the most secure private messaging services, making it attractive to users who value privacy.
Remember, Telegram has never paid to advertise the app, meaning it's gained popularity solely through interpersonal recommendations. 
Now, for the unaided businessperson, the idea of creating a telegram marketing strategy may seem overwhelming. But don't worry; this guide is here to help you get started.
We'll cover everything from setting up your telegram account to launching your first campaign and even show you how to measure the success of your efforts.
But first things first: The basics of telegram marketing.
What's Telegram Marketing? 
Telegram marketing is the process of using the messaging app, Telegram, to promote your product or service. 
Telegram is a messaging app similar to WhatsApp but with additional features, making it the perfect tool for building meaningful customer relationships. 
It's best known for its privacy and security and the ability to create groups and public channels for conversations and information sharing. 
You can use Telegram to send messages to an individual or group of users, create content for your public channel, organize contests and giveaways, and much more.
It's an open-source platform, meaning there's no limit to what you can do with this app. The possibilities are endless.
Why Telegram Marketing?
As of April 2020, Telegram only had 400 million active monthly users. 
Today, it's grown to over 700 million and is projected to hit 1 billion by the end of the year. 
That should tell you something about how quickly this platform is growing in popularity.
Not to forget, over 1.5 million users download and sign up for Telegram daily. 
That is great news for businesses looking to spread their message to a large, engaged audience without breaking the bank (or relying on luck).
Benefits of Telegram Marketing:
#1. An Excellent Platform for Keeping Your Audience Informed
News channels, product updates, announcements — Telegram is the perfect platform for quickly and efficiently disseminating information to your audience. 
You want to create a private or public channel and invite your customers or readers to join it. You can then share content, updates, and announcements with your followers as often as you wish. 
Share product photos and videos. Tell your subscribers about your brand's history and why you do what you do. 
Send out personalized messages with exclusive news about upcoming events, products, or services.
#2. An Excellent Way to Communicate with Your Customers or Readers
You can use Telegram groups to interact with your customers directly. A Telegram group operates like a chatroom and offers a space for customers to ask questions, offer feedback, or communicate with each other. 
You can even add administrators to help you manage the group and moderate the chats. 
It's an excellent way to create a more personal relationship with your customers and build loyalty and trust around your brand.
#3. You Can Use Telegram to Support Customers 24/7
A Telegram bot can be used to provide 24/7 customer support. 
You can create a bot with automated messages that respond to common customer queries, freeing up your time and resources to focus on more critical tasks. 
The bot can also be used to collect feedback from customers or provide access to helpful resources. 
You can even use the bot to manage customer service requests and quickly respond to inquiries or complaints.
#4. You Can Use Telegram to Drive Traffic to Your Website or Blog
By creating a public channel and sharing links to your website or blog, you can drive traffic directly from Telegram. 
You can also create an invitation link for your channel and share it on other social media sites or via email. 
It's an excellent way to showcase content and ensure your audience stays updated on your latest publications.
#5. You Can Use Telegram to Increase Use Engagement
Last but not least, Telegram is a great way to increase user engagement. 
You can create polls, contests, and other interactive content to keep your followers engaged and interested. 
You can also use bots to reward users for engaging with your content, such as answering questions or sharing posts.
Now that you know the benefits of Telegram marketing, why not give it a try? Below is a detailed, step-by-step guide on a strategy you can use:
Telegram Marketing Strategy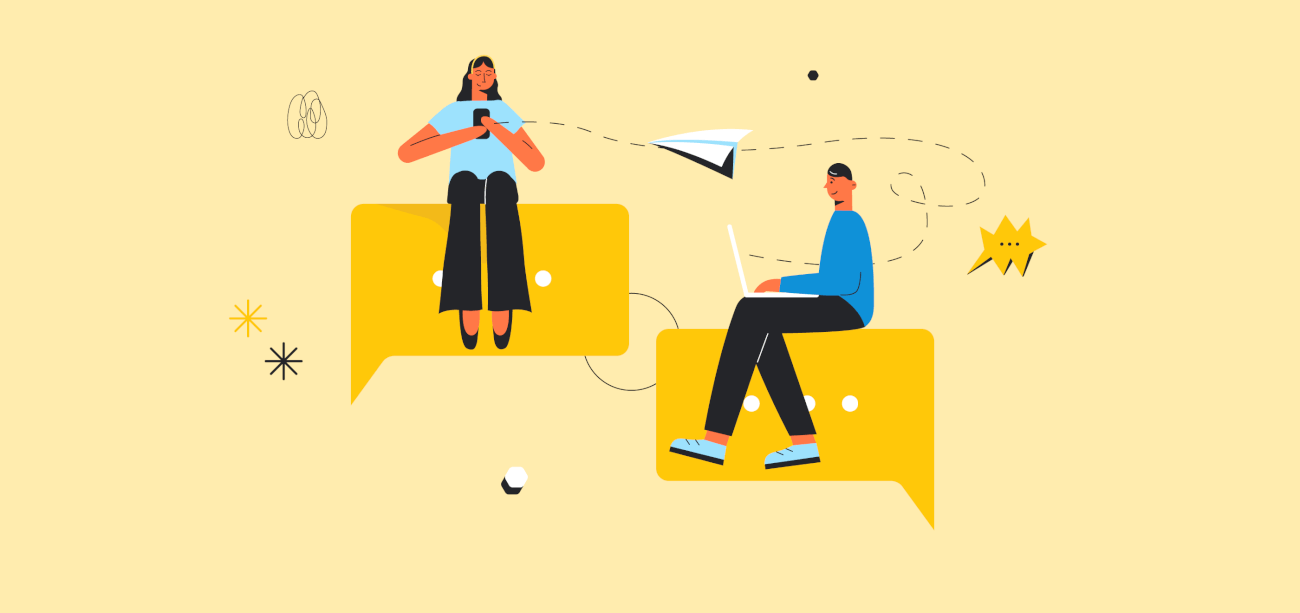 Step 1: Set Your Goal
Every strategy should have a goal. Decide what you want to achieve with your Telegram marketing campaign and set measurable objectives. 
The goals you set will determine the KPIs you track and measure.
With Telegram, here are some of the goals you can pursue:
Driving Traffic to Your Website:

How many people visit your website after clicking a link you shared on your Telegram channel?

Engaging with Your Audience:

How often do people interact with posts or polls you make in the channel?

Building Relationship with Your Audience:

How often do people reach out to you on Telegram, and how many become customers? 

Automating Routine Tasks:

How much time do you save by using a Telegram bot to manage customer service requests?

Supporting Clients 24/7:

How often do people use your Telegram bot to get support, and how quickly do they get answers?

Increasing Sales:

How many sales have you made as a result of your Telegram campaigns?
For example, suppose your goal is to build relationships with existing customers and increase sales. In that case, you can measure the number of people coming to your channel, how many become customers, and how much revenue you've generated.
Step 2: Create a Telegram Account if You Haven't Done Do Already
To use Telegram, you first need to create an account. You have three options here: a channel, group, or chatbot.
Note that each of these options serves a different purpose.
You can begin by downloading the Telegram app.
There's an option for almost every operating system: Android, iOS, macOS, Linux, and Windows.
There's even a web app option for those who don't want to download the app.
Once you've downloaded the app, open it up and sign up using your phone number, just like you would for any other messaging app. 
NOTE: You can only sign up on your phone, but you can use Telegram on any device once you've signed up.
Creating a Channel
Telegram channels are built to broadcast messages to large audiences. You can use them to share your latest updates, blog posts, or other content. 
They have no limitations on the number of members that can join a channel, making them perfect for growing your reach quickly. 
The Difference Between a Channel and a Group
Only the admin can post in a channel, unlike a group where any member can post. 

Members are notified about updates in a channel but not in a group. Members won't be notified when you share a new post in a group. 

Only the channel's name and photo are shown, not the sender's name or photo.

Lastly, members of a channel can't see each other. Nor can they see the admin. Only the admin can see who's joined the channel.
However, members can see each other and the admin in a group. 
How to Create a Channel
To create a channel on Telegram, you can begin by clicking on the three horizontal lines at the top top-left side of your screen. 
Then, click on 'New Channel.' A window will appear where you enter your channel name, upload a photo, and add a description. 
Once you've done that, your channel will be ready to use. You can add the text to your invite link and begin adding members.
You can view the number of views under each post. And if you have more than 500 subscribers, Telegram will provide you with a detailed report on the following:
The language that the subscribers speak

The number of users who have joined, left, and muted your channel

How followers find your channel

How followers interact with your channel 
You can schedule your posts so they can automatically be posted when you're not available. 
You can also send silent messages during non-working hours, where followers receive notifications without sound.
You can use hashtags to make your content more discoverable, add admins and moderators to help you manage your channel and mute notifications. 
You can also enable signatures to manage your channel better. It's a simple feature but incredibly helpful if you have a large company and want your followers or co-workers to tell if a post is from the director, HR, or someone else in the company.
You can create a discussion group if you're interested in your followers' opinions. Your posts will be pinned to the group so members can contribute and discuss its content. 
If you want to create a 24/7 support service, you can use the chatbot feature. 
You'll be able to create automated responses and messages, making it easier for your customers to get help at any time of the day. 
You can also create a quiz bot and run promotional campaigns using the Telegram chatbot.
Group
A group is a room-like chat with many people. You can have up to 200,000 members in a group, and people will be notified when something is shared. 
Members can send messages, photos, videos, audio files, documents, and stickers. 
Group admins can also change the photo and name of the group, add new members, delete messages, pin messages, and mute notifications.
You can also use bots to add more functionality to your group. 
You call also set the group as public or private.
If it's public, that means people can search for it, find it, and join the group. 
If it's private, members must be invited by you or another admin or join by an invite link.
So, how do you create a telegram group?
Again, begin by clicking on the three horizontal lines at the top left side of your screen. 
Then, click on 'New Group' and enter the group name and a group photo.
You can add admins from there and assign them roles and permissions. 
For instance, you can give an admin the power to delete messages, invite users via an invite link, ban users, pin messages, add new admin, or choose to go anonymous when posting.
You can add members to your group by selecting contacts from your contact list or sending them an invite link. 
Chatbots
Chatbots are the perfect solution if your company needs a 24/7 support service. 
You can create automated responses and messages, making it easier for your customers to get help at any time of the day. 
The chatbots are designed to mimic real conversation, answering simple and complex end-user questions.
Chatbots can provide more information about your brand, product catalogs, and prices, answer FAQs, close deals, and even automate routine tasks. 
Their flexibility isn't limited to customer service; you can use them to automate marketing campaigns, run quizzes and surveys, and even collect payments.
The setup procedure isn't complicated either.
First, you'll have to create a chatbot using one of the many chatbot-building platforms available, like ManyChat, Chatfuel, or SendPulse.
Note: creating a chatbot with SendPulse is free. 
Follow the steps provided by the platform you've chosen. At some point, you'll be required to select a platform you want to connect the chatbot with. Choose Telegram and proceed to verify your account. 
Once you have successfully connected and verified the platform, go back to Telegram and search for @Botfather. Choose the first option, the verified one. 
Click "Start" to activate the bot. 
Click "New Bot" in the pop-up window, and type your bot's name and username.
For example, you can use the same name and username for your bot — only that you'll have to add "bot" at the end.
Next, copy the token you receive and return to the platform settings. 
Paste it in the "API Token" field, and save your changes. 
Now, you'll be able to manage your chatbot from the platform you've chosen.
You can create a welcome flow.
Start by considering all the keywords someone might use when joining your group.
Use these keywords in the welcome flow to create automated answers.
Create greeting messages with phrases like 'Welcome,' 'Hello,' or 'Hi there.'
Include helpful information about the brand or product and a link to your website or help centre.
You also want to assist customers with any questions they might have.
When creating the welcome flow, you should also encourage users to interact with your bot. You could use buttons and special offers to encourage people to engage with your bot.
Here's an example of a welcome flow you can use:
Welcome! I'm your friendly Telegram Bot. I can help you with any questions about our products and services. Would you like to learn more?
When a user clicks "yes," they can receive information about the products and services available.
If they click no, they can be directed to the contact page or help centre.
It would help if you also encouraged users to join your Telegram group with a link in the welcome flow.
For example, you can offer discounts or vouchers for those who interact with the bot and offer special deals or discounts to loyal customers.
Once you've set up your chatbot, the next thing you want to do is promote it.
Step 3: Promote Your Telegram Account
You began by setting up your Telegram account and creating a channel, group, or chatbot; now it's time to promote it.
It doesn't matter what type of Telegram account you have. The promotional strategy needs to be well thought out.
It should align with your overall marketing strategy and include content that's helpful enough to attract new users.
Below, we've listed a few ways to promote your Telegram account:
Use social media platforms like Twitter, Instagram, and Facebook:

You probably already have thousands of followers on Facebook, Twitter, LinkedIn, and Instagram. Promoting your Telegram account on these platforms is just a matter of letting your followers know that they can also find you on Telegram.

You want to put your Telegram invite link in your Instagram bio, LinkedIn profile, and tweets. Even better, create an exclusive offer or discount for those who join your Telegram group.
Cross-promotion

: The idea is to look for similar Telegram accounts or channels and reach out to them. Try to arrange a cross-promotion where each group or channel shares the other groups' content. For example, if you're a tour and travel company, you can reach out to famous travellers or bloggers and see if you can strike a deal.

Run giveaways and competitions

: Competitions are a great way to attract users to your account or channel. You can offer prizes like free products, discounts, or vouchers. 

Groups

: Joining relevant Telegram groups and participating in conversations is also a great way to promote your account. You can share links to your group or channel or invite others to join.

Your Website and Blog:

You can also promote your Telegram account on your website and blog. Include a link to your account or channel in the footer, sidebar, or relevant page.
Telegram Ads
Telegram does offer paid advertising. However, its targeting is limited to public channels only. 
Remember, Telegram is big on privacy and does not allow ads to be displayed on private chats. 
Nor can you target users based on their specific characteristics.
You only choose interests and languages for targeting, not much else from that. 
Ad formats include: 
Image Ads:

Show an image with a short description of your product or service. 

Video Ads:

Video ads can be used to explain more about your product or service. 

Stickers Ads:

Sticker ads are colourful and fun. They're perfect for promoting your product or service more creatively. 

Carousel Ads:

These ads feature a set of images or videos which can be used to showcase different products or services. 

Animated Ads:

Create animated ads that are eye-catching and attention-grabbing. 

Native Ads:

These ads blend into the Telegram platform, giving them a more native look and feel.
Your ad will be displayed in public channels and groups with over 1,000 subscribers. So, you can be sure your ad messages reach many people. 
You can also track the performance of your ads to see how many people clicked on it and how much engagement they got.
Monitoring Telegram for Data-driven Decisions
As with any other marketing strategy, it's important to track and monitor the performance of your Telegram campaign. 
Here are some ways you can do that: 
Use Third-Party Tools

: Many tools, like Telegram Analytics and Telegram Tracker, can help you track your Telegram account performance. You can find out how much engagement your post gets, what type of content performs better and more 

Use Hashtags:

You can use hashtags to track conversations about your brand or industry. That will give you an insight into what people are talking about and what interests them the most. 

Monitor Competitors:

Pay attention to your competitors' Telegram accounts and see what type of content they're putting out. That should give you ideas for content and strategies to use on your own account.
Telegram Marketing Examples You Can Follow
As you prepare to launch your Telegram campaign, it's a good idea to check out what other brands are doing.
Below we've listed some successful Telegram marketing examples you can follow:
Eddy Travel Bot:

Edday Travel is a virtual assistant that assists users in booking a flight. It helps them get the best flight deals in seconds. Users can search for the best hotels and flights and even make payments. 
All they need to do is enter the country they plan to visit, and the Eddy Travel Bot will automatically search for the best deals.
The bot will then direct you to booking.com or Skyscanner to make the booking. 
https://www.spcdn.org/images/Glossary_GIFs/chatbot-en-eddy-travels2.webm
AsosHelperBot:

AsosHelper is an eCommerce chatbot. The bot compares an item's price from different websites and helps users find the best deal.
Users can find the lowest prices and click on the link to purchase.
https://www.spcdn.org/images/Glossary_GIFs/telegram-marketing-asos.webm
Smokey Bot:

Smokey bot provides information about the air pollution levels in your area. The bot will give you air quality reports for over 40 cities.
It also provides detailed information about smog, dust particles and other hazardous materials.
https://www.spcdn.org/images/Glossary_GIFs/telegram-marketing-smokey.webm
Wrapping Up
Telegram is a powerful marketing tool without limits to what you can do. You can use it to create engaging content, promote your products and services, or even build chatbots to assist customers.
Telegram is like WordPress for marketing — it's easy to use and has plenty of features.
With the right strategy, you can maximize your reach and engage with customers in a meaningful way.