As we all know, YouTube is one of the largest search engines. For more than a decade, YouTube has had a virtual stranglehold on the world's video-sharing service. 
In reality, YouTube is used by billions of people every day to access content ranging from instructive educational videos to viral video clips. Therefore, YouTube is a highly beneficial marketing tool for businesses looking to advertise their products and services.
YouTube, according to 79 percent of marketers, is the most efficient video advertising medium available. To begin producing amazing videos for your company, you'll need to build an effective search engine optimization plan.
Our hope is to support those who use YouTube to share their knowledge with the world and the millions of users who come to the platform to learn.
~ Susan Wojcicki CEO of YouTube 
Understanding the importance of YouTube SEO
In general, people who visit YouTube do so to be charmed or gain something valuable from the clips they watch; this is why all of the Super Bowl videos that circulate on social media in the days or weeks following the event have gained such enormous popularity.
Apart from all of the animal videos that appear to be dominating the market, the site has lots of room for companies and video SEO strategies. YouTube has an enormous viewership with over a million active users or roughly one-seventh of the worldwide people.
Therefore, videos on the apps are an excellent way to introduce new products to a business while also raising awareness of the brand and establishing a community of interested prospective consumers. To do this, you'll need a solid YouTube SEO plan in place.
In addition, to embed YouTube videos directly on other social networking sites, the embed player code may also be used to do so. This makes it convenient for people to view your videos directly on their feeds rather than leave their feeds and visit the YouTube website.
By integrating the videos with your other social networks, you may enhance interaction on those platforms. This assists you in increasing the number of interactions you have with clients through your digital presence to enhance your reputation.
Here's how you can use intelligent YouTube SEO methods to increase the visibility of your YouTube content on the platform.
Use relevant keywords in the file name of your video.
YouTube is a search engine in the same vein as Google. Because of this, you will need to undertake keyword research to determine which terms your intended audience is utilising to look for videos comparable to the ones you are producing.
However, a range of Video SEO tools is available to help you get the task done quickly and effectively. It is crucial to start with the name of your video once you have picked a notable keyword that you want to address with your video.
This is necessary because YouTube must analyse the data file included inside your video to determine what it is about. Considering that YouTube does not have human eyes to view your video, using a specific phrase in the data file can assist its index bots in determining the worth of your material.
As a result, conventional file names that contain underscores and undefined information should be avoided. In an ideal situation, a viewer ought to recognise the data file of your film and comprehend what it is about without having to watch it.
Insert the relevant keywords in the movie title in a creative way.
A video title is usually the first thing that comes to mind when you search for anything on the internet. This is frequently what determines whether or not a person will watch a video. Hence, the YouTube title should be attention-grabbing, straightforward, and concise.
It is critical to include your goal word in the title to guarantee that your video appears in relevant searches. However, it would be best if you didn't place all of your expectations on this factor, significantly impacting the exposure of your video material on the internet.
Incorporating a keyword into your video title will not offer you a significant advantage, but it will supply you with one. To avoid this, ensure sure that you organically include a keyword into the video title.
However, while putting a target term in your original video is not always the best strategy, it may be highly beneficial to produce an engaging video title.
Keep track of your metrics.
The only method to determine whether or not your YouTube SEO approach is practical is to monitor your metrics. To determine where your clips are performing well and may require some adjusting, you should track it performance metrics. YouTube provides a variety of analytics statistics to assist you in tracking your progress.
There are several analytics you may track, but the following are the ones that every YouTuber should be familiar with:
Watch Time: Overall number of minutes that people spend watching your videos is referred to as "watch time." YouTube prioritises video and channels with longer watch durations in their search engine results since watch time is a good measure of user involvement on the platform.
CTR (Click-Through-Rate) for Impressions: The CTR for Impressions evaluates the point at which people view your video after viewing it on the webpage, suggestion area, or trending portion of their website. 
Unique Viewers: The approximate number of people who watch your video and clips over a specified period is the unique viewers. This statistic can assist you in determining the size of your audience and measuring engagement levels.
Traffic report: Report on traffic sources reveals how viewers discovered your video and which sites are responsible for the highest levels of interaction with your videos. It is possible to utilise this information to improve the efficiency of your video advertising plan by determining where to distribute your material.
Subscriber: The YouTube Subscribers Report tells you which videos, regions, and periods have gained or lost subscribers over the month. With this information, you can determine which themes are popular among your subscribers and when to focus your efforts on acquiring a new subscriber
Keeping track of these numbers over time will allow you to see which videos generate the most engagement as well as the reasons that contribute to their success. Keep in mind what distinguishes these videos from those that do not do as well—you may see trends in the content, the style of video, the length, or the publishing schedule that distinguish these videos from others.
Provide subtitles in a variety of languages.
YouTube has an enormous worldwide audience. Only 16.3 % of YouTube's site traffic originates in the United States, while more than 1.7 billion logged-in people viewed YouTube videos every month throughout the world. 
In the same way, English subtitles make your videos more accessible to more people, help to grow your audience further while also improving your YouTube SEO.
Foreign and non-native English-speaking audiences can appreciate your videos if you include foreign language subtitles. Search results will also analyse your translation subtitle scripts and include your content in search engine results in the languages they are translated. 
This may be beneficial for your YouTube SEO approach since it increases your chances of leading the pack for non-English terms due to the reduced competition level.
Always double-check your translations for correctness, and consider outsourcing your subtitle production to a provider that can ensure high-quality results.
Make Your Video Description More Effective
YouTube makes use of descriptions to provide viewers with information about the videos they are seeing. The maximum number of characters allowed in these descriptions is 1,000. Even though it is legal to include all of these words to define your video, it is crucial to remember that your visitors want to watch a video rather than read an essay.
If you wish to write a lengthy video description, consider that YouTube only displays the first up to three lines of text, which is around 100 characters. If you write extra, audiences will have to engage in the video to access the full description.
To make the most of this area, include all the vital information, such as call-to-action buttons, in the first few words of your video's description. When it comes to whether or not including keywords in a description is beneficial for SEO purposes, there is no definitive answer.
Make Use of Popular and Viral Tags in Your Videos
Making use of popular tags in your videos, according to YouTube's Creator Academy, not only helps viewers identify high-quality material but also educates YouTube about the subject matter of your films. Tags give context for how your clips should be classified and are used to categorise videos.
YouTube will be able to correlate your videos with relevant videos that your intended audience may be watching due to this. Make sure, though, that you are not simply adding unrelated tags to increase the number of views for your movies.
Google can penalise you for engaging in this conduct, which is just unnecessary. Utilise the most crucial keywords first, just like you would in your description. Long-tail keywords can help you appear in more searches by increasing your visibility.
Select the Most Appropriate Genre for Your Video
Categories are similar to tags in that they organise your video material with other comparable content. You may pick a genre for your video after it has been uploaded by going to the "Advanced options" area and clicking on it.
Make a point of selecting a category that corresponds to the subject of your film. This will ensure that your video appears in various playlists and receives a more significant amount of exposure. Choosing the appropriate category is not as straightforward as it appears.
The most effective method of determining the genre for your clip is to look for comparable producers that publish videos similar to yours. In the case of a marketing firm, you may try to discover other marketing companies who publish videos in the same category as yours and utilise the exact keywords.
Instead of merely assuming which genre your recordings go in, this is a lot more effective strategy.
Create a Custom Thumbnail and publish it.
Thumbnails are incredibly significant on YouTube, especially for video content. According to YouTube's Creator Academy, custom thumbnails are used in 91 percent of the most incredible videos on the platform. For this reason, if you want to achieve the same level of success as the above, you need to produce an intriguing thumbnail that will encourage visitors to engage in your videos.
There are several internet tools available to assist developers in the development of unique thumbnails. It's now simpler than ever to put together a website in a matter of minutes.
What type of content should be provided for YouTube SEO?
It's vital to remember that not every video your business creates should be uploaded to your YouTube channel. The clips in this category should be tailored to appeal to a wide range of viewers. Keep in mind that the majority of individuals that discover your channels are not coming via a branded website. In most cases, they enjoy a movie for enjoyment or learning purposes rather than making a purchase.
In general, your video should be able to stand on its own: it should be perfectly understandable and give value to viewers who are unfamiliar with your business or the speaker. Instead, the corporation should concentrate on offering high-quality films that customers can enjoy on their own. Creating videos that assist consumers in understanding complex issues linked to your sector, breaking down significant events clearly, or putting forward new theories or concepts relevant to your area may be pretty successful.
Include educational choices in addition to other sorts of valuable videos. For example, include instructional videos on how to do specific chores or excel in your sector. With the help of YouTube SEO, you can even build profitable video channels focused on a captivating narrative that revolves around your brand.
YouTube SEO benefits from all sorts of films since they give value to consumers who are simply browsing the channel, irrespective of whether they have a relationship or awareness of the company in question.
The Importance of YouTube SEO in your Advertising Strategies
Additionally, YouTube SEO may assist you in more directly promoting your product's visibility through video. Starting with paid YouTube advertising, marketers may direct traffic into their YouTube channels to build their audiences. When it comes to Google TrueView video advertising, there are three different sorts of advertisements available:
Depending on your preferences, you may choose to play your advertisement at the beginning, middle, or closing of your video. This is referred to as an in-stream advertisement.
You may build adverts that will appear in the search engine results for specific queries that you specify. This is referred to as an in-search advertisement.
You have the option of creating an advertisement that shows on the YouTube play screen. This is an advertisement that appears on display.
The created video should not be overly lengthy, and it must be entertaining from the first few seconds onward. Specifically, this is true for in-stream advertisements, which consumers are frequently offered the option to skip after only a few seconds of seeing them. In addition, the video may be targeted for the platform.
It's important to remember that people aren't often on YouTube to buy things; instead, they're there to educate or be captivated. That same adage holds for commercials. Success is more likely to be found in educational advertisements related to the keywords and the business and advertisements that integrate the connection with people through testimonials.
Other sorts of advertising are also accessible on YouTube in addition to video advertisements. Through the use of CTA overlays, you may, for example, build interactive films. The overlay can include connections back to your webpage, making it simple for parties involved to learn more about your company and engage with it more directly. Including rich snippets in your video can aid in the indexing and ranking of your video.
Finally, if you execute video SEO correctly, YouTube SEO can influence your search engine rankings. YouTube is owned by Google, which frequently includes videos in search results relevant to the query. 
Even on standard search engine results pages, a very well video and well-executed YouTube SEO may enhance awareness. A well-known film that encourages many people to visit a brand's homepage can also indirectly aid in improving the ranking of your website.
The increased traffic, especially from these engaged individuals who have previously shown enthusiasm for your brand, can enhance your site metrics, which are essential for the search engine's ranking algorithm. Utilising the ability to post URLs in the comment section, as provided by YouTube SEO, may make it even simpler for interested viewers to visit your website.
Increasing the Popularity of your YouTube channel
Developing a great YouTube channel necessitates the development of a marketing plan that will draw attention to the videos, including YouTube SEO. Before you begin, like with any other area of web marketing, you must have a clear understanding of where you'd like to take your business.
Please identify what you wish your account to perform for and what sorts of videos are most probably to be liked by the target audience before you start creating them. Bear in mind; YouTube fame is not founded on one-hit wonders. It takes time and effort. Video channels that have significant followings and generate income for businesses create good video after excellent video consistently.
For the past several years, the emphasis on quality over quantity has been critical in digital marketing. As a result of the intense rivalry that businesses encounter – an average of 300 hours of footage are posted every minute – low-quality films fail to garner the intended positive attention. Still, they may also harm the overall impression of the brand.
Your ultimate objective should be to consistently generate high-quality, entertaining films while also maintaining video SEO rankings. When someone finishes watching one of your videos and navigates to your channel website, they should be presented with several alternatives for more similarly valuable and worthwhile films. 
This is a proper YouTube SEO strategy that can help you increase the number of subscribers to your channel. These influential movies result from a combination of imagination and a thorough grasp of what viewers want to watch.
Begin by determining the duration of the video to be shown. According to current estimates, the optimal runtime of a YouTube clip is 2 minutes and 53 seconds. This gives you ample chance to engage and educate your audience without dragging on for too long and losing their interest in what you are saying.
Make sure that your videos get off to a great start. You will have around 10 seconds to capture the interest of a viewer. After that, you will lose 36 percent of viewers after 35 seconds, 47npercent after one minute, and 60 percent after two minutes. You want to make the most of your time to have the possible effect with YouTube SEO.
Choose the most appropriate thumbnail. While the thumbnail and title are often two determining criteria for viewers when selecting a video, they are also essential components of YouTube SEO. To pick the best frame for your film, you should concentrate on expressing the material and emotions present in it. Eye contact can be pretty effective; thus, choosing a thumbnail that shows the subject gazing directly at the viewer might be wise.
Make sure that your content is in the most acceptable possible format. Using the incorrect format might lead to the video not being as sharp and clear, and therefore less engaging, harming video search engine optimisation. Generally speaking, the optimum file format for the YouTube SEO is MPEG-4, and you should aim for a size of 1280 x 720 (16:9 HD) when available.
Optimise the video for it to rank well. You want to generate information relevant to your target audience's interests, just like you would with any other sort of internet content. This entails identifying relevant themes and keywords, as well as developing films that address these requirements. To execute video SEO methods, including the title tag and caption of the video.
To successfully utilise YouTube SEO, you should also include tags in your videos. In addition to your keywords, these labels should include data about the video genres, data about the content, as well as any significant insight into how or who created the video or who appears in it.
Make sure you target your demand by creating the actual content with searchable keywords, themes, and context when executing video SEO for exposure:
The title of the video and the description of the video

The existence of a proper link to pertinent data on your website

The video tags have been added.

Using playlists, you can obtain serialised suggestions between your videos as you watch them.

Increase the amount of time people spend watching videos, which is a ranking element for YouTube SEO.
How To Determine Whether Your Efforts Have Been Fruitful?
As you put your video SEO plan into action, be sure to keep track of your success so that you can evaluate how effectively your endeavours on YouTube are performing and which aspects are having the most positive influence. There are various metrics you can use to determine the success of your YouTube SEO campaign.
Sponsored traffic and engagement rate are essential metrics.
For many, increasing brand recognition is one of the most important objectives of their YouTube SEO strategy. Checking your brand traffic and engagement rate as part of your video SEO monitoring strategy is a terrific method to evaluate whether you are making progress in this area.
Referral traffic resulting from SEO on YouTube
Please remember that the percentage of users who click through from a video on YouTube to a website or YouTube account homepage will be insignificant compared to the overall number of individuals who see and like your video. While doing so, keeping track of video SEO development in this area can help you determine whether your videos are reaching the correct audience and whether they are being appreciated for how much you have to say.
Make Use of YouTube SEO Analytics That Are Reliable
Here is a list of the stats that are available for playlists and individual videos. For example, insights into view time, an essential indicator of YouTube SEO interaction for ranking purposes, can be found here. The daily viewing time and views statistics are listed below, followed by information on the audience's demographics.
To attract more organic traffic, marketers must expand their video SEO rankings to YouTube and learn YouTube SEO to rank higher in Google's search engine results pages (SERPs). 
Using YouTube by experienced advertisers, mainly those skilled in YouTube SEO, maybe a potent tool. Due to the growing awareness of the importance of video entertainment and learning possibilities, the popularity of video platforms has increased significantly in recent years. Brands who understand how to leverage this organic channel might see their traffic and profits increase significantly.
Monitoring and evaluating the ongoing performance
Finally, we strongly advise you to analyse your existing video performance utilising Google Data Studio and YouTube statistics.
It's critical to master the technique of estimating your total amount of YouTube viewed time, especially if you're comparing metrics with other social video marketing platforms.
It shouldn't be difficult, but you will need to be familiar with Google Data Studio to calibrate this report properly.
The knowledge offered above should enable you to develop video content that is both instructive and beneficial to your target audience as soon as possible.
The Most Important Takeaways
High-speed networks and powerful smartphones enable users to watch videos from any location, but you must work on optimising your videos for search engines in order to reach this market.
While the SEO research required for video is comparable to that required for traditional SEO, it differs in some ways. Invest the same amount of time and effort into studying youtube SEO as you do into any other type of keyword research. 
Keep in mind that page titles, summaries, and transcripts (all of which contain keywords) can also significantly improve your video SEO ranks. 
11 Common YouTube SEO Mistakes (And How to Fix Them)
YouTube SEO is different from Google SEO. We have extensively covered how to optimise your videos to match the requirements of the YouTube algorithm. Let's dive in and look at common YouTube SEO mistakes and how to fix them, shall we?
Writing Short Descriptions Without Keywords
Video description on YouTube serves the same purpose as the meta description on blog posts and website pages. In the past, everyone believed that the title, description and tags impacted ranking on this search engine. Exact match keywords were extensively used in tags to ensure videos were listed at the top of the results page.
However, YouTube clarified this by saying tags had minimal impact on video ranking and discovery. They also mentioned that tags are more useful if the content of the video is commonly misspelt.
Hence, apart from including exact match keywords in the title, you should include them in the video description. Additional contextual information that can help the bots understand the video should also be added.
Unfortunately, most video content creators don't show the description much love, hindering their channels from ramping up views and subscribers. Here is a breakdown of your description's sections, starting from the top.
1st Opening Statement

2nd Content Description

3rd Call-to-action

4th Boilerplate Information
Follow this structure to ensure that your description has all the SEO elements that the YouTube algorithm considers when ranking videos.
Ignoring Off-Page Metrics
You probably have one or two tools for analysing the performance of your SEO campaigns. The reports inform your decision to tweak certain campaign areas, such as adding voice search terms in the blogs.
The same case applies to YouTube SEO. You need to monitor off-page metrics to achieve brand awareness and visibility continuously. The factors that YouTube uses to rank your videos have little to do with what you do on the videos.
The search engine focuses more on what the viewers do after watching the video. Their response enables bots to determine the quality and relevance to the audience.
Some of the essential off-page metrics that you should consider when creating a YouTube campaign are;
Audience Retention: How much time the viewers spend watching your videos.

Engagement: Number of shares, comments, likes, and subscribers 

Click-Through Rate: How often do people click on your video thumbnail
These three signals help the algorithm determine the quality and relevance to the viewer's intent. The YouTube team advises users to keep the audience retention rate as close to 100% as possible. That is, viewers watch the entire video.
Videos with high audience retention have a greater chance of being displayed more frequently in search results and suggested locations on the platform. 
Knowing the factors that affect the performance of your Videos is not enough. You need to be proactive and regularly act on the data to make better video content. Familiarise yourself with the YouTube analytics dashboard to correctly interpret the reports. 
Click-through rate (CTR) is one of the powerful off-page metrics used to rank videos on YouTube. Videos with keyword optimised titles, descriptions, and valuable content will still not get views if the thumbnails are poorly designed.
In the past, we have seen quality videos get ranked #1 for a keyword within the first 24 hours after being uploaded but get pushed to the second or third page due to a low click-through rate.
Thumbnails are meant to pique the attention and interest of the viewers. If they don't do that, the CTR will be low. Relying on YouTube to select the right frame for your video won't get the job done. Your videos should have custom thumbnail designs that resonate with the target audience.
Concisely, if the thumbnail is boring and does not match the video content, it will suffer from low CTR, and its ranking will drop. Here are five best practices you should follow when creating thumbnails.
Use large bold text

Include highly contrasting elements to stand out

Include an image of the product or person featured in the video

Add enticing visual cues of what the video is about
Watch this video on how to create the best thumbnails for YouTube videos.
Not Mentioning the Target Keywords and Phrases
Most digital marketers are unknown because YouTube considers closed captions when ranking videos. YouTube automatically transcribes videos to make them accessible to visually impaired users. However, most of the transcription files are inaccurate – they don't always match what is said in the video.
In the past, experts argued that YouTube would only index a captions file if it were custom. And so, the content creators had to seek transcription services from sites such as Rev and upload the file alongside the video to YouTube.
A separate group of experts believe that the auto-generated transcription file is enough. From experience working for different clients, we can confidently state that auto-generated captions are not enough to improve your YouTube SEO.
Since their accuracy level is only 70%, there is a risk of YouTube and Google considering your videos as shallow and gibberish if you only rely on the automatically generated caption files. 
The worst-case scenario is the videos have been marked as spam. The performance of your channel will be affected negatively if a significant number of videos are marked as spam or shallow.
The bottom line is that, even if you decide to stick to the automatic captions, make sure that you deliberately mention the target keyword and phrases loud in your video dialogue That way, they will be picked up and included in the caption file. 
The algorithms will accurately know what the videos are about based on the keywords and phrases it transcribes. As a result, the videos will have a better chance of being displayed to users who use the terms to search for information either on Google or YouTube. 
Have you noticed Google often display links to YouTube videos that they perceive to match the searcher intent? That's right; Google doesn't just rely on websites to answer searchers queries; they also seek help from YouTube database.  
Profit from both search engines by ensuring that your content is fully SEO optimised. Do separate keyword research for YouTube to get even more results.
Not Proactively Promoting Engagement
First, there is a strong connection between video ranking, performance and engagement signals such as shares, likes, comments, and the total number of subscribers. 
Backlinko recently analysed approximately 1.3 million search results of YouTube and found out that videos with many comments were ranked better than those with low engagement.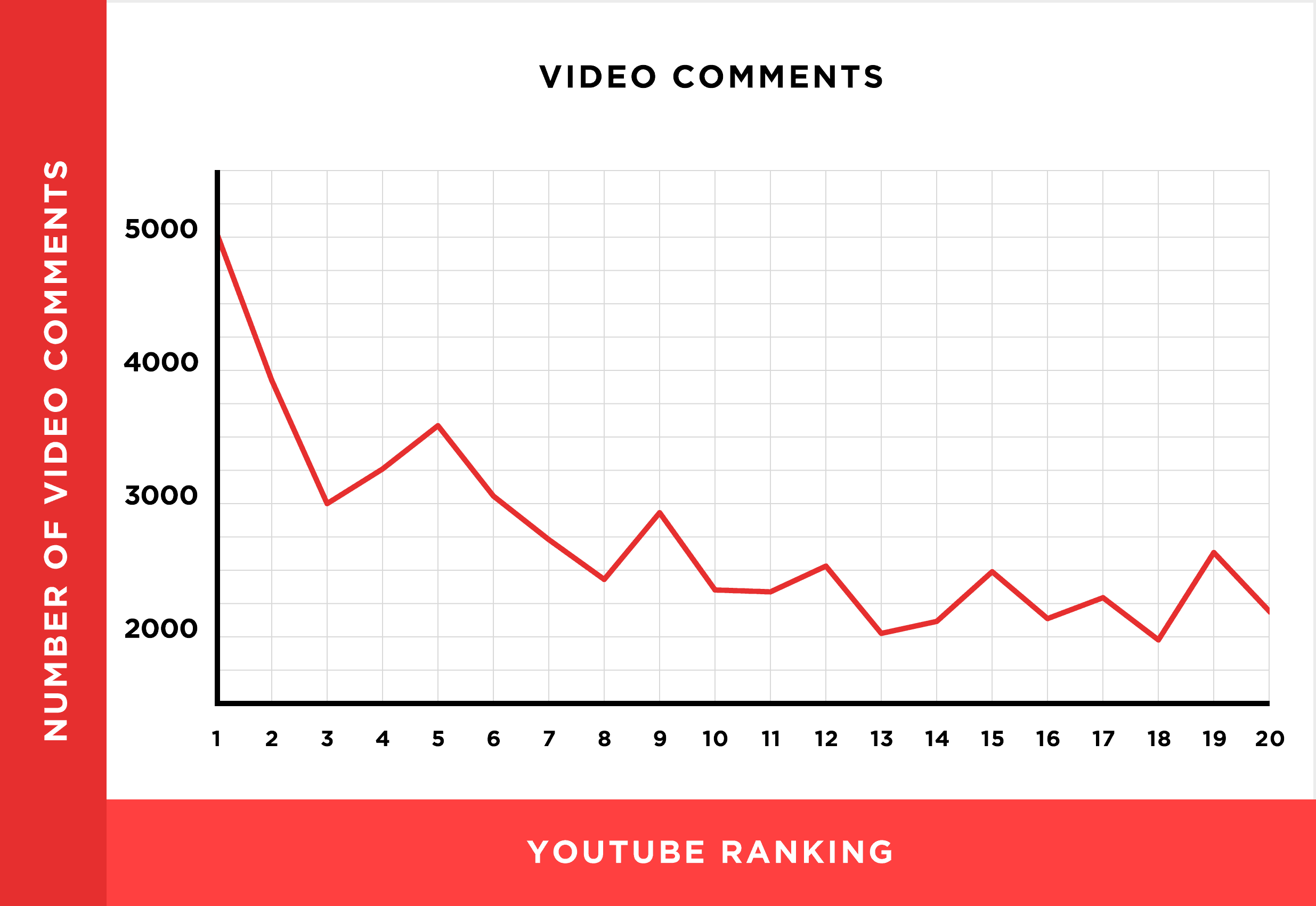 Photo Credit: Backlinko
This means that when a viewer writes a comment or likes your video, it sends a signal to YouTube bots that they enjoyed watching it. 
However, few YouTube content creators promote engagement. They are shy to ask the viewers to write a comment, like, or subscribe to the channel, which hinders them from growing their channel. 
YouTube doesn't respond negatively to dislikes and negative comments. Any engagement will work in your favour, and that's why controversial videos perform really well in terms of views and comments.
Not Encourage Viewers to Watch More Videos
Getting your target audience to watch one video posted on your channel is great, but you need to do more to compete with the titans of the platform that are ranked on top for target keywords, and their videos get thousands of views per day.
It would be best to encourage the viewers to watch more than one video when they visit your channel. As a result, you will kill two birds with one stone when your audience watches more than one video per session.
View duration will increase

The amount of time the viewer spends on YouTube will increase
YouTube loves videos that inspire the users to spend more time on the platform as it gives them more opportunities to display ads. 
Also, repurposed videos don't usually perform well on YouTube. Repurposed videos are videos that were initially customised for posting on Facebook or the website. The marketer decides to post the same video on YouTube to get more views and exposure online.
Brands that put in the time and effort to create custom videos for YouTube get the most results. So, change your schedule or outsource the role of creating a video to a team of professionals to get more views and traffic to your website.
Not Considering the Target Audience When Writing Titles
Most people tend to write video titles to impress the search engine algorithm. Such titles are cold and don't evoke positive emotions in the viewers. 
The viewers won't bother to click on the title if it's not interesting or if it doesn't pique their interest. Earlier, we mentioned that CTR is one of the factors that YouTube uses to rank websites. Videos with high CTR are ranked better than those with low CTR. 
The surest way to crank up CTR is by creating user-friendly titles. What does that mean? It means your titles should be viewer-oriented. Put yourself in the shoes of the viewer. What would you want to read before clicking to watch the video?
Create interest to get that important click by writing titles for users and not just search engines. However, you still need to include the target keyword NATURALLY in the title, don't force it. Use your knowledge of the target audience needs and preferences to structure and optimise your video titles accordingly.
Adding too Many CTAs in One Video
Including CTA in the video will inform the viewers of their actions after watching the video. In-video CTAs are more effective as they are displayed at the right time. One common mistake we notice in videos is the creator asking the viewer to make more than one action.
Last week, we came across a really interesting video about the impact of AI in eCommerce. Towards the end of the video, the creator asks the viewers to like, comment, subscribe, and follow his Instagram account. 
Too many options deter the viewers from taking action. Such videos hardly lure the target audience to take even one action.
Don't make this mistake. Every video should be focused on one action. Encourage the audience to watch other videos, but don't bundle up multiple CTAs in one video. Remember average views and session time are important ranking signals, so the more content a viewer watches, the better. 
Doing Keyword Research When Uploading 
Keyword research cannot be an afterthought if you want to get views on YouTube. Instead, you should do it before you embark on recording the video. That way, you will have ample time to evaluate and understand the needs and preferences of your audience.
If you do the research minutes before uploading the video, you won't get enough time to locate the ideal keywords that match the video content. Avoid deleting and re-uploading videos for not having written the titles and descriptions correctly the first time.
Focussing on a Broad Niche
Direction is important when creating a YouTube channel. Most people create a channel that focuses on multiple different topics. As a result, they post hundreds of videos on topics that are not related. 
If your channel is about cars, the videos should solely discuss cars and not stray to other niches such as computers and mobile applications (unless they are related to cars).
Getting subscribers is also an uphill task if the channel range is too broad. It's not too late to start all over again if you have been making this mistake.
Choose a specific niche that you are good at and is profitable. Focus on it only and watch your channel grow. 
Not Leveraging Interactive Features (End Screens and Cards)
YouTube continuously rolls out interactive features meant to spur engagement and increase session time. Posting videos without these features make your channel less interesting to the audience. This could be the reason why you're struggling to get views and subscribers.
Find and include interactive features such as end screens and cards where you deem appropriate to get ahead of the curve. They help enhance data relationships between multiple videos. Using them will increase the chances of YouTube recommending and listing your videos in the sidebar for related search terms. 
Implement all the best practices discussed in this article and avoid the above mistakes. Over time, your channel will get more views, rank highly for the target keywords, and generate sales.