How big is WordPress today? Is it still the same old blogging platform that got us all started back in the day? What's changed? What's new? And how is it holding up against the competition?
Well, that's what we're here to talk about. WordPress is big, and it's getting bigger. Since 2003, when it was launched, the platform has seen a ton of growth and development.
As of 2023, more than 810 million websites are hosted on WordPress. That's about 43% of all the websites on the internet. And it's growing rapidly, with over 500 new websites being built on the platform daily, compared to the 60 and 80 on competitor platforms like Squarespace and Shopify.
How Popular is WordPress?
As of March 2023, there are about 1.9 billion websites on the internet, of which 810 million are powered by WordPress, making it the most popular website platform.
Let's break it down for you:
No CMS
33.8%
WordPress

43.2% of all websites on the internet

65.3% of all CMS websites

Shopify

4.4% of all websites on the internet

6.7% of all CMS websites

Wix

1.9% of all websites on the internet

2.9% of all CMS websites

Squarespace

1.8% of all websites on the internet

2.7% of all CMS websites

Joomla

1.7% of all websites on the internet

2.6% of all CMS websites

Drupal

1.3% of all websites on the internet

2.0% of all CMS websites

Blogger

1.0% of all websites on the internet

1.5% of all CMS websites

Bitrix

0.9% of all websites on the internet

1.4% of all CMS websites

Magento

0.6% of all websites on the internet

0.9% of all CMS websites
WordPress is the most popular website and blogging platform worldwide, with over 810 million websites running on it.
That's about 43.2% of all the websites on the internet, and it is growing rapidly, with over 500 new sites added daily.
WordPress holds 64.2% of the global CMS market share, far ahead of its competitors, including Squarespace and Shopify. 

WordPress powers some of

the big brands you know,

including Sony, Disney, Tech Crunch, CNN, Time Magazine, and more.

38% of the top 10,000 websites run on WordPress, making it the platform of choice for large businesses and enterprises.
Impressive stats, we would say.
But the only way to truly understand WordPress is to look at its figures relative to that of other CMSs. 
For example, WordPress accounts for 64.2% of the market share compared to Shopify (6.7%) and Wix (2.9%). That's ten times the size of its closest competitor and 20 times that of its next closest competitor. 
WordPress Plugins
The biggest reason behind WordPress's popularity is the vast library of plugins that it offers. WordPress has a plugin for almost any situation you can think of, and new plugins are added every day. As of March 2023, over 60,180 free plugins were available in the WordPress repository.
Source: Statista
The Most Popular WordPress Plugins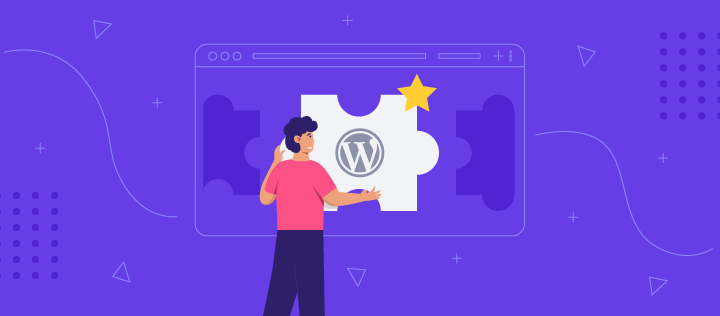 The ten most popular WordPress plugins (in their rightful order) are: 
Contact Form 7

Yoast SEO

Elementor Website Builder

Classic Editor

Akismet Spam Protection

WooCommerce

Contact Form by WPForms

Real Simple SSL

Jetpack – WP Security, Backup, Speed, and Growth

All-in-One WP Migration
Many free plugins sell premium versions of the plugins from their own websites. These premium plugins offer more features and better support. 
The WordPress Community
The wordPress user base is spread all over the world. And it's not just businesses but also governments, schools, non-profits, corporates, and individuals. 
WordPress has an active community of developers and experts who help each other. WordPress also offers a range of forums and support channels for users to get help, including the official WordPress Support Forum, the WP Tavern blog, Stack Overflow, and more.
The WordPress translation community has the platform fully translated into 56 different languages and partially translated into dozens more. WordPress is also growing in popularity among developers due to its open-source nature. That means that anyone provided they know how to code, can contribute to the development of WordPress and help shape its future.

In 2017,

WordPress communities organized 128 Word Camp

events in 48 countries, selling 39,625 tickets. 

In 2017, WordPress communities held 4,379 meet-ups in 73 countries
WordPress Themes
Themes control your website's appearance. And WordPress has thousands of themes available, both free and paid. 
WordPress also offers a number of premium themes that are often more polished and feature-rich than the free ones. 
In addition to these ready-made themes, you can also hire a developer to create a custom theme for your website from scratch. That allows you to have a fully customized website that fits your exact requirements.
WordPress introduced the idea of themes back in 2005 with WordPress 1.5. Their first default theme was Kubrick.

WordPress has both free and paid themes. Envato Elements and ThemeForest are two of the most popular sources for premium WordPress themes.

There are

10,638 free themes in the WordPress repository

and thousands more in commercial marketplaces.

Divi theme by Elegant Themes is one of the most popular WordPress themes, used by 6% of all websites on the platform.

The average selling price of a WordPress premium theme is $40.WordPress Security

Elementor is the most popular WordPress page builder, accounting for about 18.3% of all WordPress websites.
WordPress Hosting
https://www.youtube.com/watch?v=Lw3zy2wfJP4&pp=ygURV29yZFByZXNzIEhvc3Rpbmc%3D
WordPress is a self-hosted website-building platform, meaning you'll need to purchase a hosting plan from a web host to get your website online. 
Most web hosts offer WordPress as a one-click install, making it easy to get started with the platform.
You'll be provided with all the necessary WordPress server resources to keep your website up and running. 
Newfold Digital Group (NDG)  (4.9%):

NDG is a conglomerate hosting company with brands like HostGator, Bluehost, Domain.com, iPage, and more. 

GoDaddy Group (4.2%):

GoDaddy Group includes brands like GoDaddy, Pagely, Media Temple, and more.

WP Engine (2.3%):

WP Engine is a managed WordPress hosting provider. By managed host, we mean they'll take care of the server setup, security, and performance optimization. 

SiteGound (2.0%):

SiteGround is a premium web hosting provider with plans geared specifically towards WordPress websites.

Hostinger (1.2%):

Hostinger is a budget option with plans starting at just $0.99/month.
WordPress Security
WordPress is catnip for hackers. It's open-source and widely used, making it the perfect target for malicious attacks. 
Luckily, WordPress is also well-protected by a team of dedicated security experts who work tirelessly to ensure the platform remains secure.
The WordPress Security Team provides regular updates and patches to keep your website safe.
According to Sucuri, one of the leading providers of security services, 83% of all the CMS-based websites hacked in 2017 were WordPress websites. 
That doesn't come as a surprise, considering WordPress powers nearly 65% of all CMS-based websites. 
Sucuri also reported that about 39% of all hacked WordPress websites were running outdated versions of the platform. 
To remain secure, keep your WordPress version updated to the latest release. You can also install a security plugin such as Wordfence or Sucuri to help protect your website from malicious attacks.
Nearly 50% of all WordPress attacks result from outdated or poorly coded themes and plugins. 
To minimize your risk, always use premium themes and plugins from reliable sources, and keep them up to date.
About 8% of hacked WordPress sites were a result of poor passwords. 
You should always use strong passwords and enable two-factor authentication whenever possible.
WordPress is a powerful platform. With the right tools and knowledge, you can create almost anything with it. 
However, security is of utmost importance and should never be overlooked. Keep your WordPress version, themes, and plugins updated, and use strong passwords to keep your website secure. You also want to choose a reliable hosting provider and install a security plugin to help protect your website from malicious attacks.
Lastly, be careful about the theme and plugins you choose. Always use premium options from reliable sources, and keep them updated. If you do all of these things, your WordPress site should remain safe and secure.
The Number of Countries Using WordPress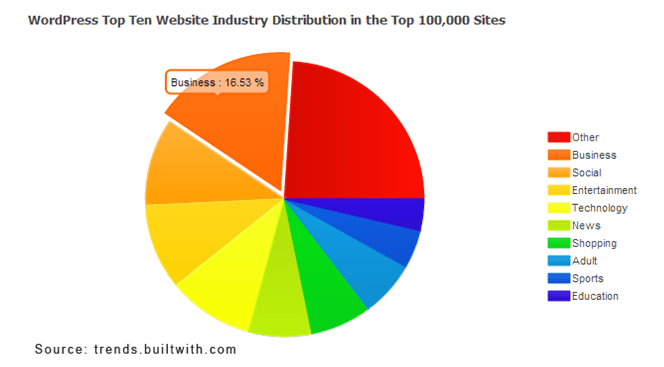 WordPress is popular everywhere in the world. However, most WordPress sites are created in the US, followed by Russia, UK, Iran, and India.
As of 2023, WordPress is used in more than 178 countries.

The CMS is available in 60 different languages.

Approximately 9 million WordPress sites are in the US
| | | |
| --- | --- | --- |
| Country Rank | Country | The Number of WordPress Sites |
| 1 | United States | 9 Million Websites |
| 2 | Russia | 550K Websites |
| 3 | United Kingdom | 380K Websites |
| 4 | Iran | 280K Websites |
| 5 | India | 275K Websites |
| 6 | Canada | 222k Websites |
| 7 | Australia | 161K Websites |
| 8 | Brazil | 123K Websites |
| 9 | Vietnam | 114K Websites |
| 10 | Germany | 10K Websites |
Statistics on WordPress Versions
WordPress was first released in 2003 and has come a long way. Since then, they have released 43 major versions and 507 minor ones. In total, they have released 550 versions (both major and minor).
Their most recent release is version 6.1, released on November 1st, 2022.
The most heavily used version of WordPress is 6, with a 50.8% usage rate, followed by 5 (39.1%) and 4 (6.6%).
The most used major versions
| | |
| --- | --- |
| Version | Percentage Number Of Users  |
| WordPress v2 | <0.1 % |
| WordPress v3 | 0.4% |
| WordPress v4 | 6.6% |
| WordPress v5 | 39.1% |
| WordPress v6 | 53.8% |
The Most Used Versions of WordPress
| | |
| --- | --- |
| Version | %  Number Of WordPress Websites  |
| WordPress V6.1 | 54.3% |
| WordPress V6.0 | 9.9% |
| WordPress V5.9 | 4.8% |
| WordPress V5.8 | 5% |
| WordPress V5.7 | 3.1% |
| WordPress V5.6 | 2.1% |
| WordPress V5.5 | 2.8% |
| WordPress V5.4 | 2.9% |
| WordPress V5.3 | 2.2% |
| WordPress V5.2 | 2.1% |
WordPress PHP Versions
WordPress is built on a PHP programming language. 
Speaking of which, most WordPress sites run on PHP 7.4 (56.1% of WordPress sites, to be precise).
PHP Version Percentage Of WordPress Users
| | |
| --- | --- |
| PHP V7.4 | 56.1% |
| PHP V7.3 | 10.5% |
| PHP V7.2 | 7.8% |
| PHP V5.6 | 4.9% |
| PHP V8.1 | 4.3% |
| PHP V8.0 | 9.8% |
| PHP V7.0 | 2.6% |
WordPress uses MySQL to store data.
The most popular version of MySQL used by WordPress sites is 5.7 (38.6%), followed by 5.5 (35.7%) and 5.6 (7.8%).
Here's a quick run-down of the most used MySQL version:
| | |
| --- | --- |
| MySQL V5.7  | 38.6% |
| MySQL V5.5  | 35.7%  |
| MySQL V5.6  | 7.8% |
| MySQL V10.3 | 5.8% |
| MySQL V8.0 | 6% |
Subcategories of WordPress
How are people using the different subcategories of WordPress: WooCommerce, Elementor, bbPress, LearnPress, BuddyPress, etc.? According to the latest usage data, the number of people using each subcategory is skyrocketing! WooCommerce is leading the way, with 20% of all WordPress sites using it.
| | |
| --- | --- |
| WordPress Element | % of Websites Using it |
| WooCommerce |     20% |
| Elementor | 18.8% |
| WPBakery | 13.3% |
| Beaver Builder | 1.1% |
| 10Web Photo Gallery | 0.8% |
| NextGen Gallery | 0.7% |
| bbPress | 0.5% |
| BuddyPress | 0.4% |
| Oxygen | 0.3% |
| FooGallery | 0.2% |
| LearnPress | 0.2% |
| wpForo | 0.1% |
| Visual Composer | 0.1% |
| Robo Gallery | 0.1% |
| Modula Albums | 0.1% |
| Supsystic Photo Gallery | 0.1% |
| Envira Gallery | 0.1% |
| SeedProd | 0.1% |
| Page Layer | 0.1% |
| Asgaros Forum | 0.1% |
Source: W3Techs
The Difference Between WordPress.org and WordPress.com
It's easy to confuse the two. WordPress.org is the open-source software people use to create their own websites. It's free, and you can host it anywhere you'd like. 
WordPress.com, however, is a managed service that builds and hosts your website for you. It's a free blog hosting platform you can use to create a website, but with fewer customization options and limited control over the content.
For instance, with WordPress.org, you can install any theme or plugin you'd like to customize the look and feel of your website. With WordPress.com, you don't have that level of control.
Plus, with WordPress.org, you get full ownership and control of your website. With WordPress.com, WordPress owns the copyright to your website. Meaning you can't monetize it.
WordPress Growth Over the Years
Before 2014, Non-CMS websites dominated the internet. But, since then, WordPress has grown to become the dominating website platform. 
It's still dominating but slowing down in growth. The number of websites built with WordPress has grown steadily since 2009 but has decreased slightly in the last year.
Source: ToolTester
In 2022, WordPress held a steady 43.2% market share of CMS websites, up from 39.5% in 2021. But in January 2023, there was a slight dip in the market share, down to 43.1%.
It's the same with Drupal, Shopify, and Non-CMS websites. They all saw a slight dip in the market share at the beginning of the year, indicating more competition from other platforms. 
WordPress growth has plateaued since the start of 2022, while Squarespace and Wix continue to grow, though at a rate that isn't a threat to WordPress's dominance.
What's the Future Look Like for WordPress
The signs are good that WordPress will continue to grow. An agile, well-supported platform with an extensive library of plugins and add-ons, WordPress is well-positioned to remain the internet's choice for website building.
WooCommerce has also helped WordPress remain relevant and attractive to users. With the growth of online stores and ecommerce platforms, WooCommerce allows users to create their own online store with minimal effort.
Additionally, its affiliated hosting service, WordPress.com, is nipping at the heels of its closest competitor, Wix.com. There's a fair chance that WordPress.com could overtake Wix as the preferred platform for website building.
WordPress.com Vs. Wix.com
Of all the available hosted web builders, Wix controls the biggest market share. According to BuiltWidth, it captures 44% of the web builders' market share. It's followed by Squarespace (16%), with Godaddy coming in third at 11%.
Source: Builtwidth
But that's a drop in the ocean compared to WordPress's overall market share of 43.2%. Remember, this includes WordPress.com and WordPress.org websites, not just the WordPress.com hosted service.
The WordPress Economy
WordPress is a thriving multi-billion dollar ecosystem that's created thousands of jobs and generated billions in revenue.
That includes freelancers, developers, agencies, hosting providers, theme and plugin developers, etc.
At the time of this publication, there are 19,208 WordPress jobs on Upwork and 4,869 on Indeed. 
Thousands of WordPress jobs are currently open on many popular job sites, indicating how vibrant the WordPress economy is.

The average hourly rates for WordPress developers range between $20 and $150, depending on the location and the developer's level of expertise.

A custom WordPress theme with a unique design, plugins, and custom code can cost about $10,000 and may increase depending on the project scope.

Hundreds of small and large enterprises are selling WordPress products. Examples include: 
WP Engine:

Selling WordPress Hosting services

Awesome Motive:

Selling WoRdpress plugins and themes like WPForms, SeedProd, Optin Monster, etc.

Yoast:

Providing SEO Optimization plugins and services.

Envato

: Selling WordPress themes & plugins.
Some Final Words
The WordPress ecosystem is huge and growing. There's no sign of it slowing down anytime soon, with more businesses and individuals turning to WordPress for their website-building needs.
With its flexible and open-source nature, WordPress will remain the go-to platform for many website builders.