Most entrepreneurs hire a website designer in Singapore to either create a fresh website or update their current site design.
While it is possible to do it yourself, it is essential that you have a professional-looking website and this requires a budget.
---
What to Look For In a Website Designer in Singapore
With the burgeoning number of web designers in Singapore, it can be challenging to find a good website designer.
Here are traits you should look for in a web design in Singapore.
An experienced web designer ought to have experience in designing sites for clients in your industry. This is proof that the expert is knowledgeable in the trends and best web design practices for your industry, as well as giving you peace of mind that you will get the best website for your business.
However, the experience differs from one website designer to the next, and a designer who has worked on a website in your industry will know what elements to include for better conversion rates.
On the other hand, a website design company in Singapore that lacks experience in your industry can still design a website for you, but make the process complicated and tiring than necessary.
Having the proper industry experience also allows the designer to be empathetic. This means that the designer can envision what you want and how your users will interact with the website.
It is virtually impossible for a website designer in Singapore to be an expert in all the operating system platforms and programming languages.
Any designer claiming to specialize in all OS's and web design-programming languages is an indication that they have not mastered the tricks of each one.
Preferably, you should choose a web design company in Singapore that meets your business requirements.
This will call for you to know exactly what you want to achieve with your website, otherwise, you will have an overly expensive website that does not represent your brands professionalism.
Web design knowledge, Strategies, and Techniques
Irrespective of the website designer you hire, it is vital that you establish how knowledgeable they are, as well as the strategies and techniques they use.
You can establish this by asking questions.
A proper website designer in Singapore should not have trouble in explaining what they are doing and as well as what they know, the strategies they use, and the techniques they will use to improve your web design in Singapore.
Hiring a website design company in Singapore that is just starting out is a good move, but it is also a big gamble.
They may be talented especially in the theory of making a stunning website, but the lack of experience and a portfolio can present problems.
An experienced web design company in Singapore, on the other hand, will have an expansive portfolio and will not be at pains to show you their previous website design work.
Their portfolio allows you to gauge their expertise, and from the work samples, you can choose the best design for your website.
When looking at the portfolio, be on the lookout for whether the designs are similar.
This is an indicator of a lack of creativity. An expert website designer in Singapore should constantly improve their skills using a variety of tools, ideas, and more.
It is also necessary that you look into the quality of their designs.
While a stunning design is important, their designs ought to be user-centric and aligned with prevailing design trends in Singapore.
Other than designing websites, a web designer in Singapore ought to offer additional and complementary services.
Some companies offer SEO, copywriting, social media marketing and management, website maintenance, as well as web development in Singapore among other services.
Besides, having a one-stop shop for all your website needs removes the need for you to hire different companies, which can push up the cost of web design in Singapore.
Many website designers in Singapore claim to be proficient in search engine optimisation.
However, if it is not evident in their website, be sure that they are using it as a marketing gimmick.
The only way that you can establish their credibility in SEO is by looking at their website.
This will also include other digital marketing services such as SEM and SMM.
Running a business in Singapore is a big enough challenge since there are several business operations that need funding.
For this reason, you should consider how much a website designer is charging for the services before making a commitment.
The cost of designing a website can vary significantly between one designer and the other as well as the number of features you want in the website. Before you start your search, research and set a web design budget.
This way, you will be able to narrow down on an affordable website designer in Singapore.
Moreover, it will give you a sense of how to negotiate with the web designer.
As a business or individual in search of a website designer in Singapore, the needs and wants for your website might change during the website design process.
This makes it necessary to work with a flexible website design company in Singapore.
Moreover, during the course of using the website, you might also consider changing the design aspects more than once.
A flexible website designer should accommodate your needs and execute them to the best of your vision.
Passion for Website Design
It is easy to tell if a website designer in Singapore is excited about their work.
Their passion for website design in Singapore will spill over to their interaction with you. Lack of passion will show in a variety of ways including how they communicate and set up their design processes.
A passionate designer will also have an elaborate workflow process.
They will be able to prevent common web design problems that could arise in the course of the project.
With that said, some designers can create amazing designs, but they are not good at working with clients. Despite their excellent expertise, their lack of people skills will pose a problem to any working relationship.
If you are not certain that your preferred website designer in Singapore is not enthusiastic about their job, and does not cope with clients well, then keep on searching.
This makes it better to work with a web design company in Singapore since they have a variety of designers with varying people skills.
Clear and Organised Workflow Processes
Some of the best web designers in Singapore have created many websites over time and as a result, they must have set up clear and organised workflow processes and website design techniques.
These processes and techniques allow them to foresee any pitfalls in the website design process.
They will also be able to give you an estimate of how much time it will take to complete the website.
For this reason, you should request a document highlighting the work that will go into the website design and a time to completion.
Good and Effective Communication
If you are conversant or had the time, you could have undertaken the website design work by yourself.
However, when hiring a website designer in Singapore, you should look for a good communicator who will expertly explain the web terminologies and technologies.
If a professional website designer is unable to explain the intricate concepts and steps of web design in a way that you can understand, then you are better off with the next one.
This is an important trait to consider when selecting a website designer in Singapore.
However, some unprofessional web designers get impatient with clients. T
hey will be at pains to revise a design, among other tasks. A great website designer should be able to prioritize your revisions and make them in a timely manner.
With that said if the revisions are not relevant, the designer will show you why they would not make for a better website design.
In a perfect situation, a website designer in Singapore will tell you when the website will be ready and deliver it on time.
However, problems can arise during the design process and this means that it will take longer to complete the website.
A professional website designer will contact you in advance whenever they encounter problems.
With that said, before signing a contract, ensure that your preferred website design company in Singapore sets reasonable deadlines.
More so, they should give you a detailed account of what happens if they fail to meet the deadlines.
It is mandatory that you sign a contract before a website designer in Singapore starts working on your web design project.
However, we have seen some contracts that have tied businesses and individuals to bad and exploitive deals.
It is important that you read the contract and seek legal advice before you sign the contract.
This ensures that you are not getting a raw deal and that your interests as a client are safe.
The contract will also come in handy especially when the resulting web design is not up to your desired level of professionalism.
Well-Versed In Web Technologies
Web technologies and the internet keep on changing and a professional website designer in Singapore need to be an avid reader and researcher to stay abreast of the trends shaping the web design, technologies, and the internet.
This means that they must attend seminars, and webinars, and interact with other designers to upgrade their web designing skills. 
Perceptive and Meticulous
One of a web designer's responsibilities is to help clients in problem solving.
When you go to a website designer in Singapore, he or she should give you a thorough consultation and package your ideas into a desirable website design.
However, only great designers can see beyond the design.
Being perceptive allows them to see potential problems with their designs and avoid them.
Some website designers are naturally meticulous, but others have to acquire it through user-centric testing.  
On top of this, a website designer in Singapore needs to be meticulous.
This allows them to identify the design elements that are not working and to change them quickly.
Irrespective of the complexity of a project, attention to detail is one of the crucial traits you should look for in a website designer in Singapore.
A website designer in Singapore is not just another contractor you hire to get a task done.
He or she is your partner since your relationship does not end when they transfer the website login details to you.
They will bring skills and tools that will turn your idea and vision into reality.
However, if you cannot trust them it will be impossible to be on the same page and you will always second-guess everything they do.
While remote working modules are gaining traction among website designers in Singapore, it is best that you hire one with an established office in a safe location.
This vital trait will help you determine the credibility of a website design company in Singapore.  
Some designers will display serviced office addresses on their website, but this are virtual offices and it indicates that they may be an inexperienced start-up.
You can always arrange with the designer to visit their office.
On top of this, you need to ensure that you are dealing with a designer that does not present chances of risk, such as fraud.
While doing a tour of the office, be keen to identify that the company is providing an ideal environment to attract and retain web design talent.
---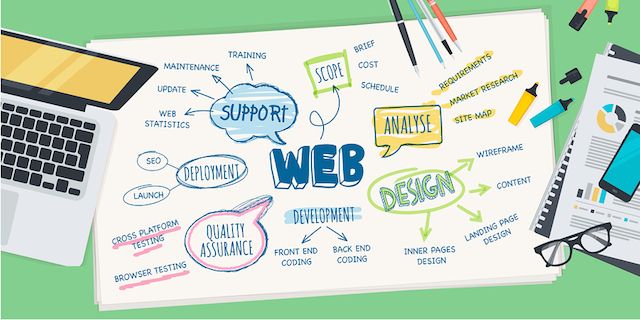 6 Tips on How to Work Cordially With Website Designers
Considering the above traits when vetting website designers will ensure that you hire one with the necessary academic qualifications, skills, expertise and soft skills such as humility and patience.
Let's flip the page and discuss 6 tips on working cordially with website designers.
But we proceed; it's worth noting that 48% of online customers rely on website design to determine the credibility of an online business.
Stop guessing and leaving things to chance by hiring a reputable website design agency that's best known for creating custom web designs that are responsive and in line with the best industry practices.
The main topic is how to work well with website designers in 2022 and beyond.
Plan Well for the Website Design Project
Failing to plan is equivalent to failing to plan. Even though you may have the best website designers on your side, you must prepare well for the project to ensure that every milestone is achieved within the time frame.
List down all the ideas for your dream website and discuss them with the designers to ensure that everyone is on the same page from the start of the project. Here are some questions for inspiration.
How many website pages should the website have?

Do I need a live chat feature?

Which ecommerce functions should be available?

Which extra services will be offered through the website?
After that, consider the styles, colours, and fonts you like or wouldn't want to be used. More importantly, put yourself in the shoes of the target audience. What would they want to see when they land on your website? Which message do you want to convey to convince them to do business with you?
The more prepared you're, the higher the chances of your website design project being successful. It's also a good idea to give designers examples of websites you like and links to competitor websites. This additional information will help them prepare and create the best custom website for your business.
Find and Nurture a Chemistry with the Web Designer
One surest way to guide your website design project in the right direction is by nurturing chemistry with the web designer. The connection will prevent instances of your creative ideas and expectations clashing with what the designer perceives is right.
Resist the urge to hire a cheap designer to save money. Otherwise, you will spend hours amending the website after the project is completed and you've paid the designers. If push comes to shove, you may hire a new team to redesign the entire website or specific pages.
Concisely, familiarising yourself with the web design team before the first meeting will give you confidence in their skills and capabilities. Keep in mind that the process of designing a website is time-consuming. So, you should outsource the task to a designer or team you enjoy working with.
It's like choosing a life partner or business partner. You want someone who is not only committed to the project and will give it unwavering attention but also someone trustworthy.
One of the mistakes new business owners make is not making things official. You should craft a binding contract and have it signed by the designer before they start creating the website. The contract should have details of the different milestones.
The details of deadlines, project goals, outcomes, and expectations should be clear and fully understood by both parties.
Even though the contract will be unique to your project and business goals, here are some things that must be included for it to be legally binding.
Project objectives

Project timelines

Budget

Who is responsible for different tasks

Deliverables

Is the project long-term or a one-off project

Ownership of the website content

Cancellation agreement
The more detailed and specific, the better. Consider hiring a lawyer to ensure all the clauses are legal. Sit down with the designers and discuss everything to ensure you're all on the same page.
If not, unpleasant confrontations down the line will result in a waste of time, and you may end up with a website that's not a representation of your business or a site that is not functional.
Communication is paramount when planning for a website design project and other aspects of the business. Make sure that your ideas and aspirations are clear to the designers and everyone involved in the project.
Remember, website designers, are experts in this field but cannot know what features you want if you don't provide hints. Most website design firms administer surveys to clients to collect additional information about the project before they start to design the website.
Don't shy away from going into as many details as possible and requesting clarification if you feel the designers don't fully grasp what you want. The more precise and detailed you are, the smoother the website design journey.
For example, if you write the content upfront or hire a copywriter to do it, you will cushion the web designer from the hustle of having to swap, delete and add new content repeatedly.
Additionally, do extensive keyword and audience research to know their expectations and search intent. This background information will guide your content creation and content marketing strategies in the right direction.
Please Trust Your Website Designer
Unfortunately, not everything you envision can be incorporated into the web design. Complex features cannot be created and added using the available technology and your budget.
Therefore, we recommend trusting your website designer to get the job done correctly and put your interest first at every step. Yes, your website is a long-term investment into your business. You will spend money, time, and effort on it and get attached to it on a personal level.
Nonetheless, give the website designer ample room and time to work. Without a favourable working environment, their abilities will be limited, and you won't get value for money.
That said, you should not be hands-off with the project. The point is to keep tabs on what the designer is doing at every project stage but doesn't get in the way. Don't be the stumbling block that prevents them from implementing certain graphics even though they resonate with your brand and messaging.
Here is what you can do to help your website designer complete the project on time and hit all the checkpoints.
Ensure that the on-site content is ready on time

Provide all the necessary resources such as images of your products and other branding materials on time

Adjust your weekly schedule to get ample time to review the designs and revert to the designer's questions or concerns

Give constructive feedback

Sign off designs and make payments on the agreed-upon dates

Get involved in the website testing process to avoid unnecessary back-and-forth requests
You can't do the designer's job, but you should be part of the process, not an impediment. A cordial working relationship will complete the project successfully and without delays.
Offer Constructive Feedback
By now, you already know that nit-picking is not recommendable when working on a website design project. Instead, you should provide constructive feedback not to correct the designer but encourage them to put their best foot forward.
It's the secret ingredient to a good collaboration and relationship with website designers. Understandably, most people fear providing feedback for fear of being perceived as inferior or ruining the working relationship.
Here are some tips on establishing a smooth and professional feedback exchange.
Ensure the suggestions are constructive

: Instead of just stating that you don't like a particular font, colour or image, give details about why you think it should be changed. That way, the designer won't feel you doubt their choices or undermine their skills.

Highlight what you like

: Positive feedback that commends the designer for completing a milestone well is as good as constructive feedback. It will encourage them to keep giving the project unwavering attention and show them they are on the right track.
It will also give them more confidence to make decisions independently and freely ask for your input whenever they deem it necessary.
Gather your thoughts:

The chances are that you have multiple mock-ups, sketches, illustrations, and designs that you would want the designer to consider. Such scattered feedback will do the designers no good. Instead, it will make it difficult for the designer to apply your suggestions in the designs. We recommend taking time to gather your thoughts and compile your suggestions and ideas into one feedback.

Be confidential:

Sharing the nitty-gritty details of your website design project with external people such as friends and family members will make the design process unnecessarily complicated and lengthy.
For example, sharing preliminary designs and mock-ups with people who don't have a clear understanding of the nature of your business will result in a ton of feedback. Unfortunately, some of the suggestions may be skewed in the wrong direction or incapable of moving the needle.
This, however, does not mean that everything should be kept under lock and key. If you must share the designs or ask for third-party input, only involve a select few who understand your business well and the kind of website you want.
---
5 Best Practices for an Exceptional Website Design
The above 6 tips will ensure you establish a good relationship with your website designer.
Let's briefly discuss 4 best practices for an exceptional website design that your target audience will enjoy interacting with.
Simplicity is the ultimate sophistication.
A complicated website design may stand out from the crowd but won't do your business any good if the target customers cannot browse it.
Make sure that the design is devoid of unnecessary elements. It should only have the functional features visitors need to learn about your business and complete purchases.
Of paramount importance is ensuring you use the right colours, typefaces and graphics.
Consider Visual Hierarchy
Visual hierarchy is closely related to the simplicity practice discussed above. Visual hierarchy refers to how the different elements and content is organised on the website pages.
The rule of thumb is that visitors should be greeted with the most important elements when they land on the website.
These elements should encourage them to spend more time on the website and take the desired action.
Website navigability refers to how easily visitors can navigate or move from one section or page to another.
Ideally, even new customers should enjoy a seamless browsing experience. Here is 6 tips on how to website navigability.
Add a navigation bar on your website footer

The site's primary navigation should be simple and strategically placed above the fold of each page

Limit the navigation options

Apart from the homepage, use breadcrumbs to enable visitors to remember the navigation trail

Include internal links in the different pages

Ensure every page has a simple wireframe map
Your website pages should be consistent with the overall brand image.
The branding on the different pages should be the same to offer the same user experience to visitors irrespective of where they are on the website.
That means the colour schemes, backgrounds, content tone, writing style, and typefaces should be the same on all pages.
Accessibility and Responsive Website
48% of website page views emanate from mobile devices. You cannot afford to ignore mobile traffic to your website if you want to grow your business. Make sure that your website is not only responsive but also fully accessible on all devices.
Invest in a website structure that is highly flexible and do A/B tests after improving the pages to be sure that the contents are displayed correctly on different screen sizes. Concisely, a responsive website will offer an exceptional user experience to visitors who visit the site using a mobile device or desktop.
While having an in-house website designer is every brand's goal, budget constraints often makes it difficult to hire one.
Luckily, MediaOne Marketing has a dedicated team of website designers who can create custom website templates and themes for your business without costing you millions. Get in touch with us today for more details. 
---
Conclusion
Searching for a website designer in Singapore is a bittersweet experience.
However, with the above traits, you will be able to pick a professional web design company in Singapore that will help you present the best image of your business on the internet.  
However, you should call, not email, an agency or designer's previous clients to ascertain the quality of service and delivery.
Contact us today for professional web design in Singapore.
Our support team will be on hand to give you a free and non-obligatory quote and schedule for a free consolation with our web designers.