The analysis of the traffic on your website can tell you if it is time to check out some web design tips from the experts.
The problem is that nowadays everyone claims to be an expert and you will be bombarded with a lot of information.
The question then becomes: Which web design tips will work and which ones will not?
You do not want analysis paralysis when you are looking for ways to not only increase the traffic to your website but also give each user an experience that will make them respond to the call-to-action.
After all, the sales from your site have a significant impact on your profits.
Luckily, there are tips from experts that are backed by years and years of research.
These pointers have been tried and tested on sites owned by both small and large companies; the results have been awe-inspiring.
---
Web Design Tips Backed by Research
Improve Readability by Using Short Sentences and Paragraphs
Potential clients first come to your website to scan it. They do this to find out if you have the product, service, or content that they want.
They immediately leave if they cannot find what they came for or they cannot tell you have it.
Your sentences should be short, and your paragraphs should not have more than three or four lines.
Potential clients are more likely to convert when they can quickly find the product/service that meets their needs.
The rule of thumb when writing sentences is that they should not be more than 12 words.
Draw Attention to the Call-to-Action
The call-to-action button is the reason you have gone to great lengths to have a website; your business has a better chance of succeeding when clients respond to the call-to-action.
There are several ways to make this vital button visible. First, use a different colour for the button and ensure that the colour contrasts the site's background colour.
Second, the text on the call-to-action button should contrast the colour of the button.
Lastly, leave enough white room around the button to make it more visible.
It is also crucial to note that the colour you choose matters a lot.
Social media giants Facebook and Twitter use blue colour as their background because it has been known to give users a calm feeling.
Red should be avoided as it is mostly associated with danger.
Green is an ideal colour as it is related to getting the go-ahead to do something.
A study was done to establish how people trust each other and revealed that you are more likely to trust someone who seems similar to you.
The subjects in the test thought people who were more similar to them were more moral and trustworthy.
Using images of people on your site makes your businesses more relatable to the people. It captures the attention of the client and eventually leads to conversions.
An A/B test has been done to establish if having images of people on the website works.
The conclusion was an emphatic yes: images of customers smiling work.
You should, however, never use stock photos. They give an image of a company that is not authentic.
This is not something that you want your potential clients to think about you.
Social Media Icons should be at the Bottom
Your business is doing things right if it is active on various social media platforms.
It shows clients that you care about them enough to follow them on platforms that they regularly use.
There is a tendency for companies to want to increase their social media followers by using their website, especially if social media marketing is a big business strategy.
They do this by placing their social media icons on the site's header.
This leads to an increased bounce rate as the clients leave your site to check out your social media pages as soon as the page loads.
The result of this is that your ranking on search engines suffers.
Placing the social media icons at the bottom of the pages gives users the time to discover essential buttons on your site.
They only find social media icons after they have explored the site in detail.
This web design tip should never be ignored as it directly affects organic traffic to your site.
Your clients want to subscribe to your content because they find it useful and relevant.
They want to receive timely information about your business when it is released. Signing up for your emails is one way that they can do this.
Your email sign-up form should be conspicuous and easy to fill.
Most of the time, the only information you need from a potential client is their email address, and this should be reflected in the signup form.
You should also tell your clients how regularly you will send the emails and what the email content will be. This ensures that they do not unsubscribe from your emails.
Use Arrows to Guide Users
It is important to direct the user on the action to take once they are on a particular part of your website.
Using an arrow is an excellent way of doing this.
A study by the CXL Institute analyzed eye tracking on several websites and found that guides help people find critical elements on the site.
Home Button on the Top Left
It is common for potential clients to scan the different pages on your website until they find themselves on the last page.
A home button enables them to get back to the first page quickly should they wish to do so.
Many clients are used to finding the home button on the top left of the site.
Having it in the same place will enable them to navigate your website quickly.
Use Meaningful and Descriptive Headers and Subheaders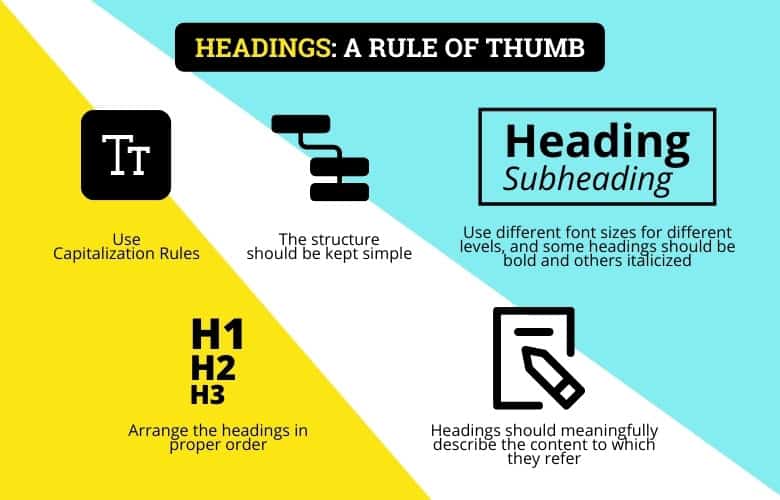 The headers and subheaders are often the guides clients use to look for specific information. It is for this reason that they are usually in huge letters.
Having meaningful and descriptive headers tells the users precisely the type of information they will find when they press click.
---
8 Website Design Tips you Cannot Afford to Ignore
The above tips will help you get started, but you need to do more on your website to enhance your business's competitiveness in the current digital landscape.
It's 2022, and most of them are too basic or generic.
Let's dive in and look at 8 ways of improving your website and getting more sales in 2022 and beyond.
We will also expound on previous tips to give you a better sense and understanding of how to enhance your website.
Provide Intuitive Navigation
Navigation has a direct impact on your website's usability. With Google's recent update, Core Web Vitals, taking full effect, you need to focus on making your website as user-friendly and functional as possible to rank high on SERPs.
If the website has complex navigation and mammoth information, some customers may feel like they are on a treasure hunt.
Avoid that by continuously improving its navigation to make it more user-friendly.
Start by making the buttons and navigation menus clear to new web visitors, enabling them to explore the pages and interact with content intuitively.
We talked to web development industry leaders, and here are their top three tips for improving website navigation.
Use clear language: Avoid using complex terms or industry jargon to describe the pages. Instead, use terms that are easy to understand and familiar to the users, such as "Contact Us," "About Us," "Services," and more. Difficult to understand will confuse visitors and lure them to visit your competitor's website.
Tailor the navigation to your content: The presentation of the content should match the navigation. For example, if you have limited content on the website, a few navigation links will help visitors move from one page to another seamlessly.
However, if you have a huge website, you need a detailed main menu and drop-down menus to provide a clear path to the customers.
Monitor how they use the menus to know how to enhance them for better results.
Provide Breadcrumbs: Breadcrumbs help guide users through the different processes such as checkout by informing them where they are on the website.
When properly implemented on the website, the breadcrumbs will help users know the next page they should visit and help them retract their steps easily.
The takeaway is that intuitive navigation will give visitors an engaging experience and a clear path through the buyers and conversion funnel.
By design being clean, we mean that your website should be devoid of unnecessary clutter.
Such a design will make the website easy to scan and content more digestible.
Keep in mind the user's cognitive load when browsing the website. They have probably spent hours browsing through different websites before landing on yours.
Avoid overwhelming them with an explosion of content, images, and colours.
Your content should be a breeze to navigate and packed with only meaningful content.
One surest way to achieve this goal is by creating a visual hierarchy.
What is a website visual hierarchy? 
A website visual hierarchy refers to how the different elements are organised and placed on the different pages based on their level of importance of relevance.
For instance, the main headline should be large to attract visitors' attention.
It should also be placed at the centre of the page and highlighted with a contrasting colour to stand out from the surrounding elements and content.
On the same point, use white space to guide the visitor's eyes to the most important sections of the website.
What is website white space?
Simply put, white space refers to the "negative" space refers to the space between the web page's visual components, layout elements, and paragraphs.
Designing every page with white space in mind will go a long way to make the content easier on the visitor's eyes, digestible, and more scannable.
Online customers who land on your website tend to recall ideas more than the data presented on the website.
70% of online customers believe companies should boost positivity by sharing positive stories.
Storytelling is one of the best ways of establishing a deep connection with potential and existing customers.
It helps show the human side of your business, encouraging customers to do business with you as they know it doesn't operate on autopilot.
It proves people are working on the other side to ensure they get value for money from the services or products.
When designing a website, use storytelling to create an emotional impact.
This communication strategy breaks the common barriers to understanding and engagement between brands and customers.
You stand a better chance of connecting and communicating effectively with customers through storytelling than by sharing facts and case studies.
Picture this; you offer tour services to travellers who desire to explore the world.
Your best bet to convince them to book a plan is to tell them a story about the destination.
Show them you have the skills, knowledge, and expertise to guide them through the trip and ensure they get the most alluring and memorable vacation.
As mentioned repeatedly in our recent posts about website design, the human brain processes visuals faster and more efficiently than blocks of text.
You will highlight the product's unique selling points (USPs) better by using visuals rather than a text-based lengthy product review.
The pictures on the website will help them understand your brand better and convince them why they should stick with you.
With attention spans getting shorter and low tolerance for text-heavy content becoming more prevalent, you need to reimagine your website elements.
Include more visual elements to pique their attention and interest in your business.
Please don't force them to read lengthy articles about the product.
Instead, publish visuals and video content to highlight your products. The same can be done for services and information about your company.
Concisely, limit page text by publishing more visual design elements such as illustrations, videos, and photos.
They will help tell the story in a way customers love and expect from a website in 2021.
Monitor how they interact with the visuals to know if there are pictures that should be deleted from the pages.
Remember having too many images will slow down your website.
Make sure that you not only have the essential visuals but also optimise them all to foster page load-time.
Embrace Mobile-First Design
Did you know that more than 54.4% of the global internet traffic is from mobile devices?
This statistic proves that most website visitors use mobile devices to access your site and place orders.
Google and other search engines rank mobile-friendly websites higher than static/unresponsive websites.
Improve your website ranking and get more leads by embracing a mobile-first design for all the pages.
A mobile-friendly website will allow customers to read content and place orders on multiple devices.
The pages, visuals, and other elements will be resized automatically to align with the screen size.
The design makes it possible to optimise every user experience regardless of the device they use and whether they have engaged with the content before.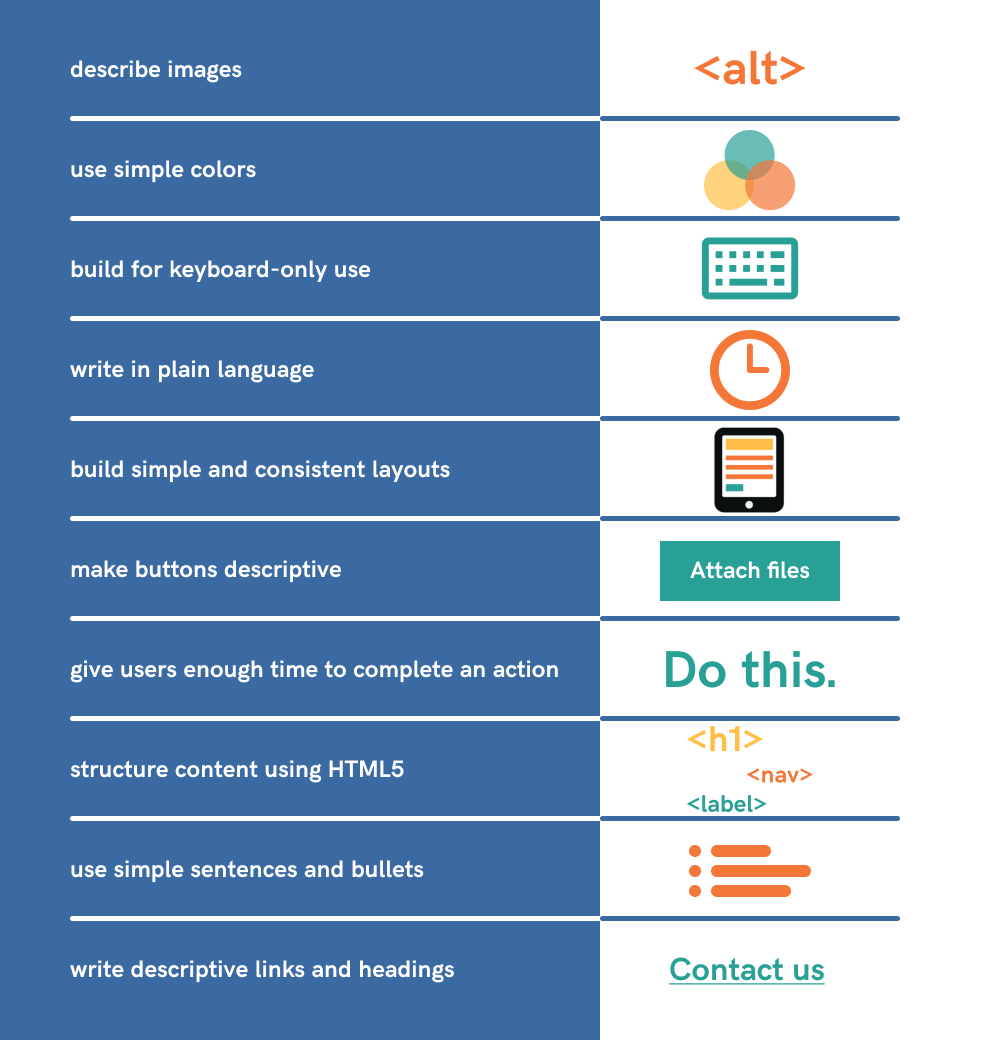 Website accessibility refers to designing a website that can be used by your ordinary customers and people with speech, auditory, visual, motor, and cognitive disabilities.
Here is exactly what you need to do to make your website more accessible.
Leverage contrasting colours:

Visitors who are visually impaired may struggle with reading text on some pages. Avoid that by using contrasting colours to make the text stand out from the background and surrounding elements.

Use colour to provide visual cues:

Use text patterns or labels to make it easy for visually impaired customers to understand the information. The visual cues can be as simple as putting some text in italics to underlining and bolding. You can also use different shapes and sizes to guide them through the pages.

Support keyboard navigation

: People with visual and motor disabilities often use the keyboard to navigate website content. Make it possible for such potential customers to by optimising the pages for scrolling using the "Tab" button on their keyboard. This button comes in handy when they are scrolling down interactive content, menus, and even links.
Unlike before, you don't have to guess whether a page is accessible.
There are hundreds of free and premium tools to test your website accessibility on the fly.
These tools highlight pages that support assistive technologies and those that need to be tweaked.
Search engine optimisation (SEO) will ensure that your website ranks high on SERPs for the target and related keywords.
When creating a new website or redesigning an existing one, it's imperative to do on-site SEO to get a higher cutting edge online and get more visitors.
Use the different website SEO analytics tools to know which keywords to add to the content. On-page SEO is more than just keywords, though.
Here are other SEO practices to keep when optimising your website for Google and search engines.
Responsive web design:

Your website should automatically adapt to different screen sizes. Thus, invest in a responsive website design to endear yourself to search engines and rank better.

Including relevant header tags (H1): Header tags help visitors browse content and search engine bots understand it and index the pages accordingly. Including header tags for every piece of content you publish will make your pages more SEO friendly. Include the target keyword in the header to increase page visibility.
Write good meta descriptions and title tags:
Like the header tags, meta description and title tags not only improve on-page SEO but also improve organic traffic by giving visitors a hint of what to expect when they click on the link displayed on SERPs.
The meta description should have a keyword and not exceed 160 characters. The title tag should be written compelling and captivating to enhance CTR (click-through rate).
Do extensive research to identify potential authority websites you can get links from and reach out to the editors with a guest post.
Use short descriptive URLs:

The URL should be simple for the visitors and search engines to understand the context of the website. Including a keyword in the URL and location would be best to boost your website's local SEO efforts.
Most SEO processes are technical and require special skills and expertise.
Don't try to wing it yourself lest you make costly mistakes.
Hire a reputable SEO agency to optimise your website and monitor the results to stay abreast of changes in the market and new Google algorithm updates.
A website heatmap is a visual illustration of how people who visit the website interact with the different elements.
It shows website sections that get the most attention and clicks from visitors.
Studying your website heatmaps is your best bet to learning how the target audience interacts with your website.
It will enable you to decide the essential pages that should be enhanced to generate more organic traffic and sales.
Heatmaps will also show you pages that need to be improved to enhance the overall outlook and performance of the website.
Here are the three primary uses of website heatmaps.
Optimise CTA Placement

: You will know where to place CTA buttons based on the sections of a page that most visitors view. The right placement of CTA buttons will increase conversion rate and CTR.

Improve Navigation:

By monitoring the navigation buttons and menus, you will know how to improve the navigation to match the visitors' behaviour on the website.

Optimise design:

Too many page elements lead to cognitive and visual overload. Only include elements that are meaningful and move the needle. Use heatmaps to know how visitors interact with the different visuals, then adjust the site design accordingly.
Heatmap eliminates guesswork by showing you exactly which elements to change on the different pages. Data-driven decisions result in more positive outcomes.
---
Final Word
Your conversion rate is bound to improve if you use the above web design tips.
Some of them may sound simple, but you will be surprised by the impact.
Call us today at +65 6789 9852 for more insider tips about web development and design in Singapore.