Are you planning to invest in an e-commerce website in Singapore? Singapore takes pride in being one of the countries with the most vibrant e-commerce industries in the world.
Currently, there are more than 3.12 million e-commerce users in the country and it is projected that 998,000 more will start shopping online by 2021.
As a business owner, you need to position your brand to capitalise on this trend by investing in an e-commerce website in Singapore.
Thankfully, there are professional website designers in the country who can create a custom online store for your brand at an affordable rate.
One of the factors that you need to consider as you focus on having your e-commerce website in Singapore is UX design (user experience design).
---
What is UX?
UX is defined as the overall experience you offer to customers as they interact or use your website.
It is what the customers experience from the moment they discover your online store to when they place an order and beyond.
More often than not, it is undervalued and rarely do people pay attention to it.
They turn to template solutions that often fail to help their online stores grow to their full potential.
Before we look at the unwritten UX rules for eCommerce in Singapore, it is important to note that copying what your competitors are doing hoping that their strategies will work for your customer base is not recommended.
The second thing that you should note is that they are more to providing great customer experiences consistently than simply making the eCommerce website design appealing to the eye and fluid.
---
Top 8 Unwritten UX Rules for an E-Commerce Websites in Singapore
Some of the popular design trends in Singapore's e-commerce industry are:
Image sliders with CTAs
Autoplay video backgrounds
Ghost or Inverted buttons
Parallax scrolling
All these can make your e-commerce website in Singapore appealing to potential customers. However, some things can compromise the user experience.
They include:
Autoplay video formats cause a distraction ratio because they take up more in file size.
Sliders are illustrations or images that are often in PNG format. Due to their large resolution, they can take up a few megabytes in size thereby exerting undue pressure on connections. This in turn negatively affects page load time. In addition, numerous studies have proven that automated image sliders seldom improve engagement and conversion rate.
Website designers opt to use ghost buttons in a bid to avoid tampering with the design flow of the website page. These buttons also blend in with the secondary CTA (call to action) buttons. Unfortunately, this design strategy usually backfires as the buttons are often overlooked by prospects, as they appear un-clickable.
Even though parallax scrolling has become very common in Singapore e-commerce websites, it is usually poorly implemented. It affects multi-device design optimisation and site responsiveness negatively. Also, apart from making the website design unique, it does not have a meaningful or measurable function that results in higher conversion rates.
The point we are trying to put across is that website design is important and these elements will have a major impact on UX. However, you should focus more on the user's intent. Note that design is not about filling the site with elements that capture the user's attention; it is about having elements that support the customer throughout the buyer's journey.
Copy Should Come Before Design
Should you first write content and then design the website around it or vice versa?
Can you remember the last time you purchase a product online merely because the website was appealing? The best UX practice is to create the copy before the design. The website design should support and complement the copy.
When creating content for your eCommerce website in Singapore, focus on the behaviour trends of your customers.
Carry out comprehensive customer research to understand their needs, expectations, and devices they use to browse the internet.
The results of the research will also help you come up with a robust content marketing strategy.
Leverage Intuitive Navigation
Intuitive navigation enhances eCommerce website discoverability by making it possible for visitors to move around the site and complete the desired action seamlessly.
One element can cause friction and compromise the entire user experience, especially on large e-commerce websites that have a complicated architecture and vast filtering and categorisation options.
Here are wise tips that you should keep in mind when designing your e-commerce website navigation.
Make use of legible and easy-to-understand labels
Use card sorting to understand and visualise how your target customers or website visitors find what they are looking for on the website
The internal search feature should always be active and available
Navigation structure should be consistent
Make use of breadcrumbs to guide the visitor to the target pages

Guarantee Safety
Online shoppers in Singapore want to feel safe and know that their data is in safe hands when they shop on your website.
It is not uncommon for customers to abandon the cart if they feel the site cannot be trusted with their credit card information.
A simple act such as adding an image of a padlock next to the "Secured by _" copy will help you win the confidence and trust of your target customers.
Alleviating trust issues will have a major positive impact on sales as well as organic traffic.
Prominent Call to Action Buttons (CTAs)
Prospects that are ready to convert should not be confused by any element on your website.
They need to understand which steps they need to take to complete certain actions such as adding a product to the cart and proceeding to checkout.
To achieve this goal, all primary call-to-action buttons should be strategically placed to grasp their attention.
The buttons should also stand out from the rest of the content layout.
High-quality images of the products coupled with detailed descriptions that highlight the unique selling points (USPs) will help potential customers get a clear understanding of the product.
A progressive disclosure in the visual hierarchy of your website product page can help you achieve this goal.
That is, the most important information should be presented in the first fold.
It is also OK to break down the details into smaller sections such as colour, sizes, features, shipping, and payment information.
Your main objective as you do this is to prevent visual and content cluttering and more importantly provide a smooth flow down to the desired outcome.
Consider UX of your Mobile e-Commerce Website in Singapore
The first thing that you need to note is that having a desktop e-commerce website in Singapore that is performing well in terms of ranking on search engines, organic traffic, and sales does not mean that the mobile version of the site will garner the same results.
You cannot just rely on responsiveness to get the expected results.
When customers are using a mobile device to access the site, the design presented to them is restricted and dependent on the screen size.
For example, when inputting text such as shipping address, the screen size is automatically cut in half and the keyboard overlaps the screen.
Such challenges make it difficult to give your users a native experience.
A professional website development agency in Singapore can work on the mobile version of your e-commerce site to ensure that it is optimised and user-friendly as the desktop website.
Progress indicators inform clients to know the stage or phase they are in the checkout process.
It will also help them to estimate the amount of time it will take to complete the process.
Consider adding encouragement words such as "Good job!" as they progress to keep them in a positive emotional state. Progress indicators have been proven to reduce cart abandonment significantly.
---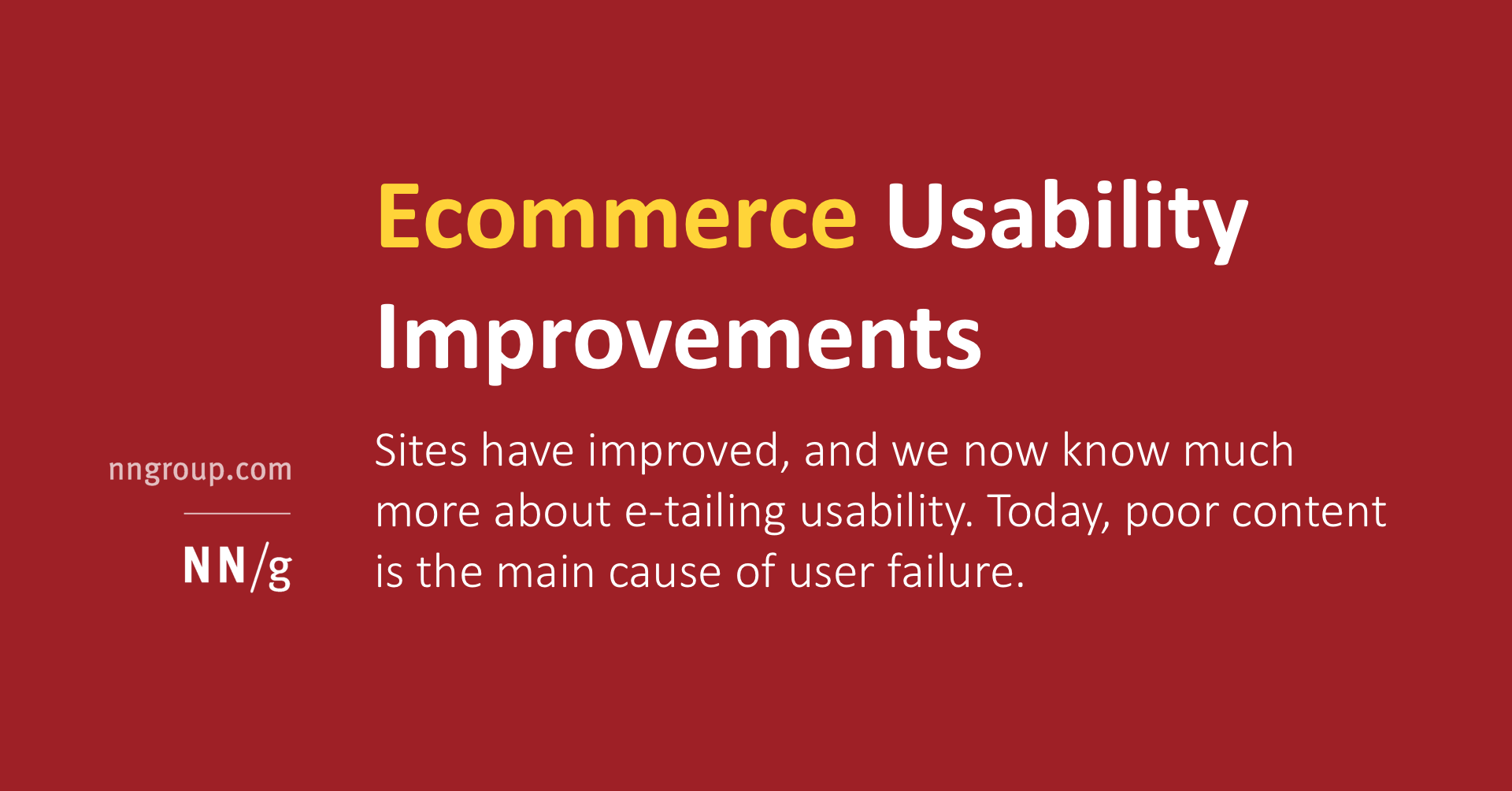 Ultimate Guide to Testing Usability of your E-Commerce Website
Adhering to the above UX rules will make your e-commerce website functional and effective in competing effectively with other brands.
A sure way of gauging your website's usability is by running tests.
Here is a comprehensive guide on how to test the usability of your e-commerce website today.
What is Website Usability Testing?
First, usability refers to the ease of use of a website or product. In the context of website design, usability refers to how easy it is for potential customers who land on your website to navigate the different pages.
Ideally, they should be able to seamlessly move from one page to another and complete the purchase with minimal help from the support team.
When creating a brand new or redesigning an e-commerce website, it's important to insist on a highly optimized website to offer your customers an immersive and memorable shopping experience.
Understand that potential customers are looking for information about the products they are interested in buying.
If this information is unavailable or readily accessible, they won't hesitate to move to your competitor's website with the info.
Research indicates that most online customers seldom spend more than 15 seconds on an e-commerce website that they feel doesn't provide value.
In addition, they will close the page if it takes more than 3 seconds to load.
Why Should You Do Website Usability Testing?
Your website is your touchpoint and connection with customers.
Customers also rely on the website design and usability to determine its credibility and suitability to their needs and preferences.
Since the purchases are made via an online interface, it is vital to ensure that the buying cycle is upbeat.
That is, it should be devoid of friction points that distract the customers from the primary objective –converting.
Failing to test your e-commerce website usability is equivalent to shooting in the dark and expecting to hit the target.
The test results will help you make informed decisions and enjoy other benefits, such as;
Increased customer satisfaction

Increased customer retention rates

More sales

Improved churn rates.
In summary, the success rate of your e-commerce website depends mainly on its usability. Get in touch with the MediaOne Marketing team for more insights into the e-commerce website design services we offer.
What Are the Different Website Usability Tests?
Different tests can be done on your website to gauge its usability score.
The testing involves complex processes and a lot of data analysis. We, therefore, recommend that you hire a reputable firm such as MediaOne Marketing to do the tests.
The team will carefully analyse the reports and offer you recommendations with the potential to scale up your business.
Below is an overview of the different website usability tests and their relevance to your brand.
As the name suggests, moderate testing is done under specific conditions and environments.
In this usability test, the moderator keenly observes how the website visitors interact with the different pages.
The moderator also guides them through the sales funnel, takes notes, and asks questions to get a clear perspective of their browsing and shopping experience.
The tests are often conducted in a conducive environment, preferably in a lab where the moderator and users can converse without interference.
Moderated remote testing is different from moderate testing as it's done remotely.
The users and moderators don't meet in person. Instead, they interact via video calls and share screens.
Zoom and Skype are perfect for conducting this kind of e-commerce website usability, but there are other tools online that you can use.
We recommend experimenting with different video conferencing tools to pinpoint the one that best suits your website's usability testing objectives.
Be sure to contact the support team of the selected tool if you encounter any challenges to save time and conduct successful tests.
Unmoderated Remote Testing
Unmoderated remote testing entails users browsing the e-commerce website first-hand using an online tool.
This tool is designed to capture different essential metrics related to the website's usability such as the on-page time and clicks.
Even though these tools make the usability testing process more flexible, they cannot replace human testers.
---
How to Perform a Detailed E-commerce Website Usability Test?
Thanks to technological advancements, there is no shortage of online tools that you can use to conduct moderated remote and unmoderated remote e-commerce testing.
However, we recommend not side-line human testers as they are more skilled and experienced.
This recommendation is informed by the fact that most tools have loopholes that could result in inaccurate infers about the website and the customer journey.
Below is a detailed review of the different e-commerce website usability techniques and their respective benefits.
A website heatmap is defined as a visual representation of how different website visitors interact with various pages and elements on an e-commerce website.
By studying it, you will know which sections of your website pique the visitors' attention most, which get the bulk of clicks, and which ones need improvement.
Here are some of the benefits of analysing your e-commerce website heatmap.
Identify the ideal website layout: Website layout significantly impacts navigability and user experience. A heatmap will help you identify a perfect layout for your website from the many options available on WordPress and other content management systems.
Once you find the perfect layout, don't settle. Continuously monitor its heatmap to know which sections should be enhanced or deleted. The goal is to capture a visitor's attention immediately they land on your website by displaying the correct information and graphics.
Declutter pages: In the quest to offer the best user experience and get ahead of the curve, most brands create duplicate website pages. These pages have similar content and CTA buttons that often don't result in tangible results.
Heatmaps will help you identify such pages and eliminate clutter from pages that you consider high-value.
For example, if you have multiple CTA buttons, you can use the heatmap to know which ones get the most attention and clicks.
Smoothen the Buyer's Journey: Potential customers take certain steps before completing a purchase. They visit specific pages such as the product or landing page before adding a product to the cart and going through the checkout process.
A heatmap will inform you of the different elements visitors click on or interact with at various stages of the buyer's journey.
It will also show whether customers are clicking on non-clickable white spaces, images, and other elements.
If that's the case, consider embedding links in these elements to direct them to the landing pages.
Removing distractions will be a game-changer for your e-commerce website. Use the heatmap to identify white spaces that should be improved, add links to certain pages, and redirect customers to the right pages.
Like heatmaps, scroll maps will give you a deeper understanding of how your visitors scroll the different pages before checking out.
By analysing this map, you will know how far they scroll down a particular page.
This information will come in handy when determining where to place elements such as CTA buttons, videos, graphics, and hyperlinks.
Here is an overview of the importance of analysing a scroll map for e-commerce website usability.
Pinpoint false bottoms on pages:

Firstly, potential customers have different scrolling patterns. These patterns are based on their intent. Some may be only interested in reading a blog, while others may be interested in buying.
Correctly interpreting the scroll patterns will let you know which sections get maximum attention and traction.
Also, you will know which elements negatively influence your website conversion rate for failing to offer customers the information to make decisions.
For example, customers may fail to convert because they don't scroll down the pages to view essential information or see the CTA buttons.
Concisely, knowing the false bottom of the different pages will enable you to position content in the right places.
Provide seamless user experience across devices:

Search engines rank websites that offer a good user experience higher than their counterparts. Core Web Vitals is one of the new algorithm updates focused on achieving this goal.
To realise the full potential of your online business, you need to ensure that you offer the same user experience across devices.
With most online customers using smartphones to browse websites, ensure that all sections of your site are mobile-friendly and responsive.
The new website testing tools can record mobile, desktop, and tablet scroll maps. Analyse all the reports to get a detailed overview of your website.
The reports should be the blueprints of your website optimisation plans.
Use them to offer smooth and seamless navigation to potential customers and achieve cross-device compatibility.
Attention map is another metric that you should consider when doing e-commerce website usability testing.
This map indicates the amount of time a visitor spends on the website's different sections.
Analysing it will help you know which sections your website visitors are fond of and which ones they skip.
Below are two ways an attention map will improve your e-commerce website experience and help you grow your business.
Improve on-page content: Develop a content creation plan that focuses on creating new blogs and improving existing on-page content. The attention map will let you know which page content needs improvement.
For example, if most website visitors spend more than 15 minutes on the contact page, the chances are that important detail is missing. Also, it could be the messaging on this page is not clear.
Please fix this issue by rewriting the content to make it easy for the visitors to contact you.
When redoing the content, think like a potential customer who is almost ready to convert but needs clarification from the support team. What information do you expect to see on the page?
Help visitors make informed decisions: Your goal shouldn't merely generate sales but also help customers make informed decisions.
If your attention map shows that customers spend more time on the product page or pricing page, adding user-generated content such as customer testimonials would be best to convince them to buy. 
Including a discount or restructuring the pricing plans can also help customers make the buying decision faster.
First 5-Second Usability Test
As mentioned earlier, customers decide whether to buy from you within the first 5-seconds of landing on the website. Studies show that our attention span is getting shorter every day, so it's super important to ensure that you grasp customers' attention within the first five seconds.
Conducting a 5-second usability test will help you know whether you need to add or remove some aspects of your website.
The test entails asking the users some questions about what they remember after interacting with a website for five seconds.
Even though this test is not enough, it will give you an idea of what ordinary visitors remember after visiting your website for the first time.
Consider your e-commerce website goals and needs to choose the right participants for the test.
You should also consider your target customers and their unique characteristics such as academic background, age, and social class.
Other additional tests that you should do on your e-commerce website to gauge its usability are;
Using A/B testing software to know the performance of different versions of your website pages.

Administering surveys to get customers' opinions and feedback regarding your products or services.

Paper prototyping to help developers run website usability tests in the site development stage.

Eye-tracking to know whether the design elements and CTA buttons are strategically positioned on the different pages.
Conducting E-commerce website usability is the secret to establishing a successful online business.
Ensure that the testing software you use is reputable to avoid making decisions based on incorrect information.
More importantly, don't try to wing the whole process yourself. Contract MediaOne Marketing to conduct the tests and make changes to your website pages.
Get in touch with us at +65 6789 9852 for more details about our website audit and design services. See you on the other side of the pool!
---
Closing Remarks
These 8 rules on UX (user experience design) when creating an e-commerce website in Singapore will help you establish a successful brand in Singapore.
Be sure to use Google analytics or any other monitoring tool you prefer to keep track of its performance. The reports will also pinpoint areas that need to be tweaked.
Get in touch with us for more tips about e-commerce website design in Singapore.