Managing your analytics and marketing tags is not an easy feat, and that is why you should consider using Google Tag Manager in Singapore. Many digital marketers have expressed their frustrations with hard-coding tags on a website or mobile app.
Google Tag manager streamlines tag management, and it helps you to manage your entire tags in a central location. With time, you will have a greater need for integrating website data, which will also become more complex.
However, data integration will become more difficult to maintain. Integration in Google Tag Manager is done through ETL (exact, transform, load). For this reason, Google Tag manager in Singapore will hardly work for the ordinary digital marketer in Singapore.
What is ETL?
ETL, Extract, Transform, and Load, is s process used to transfer data from one data source to another, especially on databases. Google Tag manager routes data from one source to another, much like from your site to Google Analytics, you will be knowingly or unknowingly be carrying out the ETL process.
This function is used to remove data from a data source, such as your mobile app or website. With that said, there are more data sources available to you including CRMs, local databases, email platforms, and point of sales systems.
Depending on how your business in Singapore collects data, you cannot set a limit to the number of available data sources. However, you need to have considerable knowledge and experience in JavaScript and the development of your data source to extract data using Google Tag manager in Singapore.
With that said, there are as many JavaScript libraries as there are data sources, but how many libraries can you master and learn more so remember? On top of this, JavaScript libraries are updated frequently, and if the JavaScript gets an update without your knowledge, your tracking would immediately stop working, and you will not have any prior notification.
You will need to create extract functions for every data source, and you will also need to ensure that the system, which includes variables, triggers, data layers, tags, and the JavaScript library, you use to extract the data should remain intact every time.
This makes the extraction processes complex and challenging for experienced web developers let alone a digital marketer with mediocre JavaScript skills in Singapore.
This function transforms the extracted data into a format understandable to the destination data source. In the same way that there is an unlimited number of data sources, there is no limit to the destination sources.
An example of the transform function is converting event data into the format that Google Analytics can understand. However, the more destinations data sources you have, the more transform functions you would need to carry out.
Much like the extract function, you need to hardcode the transform functions as well as ensure that the system used in transforming data remains intact. This also makes the process of transforming data using Google Tag Manager in Singapore challenging and complex, and this will pose a problem with a digital marketer who lacks sufficient skills in JavaScript in Singapore.
After you have extracted and transformed the data, the load function sends the transformed data to the destination data source. Depending on the destination of your data, and the type of data, creating the load function can become complex very fast.
Much like the extract and transform functions; you need to create as many load functions as you have destination data sources manually. More so, you need to ensure that the system used in routing the data should remain intact at all times.
This is also a challenging and complex affair. With that said, you need to carry out ETL for each tracking requirement from specific data sources. Your tracking requirements are bound to increase over time, and this creates a need to set up and maintain several ETL functions.
---
Why Google Tag Manager in Singapore Does Not Always Work?
The ETL functions as we have seen are challenging and complex; however, do you want to create and maintain hundreds of ETL functions? Unfortunately, Google Tag Manager cannot be helping you automate ETL functions.
As long as you use Google Tag Manager and other tag management solutions, then you will have to carry out ETL functions manually. On top of this, you will need to ensure that the system components including triggers, tags, JavaScript libraries, data layers, and variables used in creating ETL functions remain intact always.
While Google Tag Manager in Singapore seeks to automate tag management, there is a lot of engineering work, and that defeats the purpose of investing in a tag management tool. Is there a solution to the problem?
The most viable solution especially if you are in a situation where you are required to route data between several data sources and destinations for hundreds of different tracking requirements, should ditch using Google Tag Manager in Singapore and other tag management tools.
Google Tag Manager and other tag management tools cannot handle carrying out hundreds of complex ETL functions. This is despite the fact the ETL functions are crucial in carrying out Business Intelligence that is necessary for working with Big Data.
---
Top 10 Alternatives to Google Tag Manager
Google Tag Manager is one of the best applications for a website owner. It is used by large websites like The New York Times, eBay, Zappos, and others to make websites more efficient for visitors and track their traffic and viewers.
 The only problem that you can face with Google Tag Manager is that you will need a technical expert to do the job for you unless you are an expert in Google Tag Manager on your own. If you are looking to replace or try out some alternatives to Google Tag Manager, there are fortunately a lot of good tags and tools available here. Here is just a part of them.
The free and open-source Matomo (formerly Piwik) is an excellent alternative to Google Tag Manager. It's one of the most popular open-source web analytics platforms globally, with more than 1 million users and counting.
Matomo offers all the same features as Google Tag Manager, such as using one interface to manage your marketing tags, including Google Analytics and Facebook A/B testing. You can build plugins into your site, so you don't need to add ongoing development work.
The difference is that Matomo puts data ownership and privacy first.
Matomo software is on your server, so you can avoid sending user data outside of your network. It is imperative to rely on the European Union's General Data Protection Regulation (GDPR) or have visitors from California (CCPA).
Pros
It is free to own

User privacy protection

User-centric insights

Real-time web analytics

No data sampling

Custom reports and dashboards

Custom alert     
Cons
Matomo is more of a DIY analytics platform. You need good technical resources to get the most from it.

The UI is a little dated and clunky, which might make it harder for non-technical users to get the hang of Matomo's more advanced features.

It can be challenging to set up tracking for more complex events and funnels, especially if you're not a developer.

 There is less support available for Matomo than for Google Analytics.
---
The Segment is the infrastructure that powers analytics. It's a single, cloud-based service that lets companies collect, unify, and route customer event data to hundreds of tools with the flip of a switch.
The Segment is the most powerful destination for your customer data. Instead of sending your data to one tool at a time, Segment collects your data from every channel and sends it to any tool you use to run your business.
Segment enables marketers, product managers, and analytics teams to collect, unify and connect their first-party data to over 250 marketing, analytics, and data warehouse tools. It provides an alternative to Google Tag Manager (GTM), which collects user actions on websites and mobile applications allowing organisations to send that information to Google Analytics.
Pros
Much easier to install 

Less JavaScript load time

Offer authority over when scripts operate 

You can choose when Segment's mobile SDKs load, whereas Google Tag Manager's snippet runs immediately after installation
Cons
The Segment is a more expensive tool for what it does than Google Tag Manager

The Segment is not a simple drop-in script.
---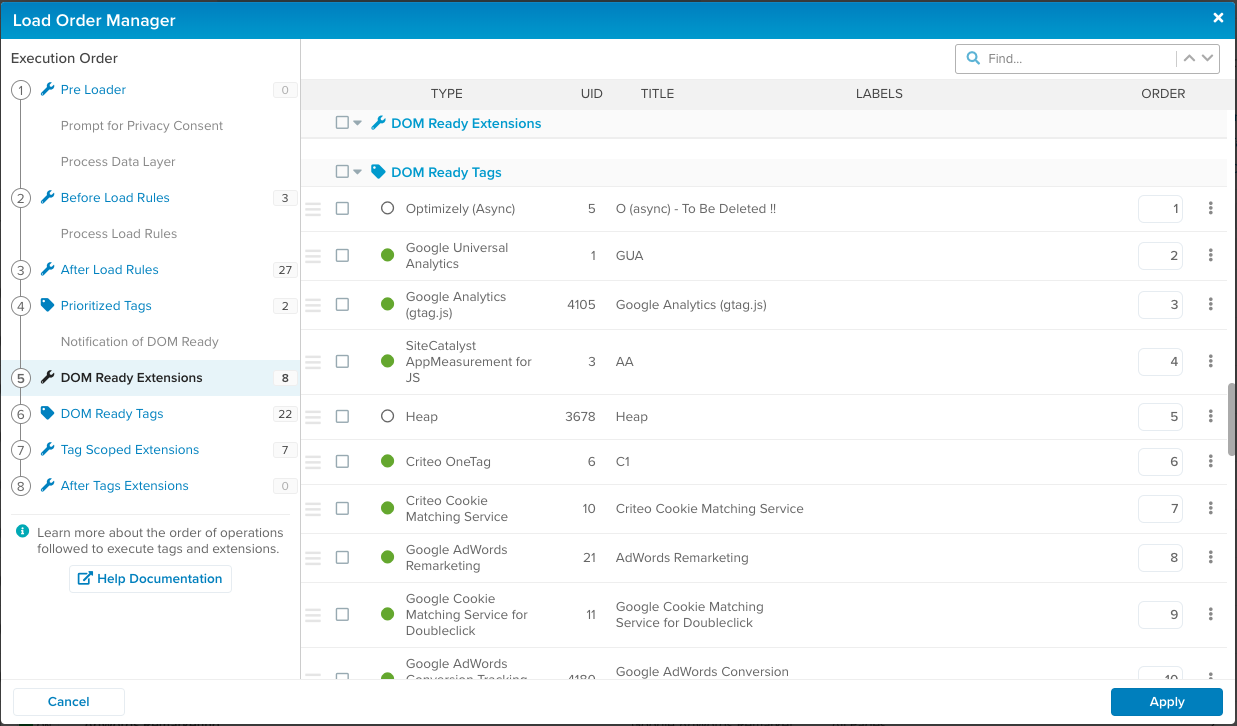 Tealium is a tag management system like Google Tag Manager, and it provides a single place to maintain your marketing tags such as Google Analytics and Facebook pixels. And it also adds more advanced functionality, such as the ability to add new tags and create custom rules without developer involvement.
Tealium has been around since 2008, and so it's a mature product with a lot of extra features that you can't find in Google Tag Manager. However, this comes at a cost both literal (Tealium is not free) and symbolic (it's much harder to use than GTM). 
 Pros
Data-driven Functionality 

Universal Data Hub 

Excellent Customer service

There is only one tag to manage (utag.js)

Can load asynchronously without affecting page speed

Taking advantage of caching

Able to remove redundant code in existing tags (e.g., Google Analytics)

It uses a single data layer object that works consistently across all vendors. It creates a consistent naming convention across all tags, making managing and updating your data layer object easier.
Cons
Price:

One of the most significant drawbacks for Tealium is its price tag. While other tag managers have free versions with paid upgrades available, Tealium does not offer any free version, making it less accessible than other providers.
---
Adobe Dynamic Tag Manager (DTM) is a tag management system provided by Adobe. The DTM's primary purpose is to allow web designers and developers to insert tracking codes on their websites without editing the source code. It allows you to easily modify, add and remove tags and codes, customize any tag event, control when tracking occurs, and track more data.
Unlike Google Tag Manager, Adobe Dynamic Tag Manager allows you to manage all your tags within the same tool. In addition, it has a more mature product development cycle with new releases every three months rather than Google's quarterly release cycle.
Adobe Dynamic Tag Manager also provides better integration with Adobe Analytics, allowing data collection alongside other analytics tools such as Google Analytics.
Pros:
Easy to implement and use

An elegant solution for tagging with lots of features

Good support (if you are an Adobe client)
Cons:
Expensive (if you aren't an Adobe client)

Requires a lot of permissions and access to your site that they don't need.
---
Qubit Open Tag is a tag management system and a suite of analytics products. It is part of the Qubit product suite, including A/B testing, data science, and personalization tools. The tag management system is free, but you need to pay for the analytics products.
Qubit Open Tag (QOT) is also a tag manager that is run by Qubit. It was launched in May 2013, shortly after Google Tag Manager (GTM). The aim was to offer an alternative to GTM, with more features and better support. The main differentiating feature was that QOT had its analytics platform, rather than just connecting to third-party systems like GTM.
Pros:
Easy to use – friendly Interface

Analytics dashboard tracking

 No need for developers or technical skills from users
Cons:
Limited functionality (cannot create custom templates)
---
 Commanders Act is an alternative to Google Tag Manager; it is a tag manager that is 100% free, open-source, and can be self-hosted. What sets Commanders Act apart from the other tag managers on the market is built for developers by developers.
 Commanders Act is an open-source alternative to Google Tag Manager. It's a lightweight script that doesn't require any server-side code changes. Commanders Act provides an interface where you can paste any HTML/JavaScript code without modifying your existing website code. 
Pros
Free usage (up to 500 Pageviews/Month)

You can use all kinds of Tags (Tracking, Conversion Codes, etc.)

Easy Installation

Easy to use Interface (also for clients)
Cons
The Commander's Act is aimed at developers who have a basic understanding of web technologies.

Developers will be able to install Commanders Act themselves and customize it according to their needs.

To use the Commanders Act effectively, developers must write code in JavaScript, PHP, and JSON.
---
Ensighten is a tag management system that offers the ability to manage tags on your site and provides a robust data layer that allows you to pass values from one tag to another. It is essential to trigger different tags based on a specific user event or behaviour. The Ensighten platform also offers mobile support, multi-CDN hosting, and enterprise-level security.
Ensighten was established in 2009, and it is based in San Jose, California. It serves some of the world's biggest brands, including Sony, Expedia, Capital One, and Hilton.
Ensighten is not as widely known as Google Tag Manager (GTM), so we recommend that you test both before making a decision. 
Pros
Complete control over your tag management

There is no relying on 3rd cookies.

Optimized data layer capabilities

Multiple deployment options (client-side, server-side, hybrid)
Cons
To set up and manage, you'll need IT help.

The Ensighten platform is more complex, and it takes more time to implement than Google Tag Manager.

 It is costly compared to Google tag manager.
---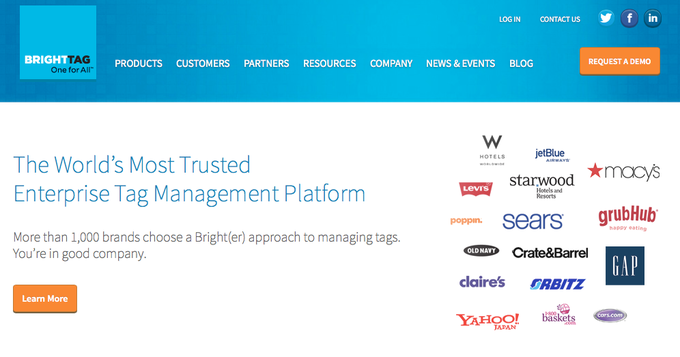 BrightTag is a tag-management solution that has been around since 2009. The company was acquired by marketing automation firm Signal in 2013. BrightTag is best known for focusing on real-time data processing, allowing marketers to generate accurate insights and run successful campaigns quickly. BrightTag integrates with other sites and services, including e-commerce platforms, ad networks, and analytics tools.
BrightTag is now known as Signal, as Signal Sciences recently acquired it. This merger has brought more features to the platform, and its numbers are quickly growing.
Pros
The most flexible and configurable tag management system available

100% compatible with Google Tag Manager

The only managed tag management service available

Excellent Customer Service

Real-Time Data Processing –
Cons
Very expensive compared to other tag management systems

Not suitable for small-scale enterprises.
---
Floodlight is a tag that allows you to collect information when an action happens on your site. An action could be anything, such as someone clicking a button or seeing one of your ads. You can use the information collected by Floodlight tags to create custom reports, such as showing how many times one of your ads or how many people completed a form after clicking your ad. 
It is not just a tool for managing tags; it can also manage pixels used in online advertising campaigns. It can work with the DoubleClick cookie, which helps users track conversions. It is one way that Floodlight Tag Manager can help businesses keep their marketing efforts organized. Businesses can quickly see how effective specific advertising campaigns are by tracking how many people clicked on an ad and converted it into paying customers.
Pros
The Floodlight Tag Manager is free

It is a new feature and originates from DoubleClick Search

 it's effortless to integrate with DoubleClick Search (DS)

It also works nicely with Google AdWords and Google Analytics

It allows you to create tags for multiple accounts/properties/sites that are linked with one another

It doesn't need any code to be added to the website. You can use the same tag manager container ID on all sites and use rules to determine which site or account a pixel will fire.
Cons
The Interface is not as user-friendly as Google Tag Manager or Tealium iQ, so the setup can be confusing.

Floodlight Tag Manager is not currently integrated with third-party platforms, such as BrightTag Software or Tighten. 
---
 Adobe Launch is Adobe's tag management solution. It allows you to define and deploy marketing events (tags) on your website without the need for developer assistance. You can easily create, edit, and manage tags without installing or coding them. You have a central place to control all of your analytics solutions, marketing tags, and advertising pixels with it.
Launched in 2017, Adobe Launch has rapidly grown to be one of the industry's most popular tag management solutions. Brands like lululemon Athletica, The Home Depot, Nationwide Insurance, HomeAway, World Wrestling Entertainment (WWE), Airbnb, Macy's, and many more use Adobe Launch to manage their marketing tags.
Pros
Intuitive UI, making it easy to use for all teams

Great support and documentation for a new product

A strong developer community that's growing quickly

There is a lot of scope for development and enhancement.
 Cons
It has limited integrations and extensions that take time to integrate. 

There is currently no backend functionality. 

With the help of these 10 best alternative tools to Google Tag Manager, you can now plan and execute tag management with ease. After knowing what GTM is, how it works, and how to integrate it into a website, you can choose the right tool according to your needs.
Tags are crucial in measuring, analysing, and testing your digital marketing efforts. The end goal of implementing tags is to increase the sales conversion rate, ROI, and sales volume in the minimum amount of time possible.
---
Segment
This is a hub between your original data sources and destination sources. While it is not a tag management solutions tool, it is one of the best Google Tag Manager alternatives, but it is not a replacement. Unlike Google Tag Management, Segment does not rely on data layers, but an API, which can replicate your historical data into any new tool as well as route the data to different tools.
A tool such as a Segment allows you to automate some or all parts of ETL functions. More so, you can track the clicks on the 'add to cart button using their tracking code.
The segment can also automatically route the same event data to all of your data destinations. The tool removes the need to create and maintain, transform, and load functions for each destination source.
With Segment API, any changes in the JavaScript library you use on your data source, the Segment will support the integration with the data source. This tool will also automatically start using the updated JavaScript library without pausing your tracking.
Moreover, you will not have to make changes to your tracking code. Once you send your analytics data in Singapore to 'segment,' it will route the data to your chosen data sources. The segment will route the data to your preferred analytics tools.
---
Conclusion
Few tools can replace Google Tag manager in Singapore, but since it has been in use for quite a while, marketers are finding it difficult to use the alternatives. A segment is a better alternative since it can fully automate the creation and maintenance of ETL functions.
Contact us today for digital marketing services in Singapore. Our team will handle your marketing and analytics tags to ensure that your business gets more leads online.