Top Pubs In Singapore
What's a Pub? A Dive into the World of Public Houses
Welcome, dear readers, to the wonderful world of pubs! If you're not quite sure what a pub is, well, you're in for a treat. A "pub" is simply short for "public house," and it's a place where you can enjoy some delightful alcoholic beverages. These can range from beers and ales to wines and ciders, and many pubs even brew their own special concoctions. But a pub is more than just a place to have a drink; it's a hub of social activity and a vital part of various global cultures.
Now, let's dive into the intriguing pub scene in Singapore. When the sun sets, this bustling business hub transforms into a vibrant nightlife paradise. Singapore boasts a vast array of trendy rooftop pubs, New York-style cocktail bars, and charming vintage joints. These establishments cater to a diverse crowd, from savvy executives to fun-loving students and curious tourists.
The Ever-Evolving Pub Scene in Singapore
Singapore's nightlife is always evolving, and it's exciting to witness the trends shaping the city's pub culture. From retro cocktail bars to quirky pop-up pubs and swanky vintage joints, there's something for everyone. In fact, Singapore has earned its spot on the list of the World's 50 Best Bars. The latest trend is leaning towards sleek skyscraper cocktail lounges. On the local front, wine bars, gin havens, and micro-pubs continue to create a buzz beneath Singapore's business-centric exterior.
---
Top Pubs In Singapore
The Penny Black
Muddy Murphy's Irish Pub
Molly Malone's Irish Pub
McGettigan's Irish Pub
Malthouse
Bar Stories
The Drunken Poet
Ice-Cold Beer
The Secret Mermaid
Nutmeg & Clove
The Horse's Mouth
Smith Street Taps
1-Altitude
Jekyll & Hyde
Hospoda Microbrewery
Chupitos Shots Bar
Alley Bar
Operation Dagger
KPO Bar
Company

The Penny Black

Services

Victorian London Pub
A variety of quality dishes
A wide selection of premium wines & spirits
Serves 7 international beers on tap

Pricing

View Menu for Pricing

Website

Address

26-27 Boat Quay, Singapore 049817

Telephone

(65) 6538 2300

Operating Hours

Sunday – Thursday: 11:30am – 1am
Friday – Saturday, PH Eve: 11:30am – 2am

Featured in

Tripadvisor.com
Singaporeairline.com

Review 1

Great location, and perfect landmark to arrange a crowd. Shows most important sports events, i.e. Rugby and Football.
Pints can get pricey, so avail of their happy hour. Get your scotch egg fix in early as they may run out.
Food is average to good for pub grub, with a menu most will find will suit their tastes!

By Conor Doheny

Review 2

Stopped here for a beer, river front location, good selection of beers and others drinks. I Did not have any food off the menu so no review on that. Sports shown on large screen TV.
We had the pleasure of seeing otters next to our table which was a bonus 👍

By Robbie Londoner

Review 3

Great location. Surprisingly, the Guinness was fine. This coming from an Irishman.
---
Company

Muddy Murphy's Irish Pub

Services

Live sports telecast – Rugby, Football, Boxing, Tennis & Formula 1
Live music by popular local and foreign bands every weekend
A wide selection of food & drinks on the menu

Pricing

View Menu for Pricing

Website

Address

442 Orchard Road, #01-02 to 05 Claymore Connect, Singapore 238879

Telephone

(65) 6735 0400

Operating Hours

Sunday – Thursday: 11:00am – 1:00am
Friday – Saturday: 11:00am – 2:00am

Featured in

Tripadvisor.com
Zomato.com

Review 1

One of my favorite hang out bar with my close friends. Relaxed, welcoming atmosphere with great bar food and drinks! Interior of the venue, rustic and homely feels, doesn't feel like Singapore. Love the weekends band sessions, pretty great environment and entertainment to enjoy!

By Shermin

Review 2

Have lunch here, quiet and nice place. The roast beef is good, and the waitresses are friendly. Will definitely come back again.

Review 3

A nice place to visit for a pint of Guiness. They also have a good variety on the menu…I had a steak and Onion rings. The onion rings were awesome! All reasonably priced. Will visit again!
---
Company

Molly Malone's Irish Pub

Services

Extensive Menu ranging from all-day breakfast to desserts
Wine, spirits and beer bucket

Pricing

View Menu for Pricing

Website

Address

56 Circular Rd, Singapore 049411

Telephone

(65) 6536 2029

Operating Hours

Monday – Thursday: 11am–12am
Friday: 11am-3am
Saturday: 12pm–3am
Sunday: Closed, except for special occasions and private events

Featured in

Review 1

A nice, simple Irish bar with decent service and decent pours. This bar is in a nice location in the central business district behind boat quay, and even better there is a taxi stand right outside so it's very convenient. I'd recommend it for anyone who wants a decent bar to enjoy a drink or two.

Review 2

Really good fish & chips, and pan seared salmon. Warm & friendly service, cosy setting, and homely live music at night. It's not clamorous like the nearby pubs, so it's a nice place to hang out for a beer with friends.

Review 3

Awesome food awesome company! Came to Molly for their Christmas special and regular set lunch (Had their Salmon) and it didn't disappoint. Love the atmosphere and the food. Would recommend 😊
---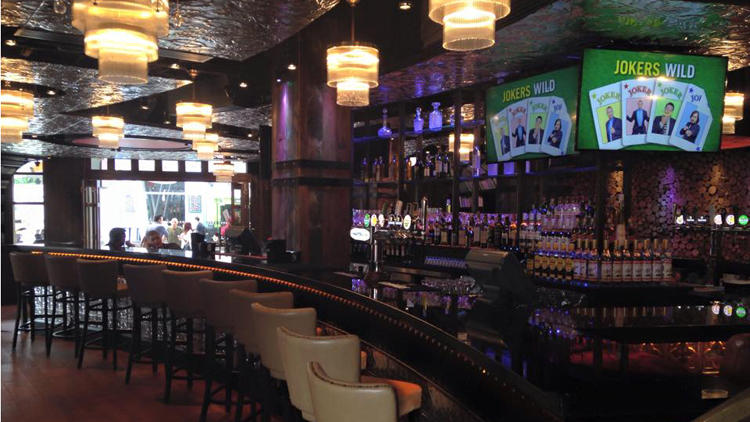 Company

McGettigan's Irish Pub

Services

Serves lunch, dinner and drinks
Weekly promotion such as ladies' night & happy hour
Live telecast of sporting events
Private parties and events

Pricing

View Menu for Pricing

Website

https://www.mcgettigans.com
Address

3A River Valley Road, Merchant's Court, Singapore 179020

Telephone

(65) 6837 0577

Operating Hours

Monday – Tuesday: 12pm – 1am
Wednesday – Friday: 12pm – 3am
Saturday: 10am – 3am
Sunday: 10am – 1am

Featured in

Tripadvisor.com
Zomato.com

Review 1

Ladies, please come here during Ladies night, you'll get 4 glass of free drink, great live music and cozy place to hang out. You won't be disappointed.

Review 2

Top Irish restaurant with a great Guinness. James the barman is a gem and took great care of us. Recommend as location next to river and great food and great service👌

Review 3

The McGettigan's in Clarke Quay is a great choice for watching sport. It also has great food and service so you really can't go wrong. My most recent visit was during the Russian GP. Not only did they have the race on but they had the sound on as well. This was a nice surprise and further made me a loyal customer.
---
Company

Malthouse

Services

12 taps of international draught beer
Serves Mains, snacks and house-made desserts
Wines & spirits

Pricing

View Menu for Pricing

Website

Address

685 E Coast Rd, Singapore 459054

Telephone

(65) 6636 4436

Operating Hours

Monday – Sunday: 12pm-10pm

Featured in

Review 1

Good food. Good beer. Decent prices. Nice people. Not sure you can ask for much more.

Review 2

Great pizza and a nice selection of crafty beers. Terrific vibe. Excellent service. And, it's just around the corner from where I live. What's not to like?!

Review 3

Have been here a couple of times, the food never disappoints. Friendly staff and lovely atmosphere. Am definitely coming back!
---
Company

Bar Stories

Services

Bespoke crafted cocktails
Customizable cocktail

Pricing

Click here to enquire

Website

https://barstories.sg/
Address

Telephone

(65) 6298 0838

Operating Hours

Featured in

Review 1

Highly recommend the mussels and the curry crab risotto. In fact, almost everything in their menu is worth trying. Just go for it! Staff are very friendly and helpful. Place is small but cozy.

By Claudia Choo

Review 2

This place is a gem! Personalized drinks based on your own preferences and flavor profiles. Awesome place for drinks with friends. The staff is so friendly and interactive that you wouldn't be alone if you're out for solo drinks. Try it… you'll like it! 👍🏾

By Amanda Robinson

Review 3

Great food and drinks, and excellent service! If you're allergic to seafood then your food options become limited though. Bartenders have creative drinks, both alcoholic and non-alcoholic. Thanks great service by Ed and Nat

By Gabbie Cheong
---
Company

The Drunken Poet

Services

Weekly screening of sport matches
Weekly Quiz Nights
Quality food & drinks

Services:

Irish and western food
Ice cold draught beer on tap
Full service restaurant
Live sports pre-Covid 19
Live music pre-Covid 19

Pricing

View Menu for Pricing

Website

Address

400 Orchard Rd, 01 -29C Orchard Towers, Singapore 238875

Telephone

(65) 6734 2924

Operating Hours

Monday – Sunday: 12pm to 4am

Featured in

Review 1

Food was not bad, particularly love the finger food. Ambience was nice as well. Pretty decent place to chill and get a drink.

Review 2

Great service with delicious food as well. The staff were very welcoming and fun to talk with, even assisted with my friends to carry out the birthday celebration for me. Really thankful for this experience and their host. Highly recommended if you're looking for a place to chill and drink.

Review 3

A nice place to hang out in the heat of shopping district, cool environment to have friends with.
Food are good and drinks are ice cold. A place that you can drop in anytime.

By Benjamin Hoi Tang
---
Company

Ice-Cold Beer

Services

Wide selection of local & international beers
Delicious bar snacks served
Resident DJ offering classic rock music

Pricing

Click here to enquire

Website

Address

No. 9 Emerald Hill Road, Singapore 229293

Telephone

(65) 6735 9929

Operating Hours

Sunday – Thursday: 2pm to 2am
Friday – Saturday: 2pm to 3am

Featured in

Review 1

lots of super cold beer on tap as you would imagine. not so expensive. wait staff are FAST. popular with the after work crowds. nice finger food and not wait for the bathroom – which is important when u drink beer.

Review 2

Wonderful atmosphere for a pub. Old school charm in the middle of town. Several food items like the chicken wings and hot dogs probably the best in town. Attentive staff. Mid priced but check out the Happy Hour promos.

Review 3

One of my favourite pubs in town since 10 years or more. Good happy hour prices (although 7% GST added now) and nice must-try prawn paste fried chicken wings! Great pub atmosphere and ambiance, recommended!
---
Company

The Secret Mermaid

Services

Large selection of spirits from America
Cocktail bar focused on American craft spirits

Pricing

View Menu for Pricing

Website

Address

10 Collyer Quay, B1-09, Ocean Financial Centre, Singapore 049315

Contact

drink@thesecremermaid.com

Operating Hours

Monday – Friday: 5pm to 11pm

Featured in

Tripadvisor.com
Sgmagazine.com

Review 1

Tucked underground, right alongside the MRT throughway. These folks have an extensive and deep collection of liquors. You'll find both classic and craft distilleries represented. Super knowledgeable owners who are more than willing to customize drinks to your taste.

Review 2

Great place for post work drinks around raffles place. AMEX has a 1 for 1 promo for cocktails, which makes it a great place to start the weekend.

Review 3

Good cocktails, good food, and good service. Very cool setting in an unexpected (secret?) spot.
---
Company

Nutmeg & Clove

Services

Craft Cocktails: Nutmeg & Clove specializes in creating exquisite craft cocktails using premium spirits and unique ingredients.

Mixology Expertise: The bar boasts a team of skilled mixologists who can whip up customized cocktails tailored to your preferences.

Local Flavors: They incorporate local Singaporean flavors and ingredients to offer a taste of the city in every sips.

Pricing

View Menu for Pricing

Website

https://nutmegandclove.com.sg/

Address

10 Ann Siang Hill, Singapore 069789

Telephone

(65) 9389 9301

Operating Hours

Monday – Thursday, Saturday: 6pm to 1am
Friday: 6pm to 2am

Featured in

Tripadvisor.com
Citynomads.com

Review 1

Love their cocktails, especially the ones made by the legendary Jayden! she always knows what I love best and everything is crafted to perfection. 10/10 best place to hang out after a long day at work.

Review 2

A cosy bespoke bar with really cool and interesting local themed/ tasting cocktails!
I had the Maxwell Martini which tasted exactly like hainanese chicken rice, pretty mind blowing.
The bartender Daryl was very friendly and attentive when designing bespoke drinks for us. Catering to our tastebuds accordingly.

By Penny Chia

Review 3

Very unique local twists to cocktails in Singapore. Not too sure about some flavors, but you may find it amusing to try different flavors. One of the better cocktail bars in Singapore.
---
Company

The Horse's Mouth

Services

Japanese-style drinking establishment
Bar food & Ramen

Pricing

View Menu for Pricing

Website

Address

583 Orchard Road, Forum the Shopping Mall, #B1-39, Singapore 238884

Telephone

(65) 8188 0900

Operating Hours

Monday – Thursday: 6pm to 12am
Friday – Saturday: 6pm to 1am

Featured in

Review 1

A nice speakeasy in the Forum mall. Lots of interesting drinks and some great bar food as well. They kindly accommodated a walk-in party of 6 when we came in around 11pm. I would definitely recommend this place, though you will have to search for it a bit! But that is part of the fun.

Review 2

Kinda hidden cocktail bar in Singapore. Thanks to instructions by the local guides here, I was able to find this place effortlessly. So I'm not gonna comment an another instruction with how to reach this place. Drinks are cocktails are good. Ambience is quite nice. Expensive though. Service is good.

Review 3

Ordered 2 bespoke cocktail. Bar tender was very friendly and drinks are nice. Great experience and definitely will visit again.
---
Company

Smith Street Taps

Services

Craft Beer Paradise: Smith Street Taps is a haven for craft beer enthusiasts. They offer a wide selection of craft beers from around the world.

Rotating Tap Selection: One of the unique features is their rotating tap selection. You can always expect something new and exciting on tap.

Friendly and Knowledgeable Staff: The staff at Smith Street Taps are not just servers but also passionate about craft beer. They can recommend beers based on your preferences.

Casual and Welcoming Atmosphere: The bar has a relaxed and friendly ambiance, making it a great place to unwind and socialize.

Local and International Brews: They feature both local Singaporean craft beers and imported options, so you can explore a variety of flavors.

Events and Tastings: Smith Street Taps often hosts events and tastings, creating a sense of community among beer lovers.

Pricing

Click here to enquire

Website

Address

335 Smith St, #02-062, Singapore 050335

Telephone

(65) 9430 2750

Operating Hours

Tuesday to Saturday: 6.30pm to 10.30pm

Featured in

Review 1

Definitely a must visit to try the myriad of craft beers available. A little pricey for a hawker center but definately cheaper than any pub offering the same beers, if even available. Best thing is, there's lots of great local food to pair with your beers.

Review 2

Great beer at good prices comparitively. Friendly staff and good recommendations. 10/10 best beer drinking we had whilst in Singapore. Also great satay available around the corner at bargain prices.

Review 3

Can you believe that among all these hawker stalls selling cheap local food and drinks, that there's this wonderful beer stall selling international microbrews with a view of the Chinatown food street? It's true, and it's amazing.
---
Company

1-Altitude

Services

Gastronomic dining experience
Nightlife entertainment
360 view of Singapore

Pricing

View Menu for Pricing

Website

https://www.1-altitude.com/

Address

1 Raffles Place, One Raffles place, Singapore 048616

Telephone

(65) 6438 0410

Operating Hours

Sunday – Friday: 1pm to 11pm
Saturday: 6pm to 4am

Featured in

Review 1

Great cocktails, amazing view from 63rd floor, nice and polite stuff, we had two complimentary drinks in occasion of my birthday. From this place, unconditionally, you just start falling in love with Singapore!

Review 2

Roof top lounge on 63rd Floor gives you spectacular 360 degree view of Singapore. The view from here is breathtaking. Nice place to spend with your friends. Drinks are decently priced not very pricey although we thought the place mike be expensive. Dishes are just above average. To end it this place is highly recommended if you want to experience the breathtaking view of Singapore.

Review 3

Great place with a stunning view. You have a nice look over the city and on Marina Bay Sands. They also have a small dancefloor even though we rather enjoyed just relaxing and enjoying the view.
---
Company

Jekyll & Hyde

Services

Cocktail Creations: Our skilled mixologists craft a wide range of unique and classic cocktails to tantalize your taste buds.
Happy Hour Specials: Enjoy discounted drinks and appetizers during our daily happy hours, perfect for unwinding after work.
Live Music: Experience the rhythm with live bands and musicians performing a variety of genres, adding to the vibrant atmosphere.
Private Events: Host your special occasions with us. We offer private event spaces for parties, corporate events, and more.

Pricing

Click here to enquire

Website

https://www.facebook.com/JekyllAndHyde.SG/

Address

49 Tras St, Singapore 078988

Telephone

(65) 6222 3349

Operating Hours

Monday – Friday: 5pm to 12am
Saturday: 6pm to 12am

Featured In

Review 1

Thoroughly enjoyed my experience here. It almost felt like it doesn't belong to the mainstream Singapore at all. Service is amazing, and ambience is definitely a huge plus. Drinks are very well crafted, and the bartenders are good at their jobs. Fridays can be very crowded, so either call to reserve a space, or expect some wait when you arrive, or even the possibility where they'll turn you away.

Review 2

Can be very crowded on Fridays and Saturdays. But drinks are very good (especially the one inspired by soy beancurd!) and ambience makes for a great date night venue.

Review 3

Loved the Kopi Old Fashioned. It was super tasty. Tried what my friends got and all of the drinks were scrummy. You can get some good food as well. Definitely worth a visit or two.
---
Company

Hospoda Microbrewery

Services

Craft Beer Selection: Hospoda Microbrewery boasts a diverse menu of craft beers, including a variety of styles such as IPAs, stouts, lagers, and more.
Fresh Brews: They take pride in serving fresh, house-brewed beers, ensuring a unique and delightful drinking experience.
Tasting Flights: Customers can enjoy tasting flights, allowing them to sample a range of beers and discover their favorites.
Food Pairing: The bar provides a menu of delectable dishes that pair perfectly with their craft beers, enhancing the overall dining and drinking experience.

Pricing

Click here to enquire

Website

https://www.facebook.com/hospodamicrobrewery/

Address

180 Albert St, #01-19 Village Hotel Albert Court, Singapore 189971

Telephone

(65) 9755 8929

Operating Hours

Monday – Saturday: 4pm to 12am
Sunday: 4.30pm to 12am

Featured In

Review 1

Abit of a weird one, but if you're looking for a reasonably priced beer (30% off between 5-8 I think) then might be worth a look. Two beers on tap or you can choose the half and half mix. Not bad really.

Review 2

Tiny hole in the wall, sit outside and drink some great beer 😎

Review 3

Good beer and a cool little microbrewery. Selection tiny of course but flavours definitely there. Not quite the super authentic Czech beer but good nonetheless. Would return again during happy hour.
---
Company

Chupitos Shots Bar

Services

Singapore's only specialized shooters bar
130 power-packed shots

Pricing

View Menu for Pricing

Website

Address

3B Clarke Quay, #01 – 05, Singapore 179021

Contact

info@thechupitosbar.com

Operating Hours

Sunday – Tuesday, Thursday: 5.30pm to 1.30am
Wednesday, Friday – Saturday, Eve of PH: 6.30pm to 3.30am

Featured in

Review 1

One of the best places in Singapore to get drunk. My favourite pick from their menu is the Gas Chamber. They also have a great range of interesting shots. Their foos is decent too. Since they have an outside seating as well so ambience is never a problem.

By Vardaan Arora

Review 2

The staffs were very nice and friendly. They have an array of very interesting alcohol shots. When you order a half dozen of shot, the bartender will likely perform a little performance with fire. Although the drinks can be expensive, this shots bar is known to serve up cool combinations. Situated in Clarke Quay, it is popular among teenagers and adults.

Review 3

Friendly staff and amazing atmosphere. Happy hour prices also boosted the experience of hanging out with friends, coupled with the flavourful and creative shots selection. Will definitely head down again!
---
Company

Alley Bar

Services

Food Menu: In addition to drinks, Alley Bar also offers a selection of delicious snacks and small bites to complement your beverages.

Outdoor Seating: There's an option for outdoor seating, allowing you to enjoy the Singaporean weather while sipping on your favorite drinks.

Events and Private Parties: Alley Bar is available for hosting events and private parties, making it a versatile choice for various occasions.

Friendly Staff: The staff at Alley Bar is known for their warm and welcoming service, adding to the overall pleasant experience.

Reservations: It's a popular spot, so making reservations, especially for larger groups, is recommended to ensure you get a good spot.

Pricing

View Menu for Pricing

Website

Address

2 Emerald Hill Road Peranakan Place, Singapore 229287

Telephone

(65) 6738 8818

Operating Hours

Sunday – Thursday: 5pm-1am
Friday – Saturday: 5pm-2am

Featured In

Review 1

Had a really nice time at the Alley Bar! Great service! Its eclectic Peranakan-meets-contemporary ambience and music set a perfect backdrop for the excellent food and drinks. Highly recommended for anyone looking for something snug and off-beat on Orchard Road. –

Review 2

Great cocktails and vibes! The friendly service team were really helpful in suggesting drinks that suits my preference, which shows great knowledge! The plush chairs at the other extension were really comfortable too.

Review 3

If you are looking for a place to catch up with friends and have a meaningful conversation, if you value private space and ambience, if you are price conscious, come to this place during happy hour! They have a few drink options at $6,$8,$10 during happy hour!
---
Company

Operation Dagger

Services

Innovative Cocktail Menu: Operation Daggers is renowned for its innovative cocktail menu that pushes the boundaries of mixology. From classic concoctions with a twist to unique creations that tantalize the taste buds, they've got it all.

No. 6 on Asia's 50 Best Bars List: This is a remarkable achievement! Operation Daggers has been recognized as the 6th best bar in Asia according to the prestigious Asia's 50 Best Bars list. It's a testament to their dedication to craft and service.

Pricing

Click here to enquire

Website

https://www.facebook.com/operationdagger/

Address

No.7 Ann Siang Hill, #B1-01 Singapore 069791

Telephone

(65) 6438 4057

Operating Hours

Monday – Saturday: 6pm to 12am

Featured In

Citynomads.com
Tripadvisor.com

Review 1

Operation Dagger has been voted one of the best bars in the world and I can see why. Its creativity and innovation deserve recognition. While it is mainly minimalist, it does have an eye-catching feature above the bar – its 10,000 light bulbs! The bartenders will guide you through the menu!

Review 2

Thankfully the entrance wasn't that difficult to find – inside it's actually quite spacious and the crew were happy to chat and introduce stories behind the drinks. Bravo to the team for putting a lot of effort into self-fermenting the ingredients. Drinks are quite mini in size though – so savour the few glups.

Review 3

A secret underground venue. Knowledgeable and friendly staff. On the higher price side but the cocktails are very craft and signature made so no complaints. Interesting venue. Not sure the large camera pointing down on the toilet for the rest of the bar to see is such a great idea.
---
Company

KPO Bar

Services

Delightful Cocktails: At KPO Bar, you can enjoy a wide range of cocktails crafted to perfection. Sip on happiness with our unique and flavorful concoctions.

Scrumptious Bites: Pair your drinks with our delicious bar bites. From crispy fries to mouthwatering sliders, we've got your cravings covered.

Lively Atmosphere: Our bar is not just a place to drink; it's an experience. With lively music and a vibrant ambiance, you'll be in the heart of the party.

Outdoor Oasis: Enjoy your drinks in our charming outdoor garden. It's the perfect spot to unwind and soak up the Singaporean vibes.

Pricing

Click here to enquire

Website

Address

1 Killiney Rpad, Killney Post Office

Telephone

(65) 6733 3648

Operating Hours

Monday – Thursday: 3pm to 1am
Friday: 3pm to 2am
Saturday: 6pm to 2am

Feature In

Review 1

The ambiance was really good. Chill to say the least. Very responsive and attentive staff. Would recommend the truffle fries and hokkien noodles.

Review 2

We really like this place. Very friendly staff. Food is great

By Carlos Jaramillo

Review 3

Good band. Good environment. Good whisky place !
---
Choosing the Perfect Location for Your New Pub
If you're considering opening a pub in Singapore, you'll need more than a great drink menu to succeed. Location is key! Here are some tips to help you make the right choice:
Set Your Pub's Style: The style of your pub should align with your chosen location. For a chic cocktail bar, opt for a bustling and sophisticated area that's lively day and night.

Know Your Demographics: Research the demographics of the area. Consider factors like the age group and average household income to determine if the locals are likely to become your patrons. For instance, if you're targeting university students, consider setting up shop near a student-friendly area.

Buying vs. Renting: Decide whether to buy or lease the pub space. Buying gives you control but requires financial muscle, while leasing is often the preferred choice for new pub owners, allowing you to allocate your initial capital wisely.
Choosing the Perfect Bar for Your Night Out
Now, when you're looking to have a great night out in Singapore, choosing the perfect bar is essential. Here's a handy checklist to guide you:
Pick a Pub with Action: Nobody wants a dull night out. Look for a bar with plenty of activities, from beer pong and karaoke to pool tables and bull rodeos.

Ladies' Attraction: If you're on the lookout for potential dates, choose a pub that attracts a lively and appealing crowd. Say no to dimly lit dive bars.

Multiple Sections: A spacious pub with different sections can save you from boredom. Move around, explore different areas, and keep the excitement flowing.

Music and Dance Floor: The perfect bar comes with great music and a spacious dance floor. It's all about grooving to the beats and having enough space to bust some moves. And don't forget outdoor areas for a breath of fresh air and the chance to meet new people.
There you have it, folks! Pubs are not just places to grab a drink; they're lively hubs of social activity that add flavor to Singapore's vibrant nightlife.
---
Editors Note:
While every precaution has been made to ensure the accuracy and fairness of this listing, we acknowledge that they may be inaccuracies. Therefore we urge you to contact the service provider above for the correct information and/or contact us with the correct information.
If you are a service provider and wish to be featured in this listing (MediaOne reviews are read by hundreds of thousands of Singaporeans) – please contact us at enquiry@mm.com.sg. There is no charge! Please allow us up to 3 working days to review before adjusting the information or including your entry.