Studying is not a task that can be easily delegated to technology. This is especially true of adult learning, which sees a majority of its participants as being in active learning or in-demand jobs. Even when it comes to formal education, students and graduates are often aware that online learning has become a viable and popular alternative, as demonstrated by the massive expansion of open university courses and their acceptance by employers.
Nowadays, anyone who can access the internet can take a course on virtually any subject they desire, from aviation management to zeplin design. This has led to a massive increase in the number of freely available online courses, as well as a rise in hybrid learning, which incorporates online learning with traditional classroom instruction. The abundance of available education resources has led to a significant change in how people learn and what they expect from an online learning platform.
With the right courseware, blended learning, and gamification, institutions can engage with their students in ways that were previously impossible. This article will explore the different advantages and disadvantages of the most popular online learning platforms, as well as present some alternative learning sites that are gaining popularity due to their innovative approach.
What Is An Online Learning Platform?
An Online Learning Platform, also referred to as an "Online Learning Institute," is a virtual learning environment that provides individuals with the tools to learn and engage with professors and teachers via video lectures, quizzes, assignments, and collaborative projects. The platform may also contain a library of relevant content and allow for discussion through forums, groups, or classrooms. The goal of the platform is to provide individuals with the necessary skills to be successful in today's job market – such as advanced math, statistics, economics, and programming skills – while also enabling them to continue their studies remotely during the pandemic.
The number of adults learning to code has more than doubled in the last year, with 360,000 enrolling in open-source learning platforms like Codeacademy, and even more taking up skills like CSS and JAVA. According to LinkedIn, the demand for web development jobs increased by 17% in 2022 – more than any other technical skill. In light of this, online learning platforms are playing a vital role in enabling would-be web developers to kickstart their careers and provide them with the skills they need to hit the ground running.
Why Should You Choose An Online Learning Platform?
There are a number of reasons why you might want to choose an Online Learning Platform instead of a traditional classroom setting or even a MOOC (Massive Open Online Course). If you're looking for a self-paced, flexible environment where you can learn at your own pace, explore topics that interest you, and engage with knowledgeable instructors, then an ELP (Education Library and Labs) might be the right fit for you.
Here are just a few of the benefits of an online learning platform:
Flexibility
Traditional classrooms and lecture halls may be great for advanced physics or chemistry, for example, but it can be difficult to get the attention of the lecturer, and even more difficult to get a question answered during a class. This is where the flexibility of online learning platforms comes in. You can take a course at a time and place that suits you – whether this is while you're commuting, cooking dinner, or even sleeping!
If you need to take a class at a particular location, there are a variety of online learning platforms where you can do this, with many offering a local campus-like experience. You'll also have the advantage of being able to take a course whenever you want – even if this isn't a time when the lecturer is normally available. This encourages self-paced learning and allows you to fit your studies around your schedule.
Real-World Applications
Once you've completed a course, it's important to be able to apply what you've learned in the real world – this is why many universities now require successful candidates to have a work placement after graduation. While it's not always possible to get a job in your subject area right away, with the right skills you can usually find work in a related field, and this often leads to a lateral move or cross-training that benefits both the individual and their career. Studying a topic that you're interested in doesn't always mean that you'll have the opportunity to apply this knowledge immediately – but with an online learning platform, this is usually the case. A good ELP will provide you with the tools you need to be able to transition smoothly into your chosen career.
Self-paced Learning
One of the most beneficial aspects of studying online is that you can work at your own pace – whether this means taking a few weeks to complete a particular module or watching a couple of hours of video content per day. You won't have to wait for others to teach, and you won't be distracted by your fellow students – so you can focus on your studies and learn at your own speed. This may be particularly beneficial for someone who wants to get ahead in their chosen field. Instead of applying for a full-time job and risking weeks of intensive training – or even longer – before being able to start work, they could do so part-time, as and when they want, gaining valuable experience along the way.
Increased Confidence
Many people don't feel comfortable approaching a lecturer in the first place, especially not in a formal setting like a lecture hall, let alone asking a question. This is often because they're not sure how the question will be answered, or whether they'll receive help if they needed it – after all, they're not in the same room as the teacher, so there's no way of knowing if the person on the other side of the screen will understand what they're asking. This can sometimes make people feel anxious about stepping out of their comfort zone, but the fact that you're not actually in the same room as the person teaching the class means that there's no risk of embarrassment. This also means that if you do find yourself stuck on something, you can always hit 'skip' and come back later, or ask a more experienced student in the group – or even the instructor – for help.
An Online Learning Platform provides you with the flexibility to learn at your own pace. You can choose a schedule that suits you and have all your course materials at hand. This makes it much easier to understand and get the most out of the material, as well as increases your confidence when learning. It also means you can fit your studies around your busy schedule, without having to worry about finding the time to go in person to a university or college – or missing any important lectures or tutorials.
If you're looking for an innovative way to learn, with the flexibility to progress at your own pace, or if you want to know more about the best Online Learning sites and platforms, continue reading! We've got you covered.
The Great Courses Plus
The Great Courses Plus is a company that was started in the UK and now has a global audience. The platform was created in 2010 and is currently available in more than 80 countries. Its stated goal is to "democratize education" by allowing anyone with a connection to the internet to have access to world-class learning content from top universities and brands.
One of the most appealing aspects of the Great Courses Plus is its approach to online learning, which integrates traditional classroom instruction with video content that is curated from the best universities and professors in the world. These videos are typically no more than 4.5 hours long and are designed to be accessible on any device. Students can also engage with tutors through real-time messaging and the ability to ask questions via a live online teacher chatroom.
One of the downsides to studying through The Great Courses Plus is that students have to be willing to enroll in a lot of different courses to get the most out of the platform. This can be problematic for those who are already over-extended with commitments, or for those who prefer structured learning experiences that don't allow for as much freedom of choice.
Coursera
Coursera was launched in 2012 and is considered to be one of the biggest players in the online learning sphere. The platform offers a variety of courses, many of which are absolutely free. Some of those free courses are offered in collaboration with top universities and colleges in the world, as well as professional bodies and commercial enterprises.
One of the things that makes Coursera stand out is its commitment to open-access education. Like The Great Courses Plus, Coursera offers a range of short, bite-sized courses that can be accessed on any device. However, unlike some of its competitors, Coursera stresses that its primary mission is to "advance social justice through open access education". The company was valued at nearly US$13 billion in March 2019 and has invested heavily in building out high-quality courses and maintaining a large course community.
One of the biggest advantages that students enjoy when using Coursera is the amount of choice that they have available. Unlike The Great Courses Plus, which typically offers a handful of different courses per subject, including one that is entirely digital, users can search for the courses that they are interested in and then choose which one they would like to attend. This gives them the flexibility to study what they want when they want, and in case they change their minds about which course they wish to take after viewing its video content, they can select another option with ease.
One of the major downsides to studying through Coursera is that it can be difficult for students to keep up with all of the assignments that are due periodically. The platform is very active and frequently updates its content, so students have to make sure that they keep up with all of the assignments or risk falling behind. Additionally, due to its open-access model, it is difficult to find the right instructor for a specific subject matter. This can be problematic if users want to get personal assistance from an expert in the subject matter.
edX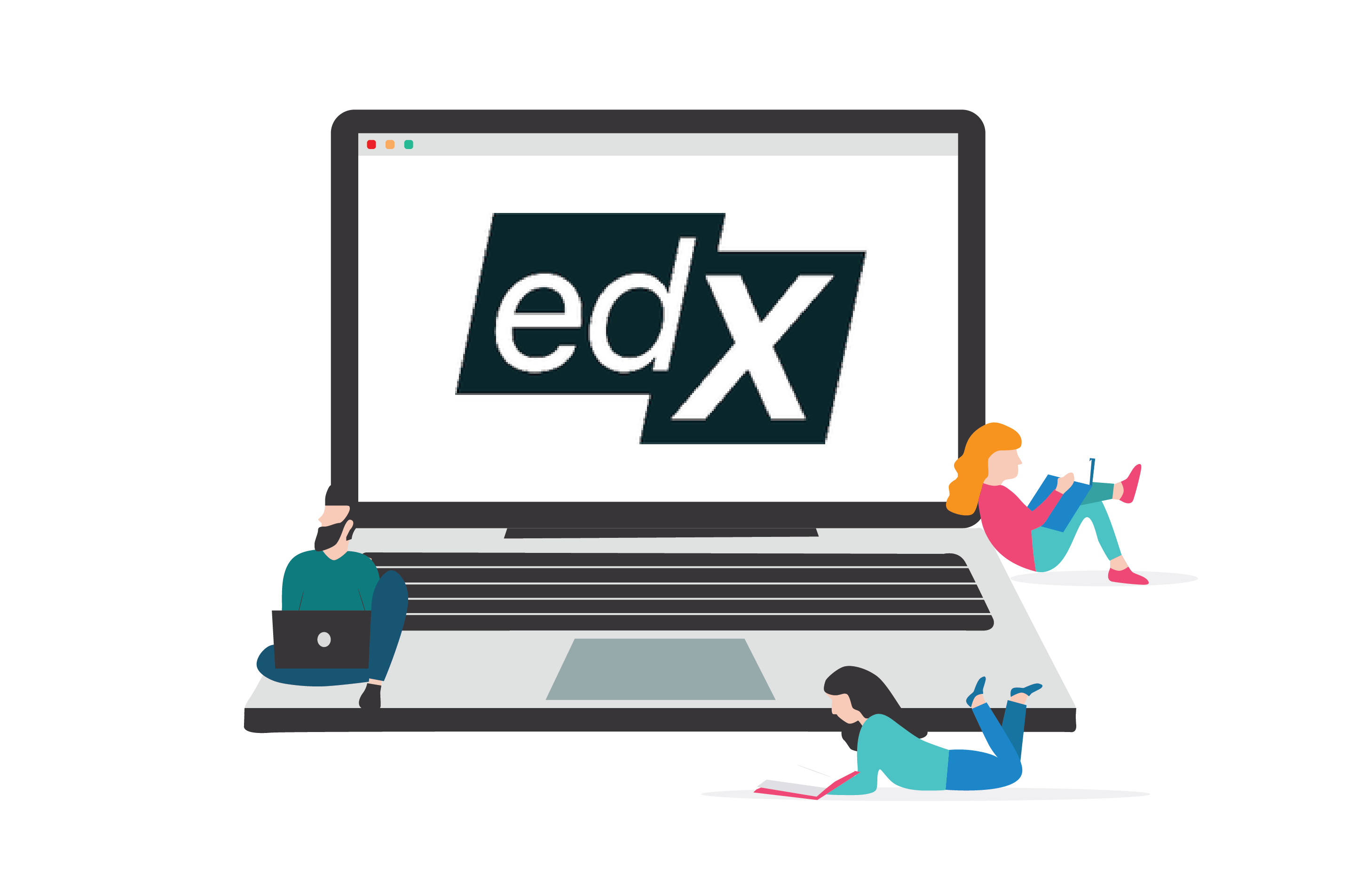 edX is a company that was founded in the US and now has a global audience. The platform offers a variety of degree courses and non-degree certificates through a massive open online course (MOOC) model. With more than 1,500 courses and 50 million monthly active users, edX is one of the most popular online learning sites.
The courses on edX are typically very high quality and are usually taught by a range of distinguished guest speakers. One of the things that makes the courses on edX so popular is that students can enroll in them for free. This means that there is no financial barrier to entry and anyone can benefit from the educational content that the site provides. Many students appreciate this and feel that it makes the courses on edX worth their while even if they are not receiving any direct financial aid.
One of the things that makes edX different from some of its competitors is that it places a significant emphasis on providing personal assistance to students who want it. The platform also features live chat sessions with an academic advisor, as well as email and phone support. Finally, edX is always expanding its course catalog, so students can expect to see new and newly revised content added on a regular basis.
One of the downsides to studying through edX is that students have to be constantly vigilant about making sure that they stay on top of all of the assignments that are due. This is especially difficult for those who are older, or for those who have full-time jobs and family responsibilities. The workload can be too much to handle for someone who is already over-extended, and this can put a significant dent in one's studies.
Udemy
Launched in 2014, the platform offers various courses on a variety of topics like business, marketing, sales, and much more. While you might think that such a large platform would offer a variety of poorly-designed courses with low completion rates, udemy actually has the opposite problem. The quality of the content is extremely high and the courses are very well designed. The completion rate is also extremely high because the courses are designed to be engaging and easy to follow. This makes udemy a perfect fit for anyone who's looking to gain in-demand job skills or learn new things on their own time. In this article, we will discuss some of the most important details about this amazing online learning platform.
Stanford University
Stanford University is one of the most prestigious universities in the world, and one of the biggest producers of Ph.D.s. The university also runs a variety of online courses through its Continuing Education (stanford.edureka.edu) and Extension Education (edx.stanford.edu) platforms, as well as through individual course sites that are operated by subject matter experts at Stanford.edu.
The courses are usually very high quality, and are also fairly niche. This keeps the student base small, which in turn makes it easier for the university to provide one-on-one guidance to students who want it. Additionally, many of the courses are aimed at advanced students and therefore require some background knowledge from the student. This ensures that students are not overloaded with information and that they can fully understand and engage with the content. Finally, the courses are usually fairly short, which saves students both time and money that they would otherwise spend on traveling to and from university. This is especially beneficial for adult learners who are already over-extended with work and family responsibilities.
One of the biggest advantages to studying through Stanford is that it is possible to connect with brilliant guest lecturers and professors who are available to provide insight into the material that is being covered. In most cases, those who teach the courses are also actively involved in the research process, which means that they can bring a wealth of knowledge to the table. Additionally, due to its global reputation, many of the courses that are offered online have an international element to them and involve students from all over the world.
The downside with studying through Stanford is that there is a lack of variety in the courses that are available. As a result, students can become rather tired of constantly pursuing the same few educational options when studying for a degree. Additionally, many of the courses are rather niche and involve specialized equipment and software that may not be available to all students. Finally, since it is a reputable university, it can be difficult to get a job without having attended or done research at Stanford. This may not be the case for those who seek alternative routes to employment. Those who do attend the university are often well aware of this and realize that their degrees may not be directly applicable to their current careers. This can lead to stress and anxiety when applying for jobs and may even cause some qualified candidates to choose to forgo applying for jobs entirely, just to avoid the stress that is sometimes associated with securing a Stanford degree.
If you're looking for a free online learning portal, then Udacity is a great choice. Its platform allows you to study and practice core skills such as creating digital products, designing interfaces, and conducting online marketing research.
Udacity offers a variety of online learning tracks, from beginner to intermediate courses. You can also take advantage of their curated collection of high-quality courses, which are free for the time being.
Udacity tries to make learning as fun and engaging as possible. One of the ways they achieve this is by actively encouraging interaction between students and teachers. Additionally, many of their courses are designed to be interactive and project-based, which adds a layer of interactivity.
MIT Open Courseware
The Massachusetts Institute of Technology (MIT) is one of the most prominent academic institutions in the world. It was founded in 1861 and is currently home to more than 12,000 students. MIT offers many prestigious degree programs and boasts some of the finest researchers in the world. It's no wonder that so many people choose to learn online from MIT.
The most important thing about MIT Open Courseware is that it is freely available to anyone. This means you can study and access any course or program at MIT for free. This is in contrast to more traditional sources of education, which tend to have more limited access, due to certain enrollment requirements.
MIT Open Courseware is a gold mine for anyone who's interested in education. Not only can you access hundreds of courses, but you can also build an interactive environment, where you and the teacher can engage with each other through the learning material. Additionally, with thousands of courses available, you can truly learn anything you want or need to know.
Royal Society
The iconic British science journal, The Royal Society, recently launched a fully online learning platform, which provides graduates with an opportunity to build on existing knowledge or further their studies.
Similar to MIT, the Royal Society is another prestigious source of knowledge and education. Much like MIT Open Courseware, The Royal Society is also available to anyone, which makes it yet another great option for anyone interested in online learning. The biggest difference is that while MIT Open Courseware focuses on delivering courses, The Royal Society provides a platform for researchers to share their findings with the global community. In addition to this, The Royal Society also offers its own degrees and professional memberships.