SEO without email marketing is like pancakes without syrup — sure, they can stand alone, but they're so much better together.
Imagine driving all that SEO traffic to your website and letting them wander around aimlessly, or worse yet, not knowing how to get in touch with them.
It's like having a mall full of shoppers but no salespeople or employees to assist them. Email marketing bridges the gap between your website and customers, allowing you to convert more leads into sales.
How do SEO and Email Marketing Go Hand-in-Hand?
Email lists are one of the most valuable assets any company can have, especially when they're full of customers who already know and trust you.
Once you've built up a loyal list of subscribers, you can quickly drive traffic to your website by sending them emails with links to your content.
Conversely, SEO helps you bring new customers to your website who may not be aware of your brand yet. You can use targeted keywords and phrases to bring in potential leads who are interested in what you have to offer.
By combining these two powerful marketing strategies, you can create a steady stream of traffic that is more likely to convert into sales. 
What We Mean By SEO and Email Marketing Flywheel
The concept of the "flywheel" is simple — it's an engine that uses a series of repeated steps to generate more and more momentum. When it comes to SEO and email marketing, the flywheel looks like this: 
Create content

Optimize it for SEO 

Use email marketing to promote it 

Analyse and optimize content 

Rinse and repeat
In other words, you're to use SEO to create new leads and email marketing to keep in touch with them. The idea is to create a "flywheel" of traffic and conversions that will continue to grow over time.
Why You Should Combine SEO and Email Marketing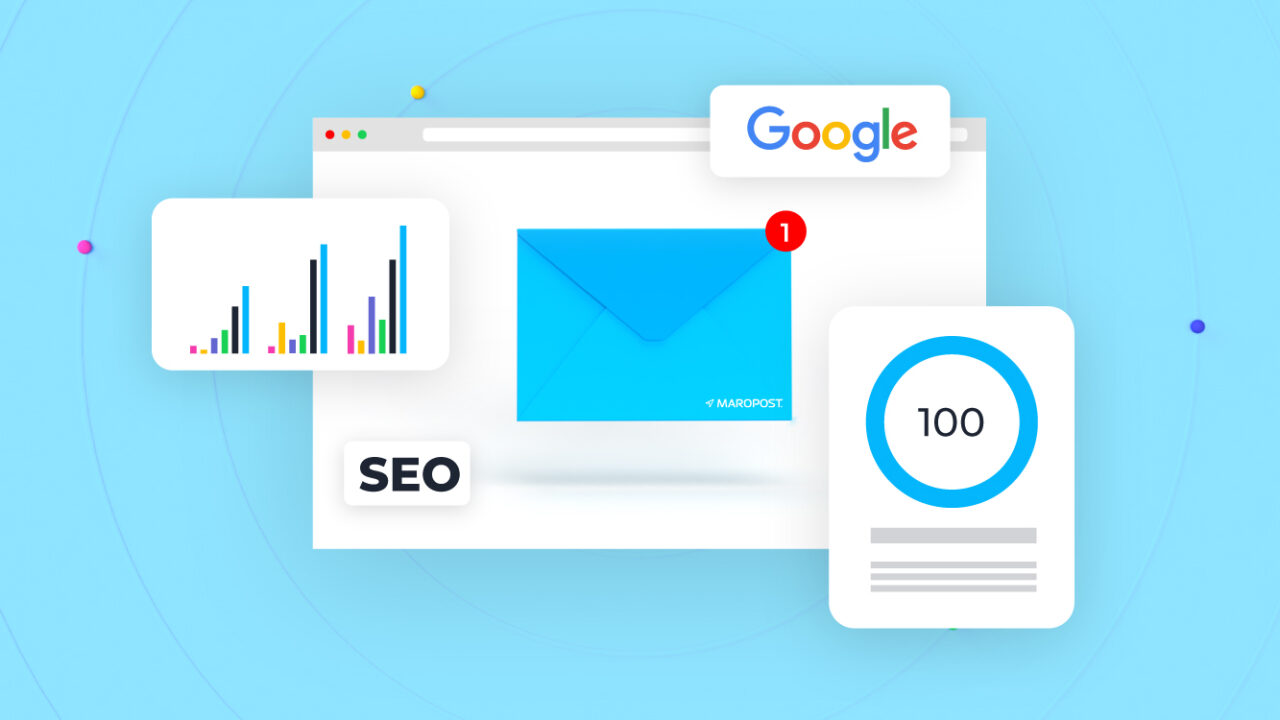 The idea behind combining SEO and email marketing is to create a powerful 1-2 punch that will help you attract and retain customers, increase brand awareness, and generate revenue. 
Here are some of the goals you can achieve by combining these two powerful tools:
More Visitors:

By optimizing your content for SEO and promoting it through email, you can draw more visitors to your website.

Greater Engagement:

Email marketing lets you stay in touch with customers and keep them engaged with your brand. 

More Sharing/Linking:

SEO helps you get your content in front of people who may not know your brand yet, increasing the chances that they'll share or link to it.

Bigger, More Powerful Email Lists:

SEO can help you build bigger and more powerful email lists full of people who already know, like, and trust your brand. 

More Conversions:

SEO on its own can be a great traffic source, but email marketing can help you convert those leads into customers.
Combining SEO and email marketing is a no-brainer for any business looking to get ahead in its industry. By leveraging both strategies, you can drive more traffic to your website, increase conversions, and ultimately boost your business profits.
12 Simple Tips for SEO and Email Marketing Flywheel
Tip #1: Incentivize Sign-ups
Your visitors aren't going to sign-up for your emails unless you give them a good reason to. There has to be something they're getting in return — an eBook, a free trial, a discount code, etc. 
And the incentive doesn't necessarily have to be through SEO. You can also use other traffic channels, such as social media, PPC campaigns, or any other type of online marketing.
When people visit your website through SEO, make sure you have a prominent sign-up box visible. You also want to offer an incentive (a discount code, a free eBook, etc.) in exchange for their email address.
Even better, what if you offered them additional bonus tips or content at the end of the article they're reading? They'll be more likely to sign up if they know they're getting something extra out of it.
For example, if you are writing an article about "SEO and email marketing," you could incentivize the sign-up by offering them a free eBook with even more tips on how to optimize their campaigns.
Tip #2: Offer Cheat Sheets, Excel Templates, and Other Resources
People love getting their hands on cheat sheets, Excel templates, and other resources. Offering these to your subscribers will help them get the most out of your content and make it easier for them to implement what you teach.
These resources can also be used as incentives for signing up for your emails or visiting specific website pages. You can also use them as lead magnets, offering the cheat sheet or template in exchange for an email address. 
Whichever way you choose, having additional resources ready for your subscribers will help them get up and running faster and make implementing what they learn even easier.
Tip #3: Segmentation
You don't want to send the same message to everyone on your list. People have different needs and interests, so you need to segment your list and send the right content to the right people.
That will help you create a much more personalized experience for your subscribers, making them feel appreciated and increasing their engagement with your content. 
Unless your website is very narrowly focused, you likely have different types of subscribers. Segmenting your list based on their interests, age, location, and other factors will help ensure that they're receiving content relevant to them.
 Tip #4: Create an Email Sequence
With an email sequence, you can set up a series of emails that introduce new leads to your company and turns them into paying customers. 
This sequence type is great for onboarding new subscribers and introducing them to your products or services. You can also use it to nurture existing relationships with your site visitors, thank them for subscribing to your email list, and remind them of the benefits of being part of your community. 
The key to a successful email sequence is creating content tailored to each segment and providing value at each step. That will help build trust and foster relationships with your subscribers.
Tip #5: Content Promotion
SEO and email marketing feed off each other. You can use your email list to promote content and drive traffic back to your website, and you can also use SEO to get more people on your list. 
While SEO will mostly bring in new visitors, email marketing will help reach those who have already interacted with your site. You can use it to promote your new blog posts and product launches, remind your subscribers of the benefits of being part of your community, and increase engagement. 
It's a great way to reach new and existing visitors, helping you grow your audience further.
We don't suggest you start promoting every piece of content you produce. But only the best content. 
You can also promote your old content, using it to re-engage dormant subscribers and keep your list active. You could even create a newsletter featuring the best pieces from your archive. 
Another viable idea is to create a roadmap that takes the reader from the basics to more advanced stuff. You can then prepare a list of relevant content pieces and link each one to the next. 
For example, you could link a blog post about SEO basics to an article about more advanced SEO tactics and link to a checklist that readers can use as a reference. 
This content promotion will help increase engagement and keep your subscribers interested in the topics you are covering.
Tip #6: Incentivize Sharing
It's not enough to send emails to your list. You want them to interact with the content and share it with their friends and followers. 
That's where incentives come in. Offer rewards for subscribers who refer new people to your list or share your content on social media. It will help you reach a larger audience and build relationships with new potential customers. 
When segmenting your target audience, it's not just about their demographics or interests. But influence as well. Identify the most influential people in your list and create special content that encourages them to share it. 
For example, you could create a VIP newsletter exclusive to the most influential members of your list. It could be something simple like:
"Hey, 
We wanted to thank you for being part of our community and reward you with special content. Here's a newsletter that only VIP members have access to. However, feel free to share it with friends or followers."
Or,
Hello, VIP member! We wanted to thank you for being part of our community and reward you with a special bonus. Here's an exclusive discount code that you can share with your followers or friends: 
These incentives will encourage more people to subscribe, interact and even refer their friends to your list.
The idea is to give a segment of your list something that only them have access to so they can feel special and valued. That will help foster loyalty, build relationships and drive engagement. 
Tip #7. Keyword Research
Carrying out keyword research before writing a piece of content will ensure that you are targeting the right keywords and increasing your chances of ranking in Google.
You don't want to run your SEO campaign on a humble guess.
Make sure you are using the right keywords by researching and finding out which search terms your prospects use to find your content. 
Here's what you should do:
Search for five to ten of your topmost competitors and see which keywords they are targeting. 
Just run their domain names into a key research tool such as Ubersuggest, SEMrush, or Ahrefs. 
These tools will give you an insight into what kind of words they are targeting and how well they rank for each keyword. 
You can then use this information to create a list of relevant keywords that you can target in your content. 
Once you have the list, look at each one in turn and see if there are any variations you could use.
Remember, the more specific and targeted your keywords, the better your chances of ranking higher in Google.
Tip #7: Optimize Your Email Copy for Clicks and Conversions
Your email's subject line and content should be optimized to encourage your subscribers to click through and convert. 
You want to start by ensuring the subject line features your target keyword so it stands out in the email inbox. 
Your next step is to ensure that your message's content is relevant and engaging. Use images, GIFs, and videos to break up the text and keep readers interested. 
You also want to keep everything concise and straight to the point. Try to avoid long-winded sentences and opt for shorter, more punchy ones. 
Here's an example of an optimized email copy: 
Subject line: Get 10% OFF Your Next Purchase
Content:
Hey there! We want to thank you for being part of our community and give you a special offer. Use the code XYZ at checkout to get 10% OFF your next purchase. 
Take advantage of this great deal and stock up on your favourites today! 
This email copy provides the recipient with all the necessary information to take action. It includes an incentive, a call-to-action, and an urgency element (the offer is limited in time). 
Tip #8: Turn Your Best Email into Blog Posts
You can repurpose your best emails into blog posts. This is an effective way to get more eyes on your content, as blog posts have a longer shelf-life than emails. 
You can also use the post to explain the concepts discussed in the email and add additional resources. 
For example, if you sent out an email about dealing with stress, you could turn that into a blog post with helpful tips and advice on how to handle it better. 
The email could be something like this:
Subject line: Dealing with Stress? Here's What You Should Do 
Content: 
Feeling overwhelmed and stressed? Don't worry, it's normal. Here are our top tips to help you manage your stress levels: 
Take regular breaks throughout the day 

Practice yoga or meditation 

Spend time with friends and family 

Get a good night's sleep
Your blog post could then expand on each of these tips and offer additional resources, such as helpful videos and articles. 
Tip #9: Keep an Eye on Your Analytics
Being data-driven should be a core part of your email and SEO marketing strategy. You need to keep track of how your emails are doing and how they affect the other channels in your funnel. 
To do this, you need to have analytics tools in place that will allow you to measure the success of your campaigns. Google Analytics is a great starting point, as it gives you insights into how many visitors are coming to your website, where they are coming from, and what pages they are viewing. 
You can also look at specific metrics such as open rates, click-through rates, and conversion rates to get an idea of how well your emails are performing. 
Monitoring your analytics will help you make data-driven decisions and optimize your campaigns for the best SEO and email marketing results.
By repurposing your emails into blog posts, you can have an extra stream of content that drives more traffic to your website.
Tip #10:  Leverage Your Social Media Presence
Your social media presence is important to your email and SEO strategy. You can use it to promote your content, drive traffic to your website and create brand awareness. 
Make sure you have a presence on all the major social networks, such as Facebook, Twitter, Instagram, and LinkedIn. 
Next, include links to your social media pages in your email campaigns. This will encourage subscribers to follow you on social media and stay updated on your latest content.
You can also use social media to promote each email you send out. Do this to get more eyes on your content and drive more website traffic.
Here's what you should do:
You can quote snippets or headlines from your emails and post them on social media with a link to your email subscription page. 

You could also include visuals or gifs that relate to the content in your emails, which are more likely to get people's attention and encourage them to click through to read the email.

Finally, you can use social media ads to target specific audiences and increase engagement with your emails.
Tip #11:  Don't Forget to test
Testing is an essential part of any email and SEO strategy. It allows you to fine-tune your campaigns to be as effective as possible. 
When testing, focus on elements such as the subject line, content layout, and CTAs (calls-to-action). These are all important elements that will affect the success of your campaigns. 
You should also test different versions of the same email to see which one performs better. You can tweak elements such as the tone of voice and images or copy and compare results. 
Finally, look at how well your emails perform across platforms like desktops, mobiles, and tablets. This will help you create an email template that looks great on all devices.
Tip #12: Invest in Automation
The last tip on our list is to invest in automation. That can save you time and energy, as you won't have to send out individual emails or track multiple campaigns manually. 
Automation tools allow you to set up automated workflows that automatically trigger specific actions based on subscriber behaviour. For example, if a subscriber opens an email, you can set up a workflow to send them more emails with additional content.
Automation also makes it easier to segment your list and personalize the content sent out. You can create segments based on criteria such as age, location, or interests and send tailored emails to each group. 
Investing in automation can streamline your email and SEO campaigns and increase engagement.
Setting up an automation workflow with an email marketing platform like MailChimp or Constant Contact is almost self-explanatory. Just be sure to set it up correctly and test it before sending out any emails.