It's a common mistake among marketers not to give any thought to client communications. Or should we say this is one thing they just 'wing it?'
Well, a lot could go wrong with this approach. First, the clients you attract have their share of expectations. For instance, according to a recent research finding conducted by Hubspot, 82% of your prospects expect you to respond instantly to their queries.
Expectations abound in this field of marketing, and the best way to address them is by learning to communicate effectively with your clients.
Some things are inevitable. Something happens, and your team misses a deadline – what do you do? You schedule an appointment with a client, but they fail to show up – what do you do? Your client is bothered about something and reaches out to you for clarification – how do you handle it?
More commonly, how do you talk to a dissatisfied client? At the heart of every form of human interaction, there's communication. And whether you believe it or not, how you handle client communication can either make or break your business.
Looking to grow your sales, get repeat business, and increase your number of referrals? The least you could do is learn to communicate with your clients more effectively. Do you want to reduce the number of frustrated customers?  Or perhaps you're more interested in reducing the number of negative feedback.
It all starts by training yourself to communicate with your clients in the right manner. In which case, you'll need some quick pointers or primers to help you out with this.
Luckily for you, we'll be listing all these tactics for you to read through and factor them all in your next communication assignment with the clients you attract.
So, how about we save each other's time and get straight to it?
11 Tactics For Effective Client Communication in Singapore
Be keen on how you use your tone
You don't just spill words when talking to a client. There's a way to frame your conversation and tone. You might have the right things to say, but until you work on how to say them, that little interaction won't do your business any good. It doesn't matter if you're talking to a client over the phone or in-person; don't let your tone betray you.
Even more important, don't let your current mood get in the way. If anything, simple logic demands that you remain both polite and upbeat all the time. Your tone must be neither low nor too high.
A simple trick would be to imagine that you're speaking to a very respectable person – without the anxiety, of course. Some of them may be annoying, lush out at you, and even raise your hackles, but it's upon you to figure out how to maintain your cool.
In other words, you shouldn't allow your emotions to get the best of you under any circumstance. It's that simple. 
Be Friendly and Professional at the same time
Don't be stilt with words. Your clients will appreciate you more if you maintain a friendly tone with them. Your personality doesn't matter when it comes to this. If your communication skills are nothing to write home about, then the least you could do is hire someone to help you out.
Learn to stay positive all through the interaction. Be friendly and personable. Here's the thing: treat every single one of your clients like an old friend you've just met. Ask them about how their day was and, without wasting time, get straight to the point.
And while at it, be sure to keep everything professional. You may be tempted to digress and throw in some light banter. But make sure it's related to your line of business or the concerns your client has.
Be careful with how you say 'NO" or disagree with a client
No one enjoys being turned down. So whenever you find it hard to agree with a client's terms, don't be quick to utter the word 'NO' blatantly.  If possible, try to avoid using it at all.
And where you're out of options, and you have to use the word, be at least sensitive enough to apply some tact.
For instance, if a client asks if you'll be able to complete a certain task by a certain date, don't tell them no. Instead, be polite enough to use something in the lines of:
"I don't think we'll be able to complete the project by that date, however fast we try to rush. Mind adding a week on top of that."
Or "I'm sorry. There's a lot to be done about this project. I don't think I'll be able to meet your deadline."
Practice Active Listening
A good conversation demands that you learn to listen keenly. Be attentive and only speak when it's necessary. Don't interrupt when a client is talking. Instead, give them time to explain themselves or the nature of the problem they have before you can chime in with your contribution.
Your role in this is to respond to what a client is trying to ask. Make sure you've understood the question or heard their concerns before responding. Don't worry about what you're going to say next. If you're confident about what you do, then it shouldn't be that hard to come up with the right response.
Humans have a short attention span. And their minds roam from time to time. So you might want to teach yourself how to concentrate. Get your mind off your business or any other distraction for that matter and focus on the issue at hand.
Another common mistake marketers make all the time is giving their clients undivided attention. If you're in the middle of something, explain yourself more politely to the client and let them know that you'll get back to them at a certain time and if they're okay with it.
Where a client has a lengthy issue, take notes. Note down the main points of their concerns and offer feedback. Where you can't come up with immediate feedback, ask the client if they can give you more time to digest everything before reaching back with a response.
Be consistent With Your Response
Once you initiate an interaction with a client, you have to make sure you'll be hanging around until the conversation ends. Don't disappear from your clients. If you have to take some time off, let them know that you'll be available again at such a time.
Also, be consistent with your style of response and the tone you're using. If you decide to be friendly, don't switch off in the middle of a conversation and be garrulous. This will create an impression of a flip-flopper, which happens to be the last impression you want to be sending out.
The first few exchanges should make a client develop some expectations. This is the tone and attitude you should adopt throughout the interaction. It's also the tone and attitude to use on the rest of the clients during your interactions with them.
Visualise your brand. What values does it reflect? That's how you want to be portrayed by the client. It's also how you're supposed to act when talking to your clients.
Don't force your clients to adapt to your style. Instead, be flexible enough to take their style and language.
For instance, if you find that your client has a very formal way of expressing themselves, then you have to adjust your language and style and take a more formal approach. Again, if it turns out the client is more playful or casual, do the necessary and take a more friendly tone.
The whole point is to create a room for connection with your client. You don't have to be an entirely different person or pretend to be something you're not. Rather, develop flexible communication skills that could go a long way to help you establish a strong bond with your clients.
Be keen On How You Format Your Messages And E-mails
Don't just write email responses or messages for the sake of it. You have to be more strategic with the approach that you take, the styling, and most importantly, how you format it.
The point is to make your email more readable. So the style you adopt must be one that leans more towards succinctness. Use lists whenever you can. And remember to bold important words and phrases.
Also, keep your paragraphs short — preferable not more than three sentences long. And make sure there's ample spacing between the sentences and paragraphs. In brief, the reader must be able to understand the gist of your messages by just skimming through them.
It's safe to assume your client will only have a minute or two to spare to read your email. They don't have the time to go through huge chunks of block-like texts trying to find what you're trying to say.
So why not cut straight to the chase and drive the point home in the most direct way possible. Take a summary approach, where you compress everything into a few short paragraphs. Use plain language. And most importantly, don't be vague or try to act coy with them.
Of course, your clients understand that you're doing business. They know what lies at the end of the bargain: the fewer words you use to express yourself, the better for both the client and you.
Learn to use these two words "thank you" and "please."
You've probably heard someone insist on why it's important to make your use of these two words your second nature. But you took them lightly.
Well, we're here to remind you why you ought to adopt them permanently and learn to slip them into your conversation with every little chance you get. Sadly, we have to keep on repeating the most basic of the things you already know.
Ever wondered why waiters thank you all the time or use the word please whenever they want to serve you. Of course, that's how they're taught to respond to clients. But for what, you may ask.
Well, these two words are a symbol of respect. 'Thank you expresses gratitude, while 'please' indicates that you respect your clients enough to ask for their permission before you can go ahead and do something.
You'd be surprised by how much these two words could influence a decision a client is about to make. So don't be afraid to over-use them. It doesn't matter how many times you throw them in a conversation. The point is to make sure that you're always using them whenever you're having a conversation with a client.
Try to simplify everything for your clients
You don't know much about your client. You don't know about their educational background. You also don't know about their level of understanding with regards to the message you want to send to them.
But what you do know is that they'll be able to decode a message that's written in the plainest of language one can use. You may be tempted to throw in some big words or industry jargon but what's important is that the client understands your message.
Make everything as easy as ABC. Where they have to read a lengthy article to understand something, give them a link directing to that article. And before you schedule a meeting with any of them, take your time to walk them through the issues you'll be addressing so that they won't be caught unaware.
Your client's time is of the essence here. You're simply interested in saving a huge chunk of their time by making everything easy for them to understand.
By now, you should know the type of questions to expect. If not, make some rough mental estimation of what may prompt a client to want to talk to you.
Be sure you know how to respond to these questions before you set out to meet the client. If you can't place a finger on what they're interested in, revisit their email and read it again. Are they interested in further explanation? Do they have a project that they'd want you to handle?
The closer you get to figuring out what your clients want, the more you're likely to be more efficient with the responses you give.
Top 9 Tool for Effectively Communicating with Customers in 2022
Customers are any business' lifeline. Without customers, your business is not functioning at all. Therefore, it is essential to consider customer satisfaction as the best way to bring clients into your business, keep them, and even convert them into returning customers.
One best way to ensure your clients get value for their money is to provide a simple line of communication between the business and each customer. Customers will always have issues they need help with from your support team. They always want an easy way of reaching the company and quickly fixing their problems. 
Almost all businesses' availability and accessibility to technology have increased the demand for better solutions to better communicate with clients. Many software products in the market are easy to acquire, install and use. 
A quick Google search will reveal how easy getting one, or a couple, of these software products, is. It is, however, vital that you have a clear idea of what you want, the difficulty you have, and the best software, depending on the nature and scale of your business.
Here are 9 of the best tools currently available for your businesses to improve the customer experience.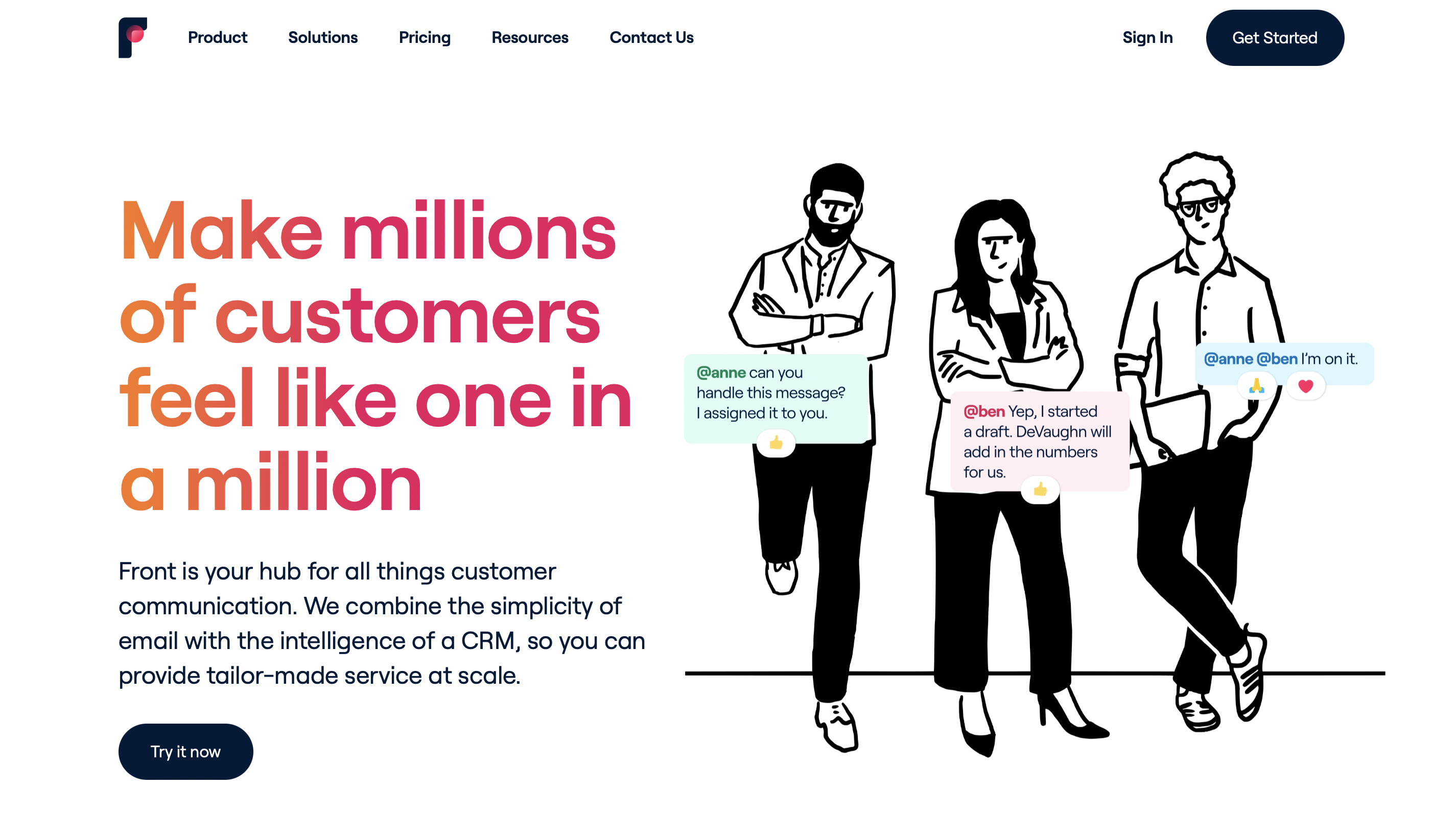 Front turns your inbox into a powerful platform for managing customer requests via email, SMS, and other channels, with the context to provide quick, personalized responses. 
Five of its prominent features are:
Less busy work means more time for customers
Automate tasks such as routing, tagging, notifying, and setting SLA alerts. Use message templates to expedite thorough responses and the discovery of solutions.
All messages in a single, simple-to-use platform
Front allows you to connect email, chat, SMS, social media, and other accounts. Because it looks and feels like an email inbox, agents can jump right in and respond to customers.
Make your workflow more efficient by having quick access to all your apps
Connect 50+ apps to your knowledge base, CRM, customer service, and critical information in your inbox. You can find answers and share resources without ever leaving Front in just a few clicks.
Second-to-none customer service
The Front does not add ticket numbers or unusual formatting to your messages, ensuring that each customer receives a personalized response.
Effortless internal collaboration
Provide consistent, high-quality responses, assign messages, share drafts, and use internal comments. With shared visibility in your support queue, you can stay organized and on track.
According to the company's website, customers who use data provided by Zendesk's software see a 79 per cent reduction in customer wait times. This software provides the context required to comprehend and improve the customer experience.
Seven of its prominent features are:
For improved productivity and efficiency, your team can view real-time data on system actions and activities, such as who is currently considering a ticket at any given time.
Collaboration between agents
When a problem arises, your agents share information via private comments to help solve the problem as quickly as possible.
Agents see a personalized view of their queue based on ticket status, group, assignee, and various other conditions.
The built-in SLA (Service-level Agreement) allows agents to set their parameters and use up-to-date measurements to monitor the status of a specific ticket. Apps for mobile devices Agents can respond to inquiries while on the go by using mobile apps on their smartphone or tablet devices.
Automation of the help desk 
You can automate everyday tasks, such as closing inactive ticket alerts and notifying a manager of a recent issue, thus freeing up time for your agents.
Agents create and share personalized, standard responses quickly to recurring customer inquiries.
Ticket fields and request forms 
Provides your clients with more information to prepare personalized customer support for the specific issue.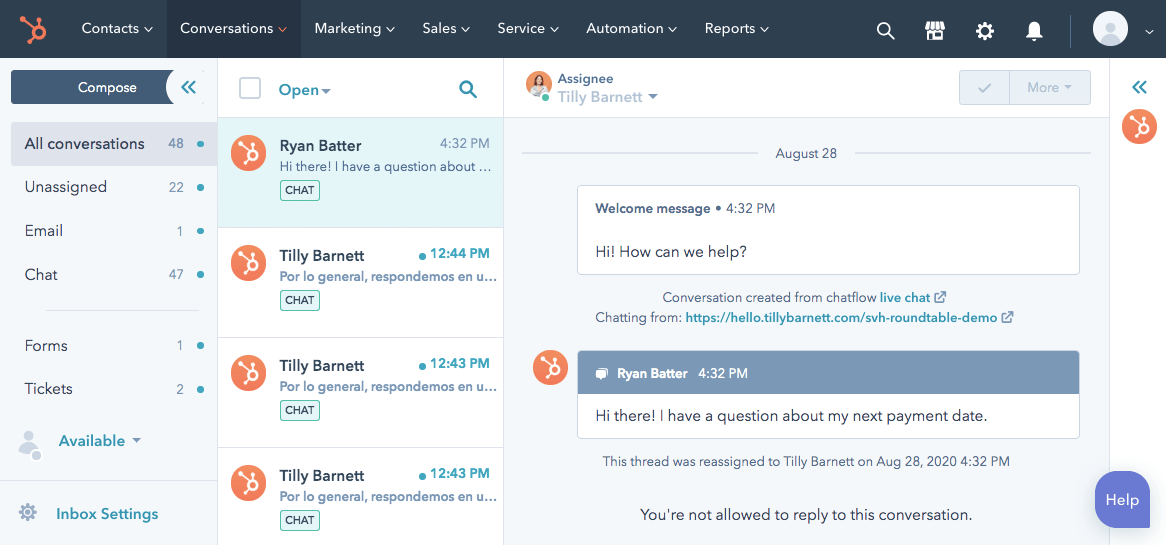 Service Hub merges all of your customer service data and channels onto a single CRM platform, allowing you to onboard, support, keep, and grow your customer base more efficiently. As a result, improved customer service management and delighted customers at each stage of their journey.
Six of its prominent features are:
Spend less time entering data and more time assisting customers in succeeding. Create a help desk that prioritizes critical issues first by adding routing to tickets.
Reduce the number of support requests by assisting customers in self-help. Create a searchable library of help articles, videos, and documentation to answer frequently asked questions.
Provide real-time help to customers on your website. Contextual conversations can help you automatically route users to the right people on your services team and build stronger relationships.
Automated Customer Service
Remove any unnecessary manual processes so that your team can concentrate on solving customer issues. It should give agents the ability to create personalized experiences to scale up.
With a secure customer portal, you can give your customers control over their experience. Your portal keeps ticket conversations between customers and reps going, allowing you to resolve issues more quickly.
Using HubSpot's VoIP software, you can call your customers directly from the HubSpot platform. Take advantage of features such as call logging and analytics to get crystal-clear call quality.
Mention is a social media monitoring and management platform that assists you with social listening: finding out what people are saying about your brand on the internet. It tracks over 1 billion sources, including press articles, review sites, and blogs.
It then provides context for the sentiment of those conversations and provides actionable insights into how to use this information to improve the customer experience. Determine what others are saying about you and manage the conversation.
Seven of its stand out features are:
Select keywords and receive notifications when people mention you on the internet.

Filter out any irrelevant sources and select only a few to monitor.

Recognize the tone of conversations about your brand.

Use data visualization.

Schedule posts on Facebook, Instagram, Twitter, and LinkedIn.

Filter incoming mentions based on their sentiment.

Spike alerts will notify you in real-time.

 
It is advisable to conduct surveys to collect relevant information from customers regularly. It enables the customers to respond to your questions and make suggestions that might be helpful to the way your business operates. 
One of the best tools currently to conduct such surveys is Survey Monkey. It is a well-known and well-established software that you can quickly get and use. 
The software allows you to:
With admin controls and dashboards, you can manage multiple users and gain visibility into all survey data collected across your organization.

Ensures that you safeguard your customers' information with enhanced security features such as encryption, SSO, and features that assist you in remaining HIPAA and GDPR-compliant.

Connect to critical business systems via APIs and powerful integrations, such as Salesforce, Marketo, Tableau, and others, to make feedback automated and actionable.

Make better, data-driven decisions with your insights.

Create surveys, quizzes, and polls for any audience with ease.

Collect feedback via weblink, email, mobile chat, social media, and other channels.

Get powerful analysis features by automatically analyzing your results.

You can export your results or integrate them with your favourite apps.
Some conversations, whether sales or customer onboarding, benefit from taking place face to face. With the rise of remote work, you may not always share the same physical space with someone, but you can share digital space with virtual meeting software, such as Zoom.
Zoom took off during the pandemic, as businesses trusted it as the go-to place for safe virtual meetings.
Zoom offers a variety of products for companies to run their businesses through:
HD video and audio collaboration in meetings.
Zoom-compatible integrations and bots.
Full-featured, user-friendly, and engaging webinars.
Cloud phone system for businesses.
All-in-one platform for hosting virtual reality experiences.
Connect your teams and improve communication.
Video will give your conference rooms a boost of energy.
APIs and SDKs for extending and improving Zoom.
The ability to engage and delight customers are at the heart of every successful business. Tribe makes it possible for you to do just that. Create an online community to help people connect and engage with your brand. The tribe will allow you to quickly launch a full-featured online community for your customers and audiences, allowing you to drive thought leadership and customer education.
Some standout features include:
Containers you can customize to your liking to host content and members based on common themes.
Track key metrics at the granular level and assign a score to community success.
To keep the community safe, moderators use a combination of automation rules and powerful tools.
Granular controls can keep the community or parts of the community private.
It works well with your favourite apps. It is compatible with your processes.
They built reliable search right into the heart of the community experience.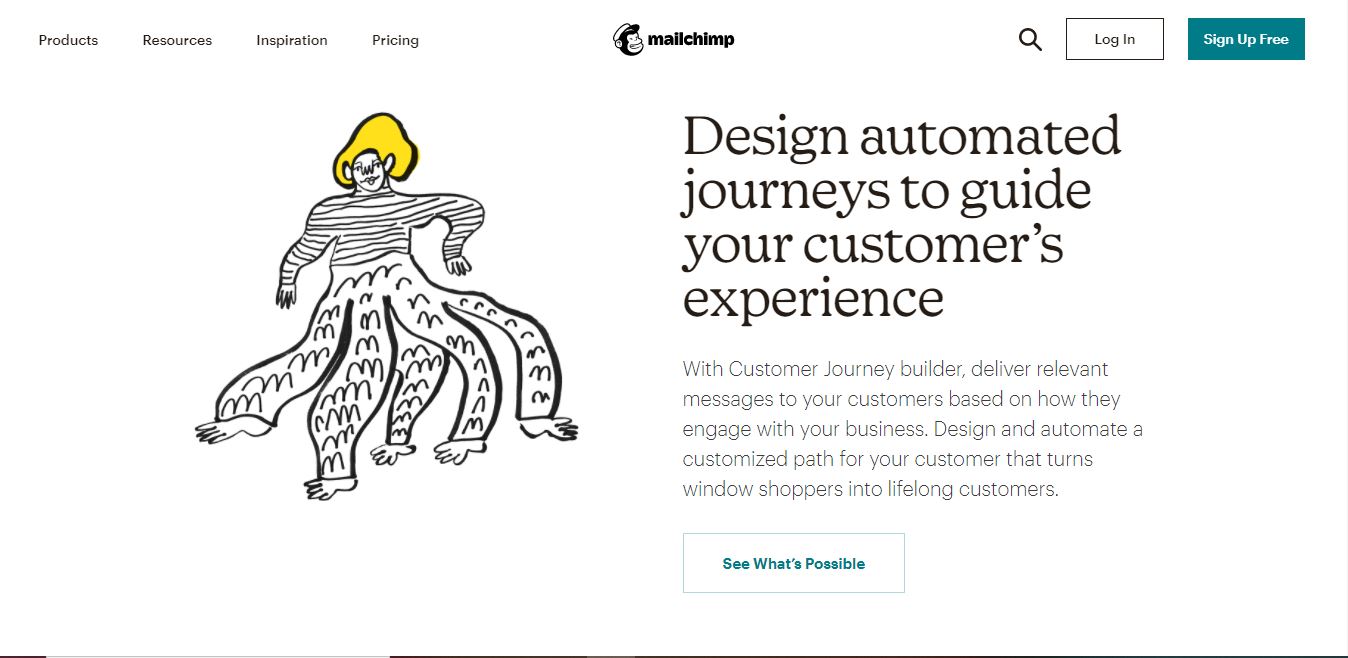 Mailchimp's all-in-one Marketing Platform assists small businesses in marketing smarter, allowing them to grow faster. They serve as the foundation for your customer relationships, providing AI-powered, user-friendly tools anyone can use to succeed.
Mailchimp puts your audience first, allowing you to send marketing emails and automated messages, build landing pages, send postcards, facilitate reporting and analytics, and sell online.
Millions of businesses and individuals trust Mailchimp, ranging from community organizations to Fortune 100 corporations, to connect with their target audience with the right message, at the right time and in the right place.
The best thing about the Mailchimp application is how simple and easy it is to use. You can get a list of up to 2000 free subscriber members. The user interface is also simple to use and navigate. Mailchimp has a comprehensive collection of email layouts. The Mailchimp email layouts are visually stunning.
The ability to manage multiple email lists is a powerful feature. And all the format options are helpful and engaging for subscribers. You can send emails immediately and view valuable data before sending emails.
LivePerson's Conversational Cloud platform provides AI-powered messaging and chatbots to assist 18,000+ brands, including many Fortune 500 companies, in driving the marketing, sales, and customer care results that matter to their businesses. 
LivePerson, which was named to Fast Company's list of the World's Most Innovative Companies in 2020, leverages 20+ years of live chat and messaging data to process language efficiently.
LivePerson enables brands to design, scale, manage, and optimize all consumer conversations with an automation-first mentality. LivePerson truly distinguishes itself by detecting consumer intents in real-time using their proprietary Conversational AI technology and assisting brands in fulfilling those intents on the most popular messaging channels without needing an army of agents.
LivePerson's compatibility across the world's most popular messaging platforms, from WhatsApp to Apple Business Chat and Facebook Messenger to businesses' websites and mobile apps, enables companies to reach and serve more consumers at scale, when and where they want.
These are just nine of the many tools out there that you can use to engage your current customers and bring in new ones. Whether it's making it faster to write posts, letting you schedule emails weeks in advance, or keeping you on budget, these apps are worth checking out. 
Most of these apps have free demos, so it doesn't hurt to try them out. They may not all be right for you, but you may find that several of them are tools you can't live without, especially in this digital age.
The Final Thought
In brief, learn to treat your clients with respect, and they'll reward you with loyalty. By respect, we mean, you should respect every aspect of their life. Respect their time, understanding, resources, and everything else. 
That's the secret to effective client communications. Or you could borrow a leaf from us. Find out how we do it by talking to one of our customer representatives at MediaOne marketing.