What social media trends will carry over into 2022? And which ones will disappear? Let's take a look at our crystal ball.
The social media space is constantly evolving. We said goodbye to Myspace in 2013.
On January 18th, 2017, Twitter officially folded Vine.
We also kissed goodbye to the simple status update, and now we're selling products and services through our social media accounts – much has changed over the years. 
Also, we're about to start growing virtual communities, thanks to Metaverse.
And while social media trends come and go, some are here to revolutionize the space — like live streaming.
In 2022, social media will continue to evolve and change. We expect to see more digital communities being built, as well as more live streaming. Brands and businesses will continue to find new ways to sell their products and services through social media, and the simple status update will be a thing of the past.
That said, let's keep an eye out for the social media trends to leverage in 2022:
Social Media Trends in 2022: What to Watch Out For
TikTok Will Still Dominate the Social Media Space
TikTok is undeniably the fastest-growing social network. It has already surpassed Snapchat and Facebook Messenger in terms of monthly active users, and it's only going to continue growing in 2022.
Source: Hootsuite
In 2022, TikTok will still be one of the most popular social networks, and brands will need to find ways to leverage it if they want to reach a younger audience.
At the start of 2021, the term TikTok saw a 61% increase in mentions year-over-year (YoY). It would become the first non-Facebook social media app to hit 3 million downloads worldwide. 
People have long argued that the app is simply a fad and has no longevity, but we'd like to think otherwise.
MediaOne's social team believes that "the app is designed for quick, easy and creative content sharing – something that is especially appealing to the younger demographic."
In other words, we don't see the app going away any time soon.
In 2020, TikTok was the world's most downloaded app. With more and more consumers choosing the app for entertainment and creative content, it is clear to see why it will still be a dominant player in the social media space in 2022.
Other social media platforms are even using the social network to remodel their platform features. For example, Instagram stories were directly inspired by the success of TikTok. They even adopted the lookalike feature and called it Reels.
Suffice it to say, TikTok is the pacesetter of the social media world and will continue to be in 2022.
Here's an article you want to read to learn more about TikTok marketing: 
TikTok Marketing In Singapore: A Complete Guide
Reaching New Audiences Will Be the Number One Goal for Most Businesses in 2022
HubSpot conducted research on this — in 2021 and 2022. In 2021, they found out that most marketers' social media strategies were:
Advertising their products and services (35%)

Reaching new audiences and increasing brand awareness (34%)

Increasing sales and revenue (34%)
In 2022, 76% of marketers decided to change their business goals, with a majority of them (39%) focusing on reaching new audiences.
That said, here are the primary goals marketers will be working towards in 2022:
Reaching new audiences and increasing brand awareness (39%)

Increasing brand loyalty and fostering relationships with customers (33%)

Improving customer retention and service (32%)
The majority of businesses will be focusing on reaching new audiences in 2022. While there are various ways to achieve this, most companies will turn to social media.
Businesses will have to create engaging and compelling content to reach these new audiences. They will also need to experiment with different social media platforms to find which ones work best with their companies. 
You must stay active on social media. Be consistent in your posting, leverage buzzy content and trends, and, most importantly, don't forget to invest in high-quality creative assets.
Additionally, it would help if you also considered using social media advertising. Paid ads can help you reach a much larger audience than you would be able to organically.
You also want to engage your followers through interactive elements such as live videos, polls, and Q&As. That should help you build a relationship with them and keep them interested in your brand.
Short-term Vertical Videos Are Here to Stay
Short-term vertical videos are shot in portrait mode and only last for 10 seconds or less. They first gained popularity on TikTok and have since made their way to other social media platforms such as Instagram, Facebook, and YouTube.
Vertical videos are especially popular with younger audiences as they provide an easy and convenient way to consume content. 
Not only are these videos engaging, but they're also a great way to capture users' attention.
Instagram video get more engagement than any other content format

Tweets with videos get ten times more attention than those with text only

Pinterest reported a 240% year over year (YoY) increase in videos pins between 2020 and 2021
In the past year, we've seen many brands and content creators use videos to spotlight their products, connect with their audiences on deeper levels, and raise awareness on some of the things they care about.
In 2022, we're bound to see more video trends and creative content pop-ups – whether it's in-depth tutorials or fun-editing transitions. 
Fun fact: 
More than 430 million people are deaf or have hearing problems. Also, 85% of Facebook videos are watched on mute. 
So, as an editor, or video content creator, we suggest you start using subtitles or captions in your videos to make them more accessible.
Companies Will Make More Dedicated Social Media Hire in 2022
It's hard to imagine a successful digital marketing campaign without a social media strategy.
The day when marketers and businesses only used social media for brand awareness is long gone. Nowadays, social media also doubles as a powerful revenue-generating tool. 
79% of consumers say user-generated content has significantly helped them improve their purchase decisions.
That's why campaigns aren't just hiring digital marketers that can handle social media on the side. They're hiring dedicated social media marketers. 
Most of these companies are beginning to prioritise social media. 
As Aytekin Tank, Jotform founder and CEO, puts it, in 2022, there will be more companies hiring dedicated social media marketers. 
Companies have been handing their social media to committees or passing them off to marketing generalists. The problem with this is that their social media doesn't get prioritised. Instead, we have companies missing out on the opportunity to optimise their platforms and turn them into revenue generators. 
A dedicated social media manager has only one task: to grow your platform, keep tabs on your social analytics, experiment with new trends and platforms, and be part of industry-specific conversations. 
The whole point is that your audience is on social media, and they're eagerly waiting to engage with your brand. You have to figure out how and act accordingly. 
Micro-Influencers Will Gain More Traction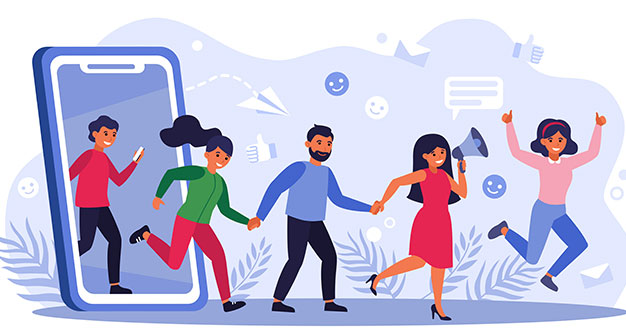 In 2021, we saw a rise in the use of micro-influencers. And, in 2022, their use will continue to grow.
Micro-influencers are individuals with a following of 10,000 to 100,000 people. They tend to have a more engaged following than celebrities, and they're usually more affordable to work with. 
What's great about them is that they have high trust levels with their followers. 
Because of this, brands can partner with them to create authentic content that resonates with their followers. 
In 2021, we saw brands like Nike and Starbucks partner with micro-influencers to create engaging content. 
We expect to see more of this in 2022.
Augmented Reality Will Take Over Social Media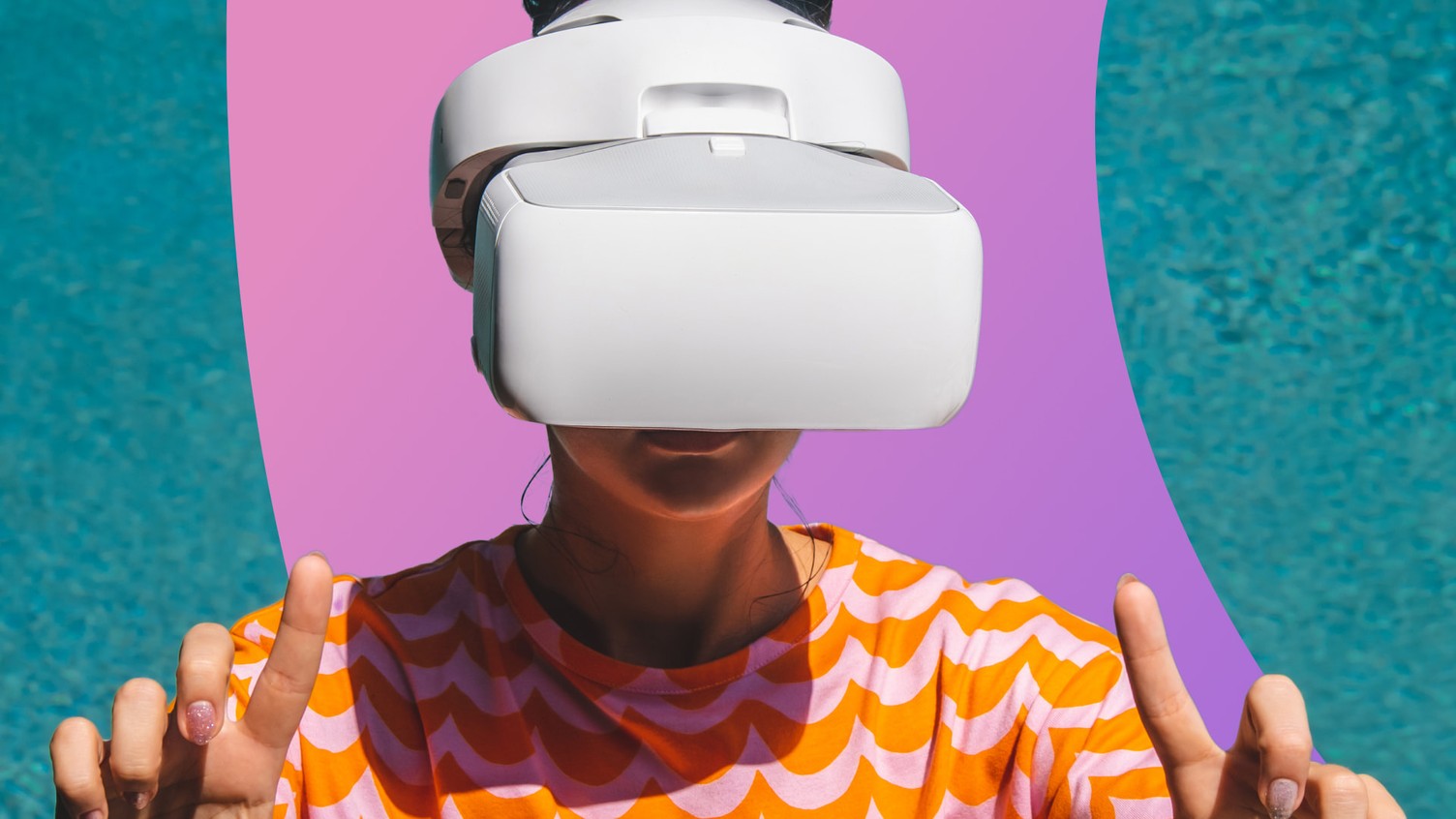 Augmented reality (AR) is a technology that superimposes a computer-generated image on a user's view of the meat world, thus enhancing the user's experience.
Augmented reality isn't new. It's been around for a few years now, but it only took off recently. 
In 2022, we believe that augmented reality will take over social media. 
AR has been proven effective for a business bottom line. According to HubSpot, AR can improve your click-through rate by 33%.
Snap Inc's head of Augmented Reality product strategy, Caroline Arguelles Navas, alludes that AR will be many consumers' preferred method of trying out products in 2022. 
AR is one of the most effective ways to drive results and reach the right audience personally.
We've already seen interest in AR explode over the last few years. Snapchat users are always engaging with AR, with over 200 million snapchat users engaging with the technology every day. TikTok is also picking up the trend. 
Not so sure on whether to try out AR?
Snapchat is the platform to try it out with – and as things are, the platform can reach 90% of 13 to 24 years old and about 75% of 13 to 34 years old. 
B2B Businesses Will Increase Their Investment in Twitter and Instagram 
Twitter and Instagram aren't new. But marketers are beginning to see an increase in ROI across the two platforms. 
And as a result, many of them are planning to increase their spending on the two platforms.
For example, Twitter reached over 200 million monetizable active users daily in 2020, 29% year-over-year growth. 
It's the same with Instagram. In 2020, the platform experienced a 14% increase in the time spent on the app between 2019 and 2020. On average, users spend about 30 minutes daily on the app.
Instagram also recorded the highest engagement than all the other social media platforms.
The two platforms will continue to grow in 2022. There will be more people engaging with them. 
According to HubSpot, more than 70% of marketers plan to increase their Twitter investments. 63% say they'll increase the amount they spend on Instagram.
Influencer Marketing Will be More Mature in 2022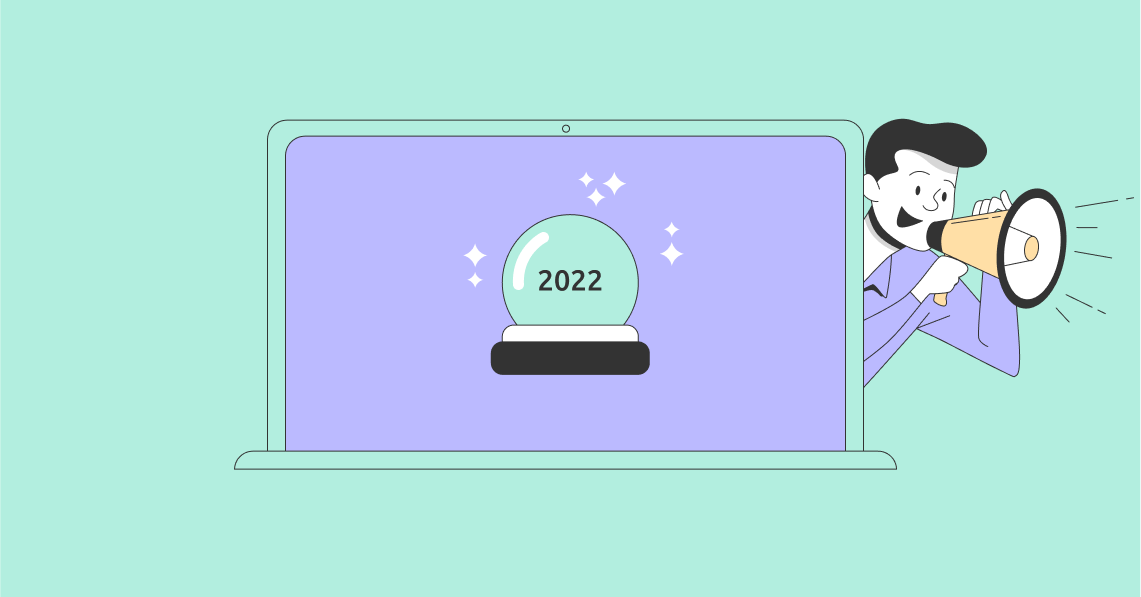 Influencer marketing hasn't been well streamlined. 
In most cases, getting influential people to market products hasn't been fruitful for most marketers. But that's about to change. 
It started with the pandemic speeding up the rise of unfiltered content and everyday influencers (nano-influencers and micro-influencers). 
Many people trusted influencers even more than they trusted brands. That's why influencer marketing will be an even more vital avenue in 2022.
More businesses will adopt the use of influencers in 2022. This is especially true on platforms such as TikTok, where brands are still struggling to establish a presence. 
Also, as the alignment between social media and ecommerce strengthens, we're more likely to see influencers directly impacting business sales.
Influencer marketing has been a thing for the past few years. The only difference between influencer marketing back then and influencer marketing right now is that we'll start seeing marketers choose influencers that make the most sense to them. 
In other words, businesses will go slow on choosing celebrity influencers in favour of niche influencers. 
Gaurav Sharma, CEO and founder of Attack, says you can get the results you want by getting 10 to 30 micro-influencers for at least 6 to 12 months. 
When done right, this could quickly skyrocket your business growth. 
Here's an article you want to read to learn more about influencer marketing:
17 Actionable Strategies For Influencer Marketing In Singapore
Social Media Marketing Will Become More Sophisticated
Google has said they plan to phase out third-party cookies by 2023.
Social media will have no option but to follow suit.
Fortunately, there exist numerous other advertising options that don't rely on third-party cookies. A few examples: user-generated content, email marketing, personalised ads, and search engine retargeting ads.  
So, instead of using cookies to define your ad strategy, we expect to see more businesses adopting a data-driven approach to drive their social media campaigns. 
More Businesses will Invest in Short-form and Long-form Content, as well as Live Audio Chatrooms
Video content is increasingly popular across social media channels, particularly with the rise of short-form video content such as TikTok.
According to HubSpot, 64% of marketers plan to leverage short-form videos in 2022. Also, snackable content has proven to be more effective. So, expect to see more marketers generating brief videos that are engaging, easy to digest, and can be distributed across different social media networks. 
Additionally, 89% of marketers leveraging long-form video content say they plan to increase their investment in 2022. 
At MediaOne, we encourage you to consider investing in both short-term and long-term videos. Experiment with both to determine which option works best with your target audience. 
In addition to that, more than half of marketers say they'll start investing more in live audio chat rooms such as Twitter spaces or Clubhouse in 2022. 
The idea is to plan how you will leverage video content in 2022. Beyond videos and posts, you must experiment with audio content to see if it sparks any interest in your buyer persona. 
Social Selling Will Continue to Grow in 2022
Social selling is one of the latest trends in the social media space. 
Social media channels have been working hard to introduce shopping experiences on their networks. The idea is to create an environment where users can purchase products and services without necessarily leaving the platform. 
A common example is Instagram shoppable stories. With this option, users can tap on a product sticker and purchase the product without leaving the Instagram app.
It's the same with almost all social media platforms out there.
And TikTok is no exception. Not long ago, TikTok introduced an advertising format called Spark Ads. 
This option allows brands to boost the profiles of the existing organic content.
As 2022 rolls by, we expect more brands to adopt social selling. You don't have to force users to leave their favourite app. If they prefer purchasing products right from the Instagram platform, don't direct them anywhere else.
Consumers Will Prefer Snackable Content
In 2020, TikTok took the social media world by storm. Their strategy? Snackable content tailored to a user's needs. 
After analysing consumers' preferences, Instagram decided to go big with Instagram Reels. And now, snackable content is the order of the day. From Facebook, Snapchat to TikTok and Instagram, brands are creating short snackable content to educate consumers about their products, services, and brand. 
The reason?
Social media attention span has been shrinking over the years. 
People don't have the time to dig through huge chunks of text or watch long-form videos.
They want to scroll endlessly through their screens and consume as much content as possible. They quickly get bored, and the only way to get their attention is to make your content entertaining, educational, short, and straight to the point.
Here are the four forms of snackable content your brand can leverage in 2022:
Gifs

Memes

Quote Graphics

Infographics
Emphasis on Mental Health and Burnout Prevention 
According to a Vibely report, 90% of content creators have experienced burnout. 71% are even considering quitting social media altogether.
Between the ongoing lockdown in some parts of the world, the amount of time spent online, and the need to constantly churn out high-quality content, digital burnout is real.
In 2021, we saw an uptick in the number of content creators and brands taking breaks, talking about self-care, and setting digital boundaries. 
In 2022, we expect to see content creators take these conversations a notch higher. We hope to see more people talk about their social media relationships and how it affects their overall well-being.
Consequently, Instagram released the "Take a Break" feature that they're still testing in some parts of the world, including the UK, Canada, Ireland, Australia, the US, and New Zealand.
Source
This feature allows you to receive a break reminder in-app after the duration you've specified.
They even offer you expert tips on what to do during those breaks. For instance, they could suggest that you listen to your favourite song, go for a walk, or have a meditation session. 
While this is a major step in the right direction, we expect to see more platforms follow suit as more and more creators join the conversation. 
Focus on Accountability and Diversity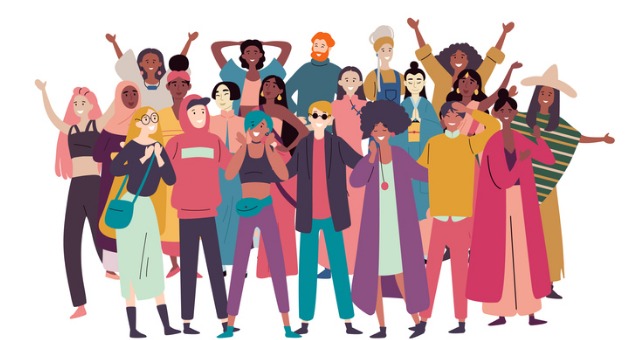 Remember the Black Lives Matter Movement in 2020?
Many brands joined in the conversation. For the first time in history, we saw brands talking against racism, with many going as far as promising to learn, listen, and do better.
It's been two years since the movement, and the question many people are asking is, "what next?"
Now, judging from one recent report comparing the pay between BIPOC influencers and white influencers, we can see that brands still have a long way to go.
As it stands, white influencers still earn 29% more than BIPOC ones. 
While inclusion and diversity should never be a trend, we predict some of the conversations we'll be seeing is of creators holding brands accountable to the promises they made.
Brands are the new meme lords.
Before this, we had random people creating memes. But in 2020, we'll have brands embracing them with open arms, with some openly taking credit for them.
The social media space is brimming with hundreds of millions of memes and thousands of niche memes. 
We predict more niche memes will be released in 2022, from social media management woes to astrology. 
Source:
In 2021, we saw one of the biggest meme accounts, "Saint Hoax," partnering with Met Gala to cover some of the event's biggest moments.  
Memes are one of the four types of snackable content. They're entertaining, fun, and easy to digest. Some can even be educative but in a fun way. And that's part of the reason people love them.
The best part? You don't have to be fancy with memes. 
Here's an example of a funny meme by Later. As simple as the meme looks. The meme has attracted over 116,000 views. 
source
In other words, memes aren't going away. They're here to stay. And the more creative, nimble, and relatable the meme is, the better. 
Social Media Posts is a Form of Currency
Does this mean you could pay for a product or service with a social media post?
Yep. That's the point.
It's is real, a social media trend that's picking up steam fast. 
We've seen this happen with a few brands.
For Example, MilkUp opened a post-to-pay pop-up where customers receive a free limited-edition item just by posting about it on social media. 
source
It was a campaign strategy that brought so many customers, leading to sold-out products. 
Similarly, Bun Burgers pulled a similar stance. They allowed their customers to pay for products using TikTok currency. 
That video alone generated more than 6 million views. 
TikTok got free burgers, but the company gained more in brand awareness and free user-generated content. 
So, as the new year rolls by, expect to see more of this. 
Rise of LinkedIn Influencers
When we talk of social media influencers, the two platforms that usually come to mind are Instagram and TikTok. 
We may sometimes refer to Facebook or Twitter influencers, but we have never thought of LinkedIn influencers.
Well, that's about to change in 2022.
First, we've always considered Twitter the most underrated social media platform. 
But as things stand, LinkedIn is about to step up to the plate and prove that they're just as influential as any other social media platform. 
They're now investing heavily in their content creators. From global creator programs to Creator Mode rollout, LinkedIn is purposefully making it easier for content creators to grow and share their content.
And mind you, this is just the beginning of great things to come.
They even launched their first Creator Accelerator in 2021. Jon Youshaei was among the content creators selected for the program. 
So, why the sudden popularity?
It started with the pandemic and the work-from-home culture. During this time, many people realised the importance of creating a memorable personal brand outside of what they have with their company.
LinkedIn has also proven to be an excellent platform for creating visibility and showcasing thought leadership. 
They also have one of the best engagement rates. 
Check the example above. It's a simple post, but it has over 20,000 reactions. 
In 2022, we predict more creators will shift their focus to the platform. We're bound to see more content creators taking the platform more seriously. 
More people will be growing their brands, and CEOs will be working to position themselves as industry experts. 
We also expect to see less of the recycled polls asking whether interns should be paid or not. We've had enough of this already. 
So, yes, we expect to see nothing but pure creativity on LinkedIn in the years to come. 
Creators and brands are moving away from the perfectly curated feed aesthetics to sharing less filtered, more in-the-moment content. 
Here's @scienceoffoods Instagram feed:
It's simple, with no filters. 
HARA is another perfect example of a brand that's opted to share its content with minimal editing. 
The trend isn't about filters or lack thereof but authenticity. In recent years, the gospel has shifted, and it's not about putting the best foot forward and presenting your most authentic self. 
Customers want to associate with brands they can relate with, not those who wow them with the best, picture-perfect filtered photos.
As it turns out, customers can see through filters and have grown enough to start appreciating brands that put everything on the line to be authentic. 
Niche Facebook Experiences to Become Prominent Marketing Channels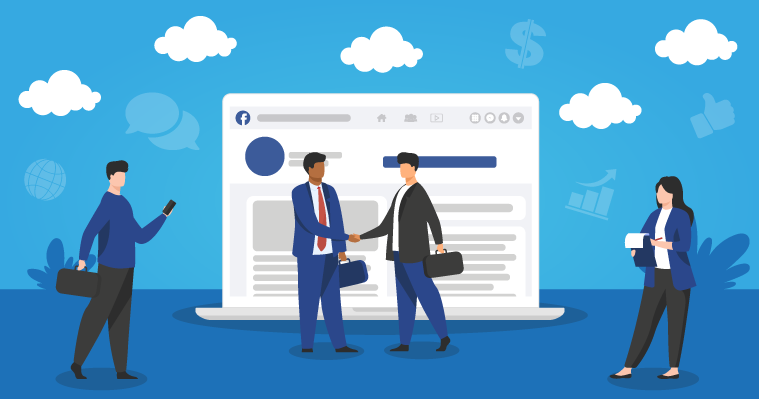 Facebook leads as the world's most popular social media channel, boasting nearly 3 billion monthly active users. 
But that's not what's keeping marketers on this platform, but the rising trend of consumers craving experiences in smaller, subcultures, and niche communities. 
Unlike Twitter or Instagram, Facebook excels at offering more intimate experiences. 
As a result, we expect to see brands double down on three key areas to deepen their relationship with followers and build more trust with consumers.
Facebook Groups:

You should continue investing in growing your Facebook group. You also want to make sure the group is connected to your Facebook page.
The reason being Facebook has introduced numerous features that make groups more robust and appealing to both members and admins. 
One of these features is the ability to create subgroups. They'll also be introducing shopping for selling merchandise, a fundraising community, and a host of other features.
Live Audio Rooms:

Facebook is gradually rolling out this feature to users. And it's among the few of the features to take advantage of in Facebook groups.
That's because they allow you to connect intimately with members. It's also super-easy to use and doesn't necessarily require one to be camera ready.
Facebook Live:

Live streaming isn't exactly a new trend. We just expect to see more people using it in 2022. 
To a marketer, live videos provide an excellent opportunity to connect with your followers in real-time. 
You also want to go all out on Facebook Reels if you can. 
---
How to Capitalize on these Social Media Marketing Trends (in 2022)
We've covered all the major social media trends in 2022. Now, let's take a look at how to capitalize them to drive more sales, attract new audiences and build an enormous social media following:
Leverage Videos with Every Opportunity You Get:

People love videos, especially live videos. That's because it's more authentic and detailed. 
So, we suggest you start experimenting with different video content on various channels and see how that works for you. Start with Facebook Live and Instagram IGTV before moving to other social media networks. 
Create Relatable Content:

Don't just focus on putting your best foot forward. Sometimes it helps to be your authentic self. Show different brand sides, highlight your customers' stories, and discuss your brand mission and purpose.
Also, don't forget to walk your customers through a day in the life of your employees. 
The idea is to go beyond showcasing your products and services and focus on creating a deeper connection with your target audience. What do you share in common with them? 
Talk Natural:

Shed off that professional look and tone and start acting naturally when around your customers. The idea is to assume you're talking to a friend. What tone would you use?




Pick a brand voice and stick to it. You also want to play around with how you plan to converse with the audience.
Be sure to ask questions or tell stories that hook the customer and get them to engage with your brand. 
Use Different Design Elements for Snackable Content:

It's hard to imagine a successful social media strategy in 2022 that doesn't include snackable content.

Your potential customers expect a lot from you. They expect memes, short videos, quizzes, and fun infographics.

 
The whole idea is to figure out how you will get your audience's attention when quickly scrolling their feeds. 
Prioritize Quality Over Quantity:

Don't force it.

 
While it helps to post regularly, you don't necessarily need to post every day. 
From what we know, your audience will appreciate you for quality posts, not for flooding their feeds with posts. 
Use analytics to determine which posts resonate best with your target audience. 
Lastly, you want to get out of your comfort zone by experimenting with new social media platforms. It's the only way to reach new audiences and unlock new buyer personas. 
Start exploring channels outside the pay-to-play kingpins, such as Facebook and Instagram. Come to think about it, a sizeable segment of the population has trust issues with social media platforms such as Facebook. 
So, the only way to get their attention is to target them from the channels they trust, like Discord, Reddit, and Pinterest.