The Metaverse is already here with us, and it is only a matter of time before this new virtual world changes how businesses operate and reach out to customers.
What is Metaverse? 
Simply put, the Metaverse is a parallel universe that allows users to create and interact with digital assets and experiences. In other words, it is a 3D virtual world that is user-generated and community-driven.
What started as a simple announcement by founder and CEO of Facebook, Mark Zuckerberg, at the company's annual Connect Conference in October 2021 has turned into a full-blown movement, with many tech giants such as Google, Microsoft, and Amazon also getting on board. 
But Seriously, What Does 'Metaverse' Mean?
Then perhaps you might want to start by watching the movie "Ready Player One," a 2018 science fiction set in the year 2045, where much of the world's population now resides within a virtual reality known as the OASIS.
In this digital utopia, people can be anyone they want to be, do anything they want to do, and go anywhere they want to go.
It essentially offers people an escape from the struggles of real life. 
But while a virtual world like the OASIS may still be years away, the Metaverse is already here with us, and it's everything we saw in this science fiction movie, perhaps more.
Correspondingly, Epic Games, best known for creating Fortnite, announced that they had raised $1 billion to fund their vision of building the Metaverse. 
So, what exactly is the Metaverse? 
Imagine walking down the street, and you see a product you need. Immediately next to it is a vending machine, filled with the product and its variations. You stop and pick an item from the vending machine, make payments, and continue your way. 
A few minutes in, you hear a beep sound alerting you that the product has been dropped at your door. How cool. 
Let's paint a second scenario.
Imagine a wife and husband. The husband is out shopping but appears to have forgotten one of the products the wife needs. All he needs to do is reach out to the wife virtually, and her brain computer-interface device will recognize it for her and even send the husband a link directing him on what store or aisle the product is located.
That's the Metaverse in action. It's an alternate digital reality where people work, socialize, and play. 
You can call it the Metaverse, the AR Cloud, the Spatial Internet, Live Maps, or the Mirror World, but one thing we can almost guarantee is that it's the next big deal. 
How the Metaverse Works
The Metaverse is a social network that allows you to interact with your friends and peers in a 3D virtual universe. It's a hypothetical universe that works with personal computing and augmented reality headsets. 
After joining the network, the first thing you'll be asked is to create virtual avatars of yourself. These avatars will represent you as you experience life in the virtual world. Important Metaverse Related Terms You Should Know
The internet is yet to settle on one clear definition of the Metaverse. There're so many different definitions and opinions floating all around the internet.
Oxford defines it as a virtual reality space that allows users to interact in a computer-generated environment with each other. 
On the other hand, Mark Zuckerberg defined the Metaverse as a virtual reality construct intended to supplant the internet, merging virtual life and real-life and creating endless playgrounds for everyone. In other words, you'll be able to do almost anything you can imagine on the Metaverse. 
You've probably also heard of NFTs (Non-fungible Tokens). 
It's a term used to refer to intangible business assets you can own online, including gaming items, videos, and images. 
These virtual assets come with certificates that show ownership and are believed to be among the things to influence the growth of the Metaverse. 
NFTs can be bought or sold using virtual currency and cryptocurrencies such as Monero or Bitcoin.
Web 3.0 is the third generation of internet services that will use a machine-based understanding of data to provide a data-driven semantic web. The ultimate goal is to create more connected, intelligent, and open websites. 
 It's a decentralized internet system that eliminates the reliance on Facebook, Google, or Twitter.
It started with Web 1.0, a static web format that allowed people to read websites without any form of interaction. Think static websites. 
It took the digital world more than ten years to transition from Web 1.0 to Web 2.0. Web 2.0 was more interactive and social. It allowed users to interact with each other and collaborate on projects. 
And now we're in the process of ushering in Web 3.0, which we believe will change how websites are built and, most importantly, how users interact with them. 
---
The Future of Metaverse
While the Metaverse is still in its infantile stage, recent reports predict its market will have grown to over $1.544 trillion by 2030.
Image source: PwC/cointelegraph.com
This digital shift can only be likened to the social media revolution of 2007. In other words, we're about to usher in a completely new digital world. 
The only catch in this tech growth is that it's happening faster than anticipated, and it's much more intense. 
It's like the wild, wild west for digital marketers. 
That presents itself as new opportunities to immerse your business or brand into a world where content creators' rule and 3D animation is the norm. 
The Future of Work in the Universe 
The Covid-19 pandemic put the corporate world on notice. Now, digitalization is no longer a nice-to-have perk; it's a life-saving necessity. 
The pandemic pushed people to start working remotely. As people's lives gradually begin to recover, the more they embrace digitalization. 
For employers and employees, the future is Metaverse. And it's set to become more efficient, convenient, and streamlined as time goes.
The Power of the Metaverse
Brands like Gucci, Warner Bros, and Hyundai have already built their virtual worlds. 
We also have brands like Crockpot, Coca-Cola, and Anheuser-Busch jumping into the Metaverse bandwagon by selling NFTs. 
HBO, Sephora, and Nike have opted for VR and AR experiences. 
Facebook takes the lead. They have set aside $10 billion that they intend to spend in the next five years, establishing themselves as a Metaverse company. They have also made it clear that they'll be changing their name from Facebook to Metaverse. 
Additionally, they plan to hire over 10,000 people from all across Europe to oversee what many believe will be a holding company under which Instagram, Oculus, WhatsApp, Facebook, and their future projects exist. 
Why the Sudden Change?
There are so many interactive opportunities and eyeballs in the virtual world. 
Roblox alone has upwards of 200 million monthly active users, half of whom are below age 13. 
The number of games played on the platform is in hundreds of thousands. Note that some of these games incorporate brand activations. Take Warner Media's Wonder Woman, for example. The game has attracted over 30 million eyeballs since it was uploaded.
All that shows how much the population is craving a more interactive and immersive digital experience.
Should Marketers Join the Metaverse?
Marketers have a unique opportunity to join the Metaverse and create unheard off customer experiences. 
Already, brands such as Nike, Coca-Cola, Samsung, and Ford are utilizing the Metaverse to create unique customer experiences. 
Nike, for example, created a virtual world called "Nike land" that allows customers to explore the new Nike products and purchase them.   
Personalization has been a rising trend in recent years. That's because customers only want to interact with content specifically tailored to their needs. 
And that's where the Metaverse comes in. It allows marketers to create a personalized experience for every customer. 
So, should your brand join the Metaverse? The answer is a resounding YES! The Metaverse offers marketers an opportunity to create unique, out-of-this-world customer experiences. 
It's the next big thing, and your brand needs to be a part of it.
Use the Metaverse to Learn About Customer Preferences
How your prospects interact with each other in the Metaverse will tell you something about their preferences. 
Marketers can use the intent data to try and understand their customers better and figure out how to personalize their marketing campaigns.
Also, according to statistics, prospects are increasingly embracing the Metaverse. 
The Metaverse was first announced in June. Three months later, Facebook became the Metaverse.
In other words, the Metaverse is the future of digitalization, and joining it will ensure you don't miss out on the opportunities. 
When Augmented Reality was first introduced into the digital space, marketers took full advantage. And the results were terrific. 
People enjoyed the whole experience. Fashion enthusiasts enjoyed the fact that they could see how well a pair of sunglasses matched their faces or what lipstick worked better.
It gave them a chance to try out products in the virtual world before getting them in the meat world. 
Now, the Metaverse takes the entire experience to a whole new level, oversimplifying and streamlining everything in a way that we could only imagine. While the Metaverse is predominantly only being used in the gaming world, it's just a matter of time before it trickles down to every aspect of our life. 
Let's just say it will provide a more expansive space for marketers to connect with customers. 
What's in The Metaverse?
The Metaverse is still in the development stage. Brands have partnered and are now working around the clock to give us the universe we envision.
It's, therefore, safe to say that much of its content and elements remain a mystery.
After interacting with the Metaverse myself, I have noticed a few elements you can find in the virtual space.
Among the elements I saw were 3D avatars, games, digital assets, business, and a host of other events that support the entire virtual economy. 
The Metaverse allows you to monetize your creations, participate in virtual events, meet new friends, and even host or attend business meetings in real-time. 
While exploring the virtual world, the first thing you'll notice is that it contains most (if not all) of the elements you'll find in the real world. 
The only difference is that you can travel to anywhere you want in the Metaverse from the comfort of your own room, using VR Goggles and a computer. It allows you to teleport anywhere you want, whether it's the next city, room, or event. 
What Currency Will We Be Using in the Metaverse?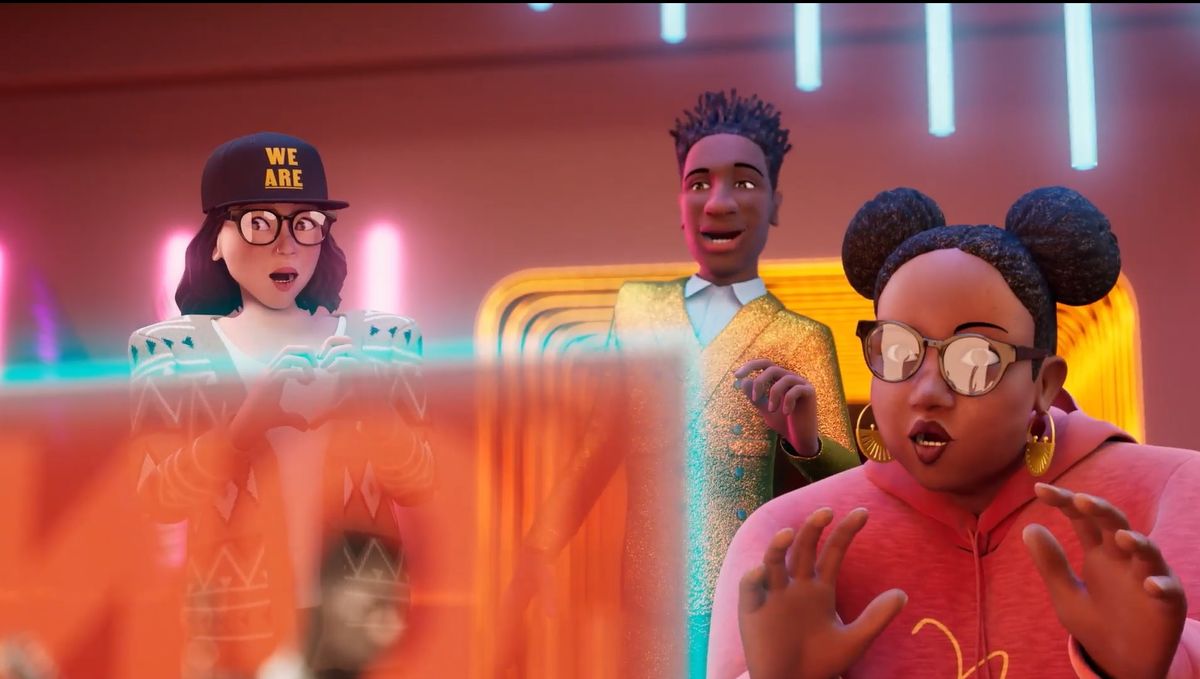 With new economies comes new currencies. We don't expect the Metaverse to be an exception. 
One thing to note is that not all Metaverses use the same currency.
However, the only currency we'll use in the Metaverse is cryptocurrencies, not bank transfers or liquid cash. 
The cryptocurrency you use will depend on the Metaverse you join, but predominantly you'll be using Bitcoin. 
One example of the Metaverse is Decentraland, where the native cryptocurrency is MANA. 
Other metaverses, including Cryptoxles, make it easy for users to transact with more common cryptos, such as Ethereum. 
A Few Examples of the Metaverse
As we speak, several metaverses already exist for anyone to explore. Some of these Metaverses already support thriving communities with thousands or even tens of thousands of users. 
Famous examples include Decentraland, Roblox, CryptoVoxels, The Sandbox, and Somnium Space. 
Metaverses like Decentraland, CryptoVoxels, and Somnium Space are billed as VR platforms, whereas Sandbox and Roblox are better recognized as online gaming platforms.
Does any of these platforms sound familiar? 
If not, modern-day games such as Minecraft and Fortnite are also part of the Metaverse. In fact, Fortnite's CEO, Tim Sweeny, described the experience that users have with their games as a Metaverse in itself. The reason being it's a 3D virtual space that combines gaming with non-gaming elements.
Suffice it to say that the Metaverse is still at the infancy stage but with lots of potential for innovation. The number of brands getting on board is increasing superfast. 
As we speak, companies like Adidas, Nike, Google, and Atari are already building their brands in the Metaverse. 
16 Ways Brands Can Innovate and Grow in the Metaverse
The Metaverse comes with unlimited possibilities for brands. Here are 16 ways your brand can innovate and grow in this new digital reality.
Virtual showrooms or vStores allow customers to explore and purchase products in a virtual environment. Customers can take a tour of any space or facility and interact with a company's catalogue in real-time. They can visualize any retail product in 3D from jewellery, cars, fashion, and NFT digital products. The options are endless.
Product sales training can be a daunting task for brands. With the Metaverse, brands can create a virtual space for product demonstrations and tutorials. This will help customers understand the product better and increase sales.
The Metaverse offers a unique opportunity for brands to create virtual corporate events. That way, customers can attend your events from the comfort of their own homes or office.
The Metaverse offers a unique opportunity for customer service. Brands can create a virtual space that allows customers to interact with customer service representatives in real-time. That will help resolve customer issues really quickly and more efficiently.
The Metaverse offers a unique opportunity for brands to recruit new employees. Brands can create virtual spaces that allow potential employees to interact with the company's employees and learn more about the company's culture and values.
Advanced 3D Data and Analytics:
We've always collected two-dimensional data. But the Metaverse introduces the Z-dimensional data, which allows users to collect real-time heat maps of global consumer behaviour.  
So, yes, the future of data collection is 3D and is already here with us. 
Customizer and Configurators: 
The Metaverse offers a unique opportunity for brands to create customizers and configurators. That will allow customers to customize products to their own specifications.
The Metaverse offers a unique opportunity for brands to create virtual showrooms for 3D printing. It will allow customers to view and print 3D objects from the comfort of their own homes or office.
The Metaverse offers a unique opportunity for brands to create virtual worlds for online gaming. That way, customers will be able to interact with other players from all around the world.
Testing New Designs and Colourways: 
The Metaverse offers a unique opportunity for brands to test new designs and colourways. That way, customers can design their own shows. Also, the information gained can be directly fed back into the product lines or integrated into the company's intelligence tool. 
The Metaverse offers a unique opportunity for brands to create gamified commerce experiences. That comes as an excellent strategy to get customers to interact with your company's products and services in a fun and exciting way.
360-Degree Product Viewing: 
The Metaverse offers a unique opportunity for brands to create virtual spaces that allow customers to view products in 360 degrees. This will help customers understand the product better. It also comes as an excellent strategy for companies to increase sales. 
Sell Virtual Goods for Actual Money: 
The Metaverse offers a unique opportunity for brands to sell virtual goods for actual money. People can buy, sell, or trade virtual goods for real-world money.
Collaborative Product Development: 
The Metaverse offers a unique opportunity for brands to collaborate with customers in the product development process. Customers can provide feedback on new products and even help design them.
The Metaverse offers a unique opportunity for brands to conduct customer research. Brands can create virtual spaces that allow customers to provide feedback on products and services. That way, brands can better understand what their customers want.
Try flipping the IKEA catalogue. Does it occur to you that 75% of the images you see are CGI? Every detail has been painstakingly crafted in a photo studio, from the beautiful light falling on the furniture to the model's beaming smile. But what if you could do all of this from the comfort of your own home?
That's what the Metaverse has in store for you. Perhaps more. 
---
Why Act Now?
The competition for attention is only going to get tougher. With so many distractions vying for our attention, brands need to find new and innovative ways to stand out from the crowd. 
Remember, you're competing with Hollywood movies and AAA games for mind shares. Videos are great, but not enough.
If a picture is worth 1000 words, and an interactive 3D is worth 1000 images, how much do you think Metaverse experience is worth?  
Nike has undergone a decade's worth of digital transformation in just one year. Before Covid, their digital direct to consumers was at 25%, and in less than one year, it shot to 50%. 
With the Metaverse, the company will be able to interact with the younger audience in their native environment. The Metaverse is also expected to bring new opportunities for savvy digital marketers, including the sales of products and virtual real estate through NFTs.
The Metaverse will change everything, from how we communicate and interact with each other to how we do business, shop, and socialize. 
And yes, you don't want to be the last one to join the party.
How to Get Started with the Metaverse
We'll admit, things are happening pretty fast. But don't worry, we're here to help. 
Here is a simple resource list to get you started on your Metaverse journey:
3D Models: 3D models are the backbone of immersive content. You'll need them to create your virtual world.
Note that they can be captured in 6 different ways, each with different cost, skill level, and utility. 
Don't worry if you don't understand a thing about what we're talking about. Here's a 3D explainer video you might want to watch.
3D Modelling (Maya, Blender, Cinema 4D)

Professional LiDAR (BLK360)

Photogrammetry (Capturing Reality)

CAD Modelling (Solidworks, AutoCAD)

3D Asset (CG Trader, Sketchfab, Turbosquid)
Games Engines: This is where the magic happens. It's where you take the 3D models and turn them into fully interactive experiences. Again, you have options here, but Unity and Unreal Engine 4 are two of the most popular.
Unreal Engine:

From architectural walkthroughs to creating entire cinematic universes, Unreal Engine 4 is one of the most versatile and powerful games engines out there. This game engine focuses primarily on AAA games, powering titles like Gears of War, Batman: Arkham Knight, and more.

Unity:

Unity powers more than 60% of all mobile games and apps. This engine is perfect for beginners, with a simple and easy-to-use interface. Commanding a market capitalization of over $30 billion, Unity is one of the most popular game engines in the world.

MetaVRse:

MetaVRse is a relatively new player in the VR space, but they're quickly making a name for themselves. MetaVRse differs from the rest because it's entirely web-based, which means you can directly publish your experiences on the web without any additional software or app store permissions and commissions. 

Avatars:

The best thing about the Metaverse is that it allows you to embrace the ideal. You're the person to decide how you'll want to be represented. The avatar you choose can range from cartoonish avatars (

Wolf3D

) to blockish characters (

Roblox

) to photorealistic 3D scans (

MetaHuman

). It's all up to you.

Branding:

This is where it gets interesting. With the Metaverse, you can create entire branded environments, complete with your logo and branding. Imagine the possibilities here. Think a Nike store, an Apple store, or even a Mercedes-Benz showroom. The sky's the limit.

Payments:

Nothing is worse than reinventing the entire digital ecosystem only to bring back old payment headaches. Payment gateways within the Metaverse should be seamless and fluent across devices. A few companies appear to understand the assignment. For example, Metaverse is pioneering

a new payment system in the Labs as a Service division

.

NFTs:

Non-Fungible Tokens (NFTs) are a big deal in the Metaverse. With NFTs, artists can share their work with millions of people while allowing them to retain complete control of their creations. NFTs can also represent virtual goods and services, making it the perfect way for businesses to sell their products and services.

In other words, NFTs will act as proof of ownership or provenance for any digital asset. That could include but is not limited to virtual real estate, digital art, video games, and much more.
We saw Augmented Reality (AR) take-off during the Covid-19 pandemic as people sought to connect with the physical world in new and exciting ways. Now it's time for Mixed Reality (MR) to take centre stage. Metaverse is leading the charge in this new and rapidly growing medium, and it would be wise for businesses to start paying attention if they haven't been doing that already. 
---
Future Brand and Consumer Benefits of the Metaverse:
The Metaverse offers a unique and immersive experience not found anywhere else. With it, businesses can create branded environments, sell their products and services, and interact with customers in ways never seen before.
For consumers, the Metaverse offers a new way to immerse themselves into the digital world instead of just experiencing it. They can explore virtual worlds, purchase digital goods and services, and socialize with friends in new and exciting ways.
That said, here are a few key reasons why the Metaverse is quickly becoming a critical platform for savvy brands and marketers:
Real-time Customer Support:

One of the best things about the Metaverse is that businesses can interact with customers in real-time. Imagine having a customer support avatar (real or AI-driven) responding to your questions instantly. This type of customer support is the future, and the Metaverse is leading the charge.

Build Stronger, emotional Relationships:

Customers respond to marketing messages viscerally. They want to feel like they're a part of something, and the Metaverse offers businesses the perfect way to create those connections. With the Metaverse, businesses can create engaging and immersive experiences that emotionally connect with customers.

Increased Engagement:

With the Metaverse, businesses can increase customer engagement by leaps and bounds. Instead of seeing a flat 2D image on a website or in an app, customers will see and interact with 3D avatars and brands. This type of interaction is far more engaging, and it's more likely to keep customers coming back for more.

Increased Sales:

It's no secret that the Metaverse will lead to increased sales. With its ability to create immersive and engaging experiences, businesses can expect to see a significant increase in sales and conversions.

Interactive Vs. Passive Content:

97% of the content on the internet is inactive (videos, blog posts, photos, banners, endless scrolling). Only 3% is interactive. That's a huge problem when you come to think about it. But thanks to the Metaverse, that's all about to change. With the Metaverse, businesses can create interactive content to keep customers engaged and entertained.

Unlimited Aisle Shopping:

You don't have to sell the same product as everybody else's. Businesses can create their own virtual aisles in the Metaverse and sell any product they want.

Enhances Brand Recognition:

Brands that use virtual reality and metaverse technologies will be considered more innovative, cool, and forward-thinking. How do you want your brand to be perceived? You have the power to influence that. 

A Chance for Customers to Try Out Your Products Before Buying:

In the Metaverse, customers can try out products before they buy them. From virtual Try-one for jewellery, glasses, and makeup, to virtual test drives of cars, the Metaverse offers a unique way for customers to experience your products.

Display Additional Information About Your Products:

You don't have to display your product alone. Not when you can take the customer through the entire product journey, from the galaxy where the product is sourced to the manufacturing process and finally to the customer's home. 

Do Display Write-Offs:

Physical displays are expensive, and once created, they cannot be easily changed or edited. In the Metaverse, businesses can change and update their displays as often as they want, without worrying about the cost.

Create Virtual Experiences:

Want to take your customers on a virtual vacation? How about a tour of your company's headquarters? With the Metaverse, anything is possible. You can take your customers to mars, fly them around the moon, or show them the inside of a virtual car. The possibilities are endless.

VR for Sales:

Virtual Reality is the perfect medium for sales presentations. With VR, you can immerse your customer in a 3D environment and show them exactly how your product works.

Real-time Analytics Changes:

In the Metaverse, businesses can track customer behaviour in real-time. That means that you can change your displays and products on the fly based on what customers are interacting with.

Personalized Services at Scale:

In the Metaverse, businesses can provide personalized services to their customers at scale. That means that you can provide a unique experience to every customer, no matter how many there are, thanks to AI and Avatars. 

Low Cost:

The Metaverse is a very low-cost medium. You don't need a lot of expensive hardware, and the development cost is relatively low.