Magento is one of the most used e-commerce platforms worldwide for the creation of online stores.
Most online businesses use Magento because it is an open-source platform and it is very powerful and has excellent features that offer users a high degree of confidence.
---
Why use Magento
Due to the nature of its open-source, Magento allows you to adapt any aspect of your site, making it fully scalable to the needs of the business.
It is highly regarded as the best e-commerce platform for fast-growing companies and online businesses.
It is an advanced solution that requires the developer's implementation and offers flexibility and complete customization.
---
The main characteristics of Magento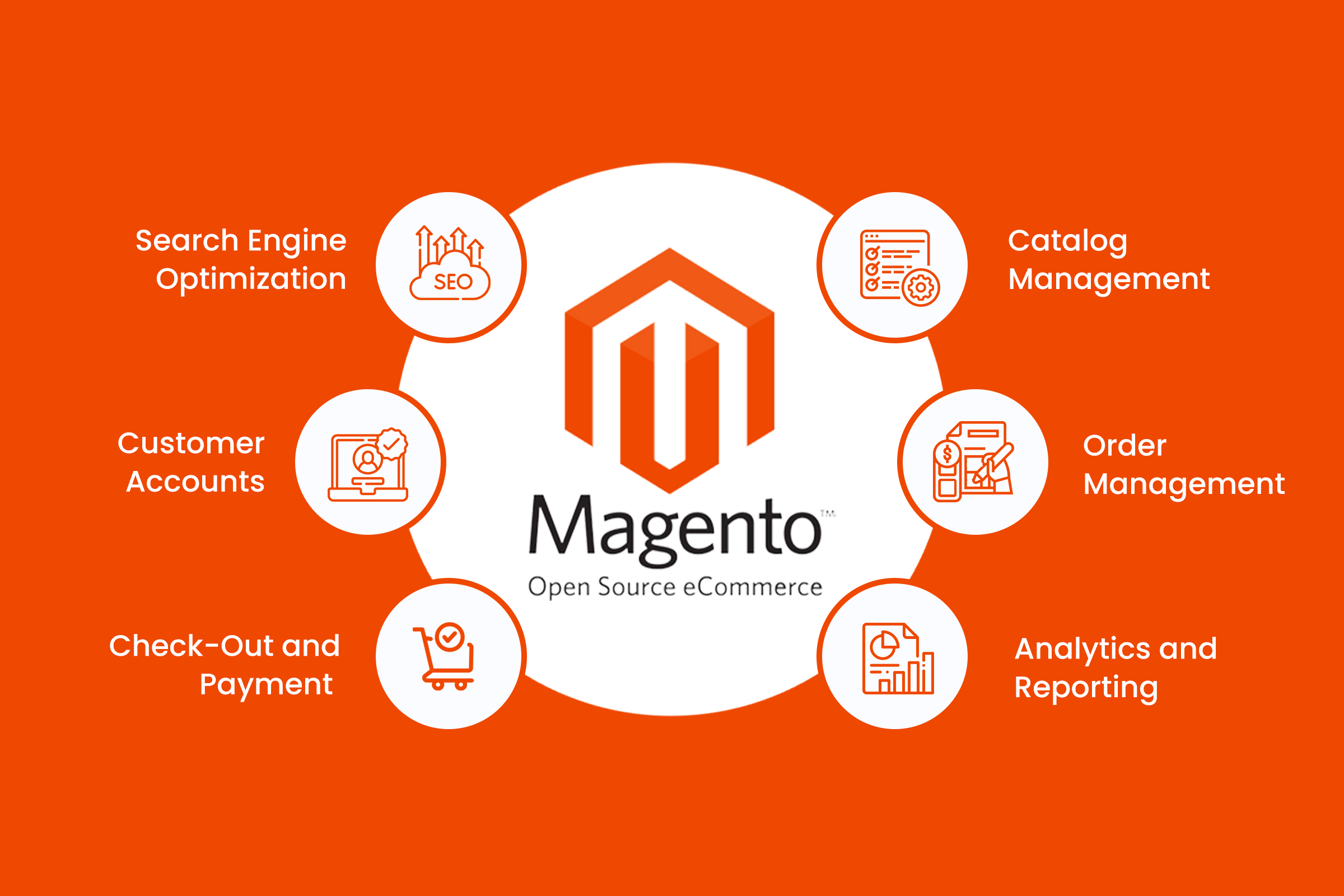 Magento offers everything you need to start and manage an e-commerce business. It provides tools to boost traffic, sales and customer participation.
These are some of the features to highlight that we can find in Magento, and all can be customized through the use of add-ons and extensions.
There is the possibility to choose between a wide selection of themes on the Magento platform or third-party suppliers, then customize the look, feel and functionality so that everything suits your brand, the company's values, and your mission.
SEO (Search engine optimization)
Magento has SEO configurations and tools to increase traffic and individual product pages on search results.
Features include meta data for products and categories, sitemaps for Google and other search engines, and full control over URLs.
You can modify product pages with special pricing options, zoom capabilities, images, and other showcase customizations. It offers you the capacity to import, export and manage products easily from inventory or through files such as CSV.
It provides customers with access to their purchase histories, purchase information, and tracking information for orders in the process of purchase.
The private management of customer accounts also allows users to save products on their wish lists for future purchases, saving their personal payment information more quickly and securely.
Magento is responsible for paying and processing insurance payments.
You have the chance to select between different payment options available on Magento or you use favorite payment method; Authorize.net, Google Checkout, Amazon Payments, PayPal, and Simple Pay among others.
 Order management
The use of a control panel allows managing transactions, sending and validating orders, issuing invoices and much more, all from a single view.
It uses browser detection to optimize the store responsive design of any device.
This allows having a single platform for any resolution regardless of the browser. Reports show that more people are accessing the Internet with their smartphones for shopping. Do not let this source of income to escape you.
Expertise in Magento development allows you to exploit the full potential of e-commerce by creating a version for your site that is perfectly adapted to smartphones.
Your site will automatically detect visitors using a phone and show them the appropriate and optimized version.
You can hire Magento developers by contacting top web development companies to help you with a good e-commerce website.
Magento Multi-Store Strategy
Huge brick stores can have a competitive advantage, but in the online world, the important thing is to create a niche in the market.
E-stores that offer "a little bit of everything" don't sell much while e-stores specializing in one category do much better.
To grow your e-commerce, the best strategy is not to sell too many products from a single portal.
It is better for growth to be achieved by creating multiple small specialized sites in different niches.
Thanks to the power of the Magento platform, top web development companies create many targeted microsites using multiple business features.
Hire Magento developers for your web development.
Promotional sales, sales invitations, special prices, free shipping, and other discount options greatly increase the marketing opportunities on the online store.
Cross-selling of products with reviews and comparisons, recently seen, sharing on social networks and product valuations is also available.
For your web development such as e-commerce with the necessary features to make it successful, you should contact web development companies to hire Magento developers.
Web development companies can measure the performance of your website with full analysis and reports. You can use Google Analytics integration to monitor traffic.
So also, you can make use of coupons, create search terms reports, inventory reports, most purchased product, and most viewed reports, shopping cart reports, detailed sales reports and much more.
When you make a few sales a day, you can keep track of it with spreadsheets but it will get complicated when sales exceed your expectations.
With Magento, you will have easy access to a host of information-rich features.
In addition to Google Analytics integration, when you hire Magento developers, you will be provided with additional reports on taxes, unsuccessful purchases, and popular products, as well as the most used search terms.
Magento is one of the most popular e-commerce platforms in the market which is reflected in a direct benefit for both merchants and developers.
As one of the best open-source platform, it is developed and continuously improved thanks to the contributions of its community of users and developers. There is a wide variety of add-ons and extensions available to customize the platform.
Therefore, if you want to add a feature to your store, it may already exist, and someone is available to help you.
If you think that Magento can help you offer a competitive advantage for your online store and you think that the time has come to implement it in your company, you should hire Magento developers for your web development by contacting top web development companies.
---
7 Important Website Metrics You Should Regularly Track
It's imperative to monitor your website to gauge its performance continuously. With Google and other search engines surprising web admins by introducing algorithm updates when least expected, you cannot afford to let your guard down.
Here are 7 essential website metrics that you should regularly track to gauge your website's performance and get wind of new algorithm updates and adjust your website accordingly.
Session duration refers to the average time an active website user spends on your website. Different analytics tools have varying ways of measuring this metric. Google Analytics, for example, automatically ends a session if a visitor is inactive for more than 30 minutes.
The type of content on the website has a direct impact on this metric. If a website is educational and not based on interaction, it's likely for a visitor to remain inactive for half an hour as they read the content.
Why is Website Session Duration Important?
The average website session duration clearly shows how users engage with the content published on the various pages. The more time a visitor spends on your website; the more opportunities you will get to convince them to buy.
That said, the type of content on your website will determine the session duration. If the content requires less interaction, such as long-form articles, the users will click less often even though they are still active on the website.
Thus, it's recommendable to consider this factor alongside other factors such as bounce rate to avoid making wrong decisions.
How to calculate session duration?
As mentioned earlier, different analytics tools measure session duration differently. We recommend calculating the average result generated by two or more tools that are reputable.
As the name suggests, average time spent refers to a visitor's time on a page. Most people use session duration and average time spent interchangeably. The two have glaring differences even though they are somehow connected/related.
Average time spent refers to the entire duration a visitor or potential customer spends on the website. On the other hand, session duration is calculated based on the time and interaction with the website content.
Why website average time spent metric is important?
Average time spent will help you to know how interesting the content posted on the site is to the target audience. If the content doesn't resonate with the visitors, they will spend less time on the website, and vice versa is true.
Unlike session duration, which is calculated based on interactions, the average session focuses on time spent on the page even if the user doesn't click or interact with the content.
This metric is vital to content creators as it helps them determine which type of content to create and which to delete or improve. It also helps e-commerce websites determine the level of user experience offered by the different pages and identify friction points in the checkout process.
That is, if a customer spends more than 10 minutes on the pricing page, there is a high likelihood that the information presented is insufficient or not straightforward. Improve it to help them move on to the next stage in the sales funnel quickly.
How to calculate the average time spent?
Here is the formula for calculating the average time spent.
Every website admin strives to increase organic traffic from different sources continuously. Top traffic sources are an invaluable metric showing the primary traffic sources to your website. The traffic is grouped into four main categories, namely;
Search traffic: Organic traffic from the search engine results page

Direct traffic: Traffic from visitors who type your website URL on search engines

Referral traffic: Traffic from clicks on links posted on external websites

Campaign traffic: Traffic from paid ad campaigns and marketing strategies such as social media marketing
Why are website top traffic sources metrics important?
Knowing the different sources of traffic to your website will enable you to decide which channels to focus on when creating content marketing strategies. Also, it will help you to determine which type of content resonates best with different groups of visitors.
For example, if you get high traffic after posting a video on social media, you should consider creating more such content to generate even more traffic and continuously engage with the audience.
Also, it will give you an idea of how the customers respond to the different marketing and outreach tools.
Save time and money by focusing on mediums that channel the highest traffic to your website. Do away or re-imagine promotions and campaigns that don't achieve the expected traffic goals.
How to calculate top traffic sources?
Like session duration, there is no specific formula for calculating top traffic sources. The analytics tools synchronised with your website will track the traffic and present the results in a report.
Interactions per visit are also referred to as events. It tracks every action that a visitor takes on the website. Every click on a CTA button, each letter typed in the search bar, purchase, and other actions are used to calculate it.
There are literally countless variations of interactions, so you shouldn't compare your website with your competitors since the websites have different types of content.
Interactions per visit refer to the average number of events on a website or page. It paints a clear picture of the engagement an average website visitor makes on a page.
Why is the website interaction per visit metric important?
Interactions per visit will inform you of the engagement levels on different pages. For example, you will know which elements such as CTA buttons are clicked on the most by potential customers to purchase your product or subscribe to a service.
Use the data to reverse engineer your website. That is, use it to pinpoint sections of the website that need to be tweaked to engage more with the target audience and attract more visitors.
What do we mean? If, for example, the clicks on the "unsubscribe" and "remove from cart" are higher than expected, do an analysis to know why customers click on the buttons. You can reverse the trend by offering more informative and interactive content about your products to convince the customers that your product is the best option in the market.
How to calculate interactions per visit?
The exit pages metric indicates visitors' last page or pages before exiting the website. It is primarily influenced by the type of content published on the pages.
Why is the exit pages metric important?
Knowing the pages that a majority of your website visitors visit before exiting your website will enable you to develop ways of encouraging them to spend more time on the page. Chances are that they exist because the content on the page doesn't match their needs or is not sufficient.
When doing conversion rate optimisation, if you realise the conversion rate is lower than expected, take a closer look at the top exit pages. Also, content and navigation issues could be the root cause of the problem.
The point where they decided to leave is often the point where they encountered a challenge or felt that your website doesn't address their needs adequately.
For instance, if many customers abandon a cart, it could be either because the checkout process isn't straightforward or the product/service information is not convincing enough.
Develop a plan to improve the exit pages listed in the Google analytics tool or any other tool installed on your website to get better results.
Note that if your website has "purchase successful" or "order complete" pages and they are listed on the report, the customers went through the entire sales funnel and completed the purchase successfully.
You can re-engage with such satisfied customers by applying cross-selling and up-selling strategies. That is, display other products similar to what they purchased to increase the order value.
How to calculate top exit pages?
There is no formula for calculating top exit pages. The analytics tool will monitor the website's pages and generate a report.
Bounce rate is a metric that records the number of visitors who exit your website after only viewing one page without interacting with the elements. The main difference between exit and bounce rates is the lack of interaction sets.
For instance, if a visitor decides to exit your website through the same page they accessed it initially but makes one or more interactions with elements such as the CTA button, that action won't be included in the bounce rate calculation. However, the page will be listed in the exit pages' report.
Why is the website bounce rate metric important?
Interaction rate and exit pages are essential as they pinpoint areas of the website that need to be improved. Bounce rate encompasses both as it focuses on visitors who visit the website but don't interact with the web elements.
Interaction also encompasses additional pages that the visitor checked but opted out of because they didn't find the content meaningful or were distracted by other external factors.
Your goal when optimising website content should be to keep the bounce rate low. A low bounce rate means that most of your visitors find the content meaningful. If it's high, it means that the content doesn't match the needs and expectations of your target audience.
Apart from polishing up your content, you may also have to re-think your website design. Probably the visitors exit because they cannot navigate the site or it's not mobile-friendly.
The rule of thumb is to ensure that your website contains rich content that matches the needs of your target customer. You are better off publishing ever-green content than unoriginal and generic content.
The website design should offer seamless navigation and be accessible on multiple devices. Conduct A/B tests on the different pages to know the top-performing pages and which ones should be improved. More importantly, hire a reputable website design agency to create a custom site for your business to stand out from the crowd.
How to calculate website bounce rate?
Returning Visitors vs. New Visitors
As the names suggest, returning visitors refer to people who have previously visited your website via the same device.
New visitors refer to people who have never visited your website via a particular device or are revisiting the site after a given period. Google Analytics has a limit of two years, so if a visitor revisits your website after two years, they are considered a new visitor.
Why are Returning visitors vs. new visitors' metrics important?
You can tap into the relationship between the two metrics to enhance your website. A visitor return because something on the pages stood out and makes it memorable. 
Focus on providing them with more valuable content to strengthen your relationship with them and encourage them to keep revisiting.
On the other hand, new visitors are new to your website and expect to find content, products, or services that match their needs.
Please give them a reason to stick around for a while to get enough time to convince them your brand is an authority and shouldn't opt for your competitors.
You can achieve this goal by publishing succinct content, enhancing site navigation, and creating an intuitive and user-friendly user interface.
We recommend thinking outside the box and comparing the data in the report to know which areas of your website need improvement.
For example, if you notice a spike in new visitors after redesigning one landing page, consider doing the same for every product or service you offer.
In addition, increasing the site conversion rate will be difficult if the number of new visitors increases but the number of visitors remains the same. There shouldn't be a huge difference between the two.
Word of mouth has a potent ability to enhance your digital marketing and brand awareness efforts.
Thus, even as you focus on getting new visitors, you should be careful not to ruin your relationship with the returning visitors.
The latter can easily become brand ambassadors if you deliver quality services and products.
Final Thoughts
Consider these seven metrics and the Moz updates recommendations to position your website for success.
MediaOne Marketing team is on standby, ready to do a comprehensive website audit and improve your website. Get in touch with us today for more details.
---
Author Bio
Melissa Crooks is Content Writer who writes for Hyperlink InfoSystem, a mobile app development company in New York, USA and India that holds the best team of skilled and expert app developers.
She is a versatile tech writer and loves exploring latest technology trends, entrepreneur and startup column. She also writes for top app development companies.
---
FAQs
What are the great features of Magento?