Digital marketing in Singapore is regulated predominantly by two legislations – the Spam Control Act (SCA) and the Personal Data Protection Act (PDPA).
Spam Control Act (SCA)
When marketing your brand online, you need to observe the relevant regulations including:
While advertising, you must ensure that any branding, quote, or statement is not false or misleading.
Direct marketing vs Digital Marketing
With direct marketing, you ought to follow the spam privacy regulations. Under the spam act, it's prohibited to send unsolicited marketing messages without consent.
Under the privacy act, you ought to take caution when collecting, securing, and disclosing customer's information.
A DNC registry allows people to opt out of receiving commercial messages.
Thus sending messages to individuals on the DNC list is illegal.
Pricing regulations
When you price your brand, you need to observe the pricing principles and display the price accurately and clearly.
---
Personal Data Protection Act (PDPA)
The PDPA (personal data protection act) is a law that requires companies in Singapore to obtain the consent of users before they collect, use or share their personal data.
The PDPA became effective on 2nd July 2014.
Before that, Singaporean companies had six months to familiarise themselves with the new rules.
This period also allowed the companies to align their data protection policies and practices so that they comply with the personal data protection act.
The Formation of the Personal Data Protection Act
During the drafting of PDPA, the primary point of reference was the data protection laws in countries that already had a similar system. These nations included the UK, Canada, Australia, New Zealand, and Hong Kong.
Later, the panel overseeing the drafting process conducted three public consultations to seek the opinion of the masses concerning their proposed data protection act. The feedback was mostly positive, and this led to the introduction of the PDPA.
According to the PDPA, personal data is information, true or false, about an individual that can be identified from that data.  It also refers to data that when combined with other information, can lead to the identification of an individual.
The PDPA is a set of rules that govern the collection, use, disclosure, and protection of personal data. It gives the user the right to protect their personal data.
An individual can easily access their data after collection and request a correction if it has errors. Also, a company must have the consent of the user if they wish to share this data with third parties.
Besides consent, a business must inform the user why they are collecting the personal data, as well as how they plan to use it.
Additionally, the PDPA specifies that a business can collect, use or share personal data for purposes that are deemed reasonable in the prevailing circumstances.
Objectives of the Personal Data Protection Act
In this digital era, the majority of companies in Singapore collect, use, and sometimes share massive volumes of personal data in their daily operations.
This trend is expected to persist in the future, as advancements in technology make it easier to process large amounts of data.
However, individuals now have concerns over who has access to their private information.
The primary objective of the PDPA is to ease these concerns by controlling the way these companies collect, use and share users' private data.
By regulating the flow of personal data, the PDPA intends to cement Singapore's status as a trusted global hub for business.
How to Implement PDPA in Your Company
Now that you know how PDPA works and its objectives, here are the best ways of ensuring that your business is compliant with this data protection law.
The safest way of obtaining PDPA consent is by requesting the customer to sign or acknowledge the collection, use, and disclosure of their personal data.
If your website has opt-in forms, remember to include a footnote that informs the user that your company intends to collect, use, and share the data with third parties (where applicable). You should also specify the purpose of the data collection.
Keep in mind that you need separate consents if you intend to use the data for multiple purposes.
The PDPA also stipulates that you cannot compel the users to give you consent so that you subscribe them to a particular product.
For instance, if a customer refuses to provide their email address, you cannot bar them from purchasing items on your website.
The only exception to this rule is if the information they refuse to provide is critical for that specific transaction.
If you want to send promotional emails and other offers to your clients, make sure that you include a checkbox below your opt-in form.  The customer can then choose whether to subscribe to your promotion or not.
Is it Mandatory to Obtain Consent?
Interestingly, there are some situations where it is not mandatory to obtain consent.
The PDPA rules state that a user who voluntarily shares their personal data for a specific purpose in reasonable circumstances is deemed to have given consent for the collection, use, and sharing of such data.
If your team collects large amounts of data from many users, it might be impractical to reach every individual to obtain consent.  In such a scenario, you should seek advice from an attorney who has an excellent understanding of data protection laws.
There are several other exceptions regarding the methods of collecting, using, and disclosing private data.
Always consult the PDPA rules before proceeding on this front. You can also seek legal advice if you find it challenging to grasp the law.
The PDPA allows users to revoke consent any time they deem it right. If a user wishes to withdraw consent, they must first inform you of their intentions through an email.  
You are then required to respond to the request, indicating what you intend to do to the user's personal data. 
If the user confirms the withdrawal request, you must delete the data entirely from your systems. Y
ou should also inform other companies that you might have shared the information with to follow suit.
An example of a withdrawal of consent is when a customer unsubscribes from your promotional offer mailing list.
When you use another entity's intellectual property, you must follow intellectual property (IP) guidelines such as trademarks.
The digital marketing legislative requirements in Singapore are straightforward and comprehensible.
They can help you to develop or enhance your mindset and strategy of digital marketing.
---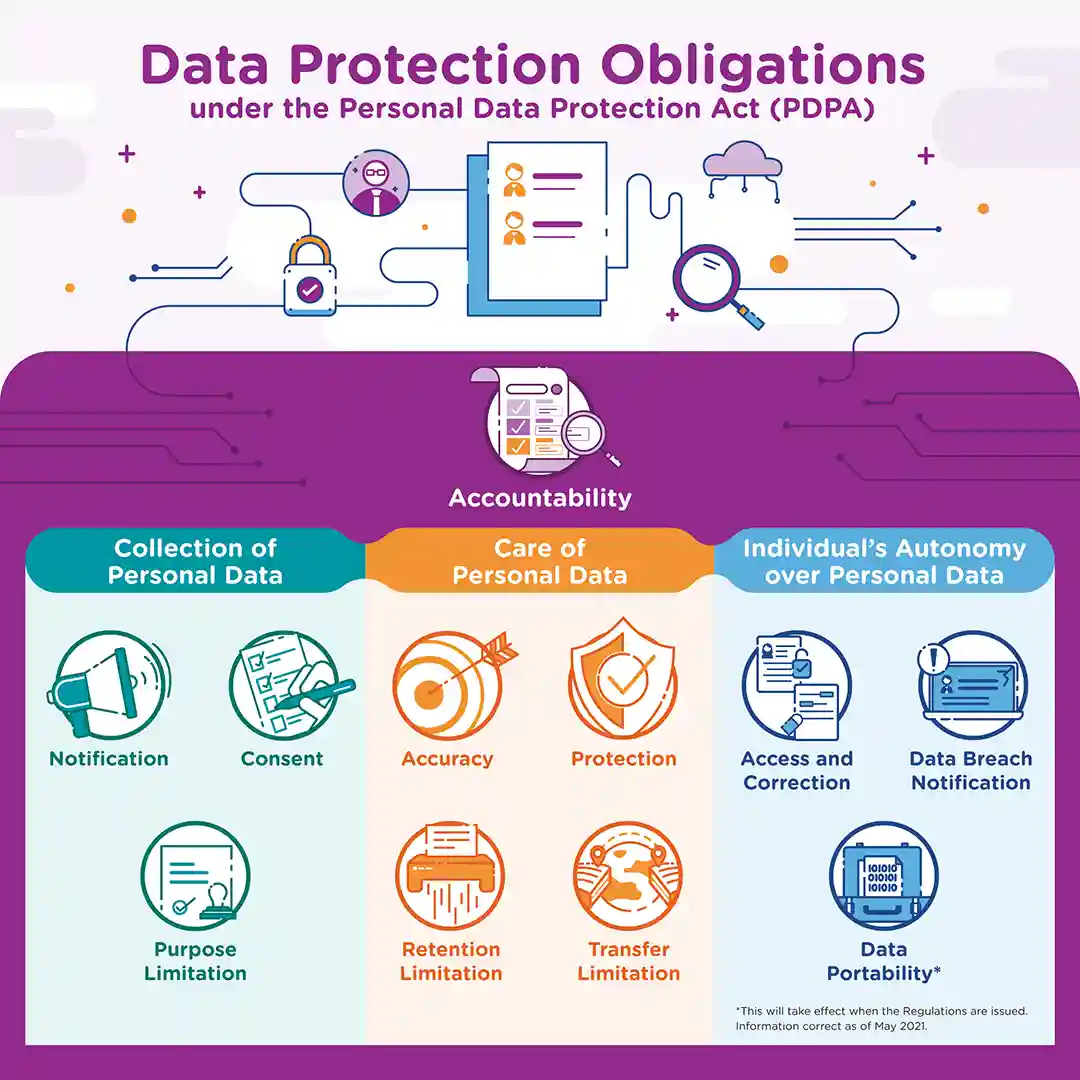 What If You Do Not Comply With PDPA?
Failure to comply with the PDPA regulation attracts a fine of up to S$1 million. Besides, the oversight authority might order you to delete the data, stop using it or hand it over to a third party.
How PDPA Has Made Marketing Difficult For SMEs
Offline marketing is the traditional mean of approaching your potential customers and usually small businesses contact marketing companies to buy prospect lists so they can reach their target audience.
However, there are many flaws associated with this approach besides cold calling strangers and trying to persuade them into something. P
DPA (Personal Data Protection Act) in Singapore and APPs (Australian Privacy Principles) have made things difficult for small businesses because now not only do they have to be in compliance with the law but the fines for breaking the laws are too high.
Direct marketing or offline marketing has become difficult because of these main reasons.
Small businesses cannot possibly afford equipment and means for adequate data protection. This is not just about protecting the company's data as a whole from hackers and cybercriminals but it also includes the privacy of customers' data being intact even during the day-to-day operations. The data should be encrypted all the time and unnecessary data should be deleted securely.
Insufficient background information of the marketing company is also a big hurdle. While purchasing the prospect lists, small businesses need to do background checks of the vendor and the process could be costly, time-consuming, and even ineffective in some cases. The buyers must know how the list was curated and how the data was collected.
Privacy laws are continuously evolving and businesses need to keep themselves updated all the time. For small businesses, it could be a problem as they need to hire specialized staff for this purpose.
The alternative is online marketing strategies which have proven themselves not only cost-efficient but also more effective than direct marketing strategies.
Some of the marketing tactics are publishing great content, interacting with customers and potential buyers via social media, creating videos to attract viewers, use infographics, and developing an attractive website.
Your business website is your online identity and that's the first thing your potential customers would see while searching for the products or services you offer.
Make sure you have a catchy domain name and your website is responsive and performs well.
Create a separate section for content on your website and post great content there regularly.
It could be once per day or even once per week but make sure it is periodic because search engines like Google love seeing regular activities on websites. Not only search engines but people would also like to see new content on the website.
You don't have to adopt a sale tone in your content but the purpose of articles and blogs on your website is to provide value and valuable information.
Once in a while, you can mention your products or services but that's it.
Social media can help you reach your target audience based on their age, sex, marital status, geographical location, and other factors.
You can target ads specifically to those people to increase your conversion rate.
---
Top 9 Best Digital Marketing Practices to Get Ahead of the Competitors
The above legal and regulatory obligations will help you avoid legal tussles and penalties from Google and other search engines.
Like SEO, digital marketing is broad and dynamic.
Here are the top 9 best digital marketing practices you should adhere to generate leads from the various online platforms.
Consider Your Website as Your Primary Digital Hub
It's utterly impossible to do digital marketing without a website.
The website offers potential customers the information they need about your products and services before buying.
Therefore, it should be responsive and accessible round the clock in all the areas that you service.
Google is keen on offering the best user experience to its users. Apart from prioritising search intent when deciding which keywords to use for content optimisation, it would be best if you also ensured that the website offers an exceptional user experience to all visitors.
The recent Google algorithm update, Core Web Vitals, was designed to rank websites with exceptional user experience better than poorly designed websites.
The page experience metrics that this algorithm focuses on when crawling sites include;
Safe browsing

Mobile-friendliness

HTTP

Intrusive interstitials
The above four metrics are simple, but there are other complex metrics that this algorithm update considers when ranking websites are, namely;
First Input Delay (FID)

Largest Contentful Paint (LCP)

Cumulative Layout Shift (CLS)
We recommend contacting our SEO team for more insights into these metrics. They will audit the entire website and make the necessary changes to ensure it conforms to these requirements.
Making sure that your website is upbeat will supercharge your digital marketing strategies.
Carry out A/B tests after making significant changes to the pages or any other website section to ensure it is fully functional.
More importantly, make sure that your online business complies with the stipulated regulations put in place by the government. For example, if you're in the health sector, comply with the Health Insurance Portability and Accountability Act.
Pay Attention to Local SEO
One of the mistakes we see brands make is focussing on general SEO practices and neglecting local SEO.
Both SEO strategies will positively impact your business but if you want to generate more leads from the areas you operate in, focus more on local SEO.
Without local SEO strategies, your website won't be visible to the local customers. You may spend thousands of dollars on ads and get no tangible results because they are displayed to the wrong audience.
Check out this recently written article on improving eCommerce using local SEO.
To give you a head start, conduct intensive market research to know the needs and expectations of your target customers.
This information will help you develop products and services that resonate with them.
Secondly, you should do keyword research to find phrases and words that customers in the specific areas use to find your website and content related to your niche.
The two kinds of research will enhance your brand visibility and competitiveness online. Be sure to create and optimise your Google Business Profile to get more acreage on SERPs.
Stay Abreast of Google Changes
As mentioned earlier, the digital marketing landscape is dynamic. Strategies that worked perfectly a few years ago are now medieval and could get your website penalised.
Staying abreast of Google changes will ensure that your website is safe and complies with the active and new algorithm changes.
The main reason for sporadic algorithm updates is that Google is keen on ensuring that its users get accurate information on SERPs. Having a reliable SEO team on your side will ensure that your website is always compliant.
The team will also apply new technologies such as artificial intelligence to improve your SEO and digital marketing campaigns.
Bidirectional Encoder Representations from Transformers, commonly abbreviated as BERT, is one of the crucial Google changes you should master and adapt to get ahead of the competition.
That will give you a better understanding of the searcher's intent based on the keyword or queries they use.
The primary role of BERT is to help digital marketers and SEO better comprehend the conversational language used by the searchers when doing research.
Today, most of the queries are voice queries submitted via personal assistant devices such as Alexa and Siri, as well as smartphones.
Get More Customers via Email Marketing
Email marketing is one of the most effective digital marketing strategies that you can use to generate qualified leads. The average ROI for robust email marketing is $36 for every $1, but this varies across different industries.
Millions of your customers have an active email address to communicate with colleagues and acquaintances. What better way to display ads and encourage users to visit your website than by sending custom emails?
How do I get my customers' email addresses?
This is one of the questions that we get from our clients. You can efficiently and cost-effectively get potential customers' email addresses via newsletter signups and contact forms.
These two should be strategically placed on your website with the right CTA buttons to encourage the visitors to subscribe.
Unlike before, the email marketing campaign has to be customised and targeted to specific segments of your customers for it to be effective in generating leads.
Customise them by mentioning the recipient's name, creating concise subject lines, and including custom offers in the email copy.
The links included in the copy should be trackable to help you gauge the campaign's performance based on metrics such as email open rate.
Regularly weed out unresponsive recipients from the list to point the campaign in the right direction.
Also, email marketing is effective in encouraging cart abandoners to revisit your website and complete the purchase.
You can also use it for cross-selling and up-selling marketing campaigns.
The rule of thumb is to monitor every aspect of the email marketing campaign to know if you're headed in the right direction.
Leverage Pay-Per-Click Advertising
Pay-per-click advertising ROI is calculated by dividing the total amount of revenue received by your ad's cost and then multiplying by 100.
That is, total revenue/ad spending x 100
The result should be a positive number. If negative, you need to look into the campaign to know which areas should be improved.
SEO will help get your website on the map, but unfortunately, it doesn't guarantee fast results. Luckily, a properly structured PPC advertising campaign can help you quickly get sales and qualified leads to your website.
You don't have to wait for weeks to get your first customers. The display of ads on top of the conventional SERP results is triggered by the target keywords you specified and bid on when creating the campaign.
So, it's imperative to ensure that the keywords you opt for have the high buying intent and decent search volume to get the most results from the campaign.
Like other marketing strategies such as social media marketing, make sure you budget accordingly for the campaign to avoid spending more than you can afford. Also, you shouldn't limit yourself to Google ads alone.
All social media platforms, including TikTok, allow users to run ads.
Take baby steps to get acquainted with the campaign terminologies and processes. You can also complement the campaign with display advertising on websites that your potential customers frequent.
Concisely monitor the revenue generated by different ads to know which ad format and copy best resonate with the customers. You should focus more on the top-performing ads and limit spending on low-performing ads and keywords.
Create Robust Landing Pages
Your website has multiple services or product pages. These pages should be responsive and mobile-friendly to enable you to profit from the ever-increasing mobile traffic to the website.
The content on these pages should also be optimised to get the much-needed visibility in search engine result pages for the different target keywords.
We recommend creating dedicated landing pages for the different products and services. Then, post the page URLs on your social media platforms to get traffic and sales.
If you are not on a tight budget, you can also create dedicated marketing campaigns for each product category.
The point is to create robust landing pages and don't undermine their impact on your website and marketing campaigns.
The content on these pages will move potential customers to the next stage of the sales funnel.
Make the deal even sweeter by offering special discounts and offers.
You can quickly determine which customers to offer the discounts to by evaluating their past buying behaviours. Make sure the page also has a compelling CTA button to inform customers which action they should take when they land on the page.
Different colour evoke different emotions.
Thus, ensure that the CTA button has positive colours such as green and blue to encourage more clicks. The colour should also contrast with the website background colours and other page elements to stand out.
The bottom line is that landing pages provide essential information about a product or service (unique selling points) that may be lost in the other content on the website's general pages.
Monitor Your Website Data
Failing to track your website performance is equivalent to shooting in the dark and expecting to hit the target.
Earlier, we mentioned the need to monitor your digital marketing campaigns to know if you are headed in the right direction. The benchmarking performance will ensure that you get maximum ROI from the campaigns.
The same applies to your website; continuously track your website data to know how it performs compared to your competitors.
Use Google Analytics and other website audit tools to get accurate data about your website, such as organic traffic and ranking for the various keywords.
For instance, Google Analytics will show you the different traffic sources and which pages receive the most traffic. Use this information to know which pages should be improved and decide whether to change your SEO strategies.
The data also helps SEO experts to know when Google changes its algorithm and respond accordingly.
Note that most algorithm updates are launched discreetly, and information about them is only published after several days.
We recommend you start analysing your website using free tools such as Google Analytics 4. As your business grows, upgrade to other advanced tools that offer more detailed reports, such as Ahrefs.
Some of the recommendations contained in the report may require specialised SEO skills and expertise. Contact MediaOne Marketing SEO for professional help to avoid ruining your website. 
Diversify Your Marketing Strategies
To realise your online business's full potential, you cannot rely on one or two digital marketing strategies.
Expand your reach by using multiple digital marketing strategies. Be sure to budget accordingly and make the necessary plans to monitor all the campaigns in real-time.
Over time, the reports will enable you to pinpoint which marketing strategies best work for your business.
Top-notch content is authoritative content that matches your target audience's expectations. Websites with authoritative content are ranked well than sites with surface-level content. The latter usually lack depth, have misleading statistics, and are ineffective in convincing website visitors to buy.
Take time to do extensive content research using tools such as Buzzsumo to know which topics have the best chances of getting ranked highly in SERPs. Make sure you also optimise the content using long and short keywords and question-based keywords from voice search queries.
Simply put, Google and other search engines prioritise websites with content that radiates authoritativeness, expertise and trustworthiness. The blogs should also have links to authority sites that the readers can visit to get more information on the topic.
We recommend hiring a reputable content marketing agency or copywriter to create the content for you daily, weekly, biweekly, or monthly. The more authoritative and evergreen content your website has, the more effective it will generate traffic and sales.
Get in touch with us for professional digital marketing services. Call us today on +65 6789 9852 for a non-obligatory consultation session.
---
Conclusion
Handling large volumes of personal data is a challenging task. With the ever-increasing concerns among users over the security of their personal data, complying with PDPA can be useful to your business in Singapore.
Customers are more likely to trust and transact with a company that guarantees the safety of their personal information.
Also, adhering to these rules ensures that you remain on the right side of the law. 
Call us today at +65 6789 9852 for more advice on PDPA regulations and digital marketing and website design services in Singapore.