After keyword research, you're armed with a list of potential keywords to target.
Let's say one of the keywords is "Vanilla Ice Cake." The question running through your head is, "What about it?"
Does the searcher want to order, cook, or find out how many calories are in this delicious treat? Knowing what the user really wants is key.
Google no longer serves up the same ten blue links as it did a decade ago.
The search engine giant has become very adept at understanding intent and providing results that best match the search query.
But that responsibility doesn't just fall solely on Google. As a Search Engine Optimiser, it's also part of your job to understand the intent behind a keyword and match it with the right content.
So, What's Keyword Intent?
Simply put, keyword intent is understanding why somebody searched for a particular keyword and then serving your content accordingly.
There are four things someone could be trying to achieve when they search a keyword:
Navigate

: The searcher wants to find a specific website

Informational

: The searcher wants to find out more about something

Transactional

: The searcher is looking to buy or sign up

Commercial Investigation:

The searcher is researching a purchase
For example, when someone Googles "Vanilla Ice Cake," it's almost certain they're looking for a recipe.
But it could be that they're also looking to buy it or see how many calories are in it.
Types of Search Intent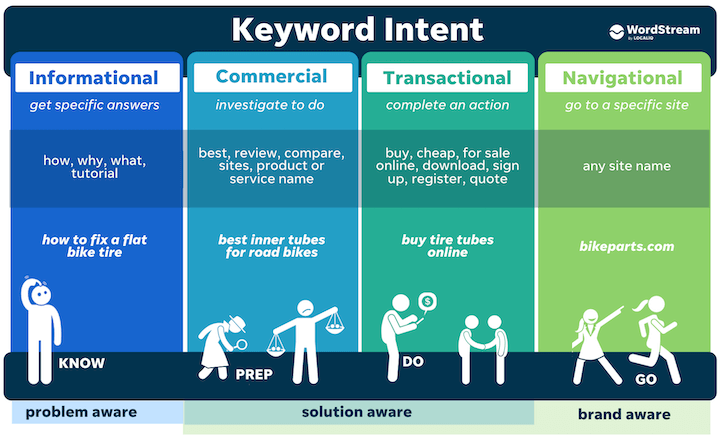 As we've already mentioned, there are four main types of intent that you have to consider when optimizing a page for a keyword.
Let's break them down a bit more.
Commercial (High Intent)
We generate content mainly to get leads, sales, and conversions.
So, it stands to reason that keywords with commercial intent are the most important of the four categories.
Commercial keywords are, as the name suggests, searches that lead to a commercial transaction. They signify a strong intention to purchase or sign up for a service.
Examples of commercial keywords are "buy X product," "product y free shipping," and "find Z store near me."
Here are some of the most common commercial phrases to look out for:
Buy

Shop

Order

Purchase

Coupon (code)

Free shipping

Deals
When an online user includes one of these phrases in their search query, it's a sign that they're ready to purchase the product or service.
Informational Intent
Informational intent means the searcher is only interested in information and has no intention of completing a purchase.
So, it's probably a bad idea to try and sell them something, at least not right away.
These queries are often characterized by "how to," "what is," and "where can I find" phrases.
The goal here is to provide information, often in the form of a blog post, that answers the user's query.
Here are some of the modifying words that denote informational searches:
How to

Why

The best way to

Definition of

History of

What is

What … means

Anatomy of

Tips/Guide for
Navigational Intent
Sometimes, users are looking for a specific website. For example, a user typing "Twitter" into the search engine is most likely looking for Twitter's homepage.
These queries are easy to identify, usually including the brand name or website.
Your brand name searches are one of your biggest business assets. If someone types in your brand name, they're either already familiar with you or trying to find out more.
It's your job to ensure they find you and not a competitor.
With navigational searches, here are a few things you need to work on:
Every search related to your brand must land on your website or a specific page on your site

The website or page satisfies the searcher's needs in the best possible way. It should offer answers or intuitively direct them on how to do the intended action
You want to start paying attention to search queries that contain your brand name. Monitor how they rank in the search engine results and look for opportunities to optimize.
Transactional Intent
This type of intent is a combination of informational and commercial. The user is on the verge of making a purchase, but they have yet to make up their mind, so they're looking for more information.
The users are somewhere near the end of the buying cycle, and they have already done some research.
Transactional intent queries usually contain words like:
Reviews

Comparisons

Ratings

… vs.

Recommendations

Top 10…

Best (price, quality, etc.)
To maximize the conversion rate, you should target searchers who are ready to complete a purchase but still need more information.
How to Identify Keyword Intent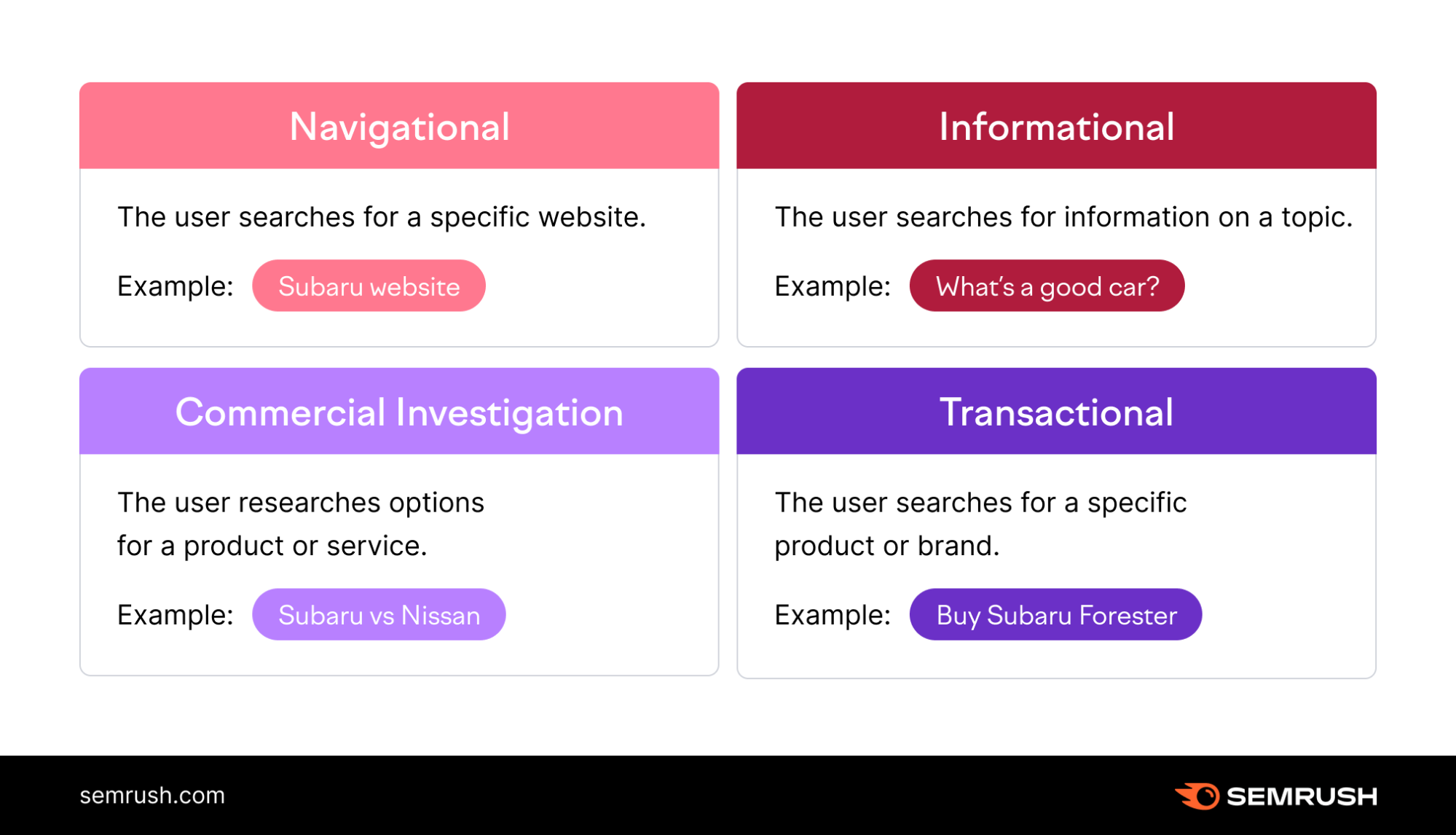 Some keywords are easy to classify, and you can tell from a casual glance if they're commercial, transactional, or informational.
However, most queries are ambiguous, and it takes a bit of research to determine the user's intent.
Google has been working hard to understand the searcher's intent, so it's best to use their insights when you're trying to identify keyword intent.
This can be done using the so-called "Universal Search," a combination of organic, video, and image results.
By looking at the Universal Search results, you can get an idea of what type of user intent the search engine targets.
Interpreting User Intent Based on the Type of Search Results
The easiest way to identify keyword intent is by looking at the type of search results that appear for a given query.
Here are the different types of search results and the search intent they represent:
"Quick-answer" search boxes"
Quick answers are the short answer boxes that appear at the top of the SERP. For example, if you search for "what is a podcast," the first result will be a short explanation. They're usually related to informational searches.
"People Also Ask"
These are the groups of questions that appear in the search results when you perform a query. They're related to informational searches as well.
Google's Shopping Results
These are the product listings that appear when you search for a commercial keyword. For example, if you search for "Jordan 4, "the search engine will show you product listings related to your query.
Local Results
These appear when you perform a local search, such as "restaurants near me." They usually signal navigational intent.
Rich Media Search Results
These are the multimedia results that appear when you search for something like "best TV show." They're usually informational searches.
Using Serpstat
Another great way to analyse keyword intent is by using Serpstat.
The tool won't tell you the exact user intent but will reveal the universal search type related to a query.
You can even filter the results or restrict your search to queries triggering a particular type of universal search.
Serpstat can be very helpful when working on a specific SEO strategy. A good example is when you're creating an editorial calendar and want to research keywords that trigger particular search results, like PAA, Rich Media, or Shopping results.
How to Organize Keywords for Maximum Conversions
Keyword intent will help you determine the direction to take when creating your website's content.
Remember, the end goal is to give the user what they want. You want to leave them satisfied and happy with the results they get.
Organize the Keywords and Phrases by Intent
Once you've identified the type of queries users are searching for, it's time to organize them into groups that trigger different types of search results.
Here are a few pointers to keep in mind when organizing keywords:
#1. Keywords with information intent are usually the straightforward content ideas you send to your content development team.
#2. Keywords with transaction intent include content ideas such as product comparisons, FAQs, reviews, product manuals, product listicles, and other content pieces. They're meant to walk the user down the "buying funnel" and convert them into paying customers.
#3. Keywords with commercial intent: The best way to optimize product pages is to ask your SEO team to optimize the page for targeted keywords. Alternatively, consider creating product bundles or "buy now" landing pages that match the exact high-intent search query.
For example, if a user searches for "black Nike shoes," you can create a landing page specifically targeting this query.
#4. Keywords with navigational intent may be further organized by intent: For example, some queries will have the "buy now" intent, while others signal transactional intent (the potential buyer is still researching your product reviews).
Some of the keywords under this category should be sent to your reputation management teams, while others must go to your sales and customer support teams.
Organize the Keywords and Phrases by the Required Action
Organizing keywords by intent isn't the only way to go about it. You may also organize them by the action you want your visitors to take.
Here are a few examples:
List of keywords that require visitors to sign up for your newsletter.

Keywords that push users to download an eBook, whitepaper, or other content.

Keywords that direct visitors to your blog posts and other informational pages.

Keywords that push visitors to take a product tour or view a demo video.

Keywords that take visitors straight to the checkout page.
Alternatively, you may opt to organize keywords based on whether they're good for creating new content or landing page or for optimizing and updating old pages.
You also want to organize the keywords by landing page type, especially for commercial keywords. Transactional and informational queries may require different types of content and landing page.
For example:
Blog posts: (lists of upcoming events, holidays, gift ideas, top trends, etc.)

FAQs pages (especially for navigational queries)

On-site glossaries (if you're in a jargon-laden industry)

Various types of cornerstone content (guides, ebooks, cheat sheets, etc.)

Product support pages (manuals and installation videos)
You want to use Excel or Google Spreadsheet to organize your keywords using multiple labels. With keyword research, you first list your keywords, along with their competition, search volume, intent, keyword difficulty, cost-per-click, etc.
The next step is to organize them into buckets based on their intent, action required, and the type of landing page you plan to create.
Here's a template you can copy and use: https://docs.google.com/spreadsheets/d/1_6-O_l666VQXRSZBVSltKzysak17f8ISk09zC_YuTC0/edit#gid=0
Lastly, for easy sharing, you want to integrate the spreadsheet into a project management platform like Trello, Cyfe, or Asana.
Using keywords with intent is an effective way to maximize your conversion rate.
How to Use Keyword Intent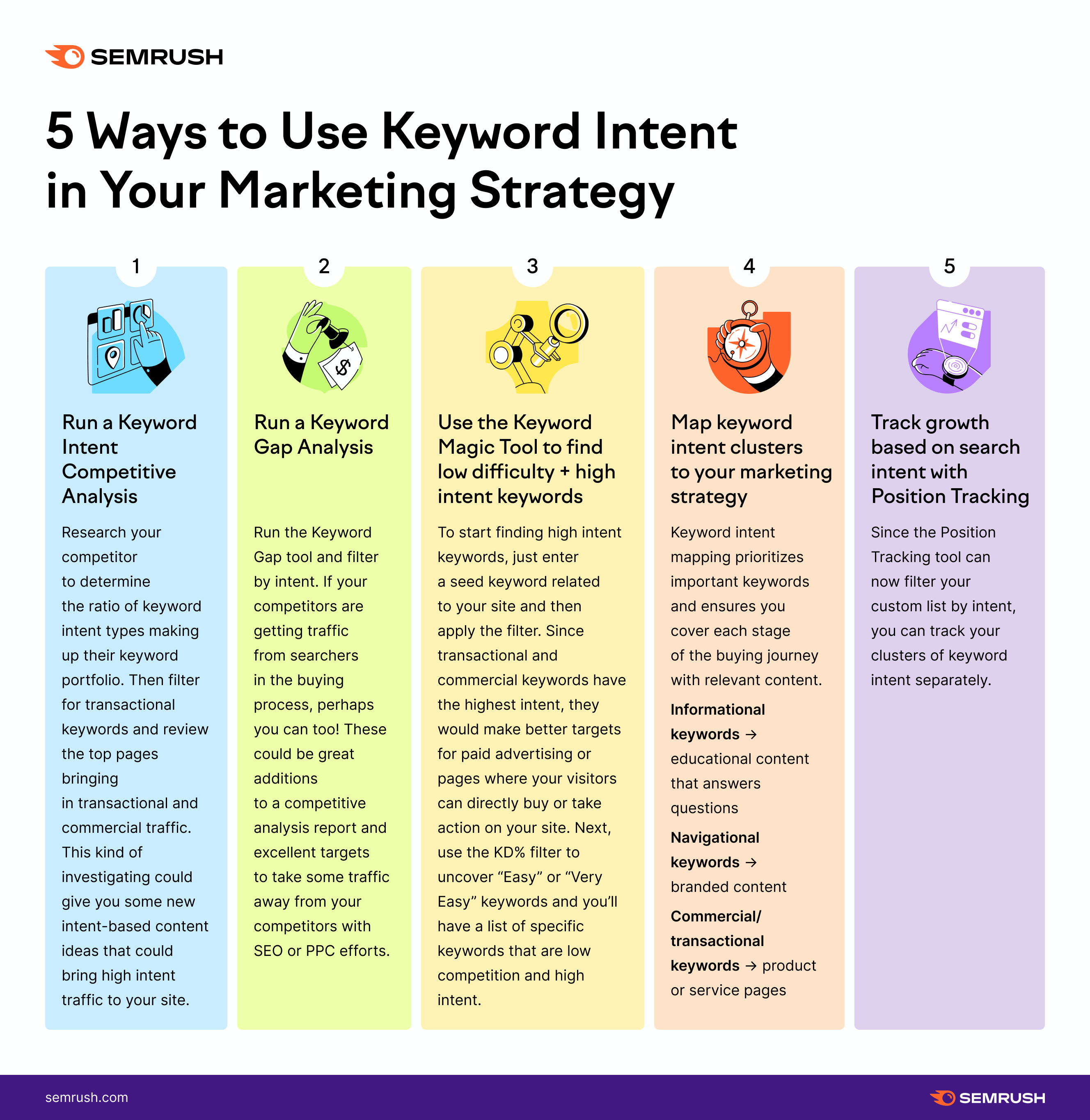 Once you've identified a keyword intent, you can begin creating content that is tailored to the intent. Here are a few tips on how to use keyword intent for maximum effect:
Commercial => Entice
Add eye-catching product image. The images must capture your product from all angles and any special features that make it stand out from the competition. Use targeted calls-to-action (CTAs) to encourage the user to take action.
And lastly, you want to share irresistible offers such as special promos and product discounts.
Informational => Educate
Provide accurate and detailed information about the product or service. Focus on answering customers' questions about your product or a particular concept or process.
Examples of informational articles you can write: how-to guides, explainer videos, tutorials, infographics, and more.
Navigational => Guide
Ensure your site visitors can easily navigate to the page they're looking for.
Use clear headings, categorized links, and relevant search features to make it easier for users to find the page they need.
You want to begin by listing all the terms commonly associated with your brand, product, or service.
Start with your company or website name, and move on to related terms. Use a tool like Ubersuggest to generate hundreds of related keywords.
Transactional => Persuade:
Use persuasive copy and compelling visuals to persuade visitors to buy. Offer reviews and ratings for products, as well as customer testimonials. Highlight the key benefits of each product or service to help customers make a buying decision. You can also use a product tour or view a demo video to explain how your product works – and leave out any technical jargon.
Some Final Thoughts
You won't get it right the first time, so don't be afraid to experiment. Everything takes time, so be patient and keep track of your changes.
Remember, your keywords will define your future digital marketing strategy, so choose them wisely.
Targeting user intent when planning your content is the first step toward success. Not only will it help you stay organized and efficient, but it will also help you maximize your conversion rate. So what are you waiting for? Get started today.