Understanding the internet spending habits of Singaporeans will help you launch your business successfully in the country.
Singapore takes pride in having one of the most vibrant and fastest-growing online marketing industries in South East Asia.
Reports indicate that most Singaporeans prefer shopping online to get better bargains and deals from the various e-commerce sites in the country.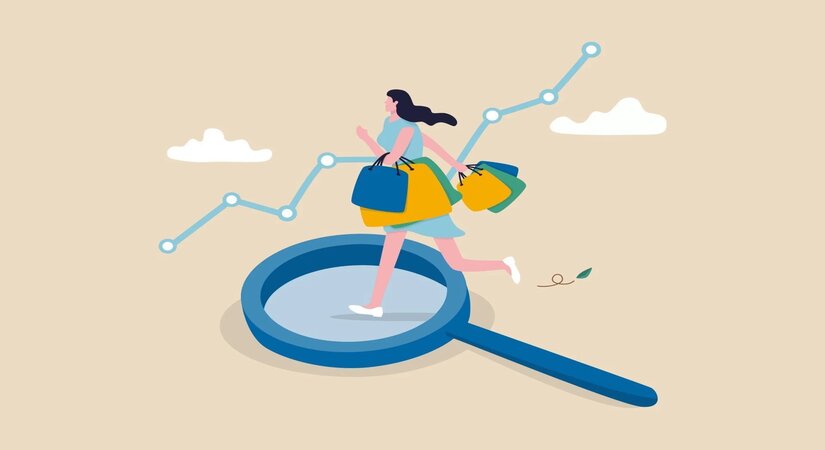 We, Singaporeans, are also the fastest adopters of mobile shopping in the world even though the country's e-commerce industry is relatively new.
According to a report by PwC, 60% of Singaporeans buy one or more products online at least once every month.
The change in consumer behaviour will power the next global retail revolution and continue to improve the economy of the country.
During the poll, 38% of the respondents said that they purchase products online through their smartphones at least once per month.
This percentage is higher than the global average of 28% and 37% in South-East Asia.
Before we proceed, it is important to note that Singapore has the highest smartphone penetration with most citizens owning at least two internet-enabled smart mobile devices.
---
Social media is one of the major factors that influence online shopping in Singapore.
There are more than 2 million active social media users in Singapore. Based on this statistic, it is not difficult to see why most marketers prefer using the platform to market their products and services.
PwC report indicates that social media has a major influence on online shopping behaviour in the country.
57% of Singaporeans who were polled revealed that they use social media platforms such as Facebook, Instagram, and Twitter to read reviews, learn more about products, and access promotional offerings.
This report on internet spending habits of Singaporeans also showed that Singaporeans who prefer shopping online do not just use their smartphones to buy products from online stores in the country but to get product and pricing information before making a purchase also.
The high internet penetration in every part of the country makes it possible for customers to search the internet for information via mobile devices and personal computers easily.
Cost is one of the key factors that Singaporeans consider when shopping for a product or looking for a service online.
For your business to remain competitive, you need to have a clear understanding of the trends and act on them quickly.
You will also need to re-evaluate your corporate strategy and revamp your brand to resonate with the digital age.
Making sure that your business is in line with the internet spending habits of Singaporeans will help you get a firm footing in the country.
Most companies in Singapore are faced with the tough decision of whether to embark on the online journey or stick to the brick and mortar businesses.
Smart business owners understand that the internet offers unlimited growth opportunities to businesses and have invested in online versions of their physical businesses.
---
Singapore Millennials Internet Shopping Habits

80% of millennials in Singapore have purchased one or more products online in the last one year.
69% of them have done cross-border online shopping. Singapore has the highest cross-border online shopping percentage in the Asia Pacific.
According to research done by Marketing Interactive, Singaporean millennials focus on not only tangible goods but also authentic experiences that resonate with their interests and passions.
40% of millennials who prefer shopping online purchased products in the entertainment category in the last 12 months. 58% of their income was spent on travel and 54% on event tickets.
Another major factor that makes Singapore millennials unique in the realm of internet marketing is that they value speed and convenience.
They expect frictionless and faster shopping experiences from local and foreign e-commerce sites.
Another unique aspect of the internet spending habits of Singaporeans is that nearly half of the millennials polled during this survey said that fast delivery is one of the prominent factors that would motivate them to purchase a product from another country.
Here is a brief list of statistics to give you a clearer understanding of Singapore millennials' internet spending.
69% did a cross-border purchase online in the past 12 months
65% have no problem buying a product from an e-commerce store in another country
65% made a purchase online in foreign currency
33% bought products from an e-commerce website that is in a foreign language
54% of income is spent on event tickets
58% of income is spent on travel
40% of income is spent on digital education and entertainment
78% of online shoppers in this age group prefer using PayPal
Top Drivers of Cross-Border Shopping among Millennials in Singapore
65% free shipping
52% opportunity to purchase rare items/hard-to-find products
49% fast delivery
49% lower shipping cost
47% safe way to pay for the products
Overall Internet Spending Habits in Singapore
58% of respondents shop for footwear and clothing online. This percentage is higher than the global 51%
55% of respondents said they prefer buying products online because they are often better priced/cheaper
40% of Singaporeans purchase movies, music, video games, and books online
39% of Singaporeans purchase health and beauty products online
---
Digital Marketing Guide for Gen Z: The Ultimate Guide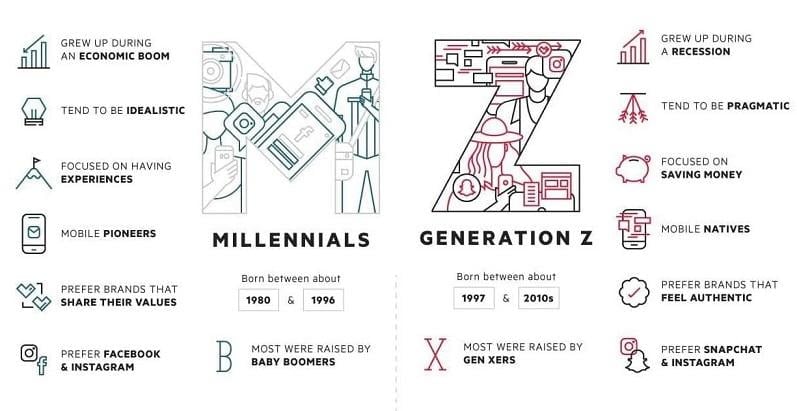 Knowing your customers' internet spending habits will enable you to create robust digital marketing campaigns.
More emphasis should be on Gen Z, whose buying power is estimated to be $360 billion in disposable income. 
Unknown to most marketers is that this select group of customers significantly influences how parents spend money online than the millennials.
They are not only open-minded but also not afraid to question things, express their price sensitivity, and put their parents stop buying certain products.
Digital marketing strategies you previously used to target millennials are ineffective in encouraging Gen Z to buy from you.
Spring into action and re-think your marketing strategy to generate more sales and get a higher cutting edge in the market.
Before looking at the specific digital marketing strategies, here are some of the primary characteristics of Gen Z that you should know.
They are open-minded

They are diverse

Gender-neutral

Changemakers

Independent learners

Dreamers

Do-gooders
---
How to Market My Brand to Generation Z?

Gen Z has the potential to catapult your online business to the next level. Understanding their unique personality and characteristics will enable you to endear your brand to them.
Let's dive into how to market your brand to this valuable customer segment today without spending a fortune.
Use Captivating Visual Content
Visual content is easy to understand than blocks of text. 81% of customers in Generation Z are active users of Instagram and YouTube.
They resonate more with the content shared on these platforms than on other conventional platforms.
56% of Gen Z customers recently polled stated that they want to see more businesses sharing information on Instagram and 38% on YouTube.
The demand for visual content, especially short-form videos, is insatiable. Connect with them more effectively by creating captivating visual content and posting it on your YouTube channel and Instagram profile.
Leverage Instagram Stories to increase your reach and monitor the engagement levels on both platforms to know which form of content piques their interest and attention most.
During our research, we noticed that brands and influencers widely use short-form videos that contain text overlays and music due to their potent ability to encourage the target audience to take the desired action.
If you doubt this, check out TikTok, the fastest-growing social media platform today.
The platform has more than 680 million active users, most of which are in the Gen Z group. If you want to market your brand effectively to Gen Z, steer clear of boring and static ads.
Spur Engagement by Including Tags in Posts
If you have been doing digital marketing for a while now, you probably know how effective hashtags are in increasing post visibility on social media platforms.
When marketing products or services to Gen Z, we recommend using tags to make your posts more discoverable on the platforms.
Here are some of the critical benefits of enabling post tagging.
It encourages followers to create and share user-generated content such as photos and videos with branded hashtags.

It allows satisfied customers to tag themselves at your brand's physical location.

Requesting customers to tag their family, friends, and acquaintances who may require your services or products has the potential to increase your followers on Instagram and other social networking platforms.
Borrow a leaf from companies such as Uniqlo and Disney Springs that use this strategy to create a buzz among their existing customers.
Uniqlo posts pictures of customers who post pictures with their branded hashtags #LifeWear and #Uniqlo on its Instagram Stories.
Disney Springs uses the same strategy to appreciate its followers for related hashtags. 
The two strategies effectively encourage responses from young consumers hungry for attention on social media platforms. Posting them on your Instagram Stories will give them much-needed exposure and help them gain more followers.
Leverage FOMO by Creating Time-Sensitive Posts
What does FOMO mean? FOMO is an everyday slang in digital marketing that refers to the "fear of missing out."
Online customers are always hunting for deals such as discounts and free shipping.
In your quest to scale up your online business by increasing the number of Gen Z customers, we recommend creating more time-sensitive posts. These posts encourage customers to buy by creating a sense of urgency.
The fear of missing out on a deal triggers customers to visit your website when they come across the post and buy before the offer expires.
If you prefer Instagram Stories, you can now connect with more potential customers by capitalising on the platform's new feature dubbed Drops.
This new feature is designed to help the brand launch new products and services that are only available for a limited time.
Generation Z customers gravitate towards a brand that posts captivating, humorous content.
You cannot win them over with conventional boring ads and other forms of content.
Create posts that are not only fun but also cool to showcase your brand's humorous attributes.
One of the ways of applying this marketing hack is by riding on trending topics and memes.
Post old memes that went viral a few weeks ago won't get the job done. It would be best if you constantly looked for new trends.
Otherwise, your brand will lag if you don't keep up with the internet speed.
Concisely, humour will exhume your human side on social media platforms, nurturing authentic interactions with potential customers.
When interacting with customers, you should strive to be as unpredictable and organic as possible instead of template.
Post More Interactive Content
Interactive content is the secret recipe for success when marketing to Gen Z and targeting customers in other age groups.
You stand a better chance of getting more sales online by combining interactivity and creativity.
These customers prefer content they can tap, swipe, and click on as opposed to static posts.
The more interactive your marketing posts are, the more effective they will be in sparking conversations on social media platforms.
Creativity also increases the likelihood of posts going viral as they show a different aspect of your brand or product that the world didn't know existed.
You know the importance of doing market research to understand the needs and expectations of your target customer. Instead of collecting data via traditional methods, why not post a Twitter Poll.
It will give you a plethora of ideas about what your Twitter followers want to see in your post and how to improve your products or services.
Instagram supports various interactive content such as sliders, stickers, and posts. Use them to spice up your Instagram Stories and in-feed posts.
Simple quizzes are also effective in getting feedback from the target customer.
Instagram has the best quiz feature so far – leverage it to know which type of services or products your customers prefer or would want you to start offering.
Why should I post more interactive content?
Simply put, interactive content effectively encourages young customers to make purchasing decisions quickly. Renowned brands such as Topshop gained a massive millennial and Gen Z customer base by posting this form of content on social media platforms.
Timely Respond to Comments and Messages
Communication is key to success in Gen Z digital marketing campaigns.
What better way to show this group of customers that you care about their concerns than by promptly responding to their comments and messages.
47% of customers consider a brand top in class based on the quality of customer service it offers.
Timely responses should be one of the core aspects of your brand's social marketing strategy.
If you keep customers waiting for hours for a response or only respond to positive comments, you will hurt your credibility, and your sales will start to drop.
A recent study by Sprout Social discovered that 41% of Generation Z customers would buy a service or product from a brand that offers responsive customer service rather than one that offers slow customer service.
Use social listening tools to monitor your brand's conversations across social media platforms.
Whenever your brand is mentioned, the tools will notify you, ensuring that you promptly comment on the post.
We recently published an article on the 14 best social media listening tools; check it out. 
Express Your Brand Values and Beliefs
The savvy consumers in the Generation Z category have high expectations regarding brands' perceptions and stances on social issues.
In particular, this group of customers prefers buying from brands whose values and beliefs resonate with them.
They firmly believe that a brand's sole purpose is serving society and communities.
Advocating for diversity and creating awareness on social issues and other trends that Gen Z considers necessary will exhume your brand's positive beliefs and values.
Today, brands are taking bold stances on social issues than before. The boldness and the candid conversations that the posts spark effectively enhance brand awareness.
That said, you should be careful how you express your stand on the issues to avoid rubbing some customers the wrong way.
Avoid anything too sensitive to your audience, such as religious and political statements.
Give Gen Z Customers What They Want
Have you ever stopped and wondered what your customers really want from your brand?
Now and then, it's recommendable to put yourself in the shoes of the target customers to know what they expect from you.
50% of Generation Z online customers are likelier to buy products from a brand that demonstrates they really care and understand customers' needs and wants.
How do I show customers that I care about them?
You don't have to spend sleepless nights thinking about offering your customers you care for and value. A simple thing such as letting them know their voices are heard is enough.
Request to submit feedback or questions that they would want you to address in an upcoming live session, podcast, or webinar.
Creating content based on the input will greatly show them they matter, and there is a team behind the scenes that reads their comments and emails.
Social listening tools will come in handy to help you monitor the conversations happening online about your business.
As mentioned earlier, make sure that you don't keep them waiting for hours for a response – respond to them promptly.
In addition, data tabulated in your preferred social listening tool analytics page will enable you to create content that resonates with them.
Note that the right content will keep your followers engaged and strengthen your relationship with them.
Encourage Them to Submit Reviews and Feedback After Buying
As odd as it may sound, sometimes the best thing you can do to encourage purchases is by saying nothing at all. The customers are bombarded with hundreds of ads every day.
Digital content exhaustion is absolute, and the last thing you should do is join the bandwagon of populating their news feeds with ads.
Instead of ads, let the reviews and feedback from customers work to your advantage. 82% of Generation Z shoppers end up buying from a brand after reading feedback posted online but other customers.
How Do I get more customer feedback and reviews?
Simple, get out of your comfort zone and confidently ask customers to submit it. Create intuitive feedback templates to enable you to collect valuable data for improving your product or services. These templates should be easily accessible on desktop and mobile versions of your website.
If you have a mobile app that customers can shop from, make sure it also has a feedback/review field that customers can fill quickly after completing a purchase.
For even more insightful reviews, send the review form to customers several days after the purchase to give them time to test the product.
Gen Z consumers are active social media users. Social media should be part of every digital marketing strategy.
Get in touch with MediaOne Marketing today for digital marketing strategies custom to Gen Z.
We look forward to hearing from you.
---
Closing Remarks
The statistics above on the internet spending habits of Singaporeans are proof that Singapore retail consumers consider online shopping as a norm.
Online shopping is one of the factors that fuel innovation.
Businesses need to monitor the online space to understand how it functions and then comes up with digital marketing strategies to position their businesses for cusses.
Even though online shopping is one of the rapidly growing industries in the country, retailers should not sideline the human aspect of the consumer experience.
As mentioned earlier, internet shoppers in Singapore value authentic experiences and so brands must make sure they offer the best shopping experiences to their customers.
That is, you need to come up with robust ways of delivering end-to-end services to customers who shop both offline and online.
Companies also need to carry out market research to understand the needs of their customers.
The research should be a continuous, not a one-time project since the needs and expectations of customers keep changing.
Finally, if you are to succeed in online marketing in Singapore, you need a team of professionals on your side to create robust campaigns for you.
Get in touch with us for reliable digital marketing services in Singapore.