Every eCommerce store owner has had to deal with the following stumbling blocks at some point:  
"after launching their websites and running a series of ads, they ended up generating thousands of site visits and page likes, but no sales." A sad situation to be in, and one that requires thorough analysis, especially if the e-store isn't exactly new.
Or it could be that your sales have hit a slump. You have a superior product, a steady flow of traffic, and remarkable customer service. But for some reason, you're not getting enough sales.
This is a fairly common issue for eCommerce store owners. But with a little guidance from us; it's nothing you can't solve. 
7 Reasons You're Not Making Enough Sales Online
Before we get to the strategies that can help you increase your online sales and revenue, let's shed some light on some of the possible reasons your site hasn't been gaining enough sales:
#1 Targeting the Wrong Audience
If your site traffic doesn't translate to increased sales then there's a fair chance that you're wasting your resources targeting the wrong market. Your traffic consists of people who have absolutely no interest in your product or service offering.  
Think of the market as an ocean of willing customers. But what makes you think these customers will want to buy from you?
You have to begin by identifying which category of customers might be interested in your product offering. You're to describe this category in detail, taking note of all the things that might help you to understand them better. 
#2 Your Sales Funnel is Not Properly Set Up
Another reason that's holding your business back from making enough sales is the fact that you haven't set your sales to funnel properly. The people visiting your website are having a hard time finding the products that they want. 
Here's a typical user journey:
A visitor sees your ad or your product link on paid search results

They click on the link and are directed to your website
After getting to your site, they search for a product they want and check out the price

If they like the product and think it's fairly priced, they'll add it to their cart and either continue searching for other products or proceed to complete the order.
But if they land on your website and fail to locate your product page or the search bar, then they won't be taking any further steps. Instead, they'll hit the back button and try a different website. 
#3 Customers Don't Just Trust Your Website
Online customers can be triggered by the slightest of issues. If they don't trust you, then don't expect them to throw all caution to the wind and buy from you. 
Here are a few trust-related issues that send customers away: 
No SSL Certificate

: A website without an SSL certificate is not safe for 'business. Period. It also comes off as unprofessional – and for this, you can bet no new customer will be willing to risk their hard-earned cash with you. 

Asking Customers to Promote Your Site Positively on Social Media:

You're not to coerce your customers into leaving a positive review of your business or product. Just ask them to give you a shoutout or to drop a review on one of the review sites and leave it that – don't ask them to say something positive. 

Not Solving Customer Queries

: Don't ignore the negative comments and complaints that some customers leave behind. Instead, reach out to them and offer to solve it as quickly as possible. You're to do all this in the comment section, where potential customers can see. 

Exorbitant Prices/Extremely Low Prices:

Your prices have to feel reasonable. Don't overprice your products. Nor should you go too low and send the wrong signals.  
#4 Your Website is Not Optimised
You're to pay attention to how users move around your website. The whole experience must flow and feel flawless. 
If the website happens to be designed poorly (especially if it's irresponsive on mobile), then don't expect users to do much after they visit you. 
#5 No Email List for Follow-ups and Nurturing
The easiest way to boost your online sales is through email marketing. The problem with many marketers is that they've chosen to ignore it. 
They're not investing in lead generation. Instead, they have all their hopes banked on paid or organic channels. 
#6 Your Customer Service Isn't Exemplary
Treat your customers like they don't matter and they'll walk past you like you don't exist. 
When a customer leaves behind a negative review, that goes on to show that they're discontented or unhappy with your business or product. You might be tempted to ignore them. But that will only intensify the problem. 
So, what should you do?
Interact with them, right there in the comment section, and try to find the middle ground. 
Be quick to apologise for the bad service rendered – and while at it, try to reason out with them on the best way forward. Is there a way that you can make it up for them?
We suggest you make it a habit to go through customer review sites (if possible, daily) to find out what they have to say about your products or services. 
#7 Your Shipping Cost or Time is Outrageously High
Customers don't like it when your products take aeons to deliver. If you can't deliver the product in a day or two, you can bet a good number of them will hop to the next e-commerce seller offering faster deliveries. 
Have an option for express delivery or the same day delivery, if possible. Unless you're shipping a product from a different country, your product shouldn't take more than three days to deliver. 
---
30 Creative Ways to Increases Your Sales Online
After explaining why your website isn't making enough sales despite having a nice flow of traffic, let's discuss 30 creative ways you can increase sales for your online store.
Remember, all the strategies we'll be discussing are aimed at helping you achieve four key things:
Getting your customers to start adding your products to your cart

Getting your customers to buy more of your products by increasing their Average Order Value (AOV)

Re-engaging your customers and getting them to come back to your online store for repeat purchases

Increasing your traffic flow. Or getting more customers at your store door or website
If you can figure out a strategy that can help you achieve the four things we've mentioned, then we can assure you that you're halfway to making this work for you.
With that out of the way, here are the 30 creative ways anyone can increase their sales online:
#1 Cross-sell and Upsell Relevant Products
Cross-selling and upselling account for about 30% of the sales that people make online. 
They refer to the simple process of introducing upgrades or complementary products to existing customers or customers that are still in the process of completing an order.
While upselling is all about offering a higher upgrade, cross-selling is where you offer a complementary product or products that go well together. 
Like in fashion – when someone buys a dress, you can cross-sell by offering them a scarf that complements or upsell by suggesting an even better dress. 
Crossing-selling and upselling are excellent in triggering unplanned purchases, which goes on to increase your AOV. 
#2 Personalised Product Recommendation 
A few years back, Amazon released a report that showed that 35% of the generated revenue came from product recommendations. 
This would see to it that they populate up to 70% of their homepage with product suggestion blocks. 
It's a technology that's very common in the eCommerce space. Take Amazon, for example. They try to generate tailored product recommendations for each one of their shoppers based on interests and behaviour. 
By suggesting relevant items, Amazon prevents shoppers from leaving the store empty-handed. It's also a perfect way to get your customers to add more items to their shopping cart.
#3 Increased Social Proof
Social proof is how you conduct magnetic marketing. You're to simply take advantage of your overall mass appeal to attract even more customers. 
How — you ask?
Simple: when someone is visiting your site for the first time, you can bet they have their fair share of doubt. It's only natural that they'll have a hard time trusting you until you figure out how to squash this scepticism.
Here're a few questions you can bet will be going through their mind:
What if the products turn out different from what I see in the pictures? 

What if the product doesn't function as described?

What if I don't like it. 
There'll be something talking to them, trying to convince them to be careful with the decision they make. So, how do you assure them that there's nothing to worry about?
In comes, social proof – all you have to do is show your customers that they're those who bought the product and were pretty happy with the decision. You're doing all this to build trust in your brand and get more customers to consider shopping with you. 
Here's how you build social proof (the next two points):
#4 Get Your Previous Buyers to Review Your Product
A recent study report shows that 85% of online shoppers read reviews. And of the shoppers who read reviews, 83% try to compare negative reviews and positive ones.
What does this show?
Buyers aren't just interested in positive reviews. They're interested in honest opinions about your product. They also want to see how you react to complaints.
You can use Yotpo to generate reviews via on-site pop-ups and email marketing. 
#5 Notify them of Recent Successful Orders
You can build social proof by notifying your site visitors of your recent successful transactions, right there on-site, where they can all see. 
Just set a small slide-in pop-up on your page corner to notify them of the latest transaction. Something along the line of "Leon from Springfield just bought a 65-inch Samsung TV on this store."
Again, there are tools to help you out with this:
Sales Pop is your friend. You can use it to sync your sales data and promote on-site sales. 
#6 Create an Affiliate Marketing Program for the Influencers in Your Niche
Influencers have the power to change people's decisions. One positive word from them is enough to get tons of customers to make up their minds and shop with you. 
You can use influencers to promote your products. They can also help you to drive sales through affiliate marketing. 
#7 Use a Countdown Timer to Create a Sense of Urgency
Online shopping works great with impulse buying, especially with our modern culture of fast goods consumption.
Position your products right, and with the right promotion strategy and best timing, you can make a lot of sales by capitalising on impulse buying. 
When customers are still contemplating on whether or not to purchase a product, you can hit them with a time-limited offer (free shipping, coupon, or discount) and give them a reason to make up their mind. 
#8 Create a Sense of Scarcity by Limiting Stock Availability
Online shoppers are hard to predict. They might be interested in something, but flake on deciding if they want to buy it. 
So, what do you do?
You give them a reason to act fast. And one way to go about it is by creating a sense of scarcity. Let them know that the product may be out of stock soon should they fail to grab it quickly. 
All you have to do is set an inventory number that's way less than the actual quantity of stock. 
#9 Create a Loyalty Program to Keep Your Customers Around
Before you go around looking for new customers, make sure you have your existing customers on lock. 
You can do this by creating a loyalty program that motivates them to stay with you or to continue buying more of your products 
Asking your customers to join your loyalty program is also a great way to promote impulse buying. 
#10 Use Gamification to Boost Your AOV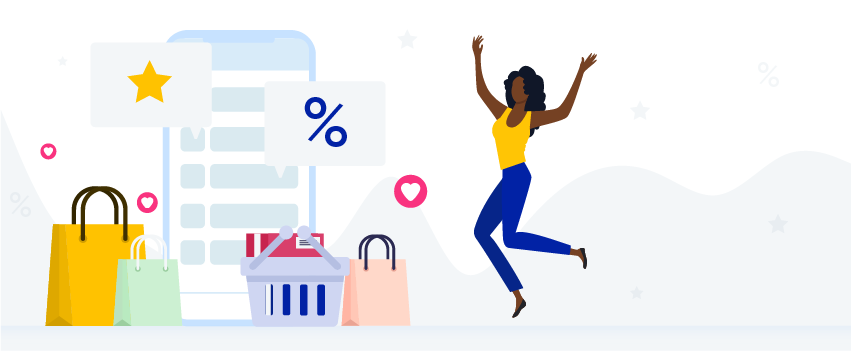 Gamification has transformed the eCommerce landscape. 
Not only has it made online shopping fun and more interactive; it has also motivated shoppers to continue shopping online. 
It's more of a game, and once an online shopper is hooked to your game, it's hard to convince them to look the other way. 
Here's a simple game technique you may use to increase your AOV:
When a customer adds an item to their cart, you can tease them with a possibility of a discount, and the more items they add to their cart, the more their discount increases. 
#11 Send Personalised Re-engagement Newsletters to Your Customers
Email marketing accounts for about 23% of all the sales that happen online. That's how much you're missing by not creating a personalised email list. 
It's also one of the most cost-effective online marketing strategies you'll ever come across online. 
There was a time when sending mass promotional emails could have made you more sales. But things took a 360 and spamming is no longer an option. The only way to execute an effective email marketing campaign is to consider sending out personalised emails. 
#12 Optimise Your Website for Mobile
It's not a question of whether or not you need a website. You need a website that's optimised for mobile. 
When mobile users browse your website, they shouldn't miss anything important (especially the CTA button). 
You also want to consider adding a sticky buy button at the top of your website, where it can be easily seen. 
Mobile users are used to swiping left and right when they want to view images. So, instead of arranging your images vertically, create a gallery that they can easily swipe to view, just like Instagram. 
#13 Determine Your Sales Cycle
No two businesses are the same. Every business has its own unique sales cycle. 
Ask yourself about how long it takes before an average consumer of your product purchases it. 
The more you understand how your customers move around before making a purchase the easier it will be for you to create an effective eCommerce sales strategy. 
You have to do some research on this and test your strategy to come up with some real data you can use. 
#14 Optimise Your Check Our Process
Are you recording a high case of cart abandonment?
This might have something to do with the checkout process. 
Your customers aren't going to trust you in an instant. It takes time to win their trust, and even after winning their trust, you want to continue working on it throughout the checkout process. 
Your checkout process has to be smooth and trustworthy every step of the way.
That being said, here are five ways you can optimise your checkout process: 
Don't Overcomplicate It:

The checkout process has to feel intuitive. If it consists of several pages, be sure to include a progress bar that displays how long the checkout process is going to take. You also want to make sure the CTA buttons are where they can easily be seen. 

Include Helpful Product Descriptions:

Don't keep your customers in the dark on critical information. Everything they might be interested to know about a product must be right there, in front of their eyes. Whether it's size, colour, or product description, you want to make sure you've included all this information next to your product. We also suggest that you include testimonials, reviews, and a FAQ section. Remember that you're not just doing all this for the customer, but for search engines, as well. 

Show Shipping Cost:

Don't hide your shipping charges until the very end of the purchase process. Instead, display it right there, next to or beneath your product prices. Let your customers know how much they'll be paying on top of the purchase price to have the product delivered to them. 

Give Your Customers the Option to Continue Shopping:

Your customers should be able to add products into their shopping cart and continue browsing your site to check out the other products and see if they can add a few more other items. All you have to do is include a "keep shopping" button that allows customers to continue shopping and complete the purchase process later after they're done.

What Forms of Payments do You Accept?

Customers have to know the accepted forms of payment right from the very start, or before they have gone any further with the purchase process. The easiest way to go about it is to list the logo of all the forms of payment you accept next to your product price or where it can be easily seen. 
#15 Integrate Your Store with Instagram
Instagram is one of the fastest-growing social media networks, boasting 500, 000 million daily active users. 
You can use it to connect with consumers, brands, and influencers. 
It's really simple with Instagram: just take compelling photos and use hashtags strategically. You also want to make sure you're posting at the right time and you'll be on the way to building a large following of potential customers or clients. 
The key lies in how you engage your followers. 
You have the option of running contests or taking your customers through what happens behind the scenes. 
Remember to also pay to play. With eCommerce marketing, you can add products to your Instagram stories or post to create a direct path for customers to place an order. 
#16 Retargeting
98% of customers won't complete an order the first time they check out your website. 
The only way to win in the game of sales is to have a retargeting strategy. There are so many ways to go about it. 
The first one is where you run retargeting ads. With this option, once a prospect visits your site and leaves without placing an order, your ads will show up on some of the websites they visit. 
The second retargeting option is through your email campaign. When a user adds an item into their shopping cart and leaves without completing an order, you can always send them an email a few days later with an enticing offer that will get them to change their mind. 
#17 Social Media Advertising
It's quite impossible to ignore social media. Not when nearly three-quarters of your potential customers can be found on at least one of the major social media sites like Facebook, Twitter, and Instagram. 
Creating an account and posting regularly might have worked a few years back. But things have changed and social media is all about paying to play. While there's nothing wrong with creating a social media account and using it to engage your followers, you need a solid social media ad campaign to win over new leads and accelerate your growth. 
A good starting point will be Facebook Ads. Each ad should target a specific target audience and be linked to a specific page on your website. 
#18 Humanise Your Brand
The easiest way to win your customers' trust is to sell them a personality. You might also want to show them the people behind your brand.
Send them your behind-the-scenes videos or testimonial videos and images sent by your loyal customers. 
Your customers will also appreciate it when you communicate with them. Respond to their messages, tweets, and comments. Your ears should be all the place, listening to whatever they have to say about your brand. 
#19 Launch Facebook Store
Facebook has changed a great deal since it started. 
But all in all, they remain to be a viable platform for eCommerce marketing.
At the time of writing this, it's now possible to make sales directly through Facebook. Better yet, the platform can seamlessly integrate with Shopify, which saves you the trouble of keeping a separate inventory. 
#20 Think Local
The local market isn't a reserve of brick-and-mortar businesses. Online store owners can also take advantage of their local market and increase their sales online.
How?
Identify where your customers are most concentrated and run an ad campaign targeting that location. Find out which products the customers are mostly buying. Better, dig out for more information on their spending habits. What local events do they attend? And so on.

If you have a local brick and mortar store or multiple warehouses, then perhaps you should consider running a promotion with free, expedited, or discounted shipping to the customers within the vicinity. 
#21 Leverage Ad Extensions for More Ad Clicks
Unless you're new to selling stuff online, you've probably heard of ad extension (Available on both Google and Bing Ads). 
Ad extensions make your ads bigger and more clickable. 
The best part is that they don't cost you extra, despite increasing your ad's click-through rate. 
#22 Display Customer Testimonials, Reviews, and Trust Signals
Customer feedback and reviews have never been this important. 
The easiest way to convince a first-time customer to buy from you is to work on building trust signals. As long as other customers are willing to vouch for you or put out a positive word for your products or services, you should have no trouble getting new customers to trust you. 
This is even easier when you have satisfied customers – the reviews and testimonials should come in naturally.
#23 Create an Order Tracking System
After placing an order, your customer will be eager to know when the shipment will arrive.
You might promise to deliver a product within a certain number of days. But what if uncertainties arise and the delivery ends up delayed?
Instead of giving your customers more reason to worry, why not create an order tracking system that proactively notifies them of their order whereabouts or in case of any delays?
#24 Limit Your Choices
Don't overwhelm your customers with so many choices. 
From what we know, so many choices can hamper their decision-making process. Where you're offering a wide range of products and services, then perhaps you should consider restructuring your website and product pages in such a way that your customers won't have to decide between so many choices. 
Try to narrow your product categories. Your customers could also use some suggestions from you. Or better, pick a few items and put a greater emphasis on them.
#25 Create a Facebook Lookalikes Audience 
The easiest way to boost your online sales is to use the information you've already collected on your existing customers. With Facebook, you can easily do this via Facebook's lookalike audiences. 
Lookalike audiences are essentially Facebook users who share the same characteristics and behaviour as your current customers. You collect as much data as you can on them and then upload it on Facebook. Facebook will then cross-reference this information with their own data and create matches based on your specified criteria. 
Facebook also allows you to use tracking pixels to create lookalike audiences. This is an excellent way to expand your customer base without doing much on your end. 
#26 Use Quality Product Images
Presentation matters.
It's about appearances, and how you want your products to be perceived.
You're to invest in high-quality photography regardless of what product you intend to sell. 
You have two options when it comes to this. One is by hiring a professional photographer, and the second one is the DIY approach. With the latter option, make a point to invest in a good camera (a smartphone with good camera specifications can also do the trick) and, where possible, purchase a light-box. 
#27 Run Gmail Ads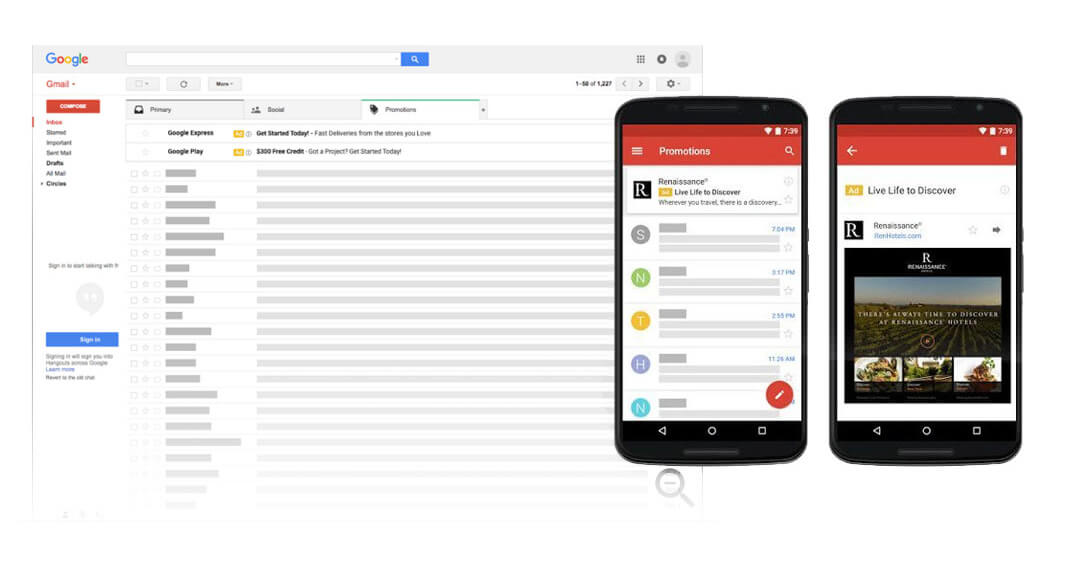 As we mentioned, your ads should be everywhere your customers can be found.
So, after running Google and social ads, you might want to take things a step further by hitting your customers right in the inboxes. 
The most effective way to use Gmail ads is by targeting the keywords your competitors are using.
These customers might be receiving product emails from your competitors. By targeting them using the same keywords your competitors are using, you'll be providing them with an alternative option and more reasons to consider buying from you. 
#28 Give as many Free Gifts as You Possibly Can
Customers love free stuff. 
The more free stuff you give, the more your brand will be in good graces with your prospective customers.
And the more your customers see your brand in a positive light the more sales you're likely to make. 
#29 Content that targets Different Market Segments
Create content that targets different market segments. Take your time to study each market segment, after which you're to create tailored content for each audience.
Writing tailored content should help you draw in different types of customers. It's also an excellent opportunity to express your expertise across industries. 
Keep in mind that each audience segment will need a full landing page for easy monitoring.  
#30 Install a Live Chat
Live chats are an excellent way to generate eCommerce sales.
You can also use them to respond to any questions your prospective customers may have. 
Studies show they're more preferred than contact forms, especially for immediate responses. 
There are so many ways your business can benefit from contact forms. For instance, you could use them to collect your customers' contact details.