How to Limit Comments on Instagram
Spams, trolls, and hater comments are like the weeds of the internet– annoying and difficult to get rid of.
You do everything to keep your Instagram page fresh and organised. Then someone comes out of nowhere and ruins it with irrelevant or inappropriate comments or (worse) unsolicited opinions in the name of advice.
It may seem like the only way to maintain control of your page is to delete comments –but don't worry, there's another way to keep the comment section of your Instagram page troll-free and spam-free.
Let's find out how, but first, a quick rundown of the basics:
What's an Instagram Comment?
An Instagram comment is a message or response an Instagram user leaves on an Instagram photo, video, or reel. Every comment carries the username of the commenter and a timestamp, and it may contain hashtags, emojis, or links.
Users can even leave a reply on a comment, creating a "comment thread."
Unlike direct messages (which go to the user's inbox and can only be viewed by the sender and receiver), comments are visible to everyone who visits the post.
To leave a comment on an Instagram post, tap on the speech bubble icon below it or the lower side of a reel.
Image Description: Example of Instagram Comment
Image Link: https://wsi.li/dl/8nFs8h6CZTRC9kQL2/
Why Are Comments Important?
Instagram comments are more than a response to a post. They're an important part of the perceived authenticity of your brand. By just looking at the comments, people can get an idea of what your followers think about you and your content.
Comments are Good for Building a Community
Comments are the only way your Instagram followers can communicate with you or each other. It encourages engagement, provides a platform for customers to ask questions, and lets you put your brand's personality out there.
Comments Are a Ranking Signal for Instagram Algorithm
Instagram's algorithm is somewhat mysterious. But according to Hootsuite, the three most important ranking signals for Instagram are:
The relationship between the creator and viewer

The level of interest the user has (based on how they're interacting with the post)

How relevant the post is to them (based on timeliness, engagement and the content itself)
As you can see, comments are at the centre of Instagram's ranking system. The more users engage with your posts, the higher it's likely to rank on Instagram.
Comments Are Also a Great Customer Service Tool
Some users aren't huge fans of sending DM's, especially if it's a complaint. They'll air their grievances right there in the comments section. You want to reply to these comments quickly, as it demonstrates your commitment to customer service and satisfaction.
Image Link: https://wsi.li/dl/Fbi4rE727fnJEAiTz/
Image Description: A screenshot of an Instagram comment as a customer service
Comments Show Potential Buyers that You're Legit
Buying Instagram followers may seem like a viable way to make your brand look reputable, but it's not. Bot followers don't usually comment. And even if they do, their comments will be unhelpful or irrelevant.
Comments from real followers show potential customers that your brand is active and engaged with its audience. It's a great way to add credibility and trustworthiness to your page.
Why You May Want to Limit Your Instagram Comments
It isn't all rosy with comments: spammers, trolls, and haters can quickly turn the comment section of your page into an unpleasant space.
Plus, not everyone is in for healthy competition. Don't be surprised to find some of your competitors using the comment section to attack your brand.
That said, here are some of the reasons you may want to limit your Instagram comments:
To reduce spam and inappropriate content

To discourage competitors from posting negative remarks

To provide a safe space for your community

To keep the conversation focused on relevant topics
What Do We Mean By Limiting Instagram Comments?
Limiting Instagram comments isn't the same as disabling the comment section altogether. It simply means you have control over who can comment on your posts and what kind of comments they can leave behind.
Instagram introduced this feature in 2021 (called Limits and Hidden Words), following the racist abuse directed at UK footballers on its platform. The new feature allows users to block certain words from appearing in the comment section and lets them choose who can comment on their posts.
The Instagram Comment Limits Feature
After Instagram realized the bullying and trolling happening on the platform, it decided to introduce the limit feature. In addition to blocking specific Instagram users, the feature lets you manage the comments coming in by group rather than individually.
Instead of disabling the entire comment section, you can limit it to long-term followers or those you've built a relationship with. That way, when new followers try to comment, the platform will hide it until you manually approve them. You can also use the limit feature to block comments from users who are not following you or have a low follower count.
So, How Do You Limit Comments on Instagram?
Remember that the Limit feature is only available on the Instagram mobile app. As of this writing, Instagram hasn't released the limit feature on its desktop version.
To get started:
Go to your

profile

and tap the

menu

icon at the top right corner of the screen.

Tap

Settings

, then

Privacy
Image Link: https://wsi.li/dl/Q2AtfpoLFKdyJymQ9/
Image Description: A screenshot of the screen on how to limit comments on Instagram
Select

Limits

(marked

Off)
Here, you can temporarily turn off comments from accounts that aren't following you or those from recent followers.
The two options will be checked by default, with the time limit set to one week. You can change this time length to whatever you length like.
Tap "Turn on," and that's pretty much like it.
You'll see a brief message confirming that you've turned on limits.
You can tap on the arrow icon at the top to exit and return to the privacy settings.
In most cases, the accounts not following you are spam or fake accounts, while those that started following you recently are probably trolls.
It's important to watch for comments that haven't gone through the filter, especially if you have a large follower base.
How to Limit Comments on An Instagram Post
If you don't want to limit comments on your entire Instagram profile, you can do it on individual posts.
To do this, go to the post and tap the comment icon (below, next to the Like icon).
Next, tap the three dots icon in the top right corner (at the top of the post).
This is the "Comment Controls" menu.
Here are some of the options you'll see:
Here, you'll see all the post's comments. You can select the comments you want to Delete, Restrict, or Block.
For example, to delete a group of comments, just select all the comments you want to delete and tap on delete.
Do the same for the comments that you want to Restrict or Block.
You can also completely switch off the comment section when you post.
To do this, go to the "Comment Controls" menu and select Turn Off Commenting.
That will stop people from commenting on your posts, and any comments already made will be hidden.
Under "For all Posts," you can play around with a few privacy settings for all your posts in one go.
Any change you make here will affect not only the post you're working on but all the posts, including future ones.
Under "Hide More Comments"
Hide Comments: This option allows you to hide offensive comments on your posts, reals, and videos in a separate section.
You can then choose to approve or delete these comments at any time.
Image Link: https://wsi.li/dl/Cnht9PXjexLYS5Dzq/
Image Description: Image: A screenshot of Instagram's comment control menu. How to enable hide comments.
Advanced Comments Filters: This is an extra layer of protection for your posts.
It lets you filter out comments with particular words, phrases, and emojis. All these comments will remain hidden until you decide to review and approve them manually.
Hide Message Requests: When you enable this option, offensive messages will be moved to a hidden request folder. Instagram will automatically filter your messages for offensive content and move them to the folder.
You can review them anytime and choose to delete or accept them.
Custom Words and Phrases: Here, you can add custom words and phrases that you find offensive or inappropriate.
All comments containing these words will be hidden, and you'll have to approve them for them to appear on your post.
Hide Comments: Comments that contain the words on your list will be hidden.
You'll still be able to see them, but they won't be visible to anyone else.
You must review and approve these comments before they appear on your post.
Hide Message Requests: Messages containing the words on your list will be hidden.
You can review them in a separate folder and decide whether or not to approve them.
More Post Settings
These can be accessed when you click on a post and click on the three-dotted lines above it.
Allow Remixing:

This option allows anyone to create a reel with your post and download it as part of their remix. Instagram doesn't allow this by default, meaning you must turn it on if you don't mind people remixing your post.

Archive

: This will archive the post so it's not visible on your profile but still accessible through the URL. You can access archived posts in the "Archive" tab.

Hide Like Count:

This will hide the like count from your post so people can't see how many likes it has.

Turn off Commenting:

This will turn off comments on the post and prevent anyone from commenting.
With these options, you can easily control who sees your posts and limit comments on your Instagram posts.
How to Block Someone from Commenting on Your Instagram Posts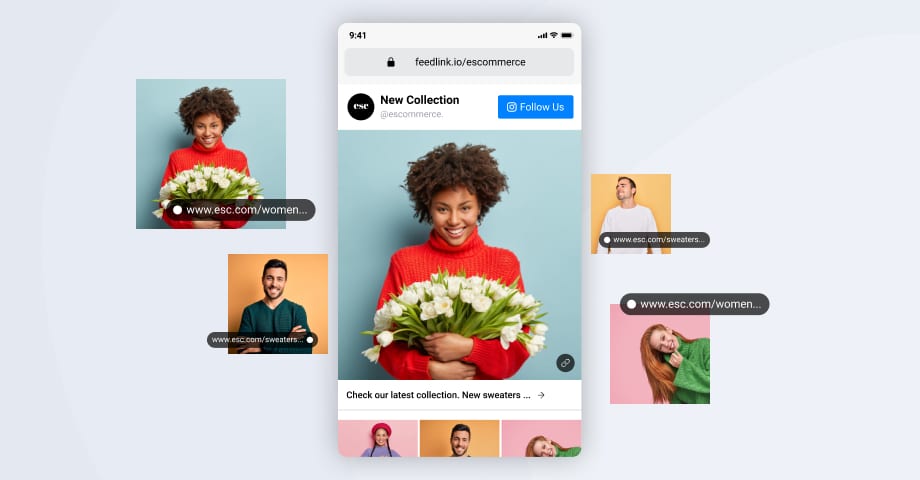 Instagram also allows you to block individual people from commenting on your posts, like a relentless troll or spammer in your comments section.
You can easily block them by tapping your profile => Settings => Privacy => Comments => Block Comments From.
Image link: https://www.wesendit.com/dl/JiMQEaixMjbEFojfn/
Description: A screenshot of How to Block Someone from Commenting on Your Instagram Posts
You can then search for the commenter's name and block them from commenting on any of your posts.
To unblock them, just follow the same steps and select Unblock.
That will allow them to comment on your posts once again.
View Limited Comments
Enabling the limited feature doesn't mean the followers will be barred from commenting on your posts. Rather, their comments will be marked as limited and won't appear until you manually approve them.
You have three options here:
Delete the comment: This

will delete the comment and prevent it from appearing on your post

Approve the comment:

Doing so will make it visible to everyone

Block the user:

This will prevent the user from commenting on your posts in the future.
To view limited comments, click the comment icon to view the post.
Select "View All Comments" and then "See Limited Comments."
Here, you can approve, delete, or restrict the comments as you see fit.
For Android, tap and hold the comment to bring up the delete and approve options.
On iPhone, tap "Manage Comments" and choose your preferred option.
You can choose to Approve, Block, or Delete and follow the prompts to complete the action.
View Limited Messages
The limit feature isn't restricted to comments only.
It will also block any messages sent to you from non-followers or recent followers.
To view limited messages, tap on the "Message" icon in the top right corner of your profile.
Select "Requests" and "Hidden Messages" to view the blocked message list.
Like with limited comments, you can Accept, delete, or Block the sender.
Alternatively, you can remove all hidden messages by tapping "Delete All" at the bottom of the screen.
Setting limits allows you to control the conversations on your profile.
The feature helps you reduce the chances of encountering offensive or inappropriate comments and messages from people who don't follow you.
How to Limit Who Sees Your Instagram Posts
You can also limit who sees your Instagram posts.
That's especially useful for posting personal pictures or stories you don't want to be seen by everyone.
Go to your profile > Menu > Settings > Privacy > Private Account (enable it) to do this.
That should adjust the privacy settings for your posts so that only people you approve can view them.
What's the Age Limit for Instagram?
The minimum age required to use Instagram is 13 years old.
That applies to all countries, even those with lower age limits for other social media sites.
It's important to ensure your child is of age before creating an account on Instagram or any other social media site.
You can also use the app's privacy settings to ensure that only people you know have access to their accounts.
Final Wrap up
Growing an Instagram has never been easy for anyone. You do everything right, regularly post interesting content, and still don't get the attention you deserve. The problem isn't necessarily the content you post but how you manage it.