Web forms are at the heart of every design project, and web designers need to master how to design web forms. Forms are an integral part of any site after taking centre stage for more than 2 decades, many designers are still having trouble designing web forms that resonate with the users.
Why use Online Form Builders?
If this is your first encounter with online form builders, you may be wondering, "Why do I need one?"
Online form builders are a must-have tool in any marketer's arsenal since they allow you to create website forms. You can use them to do the following:
Obtain new leads

 

Find out about emerging trends in the market

 

Conduct market research

 

Obtain feedback and testimonials from customers

 

Increase or add new subscriptions to your newsletter
There really are numerous applications for your online form builder on your website, as we've seen above.
Now that you know why you should utilise online form builders, let's look at what constitutes a good online form builder.
What Makes a Great Online Form Builder?
All online form builders operate in a fairly easy manner. There are, nevertheless, several factors that separate average form builders from exceptional form builders.
As an entrepreneur, you'll need the best and most effective form builder available. But, how do you choose the ideal one among all the possibilities?
Here are some criteria to consider while selecting the best website form builder for your company.
A superb form builder has an easy-to-navigate panel that allows you to create a form with a large range of templates quickly.
Because your forms are a reflection of your brand, the ability to modify the colours, logos, and style of your forms is critical for establishing a better perception of your clients.
Online form generators that enable users to access their favourite programs while using them are pretty useful since they reduce the need to access numerous programmes at the same time. 
This way also contributes to the long-term viability of your website.
The information you acquire is useless unless you have the methods to analyse the data. 
Built-in metrics in any generator will provide a clear image of a form that may need to be tweaked for higher performance.
It goes without saying that you will require assistance. Therefore, a great tool is one that has customer support that will help you whenever you get overwhelmed.
In this article, we look at the challenges facing web designers while designing web forms as well as how to design web forms.
---
How Not To Design Web Forms
1. Label Everything
Most web designers feel like in-field labels improve the appearance of the page. Unknown to them is that is actually one of the common form design problems. While web forms are integral to web pages, users deem them as the least aesthetically pleasing on-page design elements.
In-field labels pose a significant challenge not only to cognitively impaired people but for everyone. This is because most people fill the forms on autopilot and do not pay attention to what they are entering in the fields.
It is therefore important to have in-field labels that remind the user what information they are supposed to enter. With that said, this does not mean that you should only stick to the standard form design practices.
The solution here would be to have them magically despair when a user clicks on the field, or if you have time for it, you can add them above the fields. You could also make the labels remain persistent when the user starts to type in the details.
2. Removing the Option of Signing Via Social Media
Most users prefer a one-click sign in, and while most would be at pains handing out their social media credentials, it is a time saver. It might also not be a future-friendly option, given that social media networks can close down, case in point, Vine, but it is more satisfying than having only one option.
For most users with a social media account, especially Facebook or Twitter, it feels as though they have the key to the entire internet. Besides, using social login takes out the hassle of filling out several fields.
With that said, there is a multitude of reasons why you would opt out of using social media log in, but designers looking to learn how to design web forms should make it easy for the users to use social login.
If you decide to use social logins, ensure to undertake the following
Give users an email login option, in case they are not comfortable giving out their social media credentials
Outline what the website will and not do when they get access to the users' social media accounts such as making a post without their consent
3. Use Terms Such As "Invalid" In Error Messages
Terms such as invalid when used on error messages are a bad omen to the website's user experience. This is because some users have special characters in their names and other details required in the web forms.
Using such terms is not only offensive, but it is also not helpful since it does not explain what a valid entry should look like. The goal when writing error messages is to be helpful and informative. Read more on the effects of terms such as invalid in error messages.
4. Asking the User for Their Username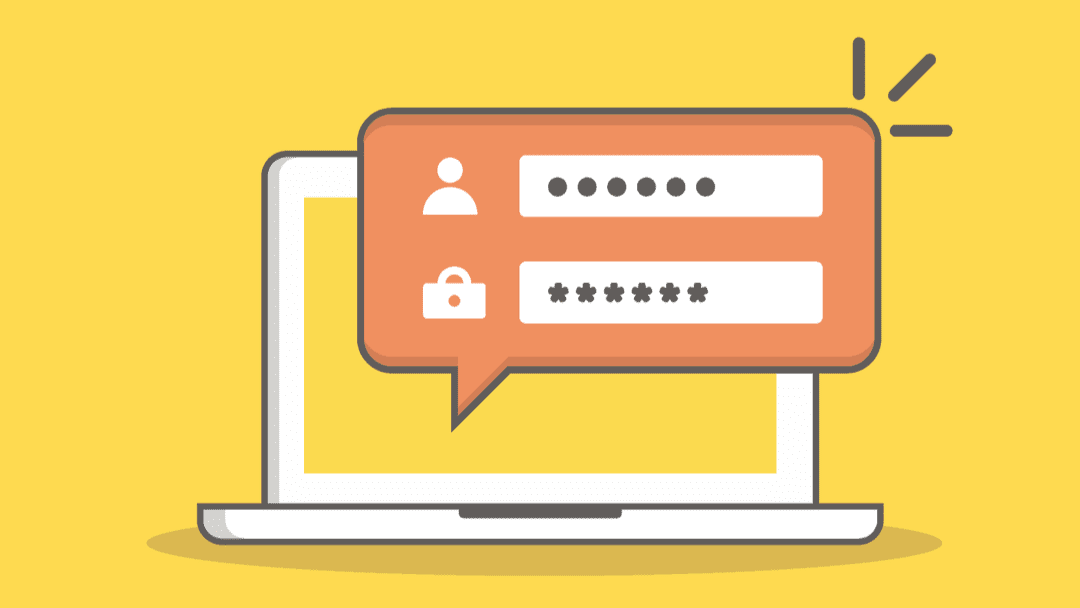 User anonymity on the internet is now more negligible than ever, and asking for a user's username is only allowed if you need a security layer between the users' avatar and their identity. However, you should do away with this option if you do not have a major security concern.
For most people, it adds an unnecessary cognitive load, which increases the chances of the user clicking on the "Help me login" icon. With that said there are some websites where it is necessary, but for most websites, it is not necessary.
Users carry a general feeling that you are trying to make their life harder than it already is, and so if you ask for a username, you should tell them why it is necessary that you need them to input their username.
5. Hide All the Need-To-Know Information from the User
There is nothing worse than finishing filling out a web form only to be given details about how you need to create a username or password. It is frustrating since the information was not available when you started.
Most users feel that it is necessary that you outline the information of what needs to go to the fields, such as the users should avoid the use of spaces, special characters, and more. However, this is not only applicable to the login form design, but it applies to other parts of the website, and this will streamline their workflow and boost user experience.
6. Hide What the User Is Typing
This is a common phenomenon when a user is typing the details in the form fields; they display bullets instead of the actual character. This is used as a security protocol just in case someone is looking over the user's shoulder.
However, most people log in to their online accounts in the comfort and privacy of their homes or offices, and it is not necessary that you should design the web form without allowing them to see what they are typing.
However, there is a new hack; you can give the user the option of viewing the information they are typing using the information reveal icon. This gives users the option of typing in the details blindly or making the information visible.
7. How to Improve Your Web Forms
Looking at the above points, the only thing you need to master when learning how to design web forms is to ensure that there is excellent communication. This includes
Making the in-field labels visible instead of vanishing when a user clicks the field
Avoid words such as invalid in error messages
Reveal the need-to-know information beforehand
Allow social and email sign in options
---
The Top 10 Web Form Builders for Creating Powerful Forms
Anyone could be skilled at directing traffic to a website; however, that's half the achievement considering you have to turn that traffic into valuable leads.
In fact, 61% of marketers believe the most challenging aspect of their internet business is getting traffic and leads.
Fortunately, you don't have to go to great lengths to reach a resolution for lead conversion. Now there are Form Builders.
To turn browsers into buyers, you'll require any of these online forms to enable you to capture leads, increase user sign-ups, track free trial subscriptions, and monitor comments.
Online forms are useful in various circumstances, whether you're marketing a product or a service. Furthermore, they reveal who your clients are and whether they are really interested in your products.
In this piece, we will present you the top ten website form builders in 2022 that you can use, as well as what makes each one unique.
However, before we dive into our list of the best online form builders, let's first discuss what form builders do and what constitutes a good one.
In this section, we'll look at the top website form builders, both free and paid, that you may use. Each web form builder offers a distinct collection of characteristics, including the pros and cons of each tool.
Let's get right into it and look at 10 of the best online form builders in 2022.
When it comes to creating simple forms, Google Forms is a user-friendly alternative. 
Based on your google account, it allows you to generate forms for personal use as well as your organisation.
The application provides templates and tools for creating surveys and polls, choice quizzes, linear scale fields, standard textboxes, and so forth. You may also add photographs and integrate online videos with the tool.
Like all other productivity features, Google Forms is available for free for personal use.
On the other hand, Google Workspace starts at $6 per user per month for Business Starter, $12 per user per month for Business Standard, and $18 per user per month for Business Plus. And it has a lot more features depending on your plan.
Pros:
With a plethora of functions, it is simple to use

It is robust

Google Forms is completely free

Various application integrations

Easy-to-use user interface

It has a form designer menu that is functional
Cons:
There is no payment integration (they are not Payment Card Industry (PCI) compliant)

There are only a few templates.

Design skills are limited.
---
https://www.youtube.com/watch?v=Un3QjF3T410
Companies that want to generate leads utilising online forms would love what HubSpot Forms offers.
The HubSpot Form Builder has a drag-and-drop functionality that allows you to create sophisticated forms easily.
Because the programme interfaces with the HubSpot CRM, it is an excellent choice for gathering feedback from individuals via forms.
Several pre-built form templates are available in the builder, such as newsletter subscription, contact us, conference registrations, and much more.
And the forms can also be formatted in a variety of ways. You can start by choosing between the standalone banners or the integrated, popup, and slide-in banners.
Pros:
It has extensive features

It is marketing oriented

Simple customer identification and lead generating

WordPress integration is seamless

It is beginner-friendly
Cons:
For easy tasks, HubSpot is excessive

CMS environment is limited in terms of plugins and themes
---
Ninja Forms is a WordPress form builder plugin that allows you to create forms for your WordPress blogs. You may rapidly construct any form using both basic and complex elements.
Ninja Forms allows you to incorporate multi-step forms, email marketing tools, conditional logic, and interaction with CRM platforms such as Salesforce and Zoho.
To have full access to the premium features, you can purchase addons individually for $29 to $129 each. Upgrade from the $99 Personal plan to the $199 Professional plan.
For $499 per year, you can upgrade to the Agency plan, which includes unlimited sites, CRM integrations, comprehensive analytics, and more.
Pros:
Forms are well designed

Best for a unique collection of features

Excellent for both beginners and developers

All WordPress themes are seamlessly integrated
Cons:
There is no free plan

Pricing is a bit costly as compared to other generators
---
Building a website requires a lot of effort, and Jotform can bring you closer to your email campaigns services and make your processes smoother. It's a straightforward form builder with several basic free layouts to choose from.
It features payment integrations, plugins, and third-party tool integrations, and there are 10,000+ free templates.
On the freemium model, you have a 5-form restriction. In addition, you'll get up to 100 monthly submissions with only 100 MB storage.
For all features included: The Bronze plan is available for $24 per month. The Silver plan starts at $29 per month, and the Gold plan starts at $79 per month.
Jotform interfaces with Dropbox and Google Docs, as well as a variety of other plugins that allow you to add extra functionality.
Pros:
It contains over 10,000 templates

It has up to five forms and 100 monthly submissions on the freemium model

Mobile form builder app for creating forms on the go
Cons:
There are no CRM functionalities

There are restrictions on the number of forms you can create
---
Typeform is worth a look if you like elegant design. It enables you to develop excellent form designs that are really appealing.
The tool includes a variety of useful features for creating visually appealing forms and surveys. 
If you don't have a huge budget for a form builder tool, it's an excellent choice for web forms with various question types and third-party connectors.
You can use logic leaps in Typeform to tailor the participant's experiences. You can also divide your form's visitors into different channels.
Typeform has a free plan; however, it is limited to 10 questions for each form and 10 responses monthly. 
Additional features begin at $25 per month for a Basic plan and include 100 monthly answers, limitless forms, logic jumps, and more.
Pros:
It features lovely templates and design

It offers a free plan

Integrations with third parties

Includes a variety of question types
Cons:
The free plan is extremely limited

When compared to other form building tools, it is somewhat pricey
---
If you want to obtain qualitative data and analyse it using comprehensive reports and precise insights, Wufoo is among the top web form builders. 
The tool, which is used by big brands such as Amazon, Disney, Microsoft, Twitter, and other brands, allows you to collect data, assets, surveys, and even online payments without having to code.
Wufoo offers a free plan with up to 5 forms, with 100 entries and 10 fields. However, for $14 per month, you can obtain the Starter plan, which includes up to 10 forms with 1,000 entries and unlimited fields.
More comprehensive plans are available, including the Professional plan at $29 per month, Advanced plan at $74 per month, and Ultimate plan at $183 per month.
Pros:
Simple and straightforward to use

It offers a free plan

The best option for developing custom form data reports

Over 40 languages are supported

It is compatible with WordPress, Mailchimp, and Dropbox
Cons:
In comparison to other builders, there is no comprehensive back-end

The free plan includes fewer features
---
Cognito Forms is a great web form builder for making efficient yet straightforward forms. 
You can change your forms and make them a perfect match for your brand by using numerous design alternatives. Other benefits include conditional logic and payment interfaces.
Thanks to the tool's drag and drop functionality, anyone can use the tool for free, producing purchase orders, registration forms, and feedback forms in seconds.
After you've customised your template, you can upload or share it and have emails delivered directly to your inbox whenever a prospect fills out one of your forms.
The free plan includes 100MB of storage with limitless forms, while prices gradually increase up to the Enterprise plan, which provides up to 100GB of storage with unlimited forms for only $99 a month.
Pros:
The form builder features drag-and-drop functionality.

It is affordable

There are over 100 mobile-responsive form templates

Payment interfaces are available, even on the freemium model
Cons:
Inadequate analytics and reporting

On the free plan, storage capacity is limited
---
Zoho is a well-known CRM tool with several connectivities and automation options. As a result, adopting Zoho Forms gives up a plethora of possibilities for expanding your business.
Zoho Forms is an easy-to-use form builder that includes all of the major features of a generator as well as a few extras, given you have a freemium or a premium model.
These features include payment service interfaces such as PayPal, multi-page forms, and a mobile app that allows you to capture information on the move, even when you're offline.
Zoho provides a freemium model with only 3 forms and 500 submissions per month before requiring a subscription. 
The larger plans begin at $8 a month for a single user and include unlimited forms and 10,000 submissions per month for the Basic plan.
Pros:
Automation and adaptability

The builder includes a plethora of useful features

Offline data collecting through a mobile app

A freemium plan that allows you to receive a limited number of payments
Cons:
The free plan is limited to 3 forms, 500 submissions per month, and 200MB of file storage.
---
Gravity Forms, like Ninja Forms, is a web form generator for WordPress that allows you to develop contact forms, collect payments, and so on, exclusively for your WordPress website.
Gravity Forms is solely focused on assisting you in creating an exceptional form, with prices starting at $59 per year for the Basic plan, which includes unlimited forms and entries for a single site. 
The tool hooks into the back end of your WordPress website to make forms development efficient and straightforward.
Simply add it from the subdirectory, and you'll be fully operational in a few minutes. The majority of the forms can be incorporated with WordPress; however, Gravity Forms maintains everything in one location.
Pros:
The tool is easy to use

It has a drag-and-drop interface

Integration with both Zapier and HubSpot

It has both basic and advanced form fields
Cons:
It is among the costliest form builders

It has few designs options

There is no free plan
---
Formstack allows you to construct lovely forms without functional requirements such as coding. 
It has a drag-and-drop form generator with dozens of templates to help you start your surveys as soon as possible.
You can modify your form with additional features as needed and apply conditional logic to improve the user experience.
Furthermore, Formstack assists you in creating Section 508 Compliant Forms that are available to the public, irrespective of handicap.
Analytics, email notifications, and webhooks are also included, which allows you to collect online signatures directly and easily authenticate transactions.
There are no free plans for the Formstack tool, and the most affordable one costs $50 a month, which is a Starter plan. The plan includes 20 forms and 1000 submissions per month. 
Pros:
Easy to use

Best for optimising forms for increased conversions

A large number of business-oriented templates are available

Data collecting and advanced analytics
Cons:
Bottom Line: Top 10 Best Website Form Builders in 2022
As stated at the outset of this article, the greatest website form-building tool is one that is easy to use, incredibly customisable, provides analytics, and fulfils your specific requirements.
With all of the form builder tools featured above, it can be challenging to choose the best. Every one of those generators has its own appealing characteristics, and they all allow you to easily create a wide range of forms.
If just one of their distinctive aspects caught your attention, give it a shot and see whether it fits your business.
---
Conclusion
For anyone learning how to design web forms, you should be focused on communicating effectively with the user. On top of this, limit the questions to need-to-know information, and you will be designing web forms that improve user information in no time. Contact us for professional web design services in Singapore.