Are you looking for information on how to boost Facebook posts?
You use a lot of time crafting content to post on your business Facebook page. But with a reduced organic reach, you will not receive a decent ROI.
This is the point where it is crucial to boost your posts.
This feature is available to anybody with a business Facebook page.
Promoting a post means paying for a post on Facebook to increase its reach. This is one of the best ways of advertising through Facebook in Singapore.
---
Advantages of Boosting Facebook Posts
Control: You can manage your post after publishing it. For example, you can choose to stop boosting a post or decide to promote a different post.
Ease of use: Your post goes live immediately once you click on the button "boost your post." Only Facebook will review it for some moments and then start showing it to an increased audience. Also, you can boost any type of content.
Targets a wider and specific audience: Your post will reach a broader audience than your list of followers. You will be able to set the aspects for the types of audience that sees your posts — for example, the location and demographics.
A solution for a reduced organic audience: Facebook's goal is to fill newsfeeds of individuals with content from family and friends and not brands. Their boosted posts option can assist you to achieve that.
Access to analytics: Facebook Insights gives you a detailed summary of the functioning of your boosted posts. Open the insights tab on your Facebook business page and click on posts to see the performance of all your posts regarding shares, comments, reactions, clicks, and reach. You will have a chance to boost your other posts that performed well and have not been promoted.
---
Features of Boosting Facebook Posts
The content in Facebook's boost post is up to you to decide.
You can boost anything you wish, be it a call to action, a promotion, or an announcement.
After that, you need to focus on three elements:
Audience: Adjust the parameters for the people you want to see your posts including their interests, location, sex, and age, Also, you can generate lookalike audiences from individuals who have already exhibited interest on your brand, or custom audiences from your existing contacts.
Budget: You have the power to decide on the amount you want to spend, starting with a budget of $1 daily.
Duration: Boost your post for a specified period.
---
Cost of Boosting Posts on Facebook
Promoted posts, like any other means of social media advertising, come at a price.
Rather than paying per post, or click, you set your budget. So, you can spend the amount you wish. The least possible budget is $1 a day. However, the higher the budget, the more reach you are going to get.
Facebook advertising provides you with the approximated reach for each target audience and budget level.
For example, you could be targeting people living in Singapore over the age of 20, $5 will reach between 500 to 2,040 individuals. The numbers vary depending on your target audience.
If you want to determine the amount that Facebook will charge you to boost a post, the best method is to try out the variables and find out by yourself. You will get an approximate cost long before you make payments.
---
How do you Boost Posts on Facebook?
Here are the steps you need to take when you want to boost a post on Facebook:
Select the post you need to boost
If you are creating a new post, click the grey "Boost Post" button on the bottom-right corner of your page.
If you want to boost a post that already exists on your timeline, click the blue "Boost Post" button on the bottom-right corner of your post box. Otherwise, you can visit your insights page to see all your existing posts. You will see the "Boost Post" button next to each post.
Choose your target audience
A menu where you can set the parameters of your target audience appears after clicking on the Boost Post button. You can target a specific demographic depending on the interests, sex, location, and age. If you wish to generate a custom audience, click the "Create New Audience" button. From here, you can define your audience in any way you would like.
After defining your target audience, you need to choose a budget for your posts.
Since you have a target audience, you can gauge the reach of your post under each budget level and determine the most effective for your needs.
Set the duration of the boost
Decide on the period you want your ad to run. Usually, you can choose one day, seven days, or 14 days. Or, you can decide to run a boosted post until a specific date.
Take some moments to review the post to ensure it looks good, all the links work, and is free of errors.
Facebook accepts payments from all payment methods you might expect. You only need to add your details if they don't exist on Facebook.
You are now ready to boost your post! Facebook reviews content in all boosted posts, so it can take some time before publishing your ad.
You can track the status of your post at any time by checking the Delivery section in your Ads Manager.
---
Tips for Boosting Facebook Posts
Set clear goals: Are you trying to increase your brand awareness? Do you want to generate more likes on your page? Do you want to increase traffic to your site? Understanding your goals can assist you to create a call to action a logical call to action and determine the effectiveness of your boosted post.
Try out various demographics: Boost your post to different target audiences to determine the one that gives the best results. You can section your audience based on age or location to see the factors that are most effective for your business.
Narrow down your audience as much as possible: Segment your audience using different parameters to increase the relevance of the audience seeing your post.
Don't run an ad for too long: Facebook says that the results of any boosted ad decline after running it for a week. So, don't let your ad run longer than a week.
Compare and experiment different posts: Try out various boosted posts, including different durations, audiences, and types of content. You can access all your existing posts. Testing different ads will assist you to determine what works best for your brand and craft future posts based on that.
Boost your posts automatically: If you use Hootsuite, you can create customizable rules depending on a specific keyword, the number of comments, shares or likes to boost your best Facebook posts automatically direct from your Hootsuite dashboard.
You can reach thousands of people who may have never heard about your brand using a boosted Facebook post for a few dollars.
To get the most out of your Facebook marketing, boosting posts is one of the best strategies to use.
Get in touch with us for custom social media marketing services in Singapore.
We will do everything possible to ensure that your business wins.
---
Top 10 Facebook Marketing Tools For Accelerated Growth
Boosting your Facebook posts will increase your reach and enable you to achieve your marketing goals.
However, you cannot do everything manually.
Thanks to new technology, there are intelligent Facebook marketing tools that you can count on to accelerate your business growth.
Top 10 Facebook Marketing Tools
With the many Facebook marketing tools available in the market, brands are spoilt for choice. Not all the tools are legit and deliver on their promises. We spent the last three months researching, and here is our list of the top 11 Facebook marketing tools for businesses.
EdgeRank Checker

AgoraPulse Contest
Let us dive in and briefly look at the key features of each of these Facebook marketing tools. We will also discuss how they can enhance your Facebook marketing campaign.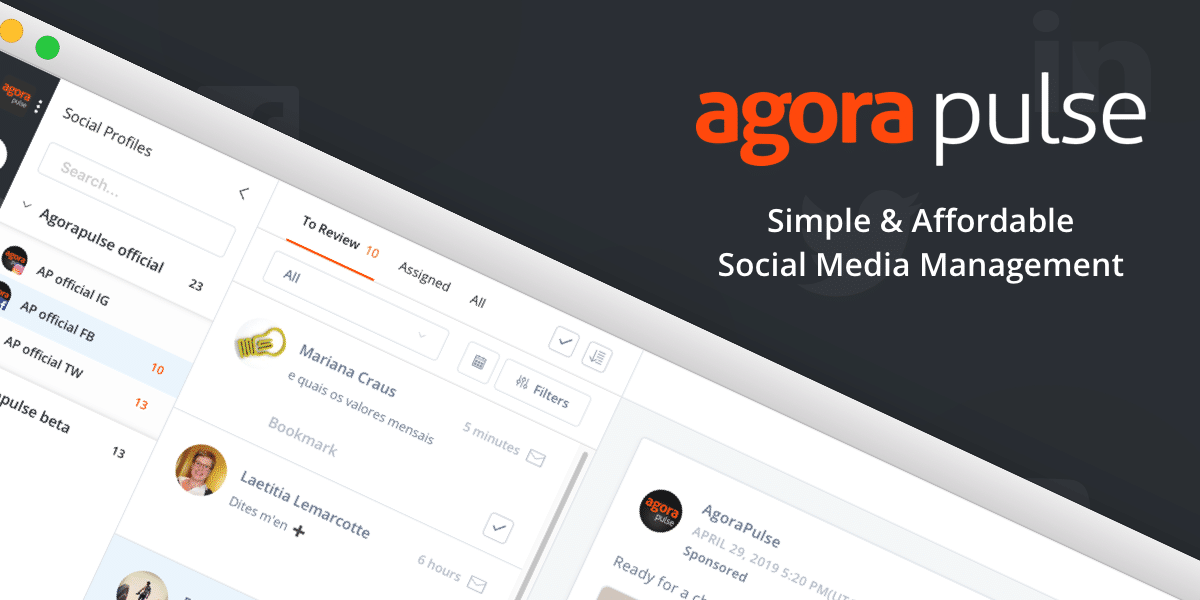 When doing social media marketing, it is imperative to keep your audience engaged.
Out of mind, out of sight, create a content posting calendar and stick to it to achieve this goal.
However, there is no guarantee that you will find time to edit the posts. There is also the risk of forgetting to post on days you are swamped up with work.
Agora Pulse will come in handy to help you schedule posts for the whole week or month. It comes with an intuitive dashboard that makes the scheduling process easy. You can also use it to launch different campaigns like:
Coupon offers

Photo contests

Fan vote

Personality tests

Quizzes

Instant win contests

Sweepstakes and more
The tool also goes the extra mile to monitor the campaign performance and present the data on the analytics page. Experiment with the free plan but consider upgrading to any premium plans to enjoy more benefits, such as an increased number of content participants.
The success of your Facebook marketing campaign is based on how well it is designed. You also need to monitor the results continuously to know if the campaign is headed in the right direction.
If not, you will just be shooting in the dark and achieving the desired results will be an uphill task.
ShortStack is a little Facebook campaign tool that you can use to create different types of campaigns.
It has templates to get you started and a user-friendly visual editor to ensure every post you publish is stellar.
Unlike before, when marketing teams would take up to a week to launch a campaign, with ShortStack templates, you can launch your first campaign in the next five minutes max. Change the settings to match the nature of your campaign.
Like the previous Facebook marketing tool, we recommend upgrading to the paid plan to get more features.
For example, the paid plan removes the ShortStack branding on posts and only displays your brand's logo and messaging.
Like other business pages on other platforms such as Instagram, your Facebook page should be managed well to connect with the target customers, generate organic traffic, and leads.
One sure way of achieving this goal is by monitoring your competitors' pages.
It is not easy to do this kind of analysis due to the many factors that must be considered.
Facebook Page Barometer by AgoraPulse is designed to make the process easy by capturing essential statistics such as:
Page content virality

Engagement levels

Reach

Feedback and more
The data is compared with similar business pages that target the same audience and have an equal or similar number of followers.
One of the highlights of this tool is that you can define the page size to be evaluated to get accurate insights.
Under 1,000

Between 1,000 and 10,000

Between 10,000 and 50,000

Between 50,000 and 100,00

More than 100,000
Consequently, the bigger the number of followers on a page, the more data and reports.
Take time to analyse the data to make the right decisions. We recommend hiring a reputable social media marketing agency to do the analysis for you.
EdgeRank Checker is a favourite Facebook marketing tool to thousands of marketers from across the globe.
The tool has been around for more than six years and has undergone tremendous changes to match market trends and needs.
With this tool in your digital marketing arsenal, you will get a complete overview of your Facebook page performance.
The data is captured in real-time and presented using visuals such as graphs and charts for easier interpretation.
It will also generate a score based on the optimisation of the page and provide recommendations for enhancing it. There are also advanced features in the paid plans that you can leverage to move the needle.
In the above heatmap generated by the tool, you can tell the days when most followers are online.
This information will be instrumental in deciding the best days and times to post new content on the page.
Monitor the engagement level different posts achieve to know which form of content best resonates with the audience.
Use the two-week trial plan to test its suitability for your brand. After that, you will be prompted to upgrade to one of the premium plans.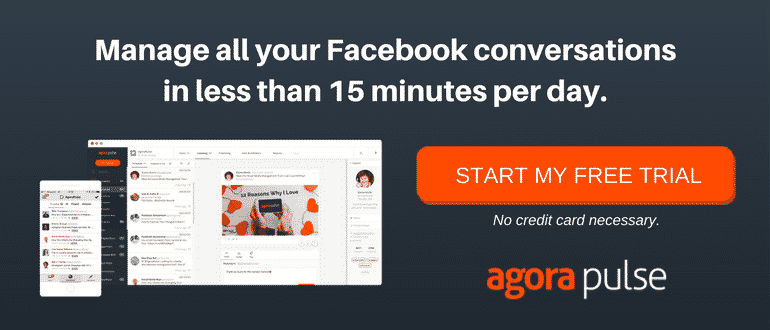 First, AgoraPulse is one of the companies offering various social media marketing tools.
AgoraPulse is one of its premier tools that are designed to help increase your Facebook page engagement levels.
It enables marketers to create contests that capture the audience's attention. These contests align with Facebook requirements, so your chances of being banned are nil.
Here is an overview of the different types of contests you can run using the tool to engage with audience effectively.
Sweepstakes: Sweepstakes are contests where the winners are picked randomly from the pool of participants. The contest is open to all your followers, but you can segment it into different groups based on factors such as past buying patterns.

Quiz: Quiz content involves asking the followers/fans intriguing questions about your brand or industry. Winners are picked and rewarded accordingly through the app.

Photo contest: As the name suggests, this contest entails requesting fans to comment on a photo posted on the Facebook page.

The participant whose comments get the most likes or replies wins.
You should have different winners for each contest.
With AgoraPulse Contest, you can save winners' details for reference and prevent them from being selected in future contests.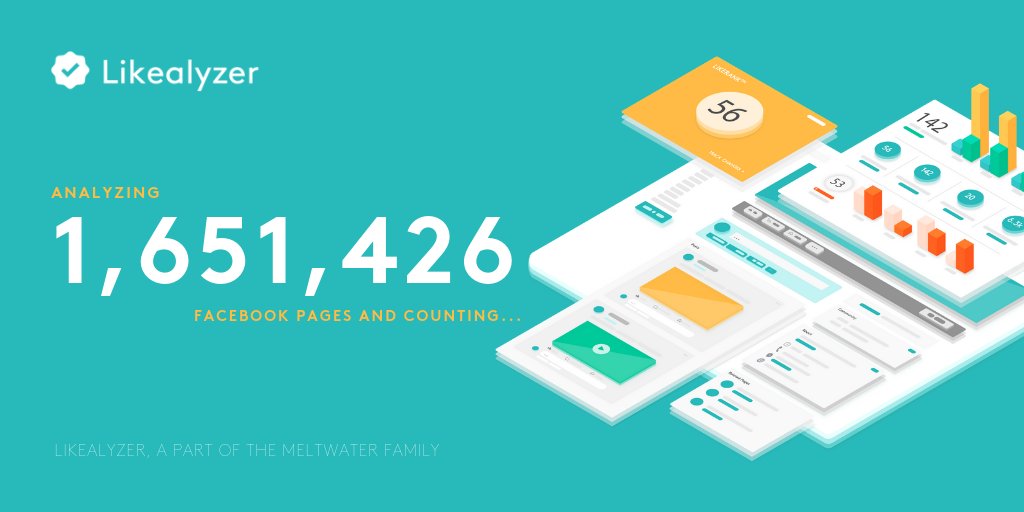 Likealyzer is another excellent analytics Facebook tool programmed to review pages and assign a score based on performance and engagement levels.
It also generates recommendations based on the data it gathers to help you decide which type of content to post more.
The tool is user-friendly; you only need to copy-paste your Facebook page URL, and no login is required.
The data is presented in easy-to-understand graphs that give you a virtual presentation of the health status of your Facebook page.
The image above shows you which type of content your fans respond to most and the best times to post.
If you are not engaging with them well, it will make recommendations such as asking more questions to spark their interest in your brand.
Wolfram Alpha Personal Analytics is ideal for professionals with personal brands.
For example, if you are a freelance content writer, you can use it to monitor how well your page engages with potential clients.
Unlike other tools discussed, Wolfram Alpha only analyses individual Facebook profiles.
The plethora of information presented in the reports will help you gauge the performance of your outreach campaigns.
The reports include data such as:
Weekly post-distribution

Types of activity such as photos, links, and statuses

Post lengths

Post statistics

Word cloud and frequency

Most liked photos
In addition, it is crucial to segment your audience into groups based on their unique characteristics.
After that, target each group with a custom campaign. Wolfram Alpha personal analytics makes it easy to group followers based on different factors such as:
Gender

Age

Relationship status

Locations and time zones

Network map
The information is presented in pie charts that are easy to interpret even for new marketers.
By now, you can tell we are more focused on analytics.
An analytics tool's accuracy directly influences the success of the Facebook marketing campaign. Without accurate background information about your fan base, you will be unable to create robust campaigns.
You will be in the dark on the type of content that best resonates with the audience. As a result, you will waste thousands of dollars creating content that does not intrigue the audience and encourage them to buy.
FanPage Karma will cushion you from such scenarios by giving you a clear view of the performance of your Facebook page. Some of the vital information in the full report is:
Best time to post (this is under the timing section)

Potential influencers

Fan engagement level

Tagging

Page content and more
The graphical representation of each post-performance is easy to interpret.
For example, in the image below, the higher the dot, the higher the post type's engagement or reactions.
It would be best if you focused on posts that the fans interact with more.
Despite offering more detailed and accurate reports than most premium Facebook marketing tools, FanPage Karma is free.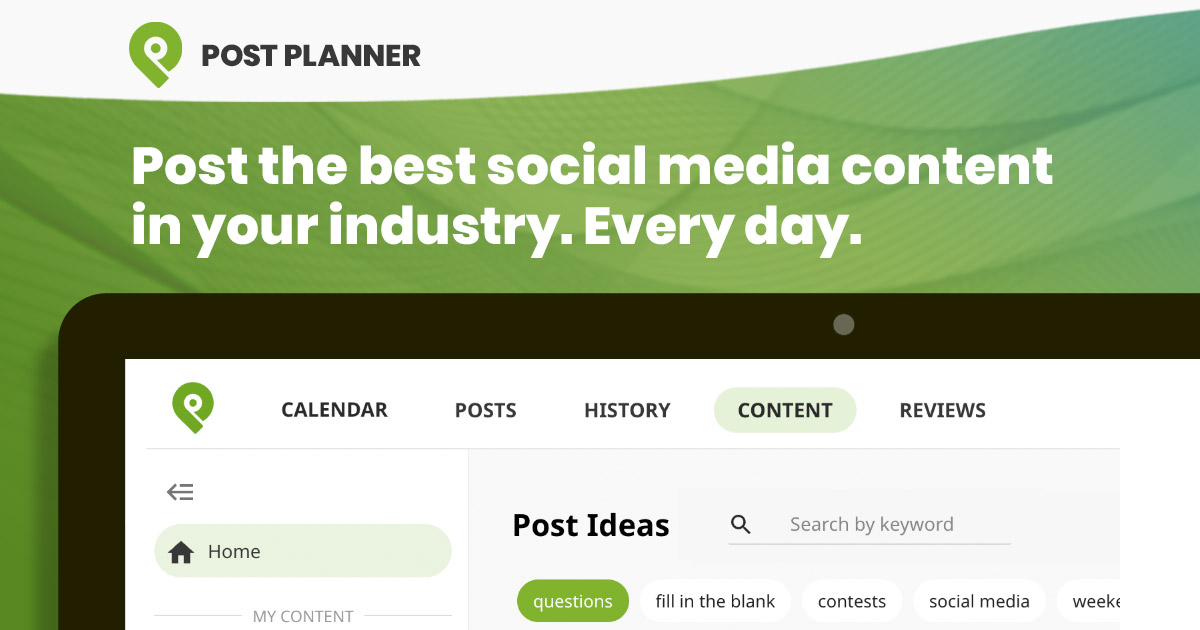 PostPlanner is a Facebook marketing tool you can count on to help you plan your Facebook posts.
That is, it will help you determine the best times of the day to post. It also has an in-built viral search feature that you can use to locate viral photos.
Download and use the photos discovered to market your brand, as they have the highest chance of going viral on Facebook.
Be sure to customise them by including your brand's logo and message, as other businesses also have access to them.
Go the extra mile and schedule the posts to free up your schedule and keep your brand in the minds of potential customers.
For instance, you can set it to post a new image on the page at a specific time of the day.
At the time of writing, the basic plan goes for $29 per month. Get your feet wet by testing its suitability to your brand by leveraging the trial plan.
Buffer is a holistic social media marketing tool that you can use to monitor not only Facebook campaigns but also other marketing campaigns running on other social networks.
It is designed to ease the curation of content by helping you discover content posted on the internet that may interest your audience.
Once you register and synchronise it with your Facebook page, you will be able to post new content on your page in seconds. Posting can be done by clicking the post button located on the toolbar.
Alternatively, you can copy-paste links to your page right from the tool.
Before posting, spend a few minutes optimising the post to look authentic and match your brand. If you do not want it to go live immediately, you can schedule it by changing the settings on the tool's dashboard.
One feature that gives it a higher cutting edge is its optimal scheduling tool that suggests the most optimal time to schedule a post. The suggestion is based on data collected from your Facebook. 
For instance, the times of the day when most of your audience is online and engages with your posts.
---
The Take-Away
You can count on these top 10 Facebook marketing tools to accelerate your business growth.
You may have to experiment with two or more to know which one suits your brand best based on the results achieved.
We recommend using the trial plan before upgrading to be sure the tool is ideal.
Get in touch with our social media marketing team for more insights on how to do Facebook marketing today.
We will also give you more insights and professional guidance on your business's best Facebook marketing analytics tool. We look forward to hearing from you.