Thinking of starting your own podcast in 2023? 
Not a bad idea at all! Podcasting is becoming increasingly popular with no signs of slowing down.
In fact, in 2023, it is predicted that podcasting will be a four-billion-dollar industry. 
So, if you are looking to make a splash and get in on the podcasting action, here is your 2023 step-by-step guide to starting your own podcast and making it profitable.
What's a Podcast?
A podcast is an audio show, often episodic, featuring one or more hosts talking about a particular topic.
Podcasts can be listened to anytime, anywhere on various platforms such as iTunes, Spotify, Stitcher, and Google Play Music.
Podcast topics range from music to technology, business, bookkeeping, and more.
So, if you have a passion or knowledge in a particular area, starting your own podcast could be the perfect way to share that with the world.
7 Reasons to Start a Podcast in 2023
You have more than enough reasons to start a podcast in 2023. We'll just list a few of them here:
1. You want to Build an Audience
The most successful podcasts have a large, loyal following of listeners.
Starting your own podcast allows you to build that audience and create something unique.
2. You want to Generate Revenue
While the primary goal of most podcasts is not to make money, some podcasters eke a living through their shows. You can turn your podcast into a profitable business venture with the right setup. 
3. You want to Promote Your Business
For entrepreneurs and business owners, podcasting is a great way to promote your products or services to potential customers. 
4. You want to Build Your Network
Podcasting is a great way to meet influencers and connect with other industry professionals. 
5. A Fun Hobby
Podcasting can be a fun and rewarding hobby. You get to talk about the topics you love and engage with a community of other passionate people. 
6. Opportunity to Learn
Starting a podcast can be a learning experience. You will learn how to create content, market your show, and hone your communication skills. 
7. Helps You Grow
Podcasting can help you grow by pushing you out of your comfort zone. It will also help you grow professionally, as it is a great way to showcase your knowledge and skills.
7 Common Misconceptions About Podcasting
Anyone can podcast, no matter their background or experience level.
However, many misconceptions about podcasting can hinder your progress.
Here are five of the most common misconceptions about podcasting and the truth behind them:
Misconception 1: Podcasts Need to Be Perfect 
The only skill you need to be a successful podcaster is the ability to talk.
You don't have to be perfect. You just need to show up and discuss the topics you are passionate about. 
You don't need fancy equipment or a professional studio to create a great podcast.
As long as you have good audio quality and communicate your message clearly, that should be enough to get your podcast off the ground.
Misconception 2: You Need to Be an Expert
You don't need to be an expert in the topic you podcast. In fact, many successful podcasts are hosted by people who don't consider themselves experts on the subject.
What you need is a willingness to learn and the ability to engage with your audience.
Misconception 3: Podcasts Take Too Much Time
Podcasting can be as time-consuming or laidback as you want it to be. You can easily record your podcast in an hour or two each week.
Misconception 4: Podcasting is a Dying Medium
Podcasting is here to stay, if not grow even further.
As of January 2023, there are 3.02 million active podcasts worldwide.
And that number will only continue to grow as more people discover podcasting and start their own shows.
Misconception 5: Your Podcast Needs to Be Unique 
Your podcast doesn't need to be unique or groundbreaking.
It needs something special that sets it apart from the crowd of other podcasts. 
That could be a particular angle, an entertaining host, or something else entirely. Your podcast will be successful if you have something unique to offer.
Misconception 6: You Need a Large Following
While it's true that having a large following helps with visibility, you don't need to be an existing celebrity or influencer to start a podcast. 
You can grow your audience organically with the right content, marketing strategy, and effort. 
It's one step at a time, and eventually, you'll be surprised how quickly your podcast takes off.
Misconception 7: Your Podcasts Need to be Long
There's no such thing as a "perfect podcast length." Podcasts can be as short or long as you want them to be. It all depends on what type of content you are creating and the length of time it will take to deliver your message.
It's important to remember that podcasting is a fun and rewarding hobby.
You don't need to be an expert or have the perfect equipment.
All you need is a passion for your topic and the willingness to learn, and you'll be on your way to becoming a podcasting pro.
How to Start a Podcast in 5 Easy Steps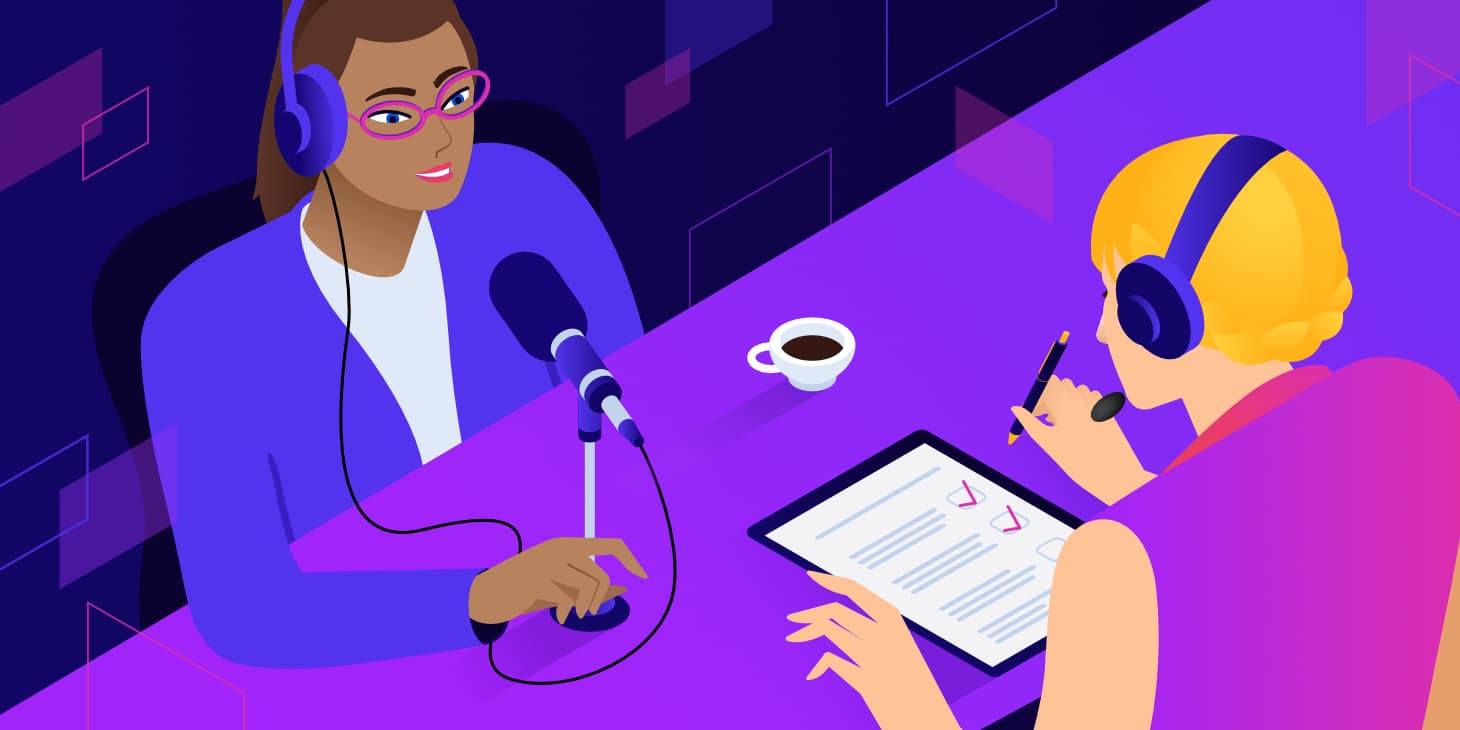 If you're interested in starting your own podcast, here are five simple steps to get you started:
1. Define Your Niche or Topic 
You can podcast about anything, but it's best to start by finding a niche or topic that you're passionate about.
Choose something that you can talk about for hours and that you already have a wealth of knowledge on. 
You want to focus on a specific topic, broad enough to attract a wide audience but narrow enough to keep your content fresh and exciting. 
Here's what you should do
Research Existing Podcasts
Before you record a single episode of your podcast, take some time to research existing podcasts in your chosen niche. 
Check out what topics they're covering, how they deliver their content, and what kind of tone they use.
It helps to do some digging and understand what podcasting in your niche looks like. 
It doesn't matter if your niche is already crowded. You just need to figure out a unique angle that sets your podcast apart from the rest.
Choose a Format and Cadence
First, you have the option of going solo or having multiple co-hosts.
Second, decide whether to keep your podcast as a series of standalone episodes or build an ongoing narrative arc that continues through each episode. 
You'll also have to decide if you will interview guests and, if so, how often. 
Your cadence is also important. Will you be releasing episodes once a week, twice a month, or something else?
Define Your Audience
One of the most important steps in starting a podcast is defining your target audience. 
Who are you trying to reach? What type of language do they use? What topics are they interested in? 
The clearer you are about your audience, the easier it will be to develop content that resonates with them. 
Here are some of the questions you should consider when defining your audience: 
What age group are they in? 

Where do they live? 

What do they do for work? 

What type of interests and hobbies do they have?
What form of media do they consume?

What problems are they trying to solve?

What do they want to learn?
2. Build Your Brand and Online Presence 
Your podcast needs a name.
You want the name to relate to your likeliness and subject matter. You also want it to be catchy and memorable. 
Avoid adding the word podcast in the name — it's redundant and doesn't give your podcast much personality. 
You also want to consider the length of the name. Shorter is generally easier to remember and spell out. 
According to Pacific Content, most successful podcasts are 29 characters or less.
Once you've chosen a name, you want to work on other branding elements.
The first thing to do is work on your colour palette and visual identity. 
Choose a few colours to represent your podcast, and use them consistently in your social media posts and other marketing materials. 
You also want to ensure that your podcast has a logo and cover art. 
If your budget doesn't allow you to hire a designer, consider using a free design tool like Canva or Adobe Express.
You can use a royalty-free music library or hire a sound designer for custom audio sounds for intro and outro segments. 
Create a Website or RSS Feed
A website is ideal for showcasing your podcast and increasing your fan base. 
It's a great way to get your podcast in front of potential listeners. It also helps with SEO. 
You can also use the website to link to other platforms and highlight recent episodes.
You can create a free website with a content management system such as WordPress or hire a web designer to create a custom website for your podcast. 
If you decide to go with WordPress, make sure to choose a theme specifically designed for podcasts. 
That way, users can stream or download episodes right from the site. 
Alternatively, consider creating an RSS feed using a podcast-specific platform such as BuzzSprout, Anchor, or Simplecast. 
An RSS feed allows users to subscribe and automatically receive new episodes as they're released.
Create Social Media Profiles for Your Podcast
Social media is a great way to engage with your listeners and build an audience for your podcast. 
Create profiles on all major networks — Twitter, Instagram, and Facebook. 
While there, look up hashtags related to your podcast subject and add them to your posts. 
You also want to add links to your website, RSS feed, and other podcast platforms.
Don't forget to set up a YouTube channel and link to your podcast there. 
YouTube is an excellent platform for getting discovered and a good way to repurpose your podcast into video.
Set an Account with a Podcast Platform (such as Spotify)
Most podcast platforms are free to use and easy to set up. 
Create an account, upload your content, and link to other platforms. 
Some of the most popular podcast platforms include: 
Spotify 

Apple

Stitcher 

Google Play Music 

SoundCloud

Audible

iHeartRadio
Once your podcast is live on these platforms, you can start promoting it. Share links to the episodes on social media and encourage followers to subscribe.
3. Source Recording Equipment
It's possible to record your podcast using a computer, tablet, or smartphone. 
However, you may want to invest in some audio recording equipment for higher-quality audio. 
You'll need a microphone, headphones, and a digital recorder. 
A good podcast mic will set you back around $20-$10000, while headphones typically cost around $50. 
You can use a dedicated device or an app such as Audacity or GarageBand for digital recording. 
Alternatively, consider investing in Pro Tools, Hindenburg Journalist, or Adobe Audition for more advanced sound editing. 
If you're uncomfortable editing your own audio, you may consider hiring a freelance audio engineer on Fiverr or Upwork.
4. Start Recording and Editing
Now that you have the right equipment and software, it's time to start recording your podcast. 
You want to start by writing a script for each episode and creating an outline for the episode's flow. 
Once you have that in place, start recording. 
Remember to speak clearly and pause between topics so your audience can keep up. 
Once you've finished recording, it's time to edit.
Most audio editing software has features that make it easy to cut out sections, add music and sound effects, and adjust the volume. 
Name Your Episodes
Each episode should have a unique title that your target audience can use to find it. 
It should be descriptive but catchy enough to stand out from the crowd. 
You also want to include tags and keywords that people might use to search for your podcast.
While choosing a witty title is tempting, SEO should be your primary concern. 
You want to make your podcast discoverable, after all.
Create a Compelling Episode Description
Each episode should also have a description that briefly explains the content of the episode. 
This is your chance to entice potential listeners and encourage them to subscribe and listen. 
Keep your descriptions short and sweet, but include relevant keywords so your podcast can be easily found.
While at it, you want to answer the following basic questions:
What's your podcast about?

Who's your target audience?

What can listeners expect to get out of it?

Why should they listen?

How often do you publish new episodes?

Where else can they find your podcast or connect with you?
Your episodic description should make it easy for listeners to find your podcast, understand what's in store, and get excited about the content you're covering. 
5. Promote Your Podcast
After you've created your podcast, it's time to get people to listen. 
Start by sharing new episodes on your social media channels and encouraging friends, family, and followers to subscribe. 
You can also reach out to influencers in your industry and ask them to share it with their followers. 
You can popularize your podcast by sharing it on Twitter, Facebook, TikTok, YouTube, and other platforms.
If you have already built an email list, use it to notify followers when a new episode is published. 
You can also submit your podcast to review sites such as Apple, Google, and Spotify. 
And don't forget to promote your podcast offline as well. 
You can print flyers, put up posters, and attend events to spread the word about your show.
You can also consider buying ads in publications related to your industry or partnering with businesses that cater to your target audience.
Here are a few more suggestions on how to promote your podcast:
Leverage influencer marketing to gain exposure. 

Use paid advertising platforms like Google Ads and Facebook Ads. 

Reach out to guest speakers and ask them to promote your podcast on their channels. 

Submit your podcast to podcast directories and podcast review sites.

Leverage cross-promotion with other podcasts in your niche

Create a mailing list and use it to keep listeners updated about new episodes.
How to Make Money with Your Podcast
So, how do you make money with your podcast? 
There are many ways to monetize a podcast, but the most popular strategies involve sponsored content, affiliate partnerships, and advertisements. 
Sponsored Ads
If you listen to any podcast, you've probably heard the host mention a sponsored ad or product. 
It's one of the most popular ways to make money with a podcast. 
Brands pay to have their products or services featured in your podcast
Remember, companies won't just jump at the chance to advertise on your podcast, so you must be proactive and reach out to them. 
They also must ascertain that your podcast is a good fit for their product or service.
Affiliate Partnerships
Another way to monetize your podcast is through affiliate partnerships. 
That involves featuring a third-party product or service on your podcast and earning a commission when someone buys it.
You can partner with an affiliate program, such as Amazon Associates, or find companies that offer affiliate deals. 
You earn a small sales commission when you refer people to the company's products or services.
Some popular affiliate programs you can sign up for include LTK, Skillshare, Amazon Associates, and Share-A-Sale.
Promoting Your Own Services or Products
Instead of promoting someone else's products, you can also promote your own services or products. 
You can use your podcast to highlight your offering and direct listeners to your website. 
That includes ebooks, online courses, consulting services, or physical products related to the topic of your podcast.
Consulting or Coaching
You can also offer consulting or coaching services based on the topics discussed in your podcast. 
People may be interested in learning more about a particular subject and will pay you for your knowledge. 
You could use your podcast to showcase your expertise and offer consulting or coaching services to those interested.
Premium Content
Another viable option is to offer premium content or membership plans. 
You can create exclusive podcast episodes or other types of content that only paying subscribers can access. 
This could be anything from live workshops or Q&A sessions to bonus episodes and downloads. 
You can also offer different tiers of membership plans, such as basic and premium. 
It is a great way to offer value to your listeners and make money simultaneously.  
Buy Me a Coffee and Patreon
If you prefer a more direct way to make money, you can always ask your listeners to support your podcast financially. 
You can set up a Patreon page where people can donate money and become patrons of your podcast. 
You could also use a service like Buy Me a Coffee to receive donations from your listeners.
Accepting Donations
You can also accept donations from your listeners. 
You can set up a PayPal or Venmo account and add a donation button to your website or podcast page. 
This is a great way to accept donations and show your appreciation for your listeners' support. 
You'd be surprised how generous people can be when it comes to supporting a podcast they love.
Selling Merchandise
You can also sell merchandise related to your podcast. 
This could include anything from t-shirts, mugs, and posters to stickers and magnets. 
You can set up an online store on your website or use a platform like TeeSpring to create and sell merchandise. 
This is a great way to make extra money and show your listeners how much you appreciate them.
Live Events
Finally, hosting live events is another viable way to make money through your podcast. 
You can organize podcast meetups, Q&A sessions, or workshops in your local area and offer tickets to interested listeners. 
Live events are also a great way to build relationships with your audience and increase visibility for your show. 
These are just some of the ways you can make money with your podcast. 
With a bit of creativity and hard work, you can turn your podcast into a profitable business venture. 
Some Final Words of Advice
Making money with a podcast isn't easy, but it is possible. 
It takes time and dedication, but in the end, it's worth it. 
Remember to stay focused and keep creating quality content that your listeners will love. 
And while at it, don't forget to have fun. If you enjoy what you do, your listeners certainly will too.