Online businesses go wild with Content.
Reason?
Content is what sells products and services, defines a brand, engages an audience, and even gets them delighted enough to come back and purchase more of your products or services.
SEOs will say it's the lifeblood of any successful digital marketing strategy.
But it all boils down to the quality of your Content.
We'd all agree on one thing: the vast majority of the Content filling up the web is subpar.
And as disappointing as that sounds, it means content writers like yourself have a chance to make a name for themselves by raising the bar high.
So, on top of having a content strategy, you must figure out how to manage your Content like the pro you are – and that's what this article is about.
Think of content creation as anything else you do in your business.
You must start by building your own toolkit, develop a routine or repeatable process, and get into the habit of doing it.
Not an easy task, I must say – but doable.
We'll share with you the tools we use to create and manage our Content here at MediaOne.
The article covers everything, from start to finish — a must-read for every aspiring content marketer out there.
And the best part is that many of these tools are free.
#1. Google Drive
Every company we've worked with was looking for ways to get everyone in their team involved in their content marketing process.
For instance, we've worked with a restaurant owner who wanted to see the key members of their team (restaurant managers, waiters, and other personnel) use their smartphones. She wanted them to take pictures and videos of different areas of their restaurants and place them in a folder that their social and content team could access.
Initially, they could upload this Content to a shared email that their social media team could access – genius!
But you'll agree email is a weirdly unwieldy tool for organizing and aggregating your Content. It lacks centralized storage and workflow management. Plus, your team members risk ending up with copies of the same Content.
Enters Google Drive.
Google Drive provides an online-shared workspace for files from your computer, smartphone, or any other device.
Users can create documents (presentations, spreadsheets, and other files) in Google Drive and edit them from anywhere. And the best part is that they can be accessed by anyone on your team, provided they have the logins.
All you need is a Gmail account for your organization.
Let everyone in your team download and install Google Drive on their computers or device. That will give them access to all the files uploaded there.
Here's what you can do with Google Drive:
Share Files with Different Permissions:

Here I go on how we specifically organize and share our team's Content. I also want to explain the different sharing permissions on Google Drive.
You can share folders and files with the following permissions:
Read Only:

The user can read, download, and view a file, but they can't make any changes. They can't edit it or do anything to the file.

Comment Only:

Users can't edit the file's content, but they can leave comments about it.

Edit

: Views can edit the Content of the document. They can also add comments to it.
With Google Drive, you can share files individually or at a folder level. The good thing about sharing Content at a folder level is that it makes your content easier to manage.
Instead of setting permissions at the file level, you can set them at the folder level. That way, any file you copy into that folder will have the permission automatically added to them.
The same goes for the sub folders you create underneath that folder.
Collect and Organize Your Team's Content:

Your files will be organized in folders. So, expect to have plenty of them, and until you figure out how to organize them, your team will have a hard time accessing some of the files.
The idea is to start with a more generic folder and get more specific with sub folders.
Beneath each folder, create a sub-folder – think menus and sub-menus.
For instance, you can create a client folder and a series of sub-folders beneath it.
Your structure will look something like this:
/The Client Folder
…/Client-Shared (shared with client admin/ownership)
… …/Content and Social (shared with the project admin/digital marketing admin)
… … …/Client's Team Updates (shared with the client's team).
… … … …/Team Member or Location A (shared with team member A)
… … … …/Team Member or Location B (shared with team member B)
… … … …/Team Member or Location C (shared with team member C)
Each team member can upload or edit Content to their folder. With the Google Drive app, users can even take pictures and videos from their smartphones and directly upload them to the cloud, where every organization member can access them.
Another trick would be to create a content and social folder that you'll share with content publishers and social media teams. They can access this folder and all the sub-folders and copy files as needed.
Think of Google Drive as a central place for storing and managing your website content. From articles, images, and company logos, to style sheets, SRS, and other relevant document files, users will know where to look when locating a specific file they can use for their web project or activity.
#2. HubSpot Blog Ideas Generator
Ideas run out.
Have you ever experienced writer's block? You're in the office staring at a blank Microsoft office page – maniacally taunted by your cursor. You can't think of something to write.
Well, what you need is HubSpot's blog ideas generator. The tool will generate a week's worth of custom topics to write within seconds.
And don't get it twisted. The tool won't come up with these topics willy-nilly. The topics will be well-researched and most likely interesting to your target audience. That's what makes this tool special.
Enter your seed keyword, and the tool will produce engaging titles tailored to that keyword.
The best part? It's free and doesn't require you to sign up. Click on this link to try it out.
You can play around with it and see how this goes.
How to Use the Blog Ideas Generator
The HubSpot Blog Ideas generator isn't complicated. Here's a quick step-by-step guide on how to use it like the pro you want to be:
Enter the keyword You would Like to Blog About and click "Add."
You can add as many keywords as you wish and click on "Give Me Blog Ideas."
If you need help coming up with these content ideas, try answering the following questions:
How are people describing your products or services when searching for them online?

What problems do your products or services solve?

What industry keywords do you wish to rank for in the SERPs?
Assuming I'm a new digital marketing agency, this is how I'd fill the tool:
You'll be provided with a week's worth of content ideas based on the keywords you entered.
Remember that these ideas are machine-generated. They might not be perfect or grammatically correct. So, be sure to change them and give them your own spin.
You can even fill up your content ideas for the next 24 months by signing up on the platform.
This blog ideas generator isn't perfect, but it's enough to get you out of the writer's rut whenever you feel stuck.
#3. Ubersuggest
Ideas dry up. But that's not the only thing you should be worrying about.
You must also figure out what topic or content ideas are worth tackling.
At MediaOne, we do not create Content without first checking with Ubersuggest.
And it's not just about checking your keyword rankability score.
You'll also get information on the following:
Alternative keyword suggestions

Suggestions on related topics

Links for Content or pages already ranking for the keyword
It's an excellent choice of tool for analyzing your competition. Find out what keywords they rank for, how high they rank, and, most importantly, how well their content performs with your target audiences.
How to Use Ubersuggest for Content Creation
Step 1: Head Over to Ubersuggest and Create a Project
Head over to Ubersuggest and sign up for a free account.
Next, click on "Add Your First Project."
You can enter your website's name and URL.
You also want to pick a country you wish to do business in. If you're operating nationally, enter the country's name. But if you're a local business, enter the name of the city you operate in and click "next."
Note that you can enter as many countries and cities as you wish. Suppose your website already ranks for some keywords in your selected locations. They'll be displayed on the left-hand side of the screen.
Apart from tracking your site, you can track your competitors' sites as well. Just enter the competitor's URL and hit "enter."
Alternatively, enter your keyword and hit "enter." Ubersuggest will scan the selected location for all the website ranking for the same keyword.
Step 2: Use Ubersuggest to Generate Better Blog Ideas
Coming up with blog ideas is hard, as we've established.
The good news is that Ubersuggest is here to make it all easy for you.
You can do this by going through a few simple reports.
We suggest you start with the "Content Ideas" report.
Simple, go to the navigation bar and click on "Content Ideas."
The idea is simple, visit one of your competitors' sites and choose a keyword. Enter the keyword to see how much traffic they're getting.
For example, if they rank for "Money Saving Tips," you can type the keyword and hit the "search" button.
You'll be presented with a list of blogs that ranks for that keyword. Go through their social shares, estimated visits, and backlinks to see how well they're doing.
Step 3: Use Ubersuggest to get More Backlinks
The more backlinks you get, the higher your rank and the more eyeballs your Content will get.
The idea is simple. Use Ubersuggest to check which sites link to your competitors.
Use a spreadsheet to prepare a list of these sites. And after you write your Content, write an email to each of them asking them to consider linking to your Content.
The chances are good that some of them won't mind. You can talk about how your Content is more updated, detailed, etc.
#3. Grammarly
Ever read a blog post online, caught a few errors, and lost interest. I have.
The truth is, you lose credibility when your Content is stained with careless grammar mistakes.
It doesn't matter how good of a writer you are. Careless grammatical mistakes will always find a way to rear their ugly head in your writing. And while a few might understand, some will question your level of professionalism.
So, why not run every article you write through a grammatical checker such as Grammarly to iron out these mistakes.
Better, Grammarly goes beyond helping you proofread your Content. It will also help you improve the quality of your Content by offering some pretty helpful tips on what to change.
You can use it as an app, browser extension, or an add-on on Microsoft word, making it easily accessible wherever you need it.
#4. CoSchedule Headline Analyzer
While Grammarly will help you clean up your content and clarify words, it won't help you write an enticing headline to convince readers to click on it.
That's the job of a headline.
But how can you tell if your headline is convincing enough?
Well, CoSchedule's Headline Analyzer is a good place to start.
The tool will help you write a better headline by giving you a clickability score and telling you why readers won't click on it.
#5. Capitalize My Title
Once you've sorted out your headline, the next thing would be to ensure it is capitalized correctly.
Some people struggle to remember which words need to be capitalized, and that's where a tool like "Capitalize My Title" comes in handy.
#6. Yoast SEO
Yoast SEO is a lot like Grammarly, but for SEO. It scans your article to check if it meets necessary SEO requirements.
Even the most experienced copywriters could use some little help when optimizing their content for search engines inside WordPress.
Yoast SEO allows you to make necessary SEO adjustments to the article to make it more search engine friendly.
First, it allows you to craft custom metadata for search engines and social media. It will also offer a helpful analysis regarding the page's readability and search-friendliness.
If you want search engines to understand your content and rank it generously, let Yoast SEO help you do the final touches to it.
There's a whole lot your Content can benefit from that one simple activity.
#7. Pocket
Pocket is the next tool you do not want to miss in your content marketing arsenal.
Remember, one man can only know or do so much.
In other words, we're encouraging you to get out of your head and look at the outside world for inspiration.
For an article you write, research to strengthen the points you have. Get some outside perspective on the topic, and see if you agree with them.
The idea is to use other resources to add more weight to your points. Some of your points might also have a lot of holes.
Pocket is the tool you use to keep track of the articles, apps, websites, and other sources of inspiration you stumble across.
You can use them to save all these resources and then refer to them when you're writing or in your own free time.
How to use Pocket for Content Creation
Go to getpocket.com and sign up. You can either sign up using your email and password or using your Gmail account.
Next, set up your devices.
You can begin by installing the get pocket browser extension on your computer (if you're using Firefox, the browser has the extension built-in).
How to Save Articles to GetPocket?
Once you've installed GetPocket in your browser, and whenever you stumble across an article you'd like to save, click on the GetPocket icon in the toolbar and it will be automatically saved.
#8. Unsplash
We suggest you use stock images sparingly.
A better option would be to take your pictures and hire a graphic designer to help you spruce them up before uploading them to your website.
Remember that the Content you post on your website is more than just words.
After writing compelling Content, like telling a story, you don't just leave it at that.
You must figure out how else to drive the story home.
One way you can do this is through relevant imagery.
Where you can't produce your own photos, you can visit royalty-free, stock image sites such as Unsplash or Pixabay.
You can search for a relevant image and use it as the feature image for the article.
A feature image represents the article in the blog feed, social media, and RSS aggregator services.
It's how you make the first impression count.
If possible, don't use the images as is. Instead, hire a graphics designer to edit it with some nice fonts and give it a unique touch.
For all we know, you do not want your blog posts to look like everyone else's.
#9. Canva
The second way to add beautiful imagery to your blog posts is through a photo editing app such as Canva.
The app does more than help you create beautiful supporting imagery for your Content. It lets you design them, as well.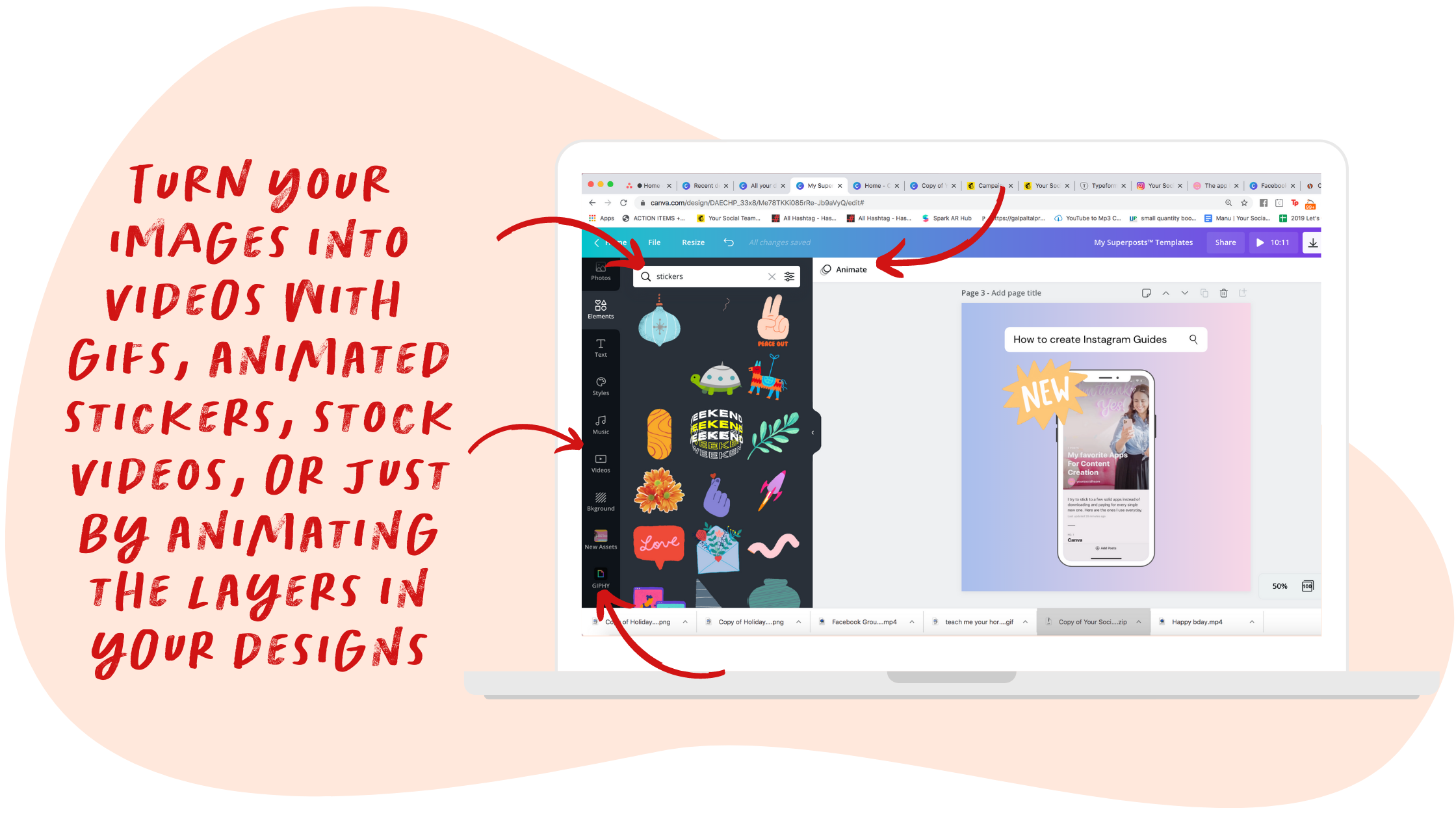 It makes designing visuals a breeze (simple enough to be done by a five-year-old).
The tool will give you the right space size to work with – say you want to design a blog or Instagram banner, then the app will automatically fetch the correct image size for you.
It also provides a long list of content templates and design elements you can use. So, the only thing left will be to replace the Content with your own. Edit the text, choose a suitable colour scheme, and replace the images.
In short, you don't have to design anything from scratch. There are plenty of ready templates for almost any design idea you have in mind.
#10. Droplr
Imagery and good graphics will do wonders for your Content. But they're not enough.
What if you're telling a story and are looking for a way to illustrate it visually?
Well, Droplr is the perfect solution to do just that.
You don't just want to tell the story. You want to visually walk your readers through what you're saying.
You can use Droplr to explain the steps in getting something done. You can also use it to give your readers an up-close look at your tool's operation.
Droplr also doubles as an excellent screenshotting tool.
The app doesn't have a free version, but they have a three-day free trial on their paid version that you can use to test it out and see if it's worth investing your money.
The tool costs $6/month for an individual user or $7/user/month if you're operating with a team. Both plans are billed annually.
For example, if we were writing a blog on how to use InfusionSoft, we could make a gift that looks like this:
You can also use Droplr to drop feedback on your Content inside WordPress. That will take off the burden of handling rewrites and managing edits from you.
Instead, you can use the tool to screenshot problem areas and drop your feedback before sending it to your editorial team.
#11. Loom
Loom is a feedback app, quite like Droplr. But it goes a step further by allowing you to record a short video clip with a share screen.
In other words, you can screenshot the problem area, take a video of it, and send your feedback as a video.
How to Use Loom to Record Feedback on a Piece of Content
You can install Loom as a desktop app or browser extension. This might seem like a simple decision, but it's a big one considering each option has different features and feedback clarity.
Using the Desktop App
The desktop app lets you go the extra mile when recording your message.
First, it lets you use the drawing tool to highlight specific areas of your screen and record them in HD.
This feature makes your feedback more engaging and clearer.
The Browser Extension
The browser extension is excellent for delivering quick feedback messages. It offers a quick way to send your co-workers and team members the message they need to hear.
If external team members receive a loom from you, they do not have to install the loom app to respond to you. Instead, they can use the loom extension to send a quick response.
#12. Asana
If you're a solo content creator, you can make good use of a tool that holds you accountable for your new Content.
Think of Asana as having an accountability partner in your content creation.
You want a nagging partner that will always be on your neck, screaming, "create new Content! Create new Content."
You want a tool that will pressure you to create time for it.
Asana is even better if you're working with a team of content creators. It will help you manage them and keep everyone on track.
How to Use Asana to Manage Your Content Writing Team?
Everything you post on Asana is considered a task.
These tasks can either be assigned to a project or person.
You can begin by signing up on Asana and creating a project.
Next, create a team. Click on the plus sign at the top of the page and enter the emails of the team members you want to add.
Asana allows you to play around with the settings, such as adding administrative rights to members and giving them different access.
You can even add guests. A guest can only view the tasks and project and provide feedback. But they can't make changes to them.
Where team members are the co-workers, guests are like the public.
You're even allowed to choose who receives status updates (go to "Manage Member Notifications to access this feature.")
After creating a project and adding team members, you can colour code the project for easy tracking.
Just click on the drop-down menu for the project and select "Set Highlight Colour." You can set the colour for the entire project and team with just one click.
Adding Tasks and Assigning them To Your Team Members
Asana organizes your projects as tasks.
You can add each task to a person or project.
Asana also allows you to use colour to check the status of each task. It uses red, green, and yellow to let you know if you're on the right track.
You can also create sections for organizing these tasks as progress status and project phases. And it's as simple as either adding or removing a colon from each task.
#13. Trello
Trello is another excellent choice of tool for organizing and managing your content creation.
Whether working with a team or flying solo, Trello will ensure everything is managed efficiently.
How to Use Trello to Manage Your Content Creation Process
Step #1. Create an Account
Again, you can begin by signing up for a Trello account. The best part about using Trello is that the free version has virtually everything you need for your content management.
Step #2: How to Structure Your Trello
After creating your account, you can log in and create a free account.
The free account allows you to add as many teams as you wish.
For example, you may want the following for your content management team:
If you're a large company, you can create multiple teams, each with its own set of boards for managing its own blog, such as the web development team blog, the sales team blog, the marketing team blog, and the support team blog.

If you're a digital marketing agency such as MediaOne, you can create multiple teams, such as your agency's blog and others for each client's blog.

If you're a small business owner, you can create two teams – one for your business blog and the other for your business operations.
#14. AgoraPulse
If social media marketing is part of your content marketing strategy, then you have every convincing reason you need to sign up with AgoraPulse.
After experimenting with both Buffer and AgoraPulse, we'd like to recommend the latter. Their analytics is better, and they are relatively cheap compared to Buffer.
Some of the features we love about AgoraPulse include:
The "send to mobile" feature will make your workflow quicker

You can post to multiple Facebook groups

Their analytics is clear and detailed

They have one of the easiest user-interface to navigate

Easy to set up

Their inbox feature is super-amazing. It allows you to respond to all your social media content in one place, including YouTube.
#15. Tailwind
Tailwind is another next-level social media tool designed to help you discover new content, increase your reach, and monitor social media conversations.
#16. Google Analytics
What's next after publishing your content?
Blogging and praying isn't an option.
We monitor results and make necessary tweaks, using the information we collect to shape our future content creation process.
Crafting valuable content for your audience is a good start. But it's not enough.
Your content could use some follow-up, and that's what an analytic tool like Google Analytics is all about.
You must follow up with every post you publish to see if it's doing what you intended.
You want to ask yourself the following questions:
Are people visiting the page?

Are they taking the intended action?

What drove them to the page in the first place?

Who are these visitors?

Are they gravitating to certain types of content and not others?
Google Analytics has answers to these questions and so much more.
It's even better when you combine it with Google Search Console.
You can use some of the information in its report to brainstorm topics and choose suitable keywords for your future posts.
#17. 1Password
As you can see, managing your content marketing process effectively takes more than one tool.
That translates to a bunch of login credentials to memorize.
It's even worse when you consider that you have to give these credentials to every single one of your team members.
You need a password management tool like 1Password to help you and your team with that.