The Covid-19 pandemic ushered in a new era of remote work, with companies swiftly transitioning their employees to working from home.
The marketing industry was no exception; many firms switched to having their teams work remotely.
However, as lucrative as this new way of working may be, managing an offshore marketing team is not for the faint of heart, especially when managing an offshore marketing team in different time zones and cultures.
A lot could go wrong, from miscommunication to a lack of motivation. Or, worse yet, budget and time constraints.
What's an Offshore Marketing Team?
An offshore marketing team is a group of professionals from different countries providing remote support and services to the same organisation.
In other words, you have a team of specialists from different countries working on the same project, often with vastly different cultures and time zones.
For instance, let's take a marketing firm based in the United States. Instead of hiring copywriters, graphic designers, and other marketing specialists locally, they could outsource some of their work to professionals in other countries.
4 Key Benefits of Offshoring Your Marketing Team
Offshoring allows businesses to attract a diverse pool of talented professionals, thereby creating a competitive advantage.
As a product owner, you can capitalise on the skills of people in different countries and make the most out of your marketing budget.
That said, here are the key benefits of offshoring your marketing team:
#1. Increased Capacity
Offshoring will improve your work capacity and growth potential.
Working with professionals in different countries allows you to access a larger talent pool and get more work done.
You'll also be able to handle multiple projects simultaneously, allowing you to meet your deadlines faster.
For instance, with the same budget, you can have a copywriter working in the US and a graphic designer in India.
This will not only help you get more done, but it'll also save you money on staffing costs.
#2. Focus on Your Core Business
Being a jack-of-all-trades is great, but it can only get you so far.
Offshoring will allow you to focus on your core business and delegate the rest of the work to experts in other countries.
This way, you won't have to worry about managing your offshore team; instead, all you have to do is monitor the progress and results.
#3. Increased Profitability
Thanks to lower overhead costs, you can save a lot of money with an offshore marketing team.
For instance, working with professionals in low-cost countries such as India can help you reduce payroll expenses and maximise profits.
Moreover, you won't have to worry about the cost of office equipment or rent since everything can be done remotely.
#4. Improved Quality of Work
When it comes to quality, outsourcing is a no-brainer.
You'll have access to a large pool of talented professionals, giving you a competitive edge over your rivals.
Moreover, having different people from different cultures can result in more creative solutions since everyone brings a unique set of skills and abilities to the table.
Choosing an Offshore Marketing Talent
Not every offshore talent is equal. Some may be more experienced than others or better suited for the job, while others may be cheaper but with less experience.
Therefore, it's important to choose the right talent for your team.
When selecting an offshore marketing team, you want to consider their qualifications, experience, and cultural fit.
You also need to check if they have the technical expertise to handle your project.
Here are a few tips to help you pick the right talent:
Research their background and portfolio:

Get to know the team and their credentials. Make sure they possess the skill set necessary for the job.
Don't hesitate to ask for certifications or references from previous employers to ensure they're qualified.
Check their English Proficiency:

Communication is of the essence. You don't want to work with someone who won't understand instructions or can't effectively communicate their ideas.
The idea is never to hire anyone without testing their English speaking and writing abilities.
Interview them on the phone or via video chat to evaluate their communication skills.
Ask for References:

Check for references from previous projects to understand the team's expertise and reliability better.
A good offshore marketing team will be transparent and willing to provide references.
Pick Out a Convenient Time Zone:

Working with an offshore team requires collaboration and communication. The last thing you want is to deal with conflicting time zones. Choose a team that operates in the same or similar time zone so that you can easily coordinate meetings and provide prompt feedback.

Pay Attention to the Pay:

It's not about hiring the cheapest team, but rather the most competent one. Pay Attention to the hourly rate and training costs since these can quickly add up and affect your budget.
Where to Hire an Offshore Marketing Team
Finding the right offshore marketing talent is not as hard as it seems.
You can start your search on freelancing websites such as Upwork and Fiverr, or you can use remote job boards like Remote OK.
Alternatively, consider finding a remote marketing agency providing a full suite of services, from content creation and SEO to digital advertising and analytics.
Finally, you could also look for an offshore team on social networks like LinkedIn or Twitter.
No matter what route you take, be sure to do your research before hiring anyone.
The Most Popular Destinations for Offshore Marketing Teams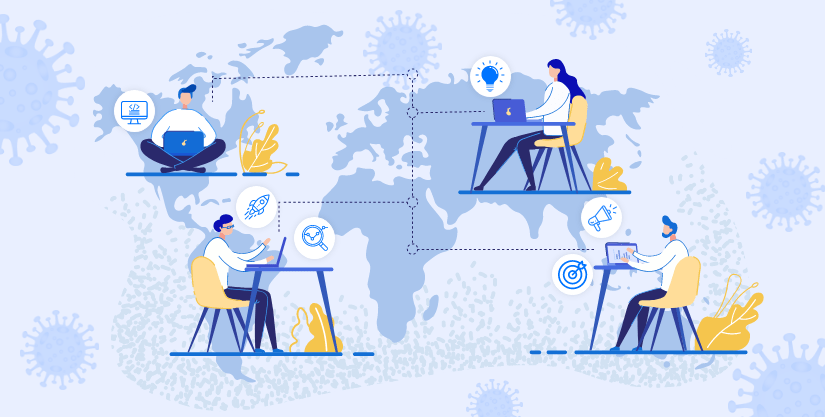 According to Statista, the most popular destinations for offshore marketing teams are India, the Philippines, Vietnam, Indonesia, and Bangladesh.
India is especially popular since it offers access to a large pool of experienced professionals at lower costs.
The Philippines is another great option due to its English proficiency and cultural affinity with Western countries.
Also, when deciding on an outsourcing destination, you also want to look at your business needs and the project complexity.
Each country excels in a different area, so the key is finding the one that best suits your needs.
For example, Russia, Poland, and China have the best programmers and developers, while the Baltic countries, such as Lithuania and Estonia, offer top-notch digital marketing services.
African countries like Nigeria, Kenya, and South Africa also have high-quality professionals specialising in content creation and SEO.
Offshore Team Management 101
Finding an offshore marketing team is just the first step on your journey.
Once you pick an agency or a couple of freelancers, it's time to establish the rules and create a clear communication strategy.
Set up meetings with key stakeholders and define roles, responsibilities, expectations and goals.
Create a detailed project plan that outlines tasks, deadlines, milestones, and budgets.
Agree on reporting schedules, review formats, and feedback loops.
Here are seven tips on how to successfully manage an offshore marketing team:
#1. Explain Your Vision
Your vision is the unifying force that connects everyone on the team and drives them towards Success. Explain it in detail, so each member knows how their work fits into the overall mission.
You want to be as specific as possible and include the desired results, processes, timeline, and budget.
#2. Leverage Automation Tools
Automation tools can help streamline communication, task management, and reporting. Use Slack for messaging, Asana or Trello for task management, G Suite for document collaboration, and Zoom for video conferencing.
#3. Overlap Schedules
If possible, overlap your schedule with the team. This way, you can easily coordinate video calls and make sure that tasks are completed on time.
#4. Set Clear Guidelines
Create a set of rules and guidelines that everyone on the team must follow. This includes procedures for communication, task assignments, deadlines, reviews, and feedback.
#5. Foster Open Communication
Encourage open communication with your offshore marketing team by checking in regularly to discuss progress, provide feedback, and address any issues or questions they may have.
#6. Celebrate Success
It's important to celebrate successes, no matter how small. Acknowledging the team's hard work and accomplishments will help foster a positive working environment and keep morale high.
#7. Assign a manager
Assign one person to manage the offshore marketing team and be the point of contact for all communication. This will ensure that tasks are completed on time, issues are addressed quickly, and everyone's work is properly credited.
#8. Encourage Small Talk
Small talk is how relationships are built. Ask about your team members' interests, hobbies, and families, and show an interest in their lives. This will help build trust and foster a better working relationship.
#9. Don't Micromanage
It's important to provide direction and give your team members the freedom to solve problems independently. Micromanaging can lead to frustration and a lack of motivation, so try to empower them as much as possible.
#10. Invite them to Meetings
Invite your offshore marketing team to meetings to get their input and help them understand the bigger picture. This will help them become more invested in the project and take ownership of their roles.
#11. Use Specialised Software
Options abound.
Use Trello for project and task management, Slack for messaging, G Suite for document collaboration, Zoom for video conferencing, and Skype for audio calls.
These tools can help you stay organised and keep communication flowing smoothly.
#12. Use the Agile Method
Agile is the most popular project management method today.
It emphasises collaboration and flexibility, allowing teams to quickly adapt to changing requirements and stay on top of tasks.
Using the Agile methodology, you can keep your team focused and ensure that deadlines are met.
So, what's the agile method?
It's an iterative approach to project management that involves breaking down tasks into smaller, more manageable chunks.
The agile methodology isn't a singular framework but an umbrella term for various frameworks, including Scrum and Kanban.
Each team member's progress is tracked in real-time so that any issues can be addressed quickly and efficiently.
By leveraging the agile methodology, you can ensure that your offshore marketing team always works towards the same goal.
#13. Ensure Clear Job Roles
The project manager should clearly define job roles and responsibilities for each team member.
This will help keep everyone accountable, organised, and on the same page.
At the helm, the project manager should be able to communicate tasks and expectations to everyone in the team effectively.
You want to communicate workflows and deadlines to the team and, at the same time, give them plenty of space to voice their opinions and ideas.
#14. Carrying Our Performance Assessments
Carrying out regular performance assessments will allow you to evaluate each member's progress and ensure that tasks are completed on time.
It will also allow your team to voice their issues and concerns.
Performance assessments should be carried out regularly, every day, weekly or monthly.
You can hire a project manager or use project management software to track progress and ensure that tasks are completed on time.
#15. Prioritise Communication
Working with an offshore team can be challenging, and communication is key.
Be sure to check in with the team regularly to ensure everyone is on the same page.
Ensure that all tasks are clearly outlined, with deadlines, so there's no confusion.
Encourage open dialogue and feedback; ask your team members how they're doing and what support they need.
Here are Some Things We Practice at MediaOne:
Daily Stand-ups:

Short (not more than 15 minutes). The team meets to discuss progress and difficulties and plan the day's tasks.

Weekly Retrospectives:

The team can discuss successes, failures, and ideas to improve performance.

Weekly One-on-One:

This is an excellent opportunity for team members and project managers to check in, discuss progress and address any issues that may have arisen since the last meeting.

Monthly Sync-ups:

The team meets to summarise progress and plan for the coming month. The team has the chance to express their opinions and make suggestions.
There are different ways to manage an offshore marketing team effectively, but ultimately, it all boils down to communication.
You can hold virtual daily stand-ups, communicate via email or chat, and use project management software such as Asana to manage tasks and track progress.
Don't Forget About Company Culture
Just because your team members are physically distant doesn't mean that company culture should be ignored.
Your offshore team should feel part of the company and be aware of the company's mission and values.
Encourage team-building activities, like virtual happy hours or a game night.
This will help build trust between you and your remote employees and foster a sense of camaraderie and connectedness.
These activities will also help ensure everyone is on the same page, enabling them to work more effectively as a team.
Challenges of Managing an Offshore Marketing Team
Challenges of managing an offshore marketing team include language barriers, different time zones, and cultural differences.
You want to be careful not to make assumptions and be mindful of language differences.
Here are some tips for overcoming these challenges:
Data Security
Data confidentiality is of utmost importance when managing an offshore team.
Ensure your team knows the legal and ethical implications of handling confidential information.
You also want to create a local database and give everyone on your team access.
This way, you'll still be in charge of your database's security and backup, no matter where your team is.
You also want to implement certified software to track workers' adherence to the firm's security policy.
Time Zone Difference
Time zone differences can be tricky to manage, especially with a team spanning multiple countries.
Some tips to overcome this challenge include creating a shared calendar, scheduling video calls in advance, and avoiding emails late at night.
Technology & Tools
Using the right technology is essential for managing an offshore team.
Platforms such as Skype and Google Hangouts allow you to have virtual meetings with your team, no matter their location.
That said, here are three essential tools for managing an offshore team:
Monday — For Tracking Time and Managing Productivity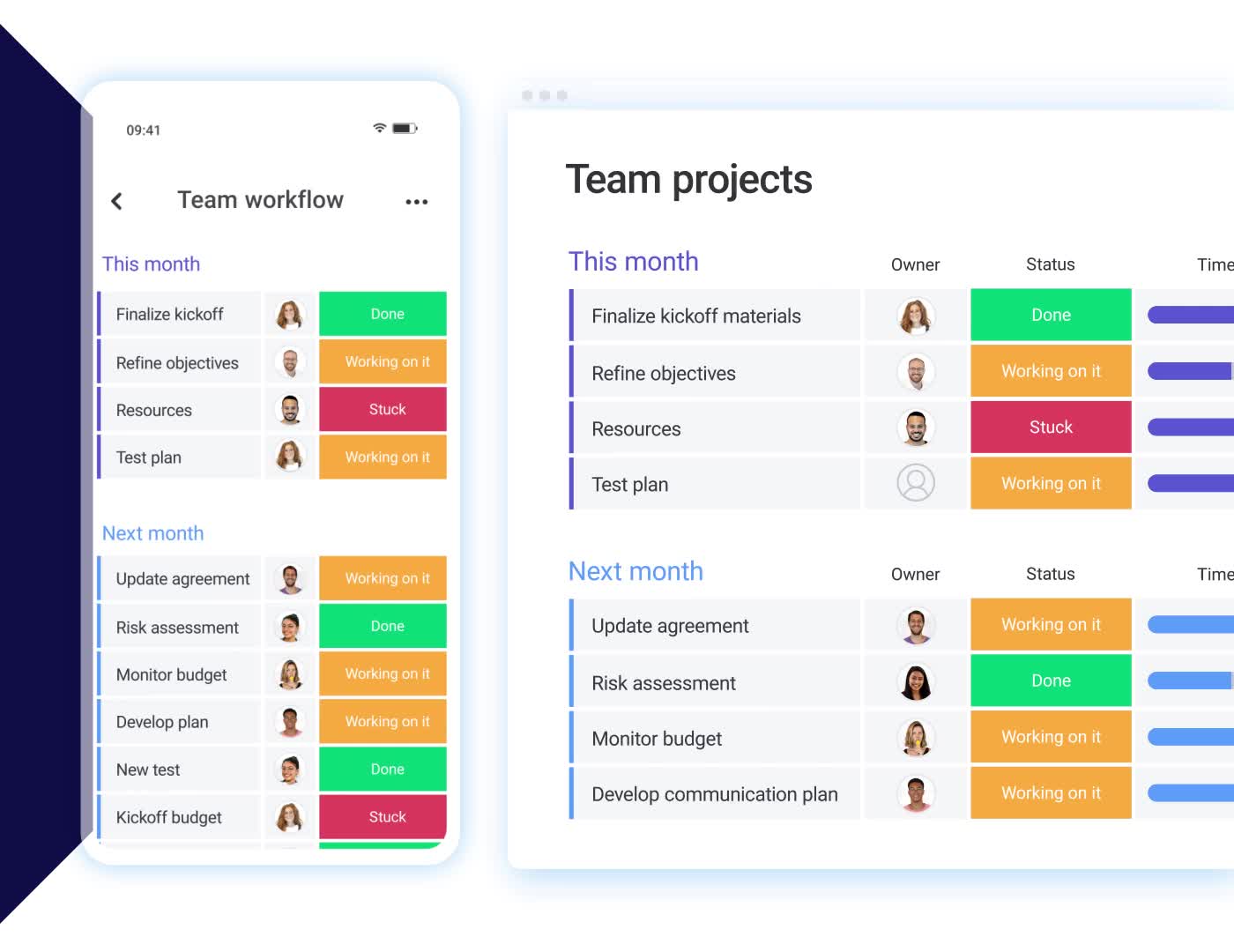 Monday.com is a project management software for teams. It allows you to track progress, assign tasks, and keep track of time and productivity.
Key Features
Integration and Automations: Monday.com allows you to connect with other tools and automate tasks to update everyone on the latest progress.
Reporting & Analytics: You can generate reports and analyse real-time performance.
Security: Monday.com provides robust features such as two-factor authentication, data encryption, and access control.
Pros: Easy to use, cost-effective, and customisable.
Cons: Few task dependencies, no built-in features to track hours
Pricing:
Free: Limited to 2 users and basic functionality
Basic: Costs $8 per seat/month. With this plan, you can construct one dashboard and directly give assistance to a customer.
Standard: Costs $10 per seat/month. You can create multiple views, connectors, automation, integrations, and dashboards. It can aggregate up to five boards.
Pro: It gives you access to more advanced tools such as automation, time tracking, integrations, formula, dependencies, and reporting. It costs $16 per seat/per month.
Enterprise: The enterprise is the highest plan that includes all the features of Pro plus an unlimited number of boards and connectors. They have flexible pricing plans for larger teams.
Customer Ratings: 4.6/5.00 (Over 3000 Reviews on Capterra)
Zoom for Communication
Zoom is a cloud-based video conferencing platform that allows you to host virtual meetings from anywhere in the world.
It also offers instant messaging, online meetings, and screen sharing for teams.
Key Features:
High-quality HD video and audio:

Zoom has built-in HD audio and video capabilities that make it easy for teams to communicate with each other at any time.

Advanced security features:

Zoom has various advanced security features, such as two-factor authentication and end-to-end encryption.

Integrations:

Zoom integrates with several third-party apps, such as Slack and Salesforce, making it easy to keep everyone on the same page.

VoIP Phone System:

Zoom also offers a VoIP phone system for businesses so customers can make and receive calls from anywhere in the world.

Virtual Whiteboard:

Zoom also allows you to create virtual whiteboards for remote brainstorming.

Team Chat:

Zoom also has a team chat feature that allows team members to communicate with each other in real time.
Pros: Easy to use, secure, and reliable, excellent video quality.
Cons: Limited storage space and no dedicated customer support line
Asana for Project Management
Are silos making your organisation run inefficiently? Asana is here to help.
Asana is a project management software that helps teams organise, collaborate, and track project progress. It allows you to create tasks, assign them to team members, and track their progress.
Key Features:
Collaboration:

Asana makes it easy for teams to collaborate on projects by allowing users to assign tasks, comment on projects, and upload files.
Task Management:

Asana allows users to create tasks and set deadlines for them, making it easy to keep track of all the work that needs to be done.
Analytics

: Asana also has a powerful analytics dashboard that provides insights into team performance and progress.
Automation

: Asana allows you to automate common tasks such as notifications, task assignments, and more.
The Calendar Feature

: Stay on track with the calendar feature that gives you an overview of all upcoming tasks and deadlines.

Work Evolution in a Portfolio:

Track the progress of all your projects in one place with Asana's portfolio feature.

More than 100 Integrations:

Asana integrates with more than 100 apps, including Dropbox, Google Drive, Evernote, and Salesforce.
Pros: Easy to use, intuitive interface and plenty of features.
Cons: Limited customisation options
Pricing
Their paid plan starts at $13.49/month. They also have a free plan that you can use, but with limited features.
Customer Ratings: 4.3/5.00 (Over 9,300 Reviews on Capterra)
Some Final Words
There are many benefits to managing an offshore marketing team, including improved work capacity, cost savings, scalability, access to new markets and talent, and more.
However, with all these advantages come so many challenges that you must be prepared to deal with. From communication difficulties to cultural differences, there are a lot of obstacles to overcome.
But with the right tools, strategies, and best practices we have outlined, managing an offshore marketing team can be an effective and rewarding experience.