Thinking of getting an e-learning development to create a training course for your business?
An excellent move, but don't just ask your friend's brother-in-law who "dabbles" in web development.
E-learning is as much a science as it is an art, and you need to ensure that your developer has the necessary skills and experience to get the job done right.
Otherwise, instead of a slick, well-designed course that provides tangible results, you could end up with something that looks like it was built in the early 2000s.
Not to mention the potential additional costs of having to go back and redo it.
So how can you ensure that you get the right e-learning developer for the job? Here are a few tips:
#1. Be Sure of What You're Trying to Achieve
Before you start looking for an e-learning developer, you should have a clear idea of what you want to achieve. 
What do you want the course to do? 
What topics will it cover, and what is the desired outcome for your learners? 
You also want to think about how you're going to measure success. 
By having a clear vision of what you want to achieve, it will be easier for you to articulate this to potential developers and for them to provide an accurate quote.
#2. Ask for Portfolios and References
Once you understand what you want to achieve, it's time to look for potential developers. 
Ask your network if they have recommendations, or look online for reviews and portfolios. 
Check the developer's portfolio to get an idea of their style and the quality of their work. 
Also, if possible, request references from previous clients to see how their experience was working with them.
#3. Does the E-learning Developer Understand Instructional Design?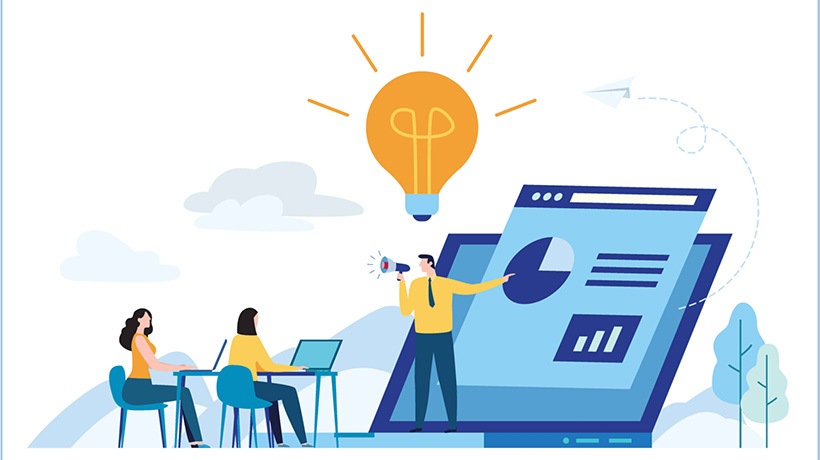 Instructional design is the process of creating a course that meets the specific needs of your learners. 
It involves breaking down complex topics into bite-sized chunks and using visual elements to engage learners. 
There's a difference between design and instructional design, so be sure your developer understands the principles of instructional design and can apply them to your course. 
While "design" is about making something look pretty, instructional design is designing elements with purpose and learning value.
It involves using design elements to enhance the learning experience, not detract from it.
Examples of learning value and purpose include:
Helping the learner remain motivated and engaged

Improve usability and navigation

Increasing engagement levels

Providing feedback and assessment
Your developer should be able to explain how they intend to use instructional design principles in your course.
#4. Look at Their Portfolio
Take a look at the developer's portfolio to get an idea of the type of work they have done in the past and how they approach e-learning. 
The portfolio should include completed courses and samples that showcase their abilities and style.
Another thing to look out for is how they approach the design process. 
A good e-learning developer will have an established process for developing courses, from initial concept to final delivery. 
That should include methods for gathering feedback and testing the course to ensure its effectiveness before launch.
#5. Make Sure They Have A Structured Development
Check to see if the developer has a structured plan for developing an e-learning course.
That should include an outline of how they intend to deliver the project, including timelines and milestones for each stage. 
It should also describe how they will handle potential challenges throughout the development process. 
A good e-learning development plan should also be flexible enough to accommodate changes and revisions.
It should include how they communicate, the approval process, testing procedures, the quality control process, and other important details.
The e-learner developer should also provide a typical development timeline and a detailed cost breakdown. 
They should also explain their process for gathering feedback and ensuring the course meets your expectations.
#6. Check their Ability to Present Your Vision
Your e-learning developer should be able to take your vision and transform it into a practical course. 
They should be able to communicate your message effectively and use design elements to make the course engaging and interactive. 
In addition, they should also be creative and think outside the box when presenting their information.
The developer doesn't necessarily have to be an expert in the subject matter, but they should be able to interpret and present it in a way that resonates with your audience. 
They should also be experienced in bringing your vision to life with digital elements such as interactive activities, quizzes, videos, and animations. 
The bottom line is that you want someone who can interpret your ideas and bring them to life in a way that's exciting and engaging.
#7. Understand What the Developer is Offering
Check to see the developer's services and ensure they align with your needs. 
You may find that the developer specializes in a particular area, such as mobile or video-based learning, so it's important to know what they can and cannot offer. 
Make sure they clearly understand your requirements and that all the services they provide are outlined in the agreement. 
Also, be aware of any additional costs that may come up during the development process.  
These may include things like content writing, illustrations, or audio production.
Overall, make sure you understand the full scope of what's included in the development fees, including upfront payments, ongoing fees, and any revisions. 
Doing your due diligence in advance can help you avoid surprises.
#7. Make Sure Your Intellectual Property and Data are Protected
You'll probably be sharing a lot of sensitive information with your e-learning developer.
It's your job to ensure that all your intellectual property, data, and confidential information is protected. 
Ensure the developer has a privacy policy that outlines how confidential information will be treated and stored. 
Also, ask about their security measures for storing sensitive information and inquire about other steps they take to protect your data from potential threats.
You want to be sure the developer takes all necessary measures to ensure your information is safe. 
#8. Talk to Key Individuals in the Developer's Team
It's not enough to just talk to the salesperson or project manager. 
Before signing any agreement, speak with key individuals who will be developing your course. 
These people will have direct influence over the outcome of your course – so it's important that you understand their process and expertise. 
Make sure the team is up to date on the latest e-learning trends and technologies and that they understand your objectives for the course. 
If possible, ask for references from previous customers who can attest to their capabilities. 
The more you know about their process and experience, the better equipped you'll be to make an informed decision. 
You want to do some due diligence on them as well. Check their LinkedIn profiles, read reviews and recommendations, or ask them for samples of their work. 
Find out what they know and what they can deliver, then decide if they are the right fit for your needs.
#9. Don't be Afraid to Shop Around
Don't settle for the first e-learning developer you find. 
Shop around and compare different developers before making your final decision. 
Look at their reputation, customer reviews, portfolio of work, delivery times, rates, and other essential factors. 
You want to ensure you're getting the best possible value for your money. 
You may also want to consider working with multiple developers if you have a large project – this will ensure you get the best results from each of them. 
With e-learning development, one size doesn't fit all. Take some time to evaluate different developers and find the one that's right for you.
#10. Have a Plan for Post-Development?
Once your e-learning course is completed, the real work begins. 
It helps to have a plan for how you'll market and distribute it, manage user feedback, and make any necessary updates.
Make sure the developer provides support along the way – ask about their post-development services and find out what kind of help they can provide. 
Also, consider how you'll track user progress and measure the success of your course. 
Having a clear plan will make your e-learning project easier to manage from start to finish.
#11. Make Sure They're Offering the Services You Need
You want to ensure the developer you're working with offers all the services you need. 
Do they have experience creating custom content, interactive activities, and assessments? 
Can they integrate your course into existing learning management systems (LMSs)? Can they provide hosting solutions or other support services? 
Be sure to ask about your specific needs, and make sure their team has the skills and experience to meet them.
Here are some of the services that you should consider asking about: 
Authoring tools 

Multimedia production 

User experience design and development 

Mobile app creation

Integration with third-party services 

Custom analytics and reporting 
Instructional design

Content writing

Video/animation production

Graphics design

Scriptwriting

Project management

And more.
#12. Learn from Other People's Experiences
Don't be afraid to ask around. Talk to your peers, colleagues, or friends who have experience working with e-learning developers – they may be able to point you in the right direction. 
Learn from their successes and mistakes, and use them as a guide for finding the best developer for your project. 
#13. Do You Like Them
Do you have a natural fondness for the developer you're considering? Do they make you feel comfortable and respected, or do they rub you the wrong way? 
Do some research on their team and see if their values align with your own. These are all important factors to consider when choosing an e-learning development partner. 
You want to work with people who understand your vision and have the same commitment to quality as you do.
#14. Reporting and Analytics
Whether it's a blended e-learning classroom, a virtual one, or even an online course, you need to track each student's progress. 
Find out what analytics and reporting capabilities the e-learning developer offers. Ask them if they can provide customized reports, dashboards, and tracking data to help you make informed decisions about your course content.
A professional e-learning developer should be able to provide you with detailed reports and analytics so you can monitor the success of your course. 
You also want to ensure it can integrate with popular third-party systems, such as Google Analytics or Salesforce.
The 10 Best Practices for Building a Successful E-learning Course 
Instructional design isn't for the K-12 environment only.
Now more than ever, businesses are turning to e-learning to train their employees and sharpen their skills.
However, building a successful e-learning course takes more than just having a great idea and some instructional design experience.
To make sure your next e-learning project is a success, here are the ten best practices to keep in mind:
#1. Use Scenario-based Learning and Storytelling
You want to begin by defining the problem or concept you're trying to teach. 
Why does it matter to the learner? What skills do they need to understand the concept? 
Scenario-based learning and storytelling can be incredibly effective tools for helping learners contextualize and relate to the material.
You can create scenarios that serve as mini-stories, which will help your audience remember key concepts better than a text-heavy presentation ever could — no need for anything flashy or overly complicated – just a compelling narrative or two.
Here's what we mean by scenario-based learning:
Instead of simply telling the learner how to do something, put them into a real-world situation and let them figure it out. 
This kind of experiential learning has been proven to be much more effective in helping learners really understand concepts.
For example, if you're teaching a course on customer service, you could tell the learner how to handle a difficult customer.
Or, you can create a scenario where they have to role-play as the customer service rep and figure out the best way to handle it.
It helps them learn faster since they are actively engaged in finding solutions.
Storytelling can also help bring your ideas to life.
By weaving stories into your course, you can create an emotional connection with the learner and make it easier for them to remember key concepts.
For example, if you're teaching a course about communication skills, instead of simply telling learners how to communicate better, tell them a story about someone who faced a challenge and overcame it using strong communication skills.
Google uses this storytelling technique in its highly successful re:Work program. The stories they tell help to engage the learner and make them feel like they can relate to the material they are learning.
#2. Get Visual with Your Content
The human brain processes images 60,000 times faster than text. 
Changing minds also conducted a study on this. They found that only 10% of written material and 10 to 20% of the orated lecture is retained by learners, compared to 65% retained when visuals are used. 
So, don't be afraid to get creative with your visuals!
So why not use visuals to make your e-learning course more engaging?
You can use videos, infographics, or illustrations to break up long sections of text and make your material easier to digest.
Visual content is also great for reinforcing key concepts and making the course more memorable.
For example, if you're teaching a course on sales techniques, you can include a video of someone demonstrating how it's done instead of just talking about cold-calling strategies.
Here are some ideas to get you started:
Use an infographic to compare different sales strategies 

Create a video tutorial that shows how to create compelling pitches 

Illustrate customer service scenarios with comics or cartoons. Use Doodly, Powtoon, or Canva to create animated visuals.

Use interactive elements like drag-and-drop activities or quizzes
Visual content keeps learners engaged and your course more enjoyable.
Adhere to the "Rule of Three"
As we mentioned, the human brain is not very good at processing large amounts of information. 
You want to keep your material concise and to the point. 
One way to do this is by following the "rule of three."
The rule of three states that information is more memorable when presented in chunks of three. 
For example, instead of listing ten steps in a process, break it down into three shorter lists with three steps each.
If you've been keen on observing salespeople, you'll notice they also use the rule of three to make their pitches more effective. 
Here're a few more examples of how you can apply the rule of three in your e-learning course:
Use three main points to structure your content 

Present information in threes to make it more digestible 

Use three different media types (text, audio, video) to keep learners engaged 
Examples:
Blood, sweat, and tears

Life, liberty, and the pursuit of happiness 

Breakfast, lunch, and dinner
#3. Make Your E-Learning Course Interactive
Millennials no longer fancy passive dissemination of information. They want to be engaged and challenged. 
They prefer their content interactive and exciting. 
So, make sure your e-learning course is more than just text on a page.
Here are some ideas for making your course interactive: 
Use polls and surveys to get real-time feedback from learners 

Create gamified activities that challenge learners to solve problems

Incorporate videos, quizzes, and other engaging elements 

Use branching scenarios to let learners explore different paths 

Allow learners to customize their learning experience by taking control of the assessment process.

Create simulations that allow learners to practice their skills in a virtual environment 
Adding interactive elements to your e-learning course will make it more engaging and enjoyable for learners. 
It will also help them retain more information and transfer their learning to the real world.
So, don't be afraid to get creative with your course design!
Use D2L, Articulate, or Adobe Captivate to add interactive elements to your e-learning courses easily.
#4. Make Sure the Course is Mobile Friendly
Nowadays, most learners are accessing content on their mobile devices. 
So, it's important to ensure that your course is optimized for mobile use.
Here's what you can do to ensure your course is properly optimized for mobile: 
Use responsive design to make sure the page elements adjust according to device size 

Stick to a single-column layout to make the content easy to read 

Use large and legible font sizes 

Include white space to make the content more scannable 

Keep the course design simple 

Use touch-friendly buttons and controls 
Making your e-learning course mobile friendly will make it more accessible for learners and help them learn more effectively. 
So, don't forget to optimize your course for mobile devices.
You can use tools like HTML5 or iSpring Suite to create responsive e-learning courses running smoothly on any device.
#5. Test Early, Test Often
One of the most important things you can do to ensure the success of your e-learning course is to test it frequently. 
It will help you identify any errors or issues with the course and fix them before they become a serious problem.
Here are some tips for testing your e-learning course: 
Use beta testers to get feedback from outside sources 

Test the course on multiple devices to make sure it's optimized for all 

Use analytics to track user behaviour and identify areas of improvement 

Check for technical errors such as broken links, missing images, etc. 

Check for consistent branding, design, and formatting 
Testing your e-learning course frequently will help ensure everything is running smoothly and delivering the best possible results.
#6. Cater to Different Learning Styles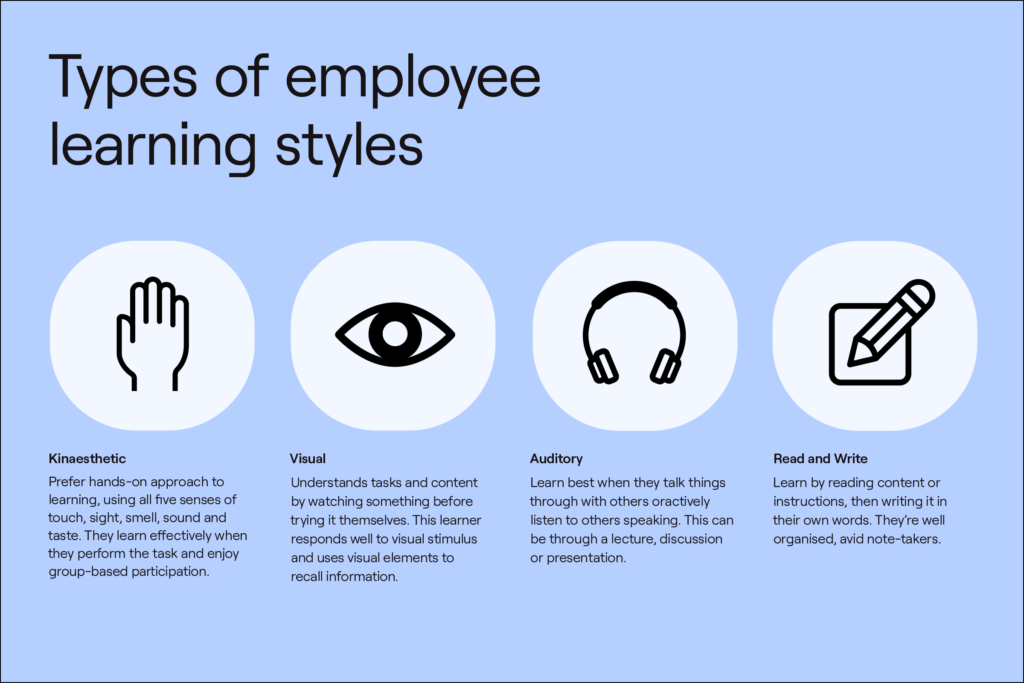 We all learn differently. 
Some of us are visual learners, while others are auditory or kinaesthetic learners. 
You want to make sure your e-learning program accommodates all learning mediums. 
Here are some tips for catering to different learning styles: 
Create content that appeals to visual, auditory, and kinaesthetic learners 

Incorporate a variety of media (text, audio, video, etc.) into the course 

Let learners choose how they want to interact with the material (e.g. gaming, simulations, etc.) 

Allow learners to customize their learning experience 
Let's look at the different learning styles:
Visual
Students learn by seeing. Instead of verbal explanations, visual learners need diagrams, pictures, and videos.
How to Engage Visual Learners
Create infographics, workflow charts, and customer illustrations

Leverage comic strips and cartoons

Have the students create their own visual projects
Auditory 
Students learn by hearing. They remember and understand information better when they listen to it.
How to Engage Auditory Learners
Incorporate music and rhymes into your lessons

Provide students with verbal prompts, questions, and descriptions

Generate webinars or create narrated videos

Use patterns and sounds to help recall information
Kinaesthetic 
Students learn best by doing. They need to be able to interact with the content and apply it to understand it.
How to Engage Kinaesthetic Learners
Allow students to put their knowledge into practice through simulations, activities, and projects

Provide hands-on activities for students to use and explore

Build breaks into the learning process to give students a chance to stretch and move 

Scrap multiple-choice tests and replace them with open-ended group activities
Some Final Words
Choosing the right e-learning developer is all about getting the best value. With a bit of research and careful consideration, you can ensure that your project is in good hands.