We know it's getting close to that time of year again when we start hearing Christmas music in places like shopping centres and on the radio.
The holiday season is a joyous time for everyone, including people and business owners.
As the year comes to a close, everyone is in a celebratory mood and exuding great energy. Consumers are primed and ready to buy during the holiday season, and businesses are enthusiastic about their upcoming marketing initiatives.
Additionally, Christmas is a wonderful time for achieving excellent success with email marketing. There is no method of marketing that is superior to this one in terms of bringing in new clients.
But how do you do it well?
Continue reading to discover the answer!
Getting your email marketing campaign for Christmas off the ground.
To get your email marketing campaigns ready for the busy Christmas season, you should begin with a thorough review of your prior campaigns and a reorganisation of your subscriber list.
This will ensure that your marketing efforts are effective.
In the first case, you should maintain a healthy list of contacts by following certain recommended best practises for email data hygiene and removing contacts that are typically invalid or unengaged.
Regarding the second, think about restarting campaigns you've already run and making sure you don't recycle previous tactics.
Pay attention to the data as well, as it can provide you with a wealth of information regarding all of your previous achievements and setbacks.
Connect with your in-house marketing team to share and gather fresh ideas, determine which promotions were the most effective in the past, and determine which goods drove the most income so that you may realign your efforts as you design your new email campaign.
If you have an in-house marketing team, you should connect with them.
Timing is crucial when it comes to sending Christmas emails that are successful.
In order to get ready for the holiday season, you will need to break up your email marketing campaign for Christmas into three parts: before Christmas, during Christmas, and after Christmas.
The first one would take place a few weeks before the holiday season, the second one would be planned for Christmas and the days that immediately follow it, and the third one would be saved for the few weeks that would follow the end of the holiday season.
You may even plan out your complete email campaign all at once by using marketing automation software, which allows you to divide the email campaigns, determine which recipients would be the greatest fit, and divide the email campaigns accordingly.
However, what should the contents of your emails be?
Email marketing campaigns are typically sent out early (before Christmas), and their purpose is to inform customers of possible bargains or discounts, enable them to submit wishlists, and compile gift guides, among other things.
Their Christmas email campaign will often advertise a large deal (for instance, 30% off site-wide with a coupon), but it will also show appreciation as it brings to a close another productive year.
You can offer informative content to consumers and keep them informed about the most recent advancements in your business through the email updates you send after Christmas.
Sending out gifts to someone you care about is a great way to do so.
Sending away presents is a great idea if you want to raise awareness about your company and express gratitude to the people who have been faithful subscribers or business partners.
They'll get the impression that you care about them, you'll raise awareness of your brand, and you'll advertise your product or brand.
It is an excellent method for boosting the effectiveness of your email marketing and ensuring improved response and open rates.
You may use the same strategy when targeting customers who have made purchases from your store in the last Christmas season and send them tiered prizes that follow a sequence of emails that are specifically tailored to them.
And if you really want to take things to the next level, customising your messages will demonstrate to them how much you appreciate the loyalty they have shown you.
Highlighting the people who are responsible for your brand as a way to promote it.
Who doesn't enjoy looking at other people's smiles, especially during the holiday season?
If you are in charge of throwing a Christmas party for your coworkers, you might find it helpful to consult a handbook on event marketing for ideas on how to ensure that everything is well organised and that you have a capable photographer.
Increasing the seasonality of your marketing initiatives is a tried-and-true method that has been shown to raise the click-through rate.
You may always offer your subscribers the Christmas spirit in your company, disseminate the festive enthusiasm, and unveil the faces behind your brand when it comes to ideas for Christmas email marketing.
This is a fantastic concept for a strategy for email marketing, which you can also tie into the core principles of your business and the significant achievements you've attained throughout the year.
Experimenting with different emoticons and thinking about using GIFs that have been optimised are also excellent ways to grab the attention of the reader.
After all, the holiday season is all about spreading joy, and using emojis is a surefire way to increase the number of people who open your messages.
You can put them in the subject line of your email, then conduct A/B testing to determine which of the two has the higher open rate.
Add additional spice to your email signature.
Your email signature comes last on our list of helpful hints for Christmas email marketing, but it is still very important. It is possible to tailor it in many different ways and then utilise it to direct them to a certain landing page or campaign in today's world.
In addition, you may demonstrate your gratitude to customers by sending them a personalised Christmas greeting and directing them to a particular webpage or electronic Christmas card.
You can provide additional information about yourself, provide marketing invites, and direct others to promotional offers by including a QR code within your signature.
When recipients of your emails use their mobile phones to scan the QR code that you have included in your signature, they will be automatically forwarded to the page or channel that you have defined.
You are able to build a dynamic QR code and add it to your email signature in order to provide readers with access to discount coupons, direct them to your Christmas sale, or direct them to a relevant blog post.
These codes should encourage transparency and be accompanied by a landing page that is optimised for use on mobile devices.
Everyone looks forward to the Christmas season because it is a time of the year that is joyous, jolly, and full of dazzling lights.
In addition to this, it presents a significant opportunity for companies to step up their marketing efforts and have a successful final quarter of the year.
To ensure that your Christmas emails are successful this year, you should ensure that you begin to generate interest as soon as possible, present an offer to your subscribers that they simply cannot reject, and congratulate them for another successful year while also rewarding them.
6 Types Of Christmas Promotions That Work
Christmas is a time for giving, and what better way to show your appreciation to your customers than with a promotion or special offer?
Whether you run a brick-and-mortar store or an online business, there are plenty of ways to spread holiday cheer and drive sales during the busy Christmas season.
Here are six types of Christmas promotions that can work for any business:
Limited-time discounts: Offer a discount on select products or services for a limited time, such as a percentage off all purchases or a buy-one-get-one-free deal. This can create a sense of urgency and encourage customers to take advantage of the offer before it expires.
Gift with purchase: Offer a free gift with a minimum purchase amount, such as a tote bag with a $50 purchase or a gift set with a $100 purchase. This can be a great way to upsell and increase average order value.
Free shipping: Offer free shipping on all orders or on orders over a certain amount. This can be especially appealing to customers who are doing their holiday shopping online and looking to save on shipping costs.
Early bird discounts: Offer a discount to customers who place their orders early, such as a percentage off all orders placed before a certain date. This can help you get a jump on the holiday rush and give your customers an incentive to shop early.
Customer loyalty rewards: Show appreciation to your loyal customers by offering them exclusive discounts or free gifts. This can be a great way to reward their loyalty and encourage them to continue shopping with you.
Charity promotions: Partner with a local charity or nonprofit organization and donate a portion of sales to the organization. Not only does this give back to the community, but it can also make customers feel good about supporting a good cause while doing their holiday shopping.
No matter what type of promotion you choose, be sure to clearly communicate the details and terms to your customers.
You may also want to consider promoting your Christmas promotions on social media and through email marketing to reach a wider audience.
With a little creativity and planning, you can create memorable and effective Christmas promotions that will drive sales and bring joy to your customers.
Best Christmas Marketing Ideas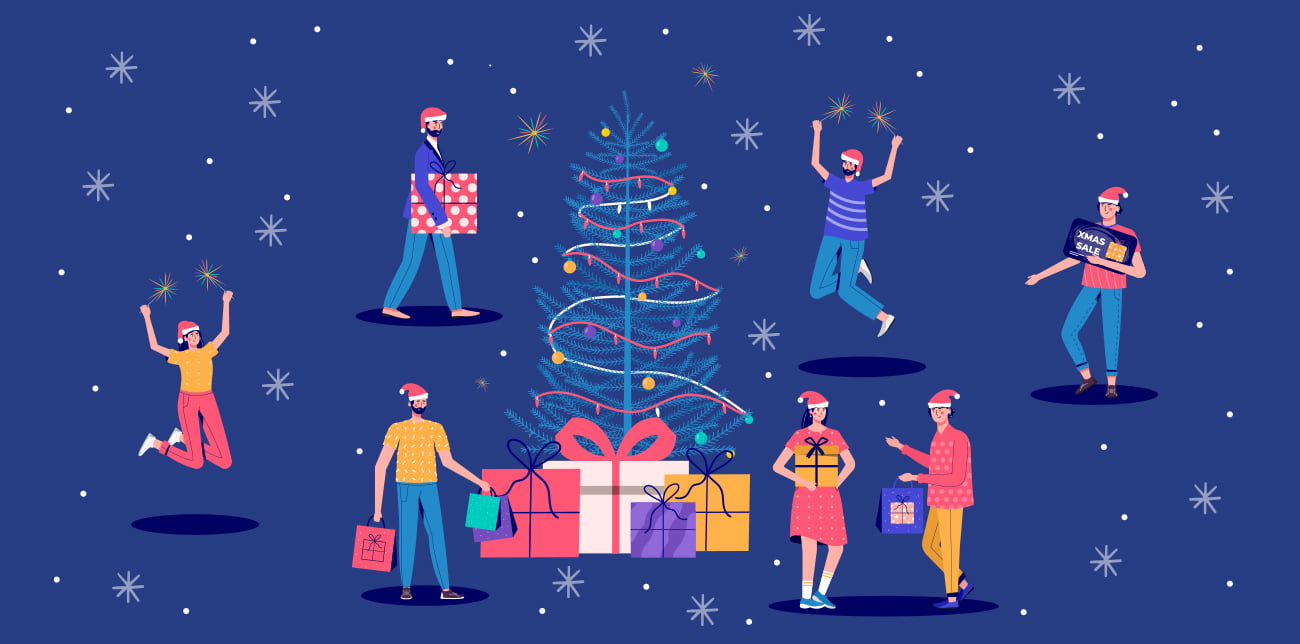 The holiday season is a crucial time for businesses, with many consumers looking to shop and find the perfect gifts for their loved ones.
If you want to stand out and drive sales during the busy Christmas season, it's important to have a solid marketing strategy in place.
Here are a few of the best Christmas marketing ideas to consider:
Decorate your storefront: First impressions count, and nothing says "Christmas" quite like a festive storefront. Consider adding holiday decorations, such as wreaths, lights, and garlands, to attract attention and get people in the holiday spirit.
Offer special promotions: Everyone loves a good deal, especially around the holidays. Consider offering limited-time discounts, gift with purchase offers, or free shipping to entice customers to shop with you.
Host a holiday event: Hosting a holiday event, such as a Christmas-themed party or a gift-wrapping station, can be a great way to drive foot traffic and create a festive atmosphere.
Create holiday-themed content: Use your social media and email marketing channels to share holiday-themed content, such as gift guides, recipes, or holiday-themed blog posts. This can help drive engagement and keep your brand top of mind with customers.
Use holiday hashtags: Hashtags can be a great way to reach a wider audience and get your content seen by more people. Consider using popular holiday hashtags, such as #Christmas, #HolidaySeason, or #MerryChristmas, to attract attention and increase engagement.
Partner with influencers: Partnering with influencers or bloggers in your industry can be a great way to reach a larger audience and get your brand in front of new potential customers. Consider offering influencers special promotions or discounts to share with their followers.
By implementing these marketing ideas, you can create a strong presence and drive sales during the busy holiday season.
Just remember to plan ahead and start your marketing efforts early to give yourself the best chance of success.
Why Christmas Marketing is Important for Small Businesses
Christmas marketing is important for small businesses for a number of reasons.
For one, the holiday season is a crucial time for many businesses, as consumers tend to spend more money during this time of year. By having a strong marketing strategy in place, small businesses can tap into this increased consumer spending and drive sales.
Additionally, Christmas marketing can help small businesses stand out from the competition.
With so many businesses vying for consumer attention during the holidays, a well-thought-out marketing campaign can help a small business differentiate itself and attract customers.
Christmas marketing can also be a great way for small businesses to build brand awareness and loyalty.
By creating festive and memorable marketing campaigns, small businesses can create a positive brand association and encourage customers to shop with them again in the future.
Finally, Christmas marketing can be a great way for small businesses to give back to their communities and support good causes.
Many small businesses choose to partner with local charities or nonprofit organizations and donate a portion of their sales during the holiday season.
This not only helps to support a good cause, but it can also create a sense of goodwill and positive brand association.
Overall, Christmas marketing is important for small businesses as it can help drive sales, stand out from the competition, build brand awareness and loyalty, and support good causes.
The Power of a Strong Christmas Marketing Campaign
A strong Christmas marketing campaign can be a powerful way for businesses to drive sales and engage with their customers during the holiday season. Here are some tips for creating a successful Christmas marketing campaign:
Start planning early: It's never too early to start planning your Christmas marketing campaign. Begin by setting clear goals and objectives for your campaign, and then work on creating a timeline that outlines the key tasks and deadlines.
Target your audience: Identify your target audience and tailor your marketing efforts to appeal to their interests and needs. Consider using customer segmentation to create customized marketing messages and offers.
Use multiple marketing channels: To reach as many people as possible, consider using a variety of marketing channels, such as social media, email marketing, and paid advertising.
Create engaging content: Whether it's a festive blog post, a holiday-themed social media post, or a special offer, make sure your marketing content is engaging and relevant to your target audience.
Offer promotions and discounts: Consider offering promotions and discounts to encourage customers to buy from you during the holiday season. This can be a powerful way to drive sales and build customer loyalty.
Measure and analyze your results: Keep track of the results of your campaign and use this information to fine-tune your marketing efforts in the future. This will help you understand what works and what doesn't, and make adjustments accordingly.