How much do you know about Facebook tools?
Even better, how much do you know about how to use them to market your WordPress site or promote your blog content? 
You might think you're already an expert, but trust us — there's always something new to learn.
So, Why Facebook?
It's no surprise that Facebook has emerged as a leader in the social media space. With over 2.96 billion (only 40 million shy of 3 billion) monthly active users, there's no better place to promote and market your WordPress site.
Let's just say there's a lot to be milked from the platform, but only if you know how. 
That's why we've cherrypicked 10 of the best Facebook tutorials and tips for WordPress users.
#1. Create a Custom Facebook Feed and Embed It on Your WordPress Site or Blog
How do you keep your WordPress site updated with fresh content from Facebook? It's easy — just create a custom Facebook feed and embed it on your WordPress site. 
By embedding a custom Facebook feed, you'll be creating an automated system that automatically updates your page with new and exciting content from your Facebook page or group.
It also acts as social proof, engaging your audience further and helping them socially connect with the content you're pushing out.
The easiest way to add a custom Facebook feed to WordPress is through a plugin like Smash Balloon.
Smash Ballon is one of the best plugins for this.
It's easy to use, and the feed can be customized to match your website's look and feel.
#2. Add a Facebook Open Graph to Your WordPress Site
Open Graphs metadata is like a secret code embedded into your WordPress site, making it easier for Facebook and other social media networks to understand its content and display it properly on their platform.
They help social media networks get the metadata of the content you share and also provide a way to customize how the content appears when it is shared. 
Facebook will automatically display your articles title, description, and image when you share it, but with the Open Graph, you can customize that information to make it more attractive and descriptive
Adding an Open Graph meta tag is easy. You can use an SEO plugin such as AIOSEO or Yoast SEO to add it in just a few clicks. 
Beneath your post editor, you can choose a post thumbnail and add a new title, description, and image for the post. This information will be used as an Open Graph tag instead of the regular WordPress data.
You can even preview how your post will appear on Facebook. Once you're happy with your post, click the Publish button, and your content is ready.
#3. Pin a List Builder at the Top of Your Facebook Page 
Who said list builders were just for email? Pinning a list builder to the top of your Facebook page is an excellent way to capture leads. All you have to do is create a free eBook, guide, video, challenge, etc., and offer an opt-in form to capture users' information. 
Users visiting your page will be greeted with the list builder. They can click on it, fill out the form, and boom! You've got yourself a new subscriber.
Don't let the occasional traffic you get from Facebook go to waste. Get creative with your list builder and use it to capture those leads.
The people reading your posts should be able to share it with their friends and followers on Facebook easily.
The simplest way is to add a Facebook social sharing button. Your readers can share your content with their entire social network with just one click.
It doesn't take much effort to add this button, either. Just install a plugin like AddToAny Share Buttons or Shared Counts, and you're ready to go.
It uses a unique caching system, so the server won't be overloaded no matter how many people share your post. Plus, you can customize the look and function of the button so it perfectly fits in with your WordPress website design.
#5. Add Your WooCommerce Store to Facebook
Do you have a WooCommerce store? If so, you can easily add it to your Facebook page. With the right plugins and extensions, you can add a shop tab to your page and start selling from there.
Remember, not all your social media followers know about your store, so adding your WooCommerce store to Facebook is a great way to draw attention to it and generate more sales.
We recommend using a plugin like Facebook for WooCommerce.
With this plugin, you can easily connect your WooCommerce store to Facebook, list products on Facebook, promote your products via stories and ads, and more. 
Also, when someone purchases your product from the Facebook store, you can easily manage the order and shipment within WooCommerce.
#6. Automatically Post from WordPress to Facebook
Posting content from WordPress to Facebook manually can be tedious and time-consuming. We recommend using a plugin like Auto Post to Facebook or Uncanny Automator. 
These plugins can automatically post your blog posts and pages from WordPress to your Facebook page.
It's like Zapier for Facebook but without the need to use Zapier or any other third-party tool. 
You can include images, titles, and descriptions with each post automatically. 
The free version of Uncanny Automator will give you 1000 free credits. The credits allow you to automatically post your WordPress content to multiple Facebook pages or groups. 
You can use these free credits to experiment with the plugin and see if it's something worth investing in.
#7. Set Up Facebook Conversion Tracking:
So, how do you track your posts' impact on leads and sales? 
The answer is by setting up conversion tracking. 
Depending on the nature of your business, you can track different types of conversions, be it purchases, email newsletters, contact form submissions, or app installs. 
Facebook allows you to create custom conversions, so take advantage of this feature to gain better insight into your campaigns. 
Doing this lets you understand which of your posts are performing well and which aren't performing at all. 
So, how do you get started? Well, head over to the Ads Manager > "Campaigns" > "Ad Sets" or "Ads," depending on what you want to measure.
Select "Columns" and select the conversion to track, whether sales, traffic, app promotion, engagement, video engagement, etc. 
You can also set up conversion tracking through Google Analytics by installing MonsterInsights.
#8. Start Embedding Your Facebook Post Status on Your WordPress Site
Your site visitors won't see your page's status until they leave your website and head over to your page. Why not give them the option to view it right then and there?
Embedding Facebook statuses is super easy.
Go to Facebook and click on the three-dotted lines at your post. You'll see the option to embed the post – click on it, copy and paste the code into your WordPress site's page/post editor, and you're done.
Your visitors can now view the post directly on your website without having to leave it. It increases their engagement with your page and encourages them to visit your Facebook page as well.
It also increases your visitors' dwell time, boosting your SEO rankings and helping your website get more organic traffic. 
So if you haven't embedded a Facebook post on your WordPress site yet, don't wait for another day — give it a go now.
#9. Display Your Facebook Timeline on Your WordPress Site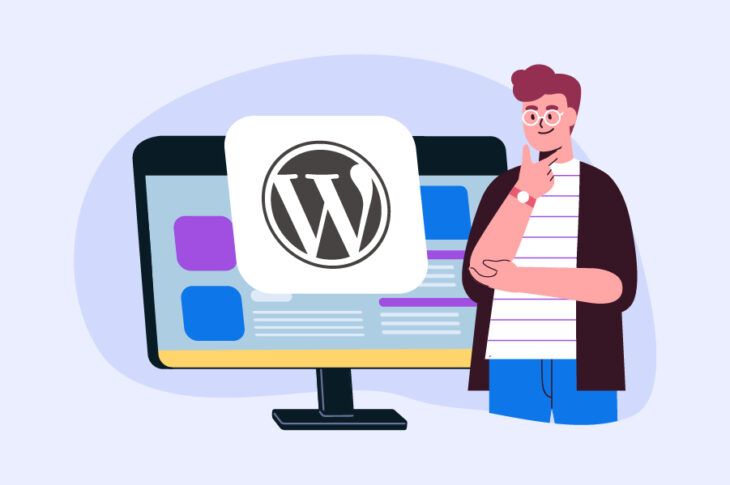 Missing out on a great way to showcase your Facebook page posts? Let's not waste any more time – it's time to display your Facebook timeline on your WordPress site.
It might sound complex, but it's quite simple with a plugin like Smash Balloon Custom Facebook Feed Pro. 
This plugin was designed for non-developers, but still, it's surprisingly powerful and allows you to embed Facebook post feeds on your WordPress website with just a few clicks.
Plus, it's compatible with all the major page builders, including Elementor and Beaver Builder, for more designs and layouts.
But that's just the beginning – you can also fully customize your Facebook page display with Smash Balloon Custom Facebook Feed Pro.
You can choose from many style options such as masonry, grid and carousel layout, set post widths, change colours and fonts, create custom templates, and more.
#10. Run a Facebook Giveaway on Your WordPress Site
It's a great way to get more likes and followers and collect customer data like email addresses.
The best part is that you don't have to leave your WordPress site to run the giveaway – with plugins like RafflePress, you can manage the giveaway promotions on your own WordPress site.
The plugin has a simple drag-and-drop giveaway builder with built-in features such as form integrations, entry tracking, and the ability to create eye-catching visuals.
They also have a library of pre-built templates to quickly set up a professional-looking giveaway.
Now, with just a few clicks and some simple steps, you can get your Facebook giveaway campaigns up and running in no time.
And who knows, you may just find yourself with a lot more followers on your page after the giveaway ends.
#11. Embed Your Facebook Videos in WordPress
One of the great things about WordPress is that you can embed videos from almost all the major video hosting websites. 
The same goes for Facebook. You can easily embed your Facebook videos in WordPress, and they'll look just as good as if hosted directly on the platform.
It means you can easily spruce up your blog or website with your own videos without worrying about hosting them yourself.
You can use Smash Balloon's "Custom Facebook Feed Pro" plugin to embed your existing Facebook Videos into WordPress and customize them to your liking.
#12. Turn Your Facebook Page into LinkedIn
We all know LinkedIn as the place to network, connect, learn from,  and get hired. But did you know that you can use your Facebook page to do the same thing? 
It's a little-known hack that, when applied correctly, can turn your business page into a powerful professional networking tool.
Be prepared to connect, engage, and network with people outside your friends and family, and you'll be able to take advantage of the amazing opportunities this new platform can bring. 
And don't forget that you can even use your page to showcase your professional portfolio and highlight any projects you're working on. 
Here's what you'll want to do:
You can begin by writing and sharing stories that position you with your audience, allowing you to see what you do as an entrepreneur. 
Move on to creating posts that provide value and educate your followers, like how-to's, tips, and other helpful information related to your field. 
You can also use the platform to increase brand awareness by sharing content from industry influencers and tastemakers. 
Plus, you'll want to ensure your page looks attractive, with images and videos drawing in viewers.
#13. Send Voice Messages on Messenger
Audio and voice-based streaming apps such as Clubhouse, Twitter Spaces, and Zoom are taking over social media. 
With Facebook Messenger, you can record and send your followers voice messages. 
Let them hear your voice and your passion for your services and products. 
It's a great way to connect personally with your customers, build trust, and increase customer loyalty. 
You can also use this feature to answer frequently asked questions and provide updates on new products or services. 
Simple and easy, just click the microphone icon in Messenger and start talking. 
Tell your customers about what you do, why you do it, and what makes your business stand out. 
Using this feature, you can quickly build customer relationships and make your brand more memorable.
The possibilities are endless, so get creative and give it a try.
#14. Change Your Posts' Fonts into Something Fancy
Don't settle for plain, boring text.
Instead, experiment with different fonts and colours to make your posts stand out. 
Make Cool Fancy Text Generator your friend, and find out what you can create together. 
It's simpler than you think.
All you have to do is enter a text and select a font or style. 
The tool will spit it out in an eye-catching font you've selected, ready to be posted on Facebook. 
From there, all that's left for you to do is copy the text and post it on your page. 
You can use the font on your title, description, or in the body of your post. 
Take advantage of this neat tool and transform your Facebook page into something fabulous.
#15. Unlock Text Delights
Still on fancy text. Did you know Facebook has a bunch of secret text tricks you can use to give your posts a little splash of fun?
They're called "Text Delights" and add a festive touch to your posts. 
Ever typed "Wonderful time" or "Congratulations" and seen it change its colour? 
That's Text Delight in action.
Well, the colour change isn't even the trick.
Try clicking on the words, and a little neat animation will appear.
#16. Get Credentialed and Protected as a Journalist
Journalists are the eyes and ears of society, always on the lookout for truth. But to be a successful journalist requires more than just good investigative skills.
Facebook understands this. So, in 2020, they rolled out a program to verify and protect the journalists on their platform.
In August 2022, they updated the program to include both staff journalists and freelancers. In addition to protecting their Facebook profiles, they also added more features for Instagram journalists and the option to apply for a Blue Badge.
Before applying for the program, ensure you have a professional email address associated with the news organization you work with. For example, if you're a freelance journalist working with the New York Times, ensure your Facebook profile is associated with your NYT email address.
The organization must also be registered as a news page on Facebook.
Here are some of the perks that come with becoming a verified journalist: 
Enhanced account protection and safety:

Facebook won't just block your account if someone reports you for inappropriate content; they will take extra steps to ensure you're a verified news source before making rash decisions. 

Content Insights:

Becoming a verified news source allows you to access detailed analytics about how your content performs on Facebook.

Access to new features and product tests:

You never know what new products Facebook will launch, and with verified accounts, you may have the chance to get the inside scoop. 
The program is free, so there's nothing to lose. 
To apply, go to "Settings" and "Journalist Resource" on the left.
You should see a landing page like the one shown below: