The ecommerce industry has come a long way since its humble beginnings in the 90s. A lot has changed over the years, and in 2023 things are set to get even more competitive.
That's why any growing ecommerce business needs to stay on top of its game. In this case, knowing the latest stats and trends is key to staying ahead of the competition in 2023. 
That said, here are some of the most interesting stats to keep you one step ahead:
General ecommerce Industry Statistics in 2023
Let's start by looking at the ecommerce industry as a whole. We'll closely look at ecommerce sales and segments and then move on to more specific details, such as mobile commerce and payments.
Global ecommerce Market Statistics
Stat #1: The Ecommerce Market Will Generate About $6.3 Trillion by the End of 2023
Fasten your seatbelts. I'm about to hit you with staggering figures. 
The ecommerce market will reach an estimated $6.3 trillion by the end of 2023, a massive increase from $4.8 trillion in 2020.
To put this into perspective, if online sales were a country, it would be the world's third-largest economy after the US (with a GDP of US$20.89 trillion) and China (with a GDP of US$14.71 trillion).
Source Link: Forbes, Feb 2023
Stats #2: Ecommerce Sales will Grow by 10.4% in 2023
Growth isn't slowing down, either. The ecommerce market is expected to grow by 10.4% in 2023. As more and more people gain access to a steady internet connection and get used to the convenience of online shopping, this number will only increase.
It's predicted that ecommerce growth will continue into the better part of the decade, so if you want to stay ahead of the competition, it's time to start beefing up your ecommerce strategy.
Source Link: Forbes Feb 2023
Stats #3: China Dominates the eCommerce Market
China is an ecommerce powerhouse, bolstered by its large population and the ecommerce giant Alibaba.
Its annual ecommerce sales reached 1,538 billion in 2022. They accounted for about 52% of all retail sales that year.
The second biggest ecommerce market was the US, with $875 billion. Japan follows it with $241.0 billion, then Germany with $148.0 billion.
If you're planning to enter the global market, China should definitely be high on your list of priorities.
Only 19% of the retail sales in the US were from ecommerce sales.
Here are the top 10 ecommerce markets in the world:
South Korea (US$118 billion) 
Indonesia (US$59 billion) 
Stats #4: Singapore is the World's Fastest Growing eCommerce Market
Singapore is the world's fastest-growing ecommerce market, poised to grow at a CAGR of 12.2% from 2023 to 2027, hitting a market volume of  US$10,453.4 million by 2027. 
It's predicted to grow by 36% this year alone.
Here are the top 10 fasted growing eCommerce Markets in the world and how much they're expected to grow in 2023:
Sector Specific Ecommerce Statistics to Keep You on the Ball
Now, let's zero in on the sector-specific ecommerce stats you need to keep an eye on:
Stats #5: Fashion is the Highest Grossing eCommerce Sector
Fashion holds the most significant market share of all the ecommerce sectors. 
Although its total revenue dipped by 2% in 2021, it's still estimated to account for about US$871.2 billion in ecommerce sales around the globe in 2022. 
That makes it the highest-grossing sector in the ecommerce space, far outpacing consumer electronics at US$765.7 billion, toys, hobby, and DIY at US$601.7 billion, and furniture products at US$387.7 billion.
Here's a quick rundown of the top 10 ecommerce sectors and the estimated sales for each one in 2022: 
Fashion: US$871.2 billion
Consumer electronics: US$765.7 billion
Toys, hobby, and DIY: US$601.7 billion
Furniture: US$387.7 billion
Personal & household care: US$368.2 billion
Beverages: US$207.9 billion
Physical media (books, video games, CDs, etc.): US$143.8 billion
Source Link: Data Report, Jan 2023
General eCommerce Statistics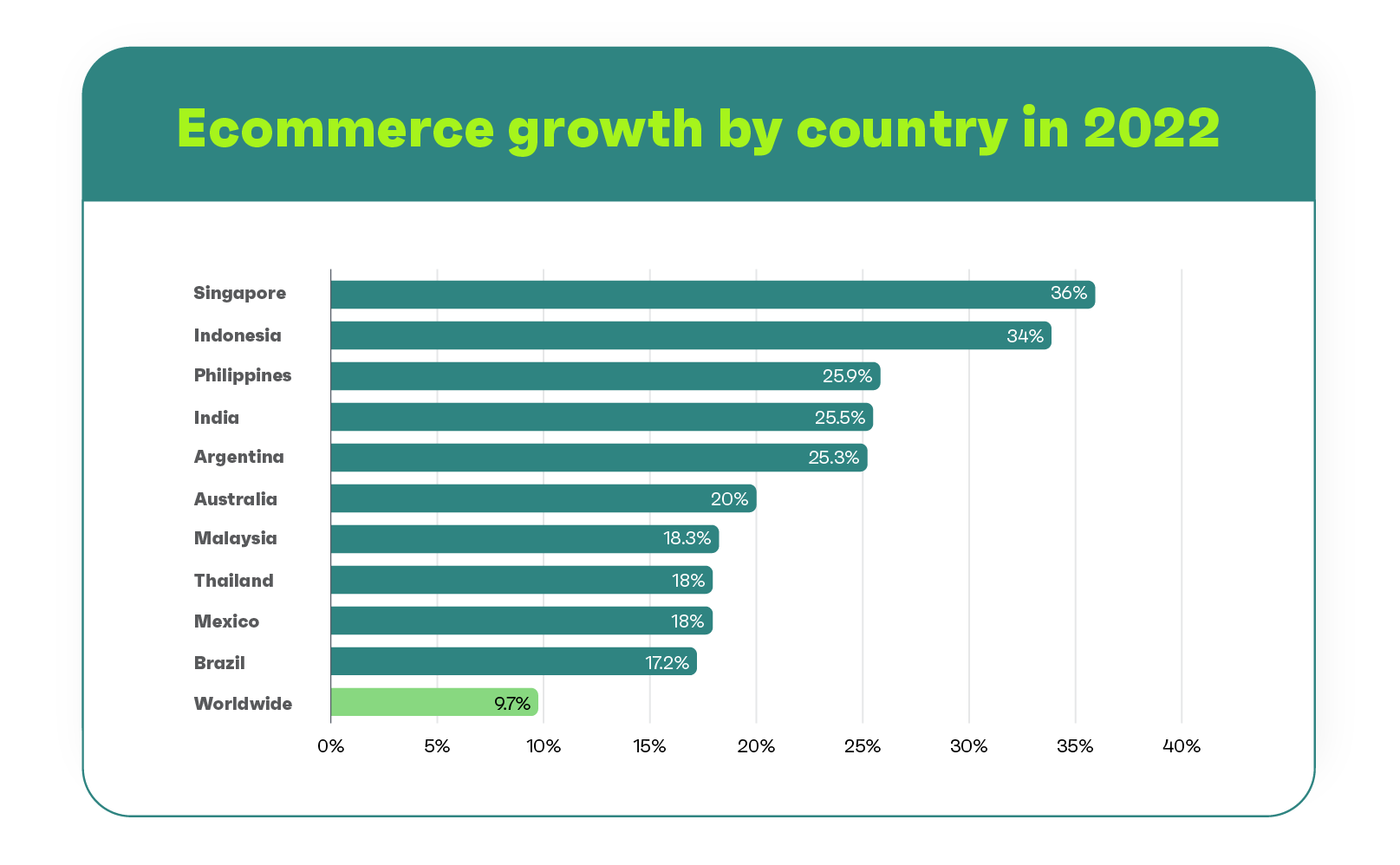 eCommerce refers to the ecommerce transactions that take place electronically. By the end of 2022, global ecommerce sales reached 5.7 trillion US dollars in revenue. And if the current trend is anything to go by, it's estimated that global ecommerce sales will reach 6.3 trillion US dollars by 2023.
With such huge numbers in play, it's easy to see why competition is so fierce among ecommerce businesses. That's why you need to keep your finger on the pulse of all the latest stats and strategies — they can be the key to staying ahead of the pack. 
If you're looking to get a leg up on the competition, here are five ecommerce stats that should keep you one step ahead in 2023:
Stat #6: There are 12 million to 24 million ecommerce sites Worldwide
There are an estimated 12 million to 24 million ecommerce sites worldwide, with new ones popping up daily. 
That's partly exacerbated by the fact building a website has become cheap and easy. That said, there's still a need to compete on the quality of goods and services, which is where the rubber meets the road. 
Source Links: PipeCandy, May 2022
Statistics #7: Less than 1 million websites make more than $1,000/per year
That means there's still tons of room for growth. 
Stat #8: WooCommerce is the Most Popular Ecommerce Platform Worldwide
WooCommerce dominates the ecommerce platform market with a 41% share. That means that nearly half of all ecommerce websites are built on WooCommerce, making it a great choice for any business looking to get into the ecommerce game.
6.1 million ecommerce sites use WooCommerce, a figure projected to grow substantially in the coming years. 
It's followed by Shopify (powering about 4.1 million sites) and Open Cart (powering about 4.1 million sites).
Here's a list of the most popular ecommerce platforms:
WooCommerce

(6.1 million live ecommerce stores)

Shopify

(4.1 million live ecommerce stores)

Open Cart

(350, 000 live ecommerce stores)

PrestaShop

(264,000 live ecommerce stores) 

Adobe Commerce

(formerly Magento) (148,000 live ecommerce stores)

BigCommerce

(46,885 live ecommerce stores)
Source Link: Holler Box, 2023
Online Shoppers Trends and Behaviour in 2023
It's time to look into the future and see what trends will shape the behaviour of online shoppers in 2023. 
As consumers become more tech-savvy and connected, their shopping behaviour changes rapidly. Here are some key trends to watch out for:
Stats #9: In 2022, 4.11 Billion People Purchased Goods Online
More than half of the global population purchased something online last year. That figure represents an 8% growth from the previous year. This trend will continue in 2023, with more people turning to ecommerce stores for shopping.
Source Link: Data Report, Jan 2023
Stats #10: 57.6% of Internet Users Shop Online weekly
57.6% of internet users shop online at least once a week. This figure indicates the growing reliance on ecommerce stores as people's primary Source Link for buying goods and services. 
Here are the top 10 countries with the highest number of online shoppers:
For those wondering, the USA does appear on the list. It's number 19, with 57.5%. That is slightly below the global average of 57.6%.
Source Link: Data Report, Jan 2023
Stats #11: The Global Rise of Cost of Living Will Affect Online Consumers
This isn't news, but people tightening their budgets and saving money on their purchases is affecting online retail. 75% of consumers worldwide say they aren't planning to increase their spending and are looking for ways to save more. 
Ecommerce stores have been able to deliver personalized experiences that cater to each customer's individual needs. By delivering tailored product recommendations, promos, and content, customers can get an experience that is specific to them. 
Brands must find ways to weather the storm. One way to do this is to make the most of their loyal customers – by offering loyalty programs, exclusive discounts, and rewards. 
The future of ecommerce also lies with artificial intelligence (AI). AI-driven tools can be used to automate processes, improve customer experience, and drive sales. By leveraging AI, businesses can create smarter shopping experiences tailored to the individual needs of customers, making them more likely to stick with the brand.
Mobile Shopping (mCommerce) Statistics
Customers no longer crave a seamless mobile experience. They expect it. 
For starters, 60% of ecommerce purchases are made using mobile devices.
That stat alone should be enough to convince brands of the importance of going mobile. 
Moreover, more than half of ecommerce transactions made in 2022 were done using a mobile device. That's a 1.2% increase from 2021. 
These stats suggest that customers are not only comfortable with the idea of shopping on their phones, but they're also increasingly likely to do so.
Source Link: Data Report, Jan 2023
Stats #12: 29% of Internet Users Transact Online Via their Phones at Least Once a Week
In 2023, 29.3% of internet users are projected to transact online via their phones at least once a week. 
And with the rise in popularity and acceptance of mobile payments, that figure is expected to increase even more. 
It's not just convenience that's driving these numbers, either. Consumers also feel safer transacting on mobile devices than with credit cards or other payment methods. 
In some countries, the number of people transacting online using their phones every week is actually higher. 
Here are the top ten countries with the highest number of mobile transactions: 
South Korea (44.3%)

Chile (37.7.%)

Malaysia (37.7%)

Taiwan (37.7%)

Philippines (37.5%)

Mexico (37.0%)

Indonesia (36.8%)

Turkey (36.8%)

Singapore (35.3%)

Vietnam (34.4%)
Again the US isn't on the list. That's because they aren't in the top 10. 
Their mobile ecommerce purchase ratio is 32.2%, while the UK's is 29.3%.
Stats #13: Statistics on Ecommerce Conversion
Creating a mobile user experience is one thing, but getting people to actually complete the purchase is another.
So, what drives online conversion?
Free delivery is the most convincing conversion driver, with 49.4 of consumers are more likely to complete a purchase if delivery is free. 
The second most popular driver is discounts and coupons (37.9% of respondents), followed by product ratings and reviews (31.6%), Easy return policy (30.4%, and easy checkout process (28.2%).
Stats #14: Consumers Are Likely to Spend More When Shipping is Free
Offering free shipping can result in an increase in average order value (AOV). Shopify found buyers will likely spend more when not paying a delivery fee.
Here's what they discovered:
#1. Customers ordered 2.5 items with free shipping instead of 2 items when they had to pay a shipping fee.
#2. Free shipping encourages customers to spend $3 more on their purchase than the average median item purchase
#3. The median AOV increases by $22 when shipping is free
Stats on Shopping Cart Abandonment
Stats #15: 70% of Shoppers will Leave Without Completing their Purchase
Shopping cart abandonment has become a familiar problem for ecommerce businesses. It occurs when customers add products to their carts but leave before they finish the checkout process. According to Hotjar, around 70% of online shoppers will leave without completing their purchase.
To be more precise, 69.99% of shopping carts are abandoned on average. That's an average of 48 shopping cart abandonment studies, with results ranging from 56% to 81%.
That's about 70%. 
In simple terms, only 3 out of every ten customers who add items to their cart will actually complete the checkout process. 
It's important to remember that this varies by industry, so you should take the time to research and get familiar with your specific niche.
Source Link: Baymard, 2023
Stats #16: Extra Cost Are the Number #1 Reason for Cart Abandonment
The same way free shipping encourages customers to complete their purchases, extra costs can be a major turn-off when customers check out. 
Extra costs such as delivery fees, taxes, and payment processing fees can add up quickly and make the purchase look much more expensive than it initially did. 
Make sure you're well aware of the fees associated with your products before you ask customers to pull out their wallets.
Baymard surveyed over 2000 online shoppers in the US. They analyzed their buying experience. It turns out 48% abandoned their carts because of extra costs.
That said, here are the top 5 reasons shoppers cited for abandoning their carts:
Extra costs, such as shipping, taxes, and payment processing fees, were too high (48%)

The fact that they couldn't buy without creating an account (24%)

Slow delivery (22%)

They didn't trust the ecommerce store with their credit card information (18%)

The checkout process took too long (17%)
These stats should warn ecommerce owners: keep an eye on fees, optimize the checkout process, and ensure customers feel safe and secure when shopping with you. The competition is tough, so don't let these little things slip through the cracks. Otherwise, you risk losing customers to the competition.
Source Link: Baymard, Jan 2023
Stats #17: Abandoned Carts Cost Businesses Over $260 Billion a Year
It's a serious case of buyer's remorse. Nearly 75% of shoppers abandon their carts, costing businesses over a quarter of a trillion annually. If you want to hold onto customers, ensure your checkout process is streamlined and efficient. Your customers should feel confident that their payment information is secure and that they get the best deal possible.
Source Link: Baymard, Jan 2023
Stats #18: AI and Automation Will Change Ecommerce
The rise of AI technology and automation is revolutionizing ecommerce in ways we never thought possible. AI-enabled chatbots allow customers to get help quickly and easily, while automated order fulfilment systems can increase accuracy and speed. With AI and automation, businesses can process orders faster, reduce shipping costs, and improve customer service.
Ecommerce Marketing Statistics
Now, let's look at some ecommerce marketing statistics that should give you an idea of how important it is to invest in effective marketing tactics.
Visual Content in Ecommerce
Visual content is everything in ecommerce. We're talking videos, user-generated content, product photography, social ads, and virtual reality. It can't be stressed enough how important visuals are in driving sales and increasing customer engagement.
Stats #19: Product Photography is the Number One Purchase Driver
It's common sense. No one wants to buy what they don't know. They want to see it, feel it (to an extent), and understand what they're buying. Product photography can help you solve all these needs, so invest in high-quality photography that accurately represents your product. 
75% of ecommerce shoppers rely on product photography for their purchase decision.
Source Link: Weebly, 2018
Stats #20: Videos Explaining How Your Product Works Are Far More Impactful
It's not enough to just show a product; you must explain how it works. Videos are the perfect medium for this. Not only do they provide a detailed demonstration of how your product works, but videos also explain the features and benefits of it. 
Google conducted a study on this in 2019. They found that videos helped more than 50% of online shoppers decide what to buy.
Source Link: Google, 2019
Stats #21: Statistics on Ecommerce Websites
Search engines are the leading channel for brand discovery. That means people go to search engines first when looking for a new product or service to buy. 
30% of Shoppers ranked search engines as the number one way they discovered new brands and products in 2023.
Here's a list of all the channels for brand discovery in 2023:
Word-of-mouth recommendations — 27.4%
Ads on social media — 26.6%
Brand & product websites — 23.3%
The bottom line: Start investing in SEO. When users search for your product or service, your website or blog should be among the first results they see. That's how you can increase your visibility and build with potential customers. 
Stats #22: Of all the Interactions You Have with Your Customers Online, They First Place they're Likely to Visit is Your Website
Your website is the backbone of your online presence. It's the hub for all the content you create and curate, whether blog posts, videos, podcasts or product reviews. Invest in making your website as user-friendly and engaging as possible, so customers can easily access the information they need.
43.1% of internet visited a brand website at least once a month in 2022, so give them a website experience they'll want to return to.
Source Link: Data Report, Jan 2023
Stats #23: More Brands Will Use Ecommerce Marketplaces in 2023
Ecommerce marketplaces, like Amazon, are becoming increasingly popular as they offer shoppers a wide range of products from different brands in one place. This means that brands need to be aware of the competition and leverage the right marketplaces to succeed in ecommerce.
27% of DTC (direct-to-consumer) brands plan to increase their presence in ecommerce marketplaces in 2023. Why? Because customers love the convenience and trust these marketplaces offer. So, if you want to keep up with your competitors, it's time to get on board and ensure your brand is represented on the right platforms.
Source Link: Shopify's eCommerce Trends, 2023
Stats #24: Social Commerce will be Big in 2023
Social commerce is taking off for brands to reach and engage customers. People use social media platforms like Instagram, Pinterest, and Facebook to connect with brands, research products, and purchase directly from them.
Social commerce is a rising trend that shows no signs of slowing down soon. It's where customers directly shop and purchase goods or services from a social platform. As platforms continue to roll out new features, like Buy Now buttons and Shoppable Ads, it's safe to say this will be the year when most businesses will start selling directly-to-consumer on social media.
Stats #25: 26% of Customers Say They Hear of a New Brand for the First Time through Social Media Ads
Social ads don't just drive sales. They can also help you get the word out about your brand. Research shows that nearly a third of shoppers have discovered a new brand through social media ads. Regarding social media, you want to invest in ads that appeal to your target audience.
Stats #26: Gen Z's Are Most Likely to Turn to Social Media for Shopping Tips and Brand Research
16 to 24 years old are the most active social media users and are also one of the biggest online shoppers. 
But unlike millennials and other generations, Gen Zers turn to social media (not search engines) for brand research. 
In other words, social media is the search engine for younger shoppers. 
It helps to make your brand visible on the platform if you're trying to reach this demographic. 
It also helps to ensure your posts are tailored to your target audience since Gen Zers don't respond well to generic ads. 
Additionally, leverage influencers and their followers to drive traffic and sales.
Source Link: Data Report, January 2023
Stats #27: Social Commerce Sales are Projected to Hit 2,900 Billion By 2026
Social media is on a roll, and it's only likely to speed up. 
Shopify predicts social commerce will take an even bigger share of the ecommerce pie, with a whopping US$2,900 billion in sales by 2026.
Source Link: Shopify's Commerce Trends, 2023