According to BusinessWire, the online education market is expected to witness a lucrative growth of around $350 billion by the year 2050. Global e-learning already crossed $250 billion in 2020, driven by the proliferation of apps, AR, ML, VR, and cloud-based services such as Khan Academy, DuoLingo, and Coursera.
The demand for education apps will only increase with the changing times. So, if you're an entrepreneur looking to make a big splash in the ed-tech industry, app development should be at the top of your priority list.
Education is the Second Most Popular Category on Android
Stats show education apps are the second most popular category in the Google Play Store, second only to games. They make up 9.31% of all downloads, meaning your education app has a great chance to make an impact.
Source link: https://www.neoito.com/blog/educational-app-development-guide/
In other words, there has never been a better time to become the next big ed-tech mogul.
But where do you start?
Use this comprehensive education app development guide to get your feet off the ground and develop a successful education app.
Education Apps Growth in the Whole Industry (The History of E-learning)
E-learning is one of the fastest-growing sectors in the global economy.
The term itself was coined in the late 1990s, but its roots can be traced back to ancient times.
Long before the internet was launched, distance courses and correspondence schools were used to provide education. 
In the 1840s, Isaac Pitman introduced shorthand courses he taught via correspondence. This form of symbolic writing was designed to help students improve their speed and accuracy in taking notes. 
Fast forward a century later, in 1924, the first testing machine for school exams was invented. This machine allowed students to take and record their answers without needing a teacher. 
The history of e-learning took a major leap forward in 1954 when a Harvard Professor, BF Skinner, developed the Teaching Machine. The machine enabled teachers to administer programmed instructions to students and allowed immediate feedback. 
Jump forward to today, and we're in the midst of a digital revolution. Mobile app development is changing how people learn, with e-learning apps becoming increasingly popular. Nowadays, education apps are designed to bring convenience to learning and give students access to educational resources at any time and from any device.
Education Apps Are Making More Money than Ever 
It's no surprise that the educational app market is booming.
Byju is among the more successful ed-tech companies. In 2020, the company made US$41.43 million in revenue, a record amount for an education app. It was also ranked #13th as the world's most valued startup, reporting a consolidated revenue growth of 82%.
In 2015, Lynda.com was acquired by LinkedIn for US$1.5 billion, showing that people are buying into the idea of educational apps as worthwhile investments. 
Khan Academy is a non-profit that offers free educational resources worldwide and has also seen tremendous success. In 2021, Elon Musk donated US$5 million to Khan Academy, highlighting the potential of educational apps for making a difference.
As you can see, education apps are more than just a passing trend—they're here to stay. And they're as profitable as ever. 
What's Education App Development All About?
An education app is a piece of software that helps students, teachers, and other individuals learn or teach something new. It can be anything from a basic quiz app to a more complex virtual classroom with multiple users. 
The goal of an education app is to make learning easier and more accessible for everyone, regardless of their location or financial situation. They provide the tools needed to acquire knowledge quickly and conveniently.
What Makes Education App Development So Popular?
Statista has shown how education app development has risen dramatically over the past few years, ranking #3rd by share of available apps (trailing only behind gaming and business apps).
So why are people so enamoured with education apps? The answer is simple: convenience. 
Everyone involved, students, teachers, and parents, all have something to gain from educational apps. 
Students can access educational content anytime, whether on a bus or in the comfort of their homes. Geographical boundaries or time constraints do not limit them. They can also record sessions and go through them as often as they wish. 
They also don't have to rely on teachers being within their proximity. Students from rural, remote areas can now access quality education, even if they don't have access to traditional education. 
Teachers get the benefit of convenience too. They can track student progress, send parents updates, and provide real-time feedback. That lets them intervene early if students are struggling with a particular topic. 
Parents also reap huge gains from education apps. They gain insight into their child's learning or progress without having to keep tabs on what they are doing every second. 
Education apps are just the tip of the iceberg when it comes to education innovation, but they offer much potential for the future of learning.
How Education Apps Make Money
The benefits of education apps are just too good to pass up. So how do they make money?
Let's begin by saying education apps can be a highly ambitious and lucrative business. 
You might have to do a lot of research, trial and error, and tweaking your app ideas to stay ahead of the competition.
But the rewards are well worth it. You hook a young child onto your app, and you're guaranteed a repeat customer for 12 or more years. 
So, how do the apps make money?
Ad Revenue:

A number of businesses, from schools, home coaching, colleges, private tutors, and bookstores, can all pay to be advertised on your app. You can charge for ads based on the number of clicks, impressions, or downloads. Alternatively, you can sell ad space directly to companies or individuals.

In-App Purchases and Subscriptions:

These are the most popular means of monetization in the app world, with a variety of paid content available within the app itself. That could include additional learning materials, virtual goods, or other related services that can be sold at various price points. That is great for developers, as it allows users to pay for content over a certain period continually.

Download Fee: You can charge users a one-time fee for downloading and using your app or content. This model works primarily for static content, such as textbooks and study materials, or for apps that offer one-time courses. Udemy, Coursera, and other similar services are popular examples of this kind of monetization.
How to Develop an Education App
So, how do you develop an education app?
You must understand that the development process mainly involves finding the right balance between concept and design. You should be able to turn your great idea into a finished product that people will actually want to use. There are several steps involved in the process, from gathering requirements and wireframing to coding and testing:
1) Research Your Audience
Your audience is students and teachers. Not really that hard to figure out.
But there are so many layers to this demographic:
What grade levels are you targeting? 

Are they in-classroom teachers or professors and lecturers? 

Do you have to integrate with any existing educational systems?

Are the students young kids or adults? 

Will you cater to the traditional student or focus on professionals looking for a refresher course?
In the other group, you have to understand the age of the students. Little kids need a completely different approach than adult students. 
Are you developing an A to Z course or just a set of tools to support learning? 

Will the course content be presented in text, audio, video, or some combination?

Are you looking for an AI-powered interactive game or more of a classic lecture style? 
These are some of the facts to consider. 
Are you creating a platform for teachers and students to come together? Or are you planning to employ in-house teachers to provide the course content? 
2) Prioritize Design with Concept Accuracy
There's little that isn't already available on the web today. Students can find just about anything they need, from online course platforms to text-based textbooks and interactive learning software. 
So, making study materials available through electronic media isn't enough to convince students. You want to create a unique learning experience students won't find anywhere else.
Figure out how to grab their attention and hold on to it. 

Ensure the design reflects the concept to create a lasting and effective learning experience. 

Brainstorm ideas, and never forget to include user feedback in the testing stage.
Let's face it: Learning coding or Calculus isn't exactly fun for most students. That's why you must ensure your education app is as engaging and interactive as possible. 
Add exciting animations, gamification features, and quizzes to keep users entertained.

You also want to make the concepts clear and easy to understand. Make sure it has questions that pique the user's interest and excites them enough to want to learn or discover for themselves.

The learning platform must also have an outlet for discussion, social interaction, Q&A, and any other means of user feedback and engagement.
Designing all these elements isn't easy. But it's a worthy challenge and a testament to your skill as an app developer.
You'll also need a UI/UX designer to help you bring the vision of your app to life.
3) Research Your Users and Competition
There already exist hundreds of educational apps on the market. So, what would you do to make your app stand out?
Research is key. You must understand your target audience and their needs. Ensure you know the current market trends, competition, and reviews.
Be meticulous with data collection. An app development without proper analytics can be disastrous for any business.
There may be thousands of education apps out there, but that doesn't mean there isn't room for one more – especially from you. So don't be discouraged. With proper research, determination, and planning, it's possible to come up with something totally unheard of that will make everyone stop and take note.
You want to begin by holding multiple levels of user research. From one-on-one sessions to group surveys and your own insights or insights from your friends and family, the more you know about what works and what doesn't, the better. 
Sit down and talk to different classes of people to see what they may want from an education app or what they're struggling with. 
Ask them what they like about different education apps and what they wish was better.
You could also look into the user stories of existing apps and take the best from them. See what tools they're using and how they are using them to get the most out of their application. Find the gaps and fill them, the strengths and make them better. 
4) Have a Creative Differentiator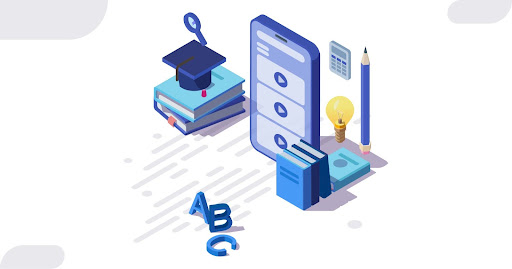 Your app should have at least one differentiating factor. That could be anything from the user interface to the content type it offers or its usability and design.
Have one feature that's particularly enjoyable to use, an idea that appeals to a broad audience, or something completely new that no one else has done before.
Whatever your creativity comes up with, use it as the unique selling point for your education app – this will be what sets you apart from other education apps out there.
Go through different innovative app ideas and curve something for yourself. 
Look at apps like PhotoMath or Mathway. These apps let students take pictures of different math problems and have the app solve them, explaining all the details and steps along the way. It's like having a math tutor at your fingertips. 

Doceri is an app for teachers that lets them draw diagrams, write on the board, and record their lectures while speaking. It turns your phone into a creative whiteboard.

Remind translates teachers' messages and notes into 70-plus languages

Kahoot is an app that lets teachers create interactive quizzes and games with their students. It turns boring class lectures into exciting learning experiences.

These are just a few examples of the possibilities that education apps offer.
With the right tools and guidance, you can create an app that could revolutionize your classroom — and maybe even the education landscape. Who knows? The next big thing in educational technology might come from you.
5) Personalize 
Keep track of assignments, notes, test results, student progress, and more with an education app. A great way to differentiate instruction is to personalize educational content for each student.
First, you have built features that enable students to save their work, quickly access class notes, submit assignments, and receive feedback from their teachers. 

You can also create a student profile page with educational goals, assignment reminders, notifications about upcoming tests, and more.

Next, use social media integrations to make social media part of their active learning experience. Students can show off their progress and any awards they have earned. They can use their social media following as their accountability group or track their friends' progress.

You also want to include discussion forums or chat features in the app. These can be used for class-wide discussions, debates, and problem-solving. 

You can also have a grading system to track students' progress as they progress through their courses. 

Finally, you want to ensure security using encryption options for data transfers and student communication.
6) Hire The Best Developers
There's no way around this. To get the best, then you have to work with the best. 
It starts with the teaching team you hire. They should be experts in the subject matter and passionate about helping students learn. 
From taking live lectures to creating video lessons to designing game-based drills for assessment, you want to work with the best skill there is. 
But don't forget the developers! They're the ones responsible for putting your vision into a functional product. Make sure you hire experienced professionals with experience in developing educational apps that meet your requirements. It pays off to be picky here — there's nothing worse than having to redo a project due to subpar development.
The Four Stages of Developing an Education App
Your users' demands must be met through a well-designed, perfectly functioning app. To ensure that happens, there are four stages to developing an education app:
#1. Analyze and Ideate
A solid concept and idea are the foundation or the building block of any successful e-learning project. The idea is to grow your app into a highly sought-after instruction tool. To do that, you need to research and analyze the market needs and compete with other education apps in a way that will differentiate you from the rest of the crowd.
First, you must consider the topics you'll cover and in what format. Will it be a video-based app? Audio-based? You must also consider the target audience, their age group and geographical location.
Once you have gathered all this information, you can start planning and ideating what your education app will look like. Will there be quizzes or assignments involved? How will you present the content? What kind of interactive elements can you include to make the experience more engaging? 
You'll need a team of developers and designers to implement your ideas. Finding the perfect people for the job can be tricky, but there are many resources available to help.
#2. App Design
Now that you have your team, it's time to get into the nitty-gritty of designing your app. That is where you'll decide on the look and feel of the app. You may want to discuss how users will navigate through your app and what features they can access or use. Visual elements also play a big part in this stage, as they can either make or break the user experience.
Ultimately, you want to make users as comfortable as possible while using your app. That means providing a clear and intuitive UI that feels natural for them to use. Spend some time researching apps similar to yours and see what works best in design. 
You can begin by creating an SRS (Software Requirement Specification) document. It includes an overview of the app, detailed descriptions of features and functions, user interface mockups, and how users will interact with it. It's important to think about these things ahead of time as they will influence your development significantly down the line. 
At this point, you want to enlist the services of a UX designer if you have a budget for it. Otherwise, it's time to start learning the basics of UI/UX design and creating your own mockups.
Once you have a good idea of how the app should look, find an experienced mobile app development company to bring your vision to life. They'll be able to provide you with expert advice and help you build something that meets all your requirements.
#3. App Development
After all the design work is done, it's time for the real fun to begin. App development requires technical intelligence and a lot of patience. You will need to make sure that you keep abreast of new technologies, as well as any changes in hardware or software that may affect your app.
You'll also want to monitor user feedback and factor in any tweaks or improvements you can make to ensure your app is the best it can be.
It's important to remember that app development isn't a one-time process. You'll need to keep up with bug fixes and feature updates periodically and monitor usage analytics from time to time. It's the only way to ensure your app remains relevant and useful for years.
First, you must agree on the most appropriate tech stark for the app. As there are so many options out there, it can be daunting to decide which is best for your needs.
Before deciding, you'll need to consider each solution's cost, scalability, and agility. 
Here are a few examples of tech stacks that are commonly used for app development:
MERN (MongoDB, Express.js, React.js and Node.js):

This popular web-based application stack works with web development projects requiring real-time data transfer between the server and the client.

MEAN (MongoDB, Express.js, AngularJS and Node.js):

This tech stack enables developers to create highly interactive single-page applications. 

Rails (Ruby on Rails):

Used for building web applications quickly and efficiently, this stack is particularly well-suited for startups.

Grunt (HTML5, CSS3, JavaScript and jQuery):

Great for rapid development of mobile apps with a responsive user interface.
Once you've settled on an option, you need to create a minimum viable product (MVP) with just enough features to test the concept.
Once the MVP is complete, you can launch a beta version for testing and feedback. That will allow you to get user comments on what works and what doesn't before making any significant changes or additions.
#4. Deployment
Finally, it's time to deploy your app. Different deployment options are available depending on the platform you've chosen for development. Popular choices include App Store Connect (for iOS), Google Play Store (for Android), and web hosting services like AWS or Firebase. Each has its own set of requirements and guidelines to be followed to deploy your app successfully.