Are you looking to make some money in 2023? How about you try flipping domain names? It might sound complicated, but it's actually one of the easiest things you can do to make money.
And not just money, but big money.
Domain flipping is a lucrative business that can make you some serious dough. You can even turn it into a full-time job if you want to.
The right domains sell for thousands of dollars. And yes, it's just a game of arbitrage. You buy a domain name for as low as $10, and then you can turn around and sell it for thousands.
Let's just say that if you're thinking of starting a business in 2023, domain flipping should be your first thought. It's that easy and lucrative. And this might be the only article you should read to get started.
What's Domain Flipping?
Domain flipping is when you buy a domain name as cheaply as possible (about $10), and without doing anything to it, you sell it for a much higher price (sometimes thousands of dollars) than what you paid for it.
The domain industry has been around since the mid-90s, and it's still going strong in 2023.
When done at scale, it can make you a fortune. Some people have made millions flipping domain names.
A Step-by-Step Guide to Flipping Domains
Now that you know what domain flipping is, let's get into the nitty-gritty. Here's a 5-step guide on how to start flipping domains in 2023:
Step #1: Search for a Quality Domain
The first step in flipping a domain is to search for a quality domain. You want to find a domain name that people are likely to buy.
You have to know where to look for these domains.
Here are some of the best places to start looking:
SpamZilla is a site dedicated to finding and qualifying expired and dropped domain names. You can use the platform for SEO research, domain checking, and more.
It's an excellent platform for finding domain names with huge SEO value and a large backlink profile.
Domain Hunter Gatherer is a desktop-based domain hunter.
It allows you to search in real-time expired domain names.
It also features a series of tools you can use to analyze and evaluate the quality of the domain names. 
Even more interesting, you can narrow your search to domain names with links from existing websites, such as Wikipedia.
Last but not least is NameJet, a domain auction site.
NameJet has an extensive database of expiring and auctioned domain names. 
You can find some really valuable domains here, though it takes a bit of research.
Domain catching is where you buy domain names immediately after they expire.
It's hard work, considering you must be online 24/7, monitoring the expiring domains.
Still, if you have the time and dedication, you can find some great domain names with this method.
Some of the sites you can use for domain catching include:
Drop Catch:

 An easy-to-use platform for finding expiring domains and bidding on them.

Snapnames

:  Another popular domain-catching platform that's been around for years.

Nidoma

: You can use Nidoma to find, buy, and sell domain names.
Use these services to automate the process of catching domain names before they expire or anyone else gets them.
Step 2: Evaluate the Domain
Once you have a list of potential domains, it's time to evaluate them.  
Remember, you can either make a loss or a profit when you buy a domain name. And you don't make a profit or loss when you sell the domain. You make it at that moment when you're buying one. 
So take some time to research and evaluate each domain before buying it.
If the domain name you buy is valuable, you'll make a good profit when you sell it.
But you'll suffer a large loss if the domain isn't valuable. 
Here's what you want to avoid:
Buying a domain name for more than what it's worth

Purchasing a domain that no one will buy

Buying a domain that's been penalized or has a bad history with Google

Buying a backlisted domain name
You want to be sure about the domain name you buy. Ensure it has value and is worth the price you plan to sell it for.
So, how do you determine a domain's value?
There are several key factors to check before you purchase a domain name for resale:
Pay Attention to the Top Level Domain (TLD)
The Top-Level domain is that part of the domain name that comes after the dot (like .com, .net, or .org). 
Hundreds of TLDs are available, but not everyone is worth the same in terms of value. 
For example, .com domains are highly sought-after and, therefore, more likely to attract buyers. 
We suggest that you stick to the .com TLD and only look at the other TLDs if the domain is extremely high value.
Is the Domain Name Brandable?
As the name suggests, a brandable domain name is easy to brand. They're memorable, catchy, and don't require lengthy explanations. 
Here are some of the qualities of a brandable domain name:
They're easy to remember

They have less than ten characters

They're unique and distinctive

They're fun to say
Example of a brandable domain name: Waze.com
Brandable names are attached to a specific name. They have a sentimental value that makes them more attractive to prospective buyers. Or it could be how they roll off the tongue — for example, Fizbiz.com.
Is the Domain Name SEO Friendly?
A domain can be SEO-friendly.
It's not necessarily about the domain name having an exact match keyword. When people look at the domain name, they should be able to get an idea of what the website is about.
For example, if you have a website selling car parts, try to find a domain name that has the words "car" or "parts" in it, like AutoPartStore.com
That way, when people look at the domain name, they'll immediately know what it's about.
So, how do you determine if a domain is SEO-friendly?
Does the domain contain a relevant keyword?

Does the domain get over 200 searches per month? 

Is anyone bidding on the keywords for Google Ads
The number of searches a domain name receives indicates the overall interest in the domain's topic. If people actively search for that domain name, it has potential, and there's a fair chance you might attract a buyer quickly enough.
What's the Domain's Backlink Profile Worth?
Buying an expired domain name means getting a domain name and its backlink profile. All the backlinks the previous owner would have accumulated during its lifetime will be passed on to you.
Imagine buying a domain name linked to hundreds of high-quality websites, such as Forbes, The New York Times, or Entrepreneur. 
That would be a good deal for you because the domain's backlink profile will help boost SEO rankings.
Remember, building a backlink takes time, money, and effort. So buying an expired domain with an existing backlink profile is a great way to get ahead of the competition. 
It's even better when the domain has links from .edu, .gov, and .org sites.
Come to think about it, a reputable link building service will charge between $170 to $220 to build a single link. Now, imagine getting a backlink from those same sites but for the price of just one domain.
So, how do you audit a domain's backlink profile?
First, check how many backlinks the domain has. You can use tools such as Ahrefs, OpenLinkProfiler, or Moz Link Explorer to check the number.

What's the domain rank of each of the backlinks? By checking the Domain Rank, you can determine the value of each backlink. Also, check for negative backlinks that may harm the domain's rankings. 

Calculate how much it would cost to acquire these backlinks. That will give you an idea of the potential value of the domain.
You can use Ahrefs to do all this.
Enter the URL on Ahrefs to see how many high-quality backlinks the domain has. Next, multiply the number of links by the cost of building one backlink. That will give you an estimate of the domain's backlink profile worth.
For example, if the domain has 29 backlinks and costs $200 to build one link, then its backlink profile is worth approximately $5,800.
Editorial links from giant publishing companies such as BBC, New York Times, and Huffington Post are extremely valuable because search engines give them more weight. If the domain has any of these links, that's the equivalent of striking gold. These links are worth $2,000 to $5,000. 
Register the Domain Name
Once you have determined the domain's value, it's time to register it. To do this, head to a domain registrar and choose the domain name you want. Registering a domain name can be anywhere from $10 to $50 per year, depending on the registrar and your TLD.
The service you choose to purchase the domain from will have its own steps to complete the registration. They'll also provide a reliable registrar to buy the domain from.
Here are some of the most popular domain registrars people use to register their domains:
GoDaddy, NameCheap, Google Domains, 123Reg, and Dreamhost.
Once you've registered the domain, it's time to set up your hosting account. Hosting accounts are also offered by many of the domain registrars mentioned above. 
Step 4: Find the Right Buyer for the Domain
You don't want to sell the domain to anyone. You want to find the right buyer willing to pay you the right price for it.
There are three strategies you can use to find the right buyer. 
#1. Buy and Hold Method
Buy-and-Hold is exactly what it says — buy the domain and hold it for a certain period of time. You may be holding the domain for months or even years until you find the right buyer.
This method is slow but can yield bigger returns in the long run.
Just set up a landing page advertising that it's for sale. Ensure you've included everything that you think makes the domain valuable, like the number of backlinks and domain rank. 
Also, don't forget to include your contact information so people can contact you.
The advantage of this method is that it's free, and you don't need to do any extra work.
#2. List the Domains at An Auction
This is the fastest domain-selling strategy.
You can list your domains on a domain-selling marketplace and wait for potential buyers to bid on them. 
The advantage of this method is that it's fast, and you can sell your domains quickly.
The most popular domain-selling marketplaces are GoDaddy Auctions, Sedo, and Flippa.
It's important to note that you may not get the highest price for your domain through an auction. But it's the best option if you're looking for quick cash.
You can start the auction at a significantly lower price than what it's worth, and as the auction progresses, potential buyers will begin bidding at higher prices.
You also want to set a reserve price, the minimum price you're willing to accept. While this eliminates the risk of selling too low, it also means you may not be able to get the sale if no one is willing to bid that high.
Another problem with this method is that you have to relist your domains a few times for them to get sold.
#3. Create Your Own MarketPlace
You can also create your own marketplace to sell your domains. 
Create your own Flippa-like website and list all your domains for sale.
An example of such a website is TBSolutions.
Note: you'll need an extensive portfolio of domains to make this work.
The advantage of this method is that you can control the pricing, marketing, and promotion.
You can't build a domain marketplace to sell one domain.
The disadvantage is that creating such a website takes significant time and effort and requires an understanding of web development and coding languages. 
If you're in this long-term, then you need to work on two things:
i) Build a brand:

Flippa is the first thing people think of when buying or selling domains. You need to build a brand that provides an equally good experience and trust as Flippa.

ii) Establish yourself as a trusted seller

: You want buyers to know they can trust you. Establish yourself as a reputable seller through feedback, ratings, and reviews.
You can even niche down and focus on one specific market, such as cryptocurrency domains. This might take longer to get going, but it will be much easier for potential buyers to trust you since they know exactly what you specialize in.
Remember, you're running a business and must treat it like one. Learn to take care of the details, from listing and marketing to operation and customer support. 
Step 5: Sell the Domain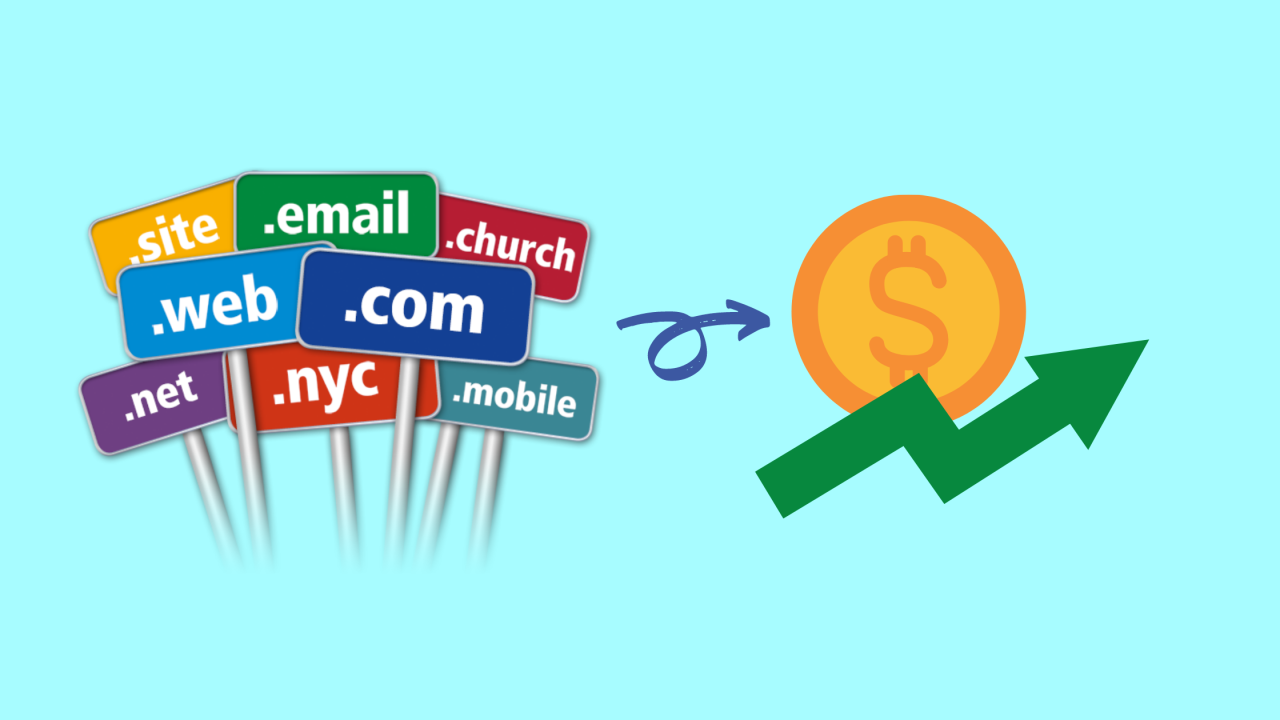 Once you've settled on a method, it's time to find buyers. 
You can use online forums, social media platforms like Twitter and Facebook, and domain-selling marketplaces to reach potential buyers.
Ensure you post the domain details and emphasize its value — why should buyers invest in it? 
Also, don't forget domain fraud is as real as it gets. Put some measures in place to protect yourself from fraudulent buyers. 
Protect yourself from fraud by verifying buyer information, requesting a security deposit, and receiving payment through escrow services.
Here's how an escrow service works: a third party (an escrow service) holds the money until you transfer the domain. Once the buyer verifies that they have received the domain and it's working as advertised, the third-party releases the money to you.
If either of the parties fails to fulfill their end of the deal, the third party can intervene and ensure a fair settlement. 
Popular domain listing services like Flippa have their own escrow services. Although the escrow services will deduct a small fee from the final sale price, it's worth it for the extra protection.
5 Advantages of Domain Flipping
There's nothing to doubt about the potential of domain flipping. 
Domain flipping can be a lucrative venture if done right. 
Here are five advantages of domain flipping:
Make Extra Income
In this age where the only way to survive the economy is to have multiple income streams, domain flipping can be a great way to make extra money. 
Domain flipping gives you the opportunity to:
Earn as a part-time job

Generate passive income

Run a full-time business 
It's up to you to decide how you want your business to look like. Remember, there's no limit as to how much you can make flipping domains.
High ROI Potential
Domain flipping can be very profitable because the investments are relatively low, and the potential returns are sky-high.
You can get a domain name for as little as $10 and sell it for thousands of dollars, making it one of the most rewarding business ventures.
Low Skill Requirements
You don't need any technical skills to start flipping domains.
You can find hundreds of domain names online, and you don't need special knowledge to identify a good domain. All you need is a sharp eye and some market research.
Flexibility
Domain flipping offers plenty of flexibility. You can adjust your working hours to fit into the rest of your life. A few hours a day can make you hundreds or even thousands of dollars each month. 
You can also adjust the amount you invest and your price for each domain.
Easy to Get Started
You don't need to be tech-savvy or have much capital to get started with domain flipping.
We suggest you start small, testing the waters with a few domains and gradually increasing your investment as things pick up.
All you need to get started is:
An internet connection

A laptop or your phone

A credit card with a couple of bucks
That's pretty much like it. You don't need anything else apart from the three.
The next thing you'll need is to learn how to value domains. No prior experience is required — you will learn as you go.
Low Risk
Domain flipping is a low-risk investment. You don't need to put much money on the line; most risks can be easily managed or eliminated. 
First, there's no barrier to entry. Anyone with an internet connection and a few dollars can start domain flipping. 
Second,  external factors such as fluctuating currency values, policy changes, and market conditions don't affect domain flipping. 
Third, you don't need thousands of dollars to make a profit. You can start small and scale up as you go. 
You can start with as low as $10 and build from there.
Here are a few pointers you can work with:
Start with a small investment: Start with a few bucks and gradually increase the amount you invest. $100 or so is enough to get you started.

Do your research: Research the market and look out for trends before buying. Invest in high-value domains that have the potential to increase in value.

Be patient: Domain flipping is a long-term commitment and requires patience and dedication. It may take a few months for you to get your first sale.

Minimize any Risk: Look into domain protection services to minimize the risk of domain theft.

Build Your Cash for Future Investments: Build your cash with smaller investments and use the profit to invest in bigger projects. When you make your first sale, don't squander the money away. Instead, you want to set aside some of your profits for future investments. 
For example, if you sell a domain for $1,000, reinvest the money in two domains you think have the potential to increase in value.
Alternatively, work with a %, where you reinvest at least 20-30% of your profits in future investments. 
The key here is to keep increasing your investment as you focus on the bigger picture. 
What Do You Need to Know Before You Start Flipping Domains?
I'm sure the idea of reaping big money from a small investment has your blood pumping. But before you start flipping domains, there are a few things we'd like you to know:
It's Not a Get Rich Quick Scheme:

It may sound fun and easy, but domain flipping requires patience, dedication, and market research.

You Won't Become an Expert Overnight:

Learning to value domains and researching what's hot in the market takes time. So be patient, research, and don't rush into things.

Be Prepared for Domain Theft:

You must take extra precautions to protect your domains from being stolen by malicious actors. Use domain protection services, secure your accounts, and use strong passwords.

Don't Get Overconfident:

As you gain more experience, it's easy to get overconfident and make hasty decisions. That could lead to losses or legal issues.

The Profits You Make Are Taxable:

Any profits you make from domain flipping are taxable, so be sure to declare them.
The Final Wrap Up
So, you've got the basics of domain flipping in 2023. Now it's time to get out there and make it work. 
Do your research, be patient, and build your network. Don't forget to take extra precautions and protect yourself from any risks that may come your way.