You've just launched your startup. You've got a great product, a promising business model, and a lot of energy and enthusiasm.
But there's one problem: you're not gaining any traction.
You've tried a few online ads and maybe even dabbled in SEO, but so far, nothing is working.
It's time you started thinking about content marketing. Not to promise anything, but if you do it right, content marketing can be a game-changer for your startup.
Content marketing involves creating and sharing material online (such as blogs, videos, and social media posts), not explicitly promoting your brand or product.
The goal is to build a rapport with your target audience and create a relationship of trust.
---
Why Should Startups Care About Content Marketing?
Startups have a lot to gain from content marketing.
Let's start with the most obvious: content marketing is cheaper than traditional marketing. You don't need to spend thousands of dollars on ads or PR to start. All you need is a laptop and an internet connection.
Content marketing is also more effective than traditional marketing. In a world where we're bombarded with 10,000 commercial messages daily, getting people to pay attention to your brand isn't a walk in the park. But if you create an exciting and helpful piece of content, people will take notice.
Finally, content marketing is more sustainable than traditional marketing. Once you've created a piece of content, it can continue to generate leads and sales long after you've published it.
So if you're looking for a marketing strategy that will help your startup grow in the long term, content marketing is a good bet.
Now that we've established why startups should care about content marketing, let's look at some strategies you can use to get started.
---
9 Creative Ways to Use Content Marketing for Startups
In today's post, we'll unleash nine creative content marketing ideas for startups. These are not your typical blog post or social media tips. We're talking about fresh, out-of-the-box ideas that will help you stand out from the crowd and get noticed by your target audience.
1. Research Industry Hot Topics
If you're starting in a new industry, you're probably lost on what topics are hot right now. A fail-safe way to hit the ground running is to research what other people in your industry are talking about.
In other words, research what has worked for other companies in your niche and then adapt and improve upon it.
BuzzSumo is a great place to start. Just enter a keyword or topic related to your industry, and it'll show you the most popular content on that topic.
It's an excellent tool for discovering which articles and blog posts have been shared the most on social media. It even allows you to filter articles by content type and timeline.
The goal here is not to copy what others are doing. The goal is to understand what's working in your industry and then develop your own spin.
You want to create something completely fresh that will get people talking.
For example, when we started our content marketing journey, we noticed many companies were writing listicles (articles with lists). But we also noticed that most of these articles were pretty basic.
So we decided to develop our own spin on the idea and created a series of more comprehensive and in-depth listicles.
The result? Our articles got picked up by some A-list publications in our industry.
Remember, it's not about copying what others are doing. It's about understanding what's working (or not working) in your industry and then carving out your own niche.
For example, if you're in the fitness industry and find that many people are talking about veganism, you could write an article on the benefits of veganism for athletes.
Or, if you're in the travel industry and find that many people are talking about solo travel, you could write an article on the best solo travel destinations.
The possibilities are endless. The key is to find a way to stand out from the crowd.
2. Create a Comprehensive Guide
One of the best ways to get noticed by your target audience is to create a comprehensive guide on a relevant topic to your industry.
A guide is different from a blog post or an article because it covers a topic in great detail. It's a long-form piece of content covering everything someone needs to know about a subject.
For example, if you're in the SEO industry, you could create a guide on "How to Rank Higher in Google Searches."
Or, if you're in the travel industry, you could create a guide on "How to Find Cheap Flights"
The goal is to create something comprehensive and valuable that people cannot help but share.
One of the best examples is Backlinko's "The Definitive Guide To SEO In 2022."
This guide is over 8,000 words long and covers everything someone needs to know about SEO in 2022.
It's the perfect example of a comprehensive guide that's so valuable that people can't help but share it.
If you want to create a guide that gets noticed, here are a few tips to keep in mind:
Make Sure You Cover Everything:

A comprehensive guide is only as good as its content. Make sure you cover everything someone needs to know about the subject.

Keep It Up-to-date:

A guide is only as good as its information. Make sure you keep your information up-to-date.

Use Plenty of Visuals: People are visual creatures. Use plenty of images, infographics, and videos to break up the text and make your guide more visually appealing.
Promote It:

Don't just publish your guide and hope people find it. Promote it on social media, email it to your list, and reach out to influencers in your industry.
Creating a comprehensive guide is a great way to get noticed by your target audience. But it's also a lot of work.
You can always repurpose existing content if you don't have the time or resources to create a guide.
For example, if you have many blog posts on a particular topic, you could turn them into an ebook or a course.
3. Create an Irresistible Lead Magnet
A lead magnet is a piece of content that's so valuable that people are willing to exchange their contact information for it.
The goal of a lead magnet is to generate leads for your business.
So if you're in the business of selling products or services, a lead magnet can be a great way to get people interested in what you have to offer.
There are many different types of lead magnets you can create, but here are a few of the most popular:
Ebook

: An ebook is a digital book that covers a particular topic in great detail.

Checklist:

A checklist is a list of things to do or keep in mind when accomplishing a particular task.

Cheat Sheet:

A cheat sheet is a concise, step-by-step guide that shows you how to do something.

Resource List:

A resource list lists helpful resources on a particular topic.

Template

: A template is a pre-designed document or file that you can use to create a specific type of document easily.
The key is finding a lead magnet relevant to your target audience and industry.
For example, if you're in the SEO industry, you could create an ebook on "The Definite Guide to SEO."
Or, if you're in the travel industry, you could create a checklist on "The 10 Things You Need to do Before Booking a Flight."
Once you have your lead magnet, the next step is to promote it.
There are many different ways you can promote your lead magnet.
But one of the most effective ways is to use content upgrades.
A content upgrade is a piece of content that's specifically designed to complement a blog post.
4. Customer Focus is the Secret Sauce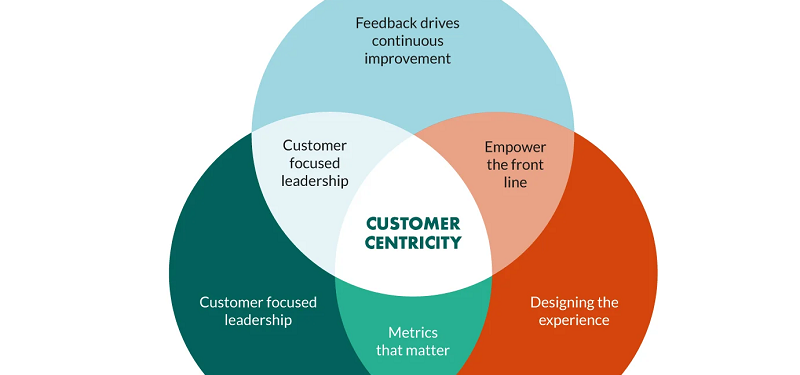 The secret to a successful startup is customer focus.
It may seem obvious, but you'd be surprised how many startups lose sight of their customers.
They get so caught up in their product or service that they forget about the people they're trying to sell to.
But if you want your startup to be successful, you must keep your customers top of mind.
Start by doing a little research on your target customer.
Who are they?

What do they want?

What do they need?
Ask yourself, "who's most likely to buy my products or services?" What keeps them up at night?
Do you have the expertise to slay their dragon?
What's their biggest fear? How can you help them overcome it?
These are the types of questions you should be asking yourself.
You want to jot down as much information about your target customer as possible.
Don't worry about sketching out a perfect customer persona. Just get as much information down on paper as you can. You'll need this information later.
5. Find Economical Content Production Tools
Not everyone has the budget to hire a professional content marketing agency.
But that doesn't mean you can't produce great content.
A wealth of free or low-cost content production tools can help you get your content marketing strategy off the ground without breaking the bank.
Here are a few of our favorites:
Google Docs: Don't spend money on an expensive word processing program. Google Docs is a free, cloud-based word processor with all the features you need to produce great content simply by having a Gmail account. It shares many of the features and functions of Microsoft Word, but it's free to use.
And the best part, you can collaborate with other team members in real-time. So, if you need to get input from a team member or partner, you can do so without having to send them a document and wait for their feedback.
Google Keyword Planner (GKP): GKP is a free keyword research tool provided by Google. Simply plug in a few seed keywords related to your topic, and GKP will spit out a list of related keywords and their monthly search volume.
That should guide the topics you write about and the keywords you target.
WordPress: WordPress is a free and open-source content management system (CMS) based on PHP and MySQL. It's one of the world's most popular site-building and blogging platforms, powering over 30% of all websites on the internet.
While it started as a simple blogging platform, it has since evolved into a fully-fledged CMS that can be used to build any website.
And the best part, you have thousands of free and paid themes and plugins to choose from to customize your site and extend its functionality.
Canva: Canva is a free online design platform beloved by startup owners and freelance professionals for its simple and intuitive design interface.
It's easy to use, even if you have no prior design experience. And it has a library of built-in templates and drag-and-drop tools that make creating visuals a breeze.
So whether you need to create an infographic, social media post, or presentation, Canva is a great option.
Google Analytics: Google Analytics is a free web analytics service that provides insights into how visitors interact with your website.
It gives you data on things like what pages they visit, how long they stay on your site, what device they're using, and where they're located.
This information is valuable as it can help you understand what's working and what's not.
For example, if most of your traffic comes from mobile devices, you might want to consider making your site more mobile-friendly. Or, if you see that people are leaving your site after only a few seconds, you might want to look at your website design and user experience.
MailChimp: Use MailChimp to create and send newsletters, automated email campaigns, and targeted emails.
MailChimp is one of the market's most famous (and affordable) email marketing platforms. It's free to use if you have a list of fewer than 2,000 subscribers.
And it has a wide range of features, including customizable templates, A/B testing, and built-in analytics.
DivvyHQ: DivvyHQ is a free content calendar tool that helps you plan, organize, and collaborate on your content.
It's great for teams as it allows multiple users to access and edit the calendar in real time. And it has a range of features, including drag-and-drop scheduling, content workflow management, and team collaboration.
Grammarly: Grammarly is a free online grammar checker that can help you avoid making mistakes in your writing.
Simply install the Grammarly extension on your web browser, and it will scan your writing for errors and suggest corrections.
It's a helpful tool for catching typos and other minor errors that can slip through the cracks.
Social Media Sites: Social media platforms like Twitter, Facebook, and LinkedIn are great for promoting your content and growing your audience.
And the best part, they're all free to use. Simply create accounts on each platform and start sharing your content.
The secret to running an effective social media marketing campaign is posting regularly and interacting with other users to get the most out of these platforms.
6. Create a Content Calendar
A content calendar is a plan for what you're going to publish and when you're going to publish it.
Creating a calendar will help you stay organized and on track. And it can also help you ensure your content is well-rounded and covers all the necessary topics.
It allows you to pencil in time for things like research, writing, editing and promoting.
There are a few different ways to create a content calendar. You can use a tool like DivvyHQ or Google Calendar. Or you can simply create a spreadsheet in Excel or Google Sheets.
Your content calendar must also help you repurpose older content for a growing audience. For instance, if you published a blog post about preparing for the tax season back in January, you can share it again in April when people are actually doing their taxes.
You can also update the post with any new information or developments and republish it. That's a great way to get more mileage from your content and ensure it's always relevant.
So, if you have any blog posts or articles that fit this description, make sure to add them to your calendar. That should help ensure that you'll always have something fresh to share, even if you decide to take a break from creating new content.
7. Create Long-form Content
Content marketing isn't for the faint of heart. It's a long-term strategy that requires consistent effort and dedication.
And one of the best ways to show commitment is by creating long-form content. Put that nose to the content grindstone and start cranking out some in-depth blog posts, ebooks, and white papers.
We are talking 4000+ words per post.
You can even turn these lengthy pieces of content into a white paper, an eBook, a webinar, or a course.
The sky's the limit.
Don't despair if 4000 words seem daunting. You can always outsource the writing to a freelance writer.
Just be sure to edit and proofread the final product before you hit publish.
8. Reach Out to Influencers
Fear not, fellow introverts: you don't have to be a social butterfly to succeed at content marketing. But you must put yourself out there and reach out to influencers.
Influencers are people with a large following on social media or in their niche. And they can be a great way to promote your content and grow your audience.
Let's get one thing clear, though. Influencers don't necessarily have to be celebrities. They can be bloggers, podcasters, or even just people with a large social media following.
For instance, if you manufacture eco-friendly cleaning products, you could reach out to influencers who write about sustainable living.
Or, if you run a marketing agency, you could connect with influencers who discuss marketing and business growth.
The key is to find people with influence over your target audience.
Not every influencer will say yes to your request. But it's worth a shot. The worst they can do is say no, right?
When you publish an influencer's comment or guest post on your blog, your target audience will take notice and start taking you more seriously.
Remember, content marketing isn't about promoting your brand or product. It's about positioning yourself as an authority, a super-hero problem solver in your industry.
It's the same with your products and services. Focus on how you can help your clients, not on what you're selling.
9. Review the Reviews You Get, Including the Negative Ones
No one's perfect. Not even you.
You're bound to get the occasional negative review, no matter how good your products or services are. It comes with the territory.
First, you must be thankful for all the reviews you get, both positive and negative. Why? Because they point out what you're doing right and what could use some improvement.
These reviews are a goldmine of information you can use to improve your business.
Secondly, it shows that you're paying attention and willing to listen to feedback.
You're only allowed to ignore reviews if they're from trolls. These people leave negative reviews for the sole purpose of stirring up trouble.
They're not interested in having a constructive discussion. They just want to see you fail.
So, if you think a review might be from a troll, just ignore it and move on. Don't give them the satisfaction of getting a rise out of you.
Next, create a post that tells your audience how you've improved your product based on the feedback they leave behind. You want to point out the specific changes you've made.
That will show your target audience that you're not only listening to their feedback but also acting on it. They'll be impressed, and they'll appreciate you for your transparency.
---
What Type Of Content Can a Startup Produce?
The internet is bursting at the seams with content. There's enough content out there to make your head spin.
So, what type of content should a startup produce? Let's take a look at some options:
a) How-To Guides
How-to guides take your target audience by hand and show them how to do something step-by-step.
For example, let's say you run an ecommerce store that sells baking supplies. A potential blog topic could be "How to Make a Perfect Chocolate Cake."
If your how-to guide provides a detailed and easy-to-follow solution, there's a good chance it will rank high in Google search results. And that means more traffic to your website.
b) Sales Enablement Content
Sales enablement content is a type of content that features at the bottom of the sales funnel. It's designed to help your sales team close more deals.
It supports them in answering frequently asked questions, handling objections, and helping prospects move through the sales process.
One example of sales enablement content is a case study. These stories show how your product or service has helped other businesses achieve their goals.
Another example is a product comparison guide. This type of content compares your product or service to similar products on the market.
The idea is to point out some of the things that make your product or service a superior option.
c) Lead Magnets
A lead magnet is a piece of content that's so valuable that your target audience is willing to exchange their contact information for it.
It's generally used at the top of the sales funnel to attract new leads and get them into your sales pipeline.
Some examples of lead magnets are ebooks, checklists, templates, infographics, whitepapers, gated videos, and webinars.
d) Social Media Content
Social media content is, unsurprisingly, content that's published on social media.
This type of content can take many forms, such as education material, infographics, images, videos, and even funny memes.
The key is to create shareable content that resonates with your target audience.
e) User-Generated Content
User-generated content (UGC) is a type of content that's created by your target audience, not by you or your employees.
It can take many forms, such as reviews, testimonials, social media posts, and even blog posts.
One of the main benefits of UGC is that it helps you build trust and credibility with your target audience. After all, if other people are saying good things about you, there must be some truth to it, right?