Customer service is an important element in any business. Inevitably, customers will experience problems with the products or services you provide.
Perhaps, they'll have trouble using the equipment you sell, or they'll have questions about installation.
Someone, at some point, will have to deal with a problem, and while you may want to minimize the time your employees spend on this, it is unavoidable.
At least, that's how it's been until now. Thanks to artificial intelligence and chatbots, customer service doesn't have to be limited to receiving calls from customers with questions.
Businesses can and should be using AI platforms to help reduce costs and increase efficiency.
Why Use Chatbots For Customer Service?
In the past, businesses would have to hire more people just to handle things like order intake and customer questions. Thanks to the spread of the internet, however, all of this information can be readily accessed by an employee (hopefully, with a customer's permission), while sitting at home.
With the continued development of chatbots and artificial intelligence, these apps can easily be programmed to respond to even the most complex of queries with relative ease.
According to a report from TikTok, nearly 75% of consumers have submitted questions to a company via chatbot, and 55% of consumers have even purchased a product or service after interacting with a chatbot.
This presents a wonderful opportunity to businesses. Instead of spending large amounts of money on customer service calls, these companies can now rely on AI-powered chatbots to handle basic inquiries while they focus on other tasks. So, while this might not seem like a cost-cutting measure to generate more sales, it can and should be considered as a way to improve efficiency and serve customers better.
How Can Chatbots Help?
The use of chatbots in customer service doesn't necessarily mean that employees will be completely removed from the equation. Far from it.
While chatbots can assist with simple inquires, someone will still need to review the response and, possibly, make some follow-up calls.
The difference is that, in the past, this would have meant putting in more work, spending more time away from customers and other tasks, and potentially, derailing the whole process. With chatbots, this can be reduced to a few simple clicks of a button, and, maybe, a bit of human oversight, if the product or service is particularly complex.
What's more is that, with chatbots, businesses don't just save money. They also increase revenue by reducing the amount of time spent on tasks that aren't creating value.
They can also identify problems with the products or services they provide before their customers even experience them, which means that, potentially, they can solve these problems before their customers even know they exist.
How Big of a Cost-Saver Can Chatbots Be?
TikTok reports that businesses can save upwards of 80% of their customer service costs by using chatbots.
This doesn't mean that customer service is completely gone, but it does mean that it's possible to save a great deal of money, and it also means that businesses can provide better, more reliable customer service even as they reduce their costs.
Even more impressively, some businesses on the platform report saving thousands of dollars per month.
Based on the number of inquiries that businesses can generate, as well as the average cost of a call center agent, it's evident that chatbots can be a great way to reduce both expenses and, potentially, improve profits.
Wondering How Your Business Can Benefit From Chatbots?
It's time to find out. Below, we'll discuss 5 ways that your business can benefit from chatbots.
1. Increase Engagement With Customers
Customers are increasingly using chatbots to engage with businesses. According to HubSpot, 77% of customers have used chatbots, and 52% are planning to use them in the future. Why? Because customers feel that these AI-powered apps make them more accessible and approachable.
TikTok reports that customers expect businesses to respond to them within a few minutes, as 38% expect responses within two minutes. In an effort to satisfy their fast-paced digital lives, customers are turning to AI apps to get the information and service they need, as quickly as possible. As a business owner, how can you resist the temptation to engage with potential customers even if they're just a few clicks away?
In addition to providing an outlet for customers to voice their concerns, chatbots can be used to encourage more engagement from prospective and existing customers. According to HubSpot, 44% of customers say that they "love hearing from customers," and 41% want to "learn more about what [they're] interested in." Using a chatbot to listen to and respond to customers can help businesses ensure they're providing value, while also identifying additional areas of interest and need.
2. Identify Problems Before Your Customers Even Notice They Exist
Businesses can improve their products and services by identifying and eliminating problems before their customers experience them. This is especially beneficial for small and medium businesses, which may not have the resources to identify and fix these problems after the fact.
Using AI to scan your website for broken links, identifying spelling errors, and ensuring all of your forms are 100% accurate can help minimize the number of problems you have to deal with.
According to HubSpot, 37% of customers say that they'd like to see businesses "take care of problems before they become an issue" and, as a business owner, you might be tempted to do the same.
But, while this might mean rewarding your staff for good service, it can also mean entrusting your company's most important asset, your customers, with a task that could compromise their safety or the quality of your service.
3. Identify Trends and Changes Before Your Customers Even Notice
If you run a business, it's essential that you understand what's trending in your industry. Not only do you want to ensure your products and services align with customer demand, but you might also want to consider adjusting your strategy based on the evolving nature of your industry.
TikTok reports that 20% of consumers use the platform to get "industry news and updates," with 13% using it to research products, services, and technologies. With so many people relying on the platform to stay informed about what's happening in their industry, it's essential that businesses learn to embrace change and evolve with the times.
4. Reducing Overwhelm By Simplifying Complex Tasks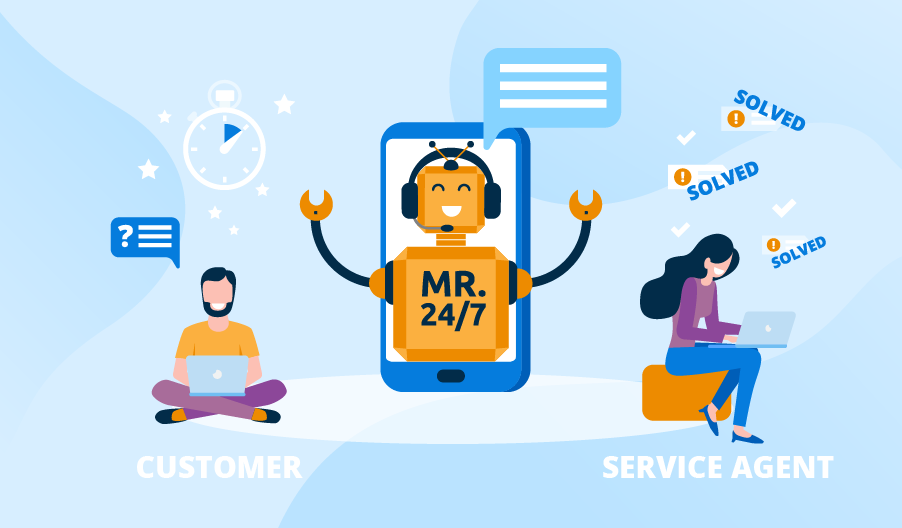 TikTok reports that 11% of consumers use the platform to "get things done," with 8% using it to research products and services. While it's nice to offer a help desk or live chat for customers who have questions, oftentimes, the real world doesn't operate like this.
Especially, if you run a small business or a one-person show, there just aren't enough hours in the day to help everyone. Even if you've got a great customer service team, they might still be overwhelmed with work.
While it's admirable that you're willing to help, if you're already swamped with other tasks, an online helper might not be the best solution. To combat this, businesses can use chatbots to streamline and automate some of the most menial tasks.
Even if you've got a team of people who can help answer questions, there's still a lot of legwork that goes into being a good customer experience, and it can all be automated.
5. Drive Sales By Upselling And Cross-selling
Customers aren't just using chatbots to get information and solve problems.
They're also using them to discover products they didn't know they needed. According to HubSpot, 14% of customers report using bots to research products and compare prices, and 13% use them to seek out special offers.
This is great news for businesses, who can now use these bots to uncover niche markets, discover new products, and upsell and cross-sell existing products. So, even if you're not currently doing so, consider using these apps to uncover new revenue streams.
Hopefully, with these tips, you're now inspired to try chatbots for customer service or, at least, consider them as a potential solution for your company.