Popups receive a lot of flak for being intrusive and annoying. Website visitors just want to be left to "browse in peace" without interruption. On the other hand, marketers want to make the most of their limited time with the visitors and see if they can convert them into leads before they leave.  
It's a conflict of interest and a tricky one to solve.
But what if there's a way to make the popups not just bearable but actually enjoyable? What if they can be made to help your site visitors instead of interfering with their browsing experiences?
Well, that's what we're here to show you. With these 12 popup examples, you can transform your website popups from being a nuisance to a powerful tool that does more than just capture leads. From gamification and quizzes to surveys and polls, these suggestions should help you think outside the box and make popups an enjoyable part of your visitors' journey.
Let's dive right in:
What's a Website Popup?
A website popup is a small window or box that appears on a user's browser when they land on your website, overlaying the content in the background. You can use popups to welcome visitors, promote offers, and collect emails. They're a great way to pleasantly interrupt your users with content without losing your message on a crowded page.
How Do Popups Work?
Website popup boxes automatically appear when a user visits your website. You can trigger them to appear after a specified time or after they undertake a specific action, such as scrolling down a page.
Popups are usually triggered by JavaScript code added to your site's HTML. You can customise your popup boxes' look, feel, and behaviour to match them with your website's design. 
The boxes can be configured to appear only in certain situations. These include:
Exist Intent:

Popups can appear when a visitor is about to abandon your page. The popups monitor your mouse movements and can tell when you're about to click away. 
For example, they could offer an incentive to stay on the page and increase your chance of converting a lead.
Scroll Reach:

Popups can be programmed to display after a user has scrolled down a certain percentage of the page. For example, if a reader has read halfway through an article, they can be presented with a special offer to encourage them to join your email list or purchase from your store. 
This way, the visitor has had time to learn about your product or service before being presented with an offer.
Time Delay:

As the name implies, popups can be timed to appear after a specified time frame. For example, if a user has been on the page for 5 minutes, they can be presented with a popup asking them to subscribe or take advantage of a special offer. 

On Click:

Popups can be programmed to appear when the user clicks on a specific link or button. For example, when readers are interested in purchasing an item, they can click the 'Buy Now' button and be presented with a popup offering an additional discount or free shipping. 
A quality popup setup should also include options for triggering popups by location, device, or referral source. This can be useful for targeting specific customers or areas where your product is particularly popular.
In addition to boosting sales and leads, popups can also be used to keep your website's visitors around for longer.
7 Website Popup Examples to Check out
#1. Bombas' Discount Popup (20% off on Your First Purchase)
When you visit Bombas' site for the first time, the discount popup will appear, offering you a 20% off incentive on your first purchase.
Nothing complicated, just a simple popup box asking you if you're interested in getting 20% off on your first purchase. 
You can accept the offers by clicking "Yes, please" or declining it by clicking "No, I'll continue shopping."
When you respond with a yes, the popup will be replaced by another popup asking you to enter your email to receive the discount. 
Otherwise, you can click the "No, I'll continue shopping" button to disregard their offer and browse the site as if nothing happened. 
It's a subtle way to get people to sign up for your mailing list without disrupting their shopping experience.
Plus, it targets users early on before they have had the experience to shop around so that they can nudge them in the right direction. 
It's a great way to capture leads and incentivise shoppers to return to your site.
Should you accidentally close the popup, a hello bar pops up at the top of the page, giving you a second chance to take advantage of the offer? 
It's a no intrusive way to remind shoppers of your offer without annoying them. 
You can bet nearly everyone browsing the site doesn't leave without leaving their email address.
#2. Judy's Cart Abandonment Popup Example
Judy's Cart Abandonment popup example is the perfect way to recover potential customers from abandoning their carts right before they leave your store.
The popup is triggered by exit intent — but only if the user has an item in the cart. 
The popup features a % discount on the user's cart, incentivizing them to stay and complete their purchase. 
It also features the image of the item in the cart, its original price, the discount given, and the discounted price. 
Talk about being persuasive. Judy certainly knows how to give customers that extra push they need to convert. 
But be aware: offering a discount too often can lead to customers waiting for you to offer one again instead of buying your product when they actually need it. 
It should be once in a while and only to those customers who are likely to convert.
#3. Huda Beauty's Join the Family Group Popup
Website popups are how you capture your visitor's details and use them to market your products or services later.
Huda Beauty does this exceptionally well with a popup asking visitors to join the family. 
They use a popup box to nudge visitors to join their mailing family and receive exclusive offers, news, and updates. 
It's an excellent strategy to ensure customers remain loyal and return to shop on their website.
As a special bonus, shoppers will also get a sneak peek of the products and special offers before anyone else if they subscribe.
#4. Debenham's Scroll-point Popup
Debenhams have a unique popup strategy — they only show their popup when visitors reach a certain point on their site.
They use it to capture people that show obvious interest in their brand.
This popup alerts customers to Debenhams' exclusive offers, discounts, and other promotions they would otherwise miss out on. 
After scrolling 25% of the category page, the popup appears and provides customers with a coupon code they can use at checkout. 
The popup doesn't ask for the customer's email address. 
It works because it doesn't press customers to give up too much information.
The barrier to entry is low. With a single click of a button, customers can save up to 35% on their purchases. 
It's a great example of how popups can be used to drive conversions without being overly intrusive.
#5. Amelia Gray Skincare Quiz Popup
This popup from Amelia Gray Skincare is a great example of how you can use quizzes to capture leads. 
The quiz helps customers identify their skin type and then provides them with tailored product recommendations. 
At the same time, it captures customer data without being too intrusive.
It's an effective way to give customers what they want while building your mailing list. 
The popup doesn't appear on high-intent pages. It only appears on low-intent pages such as the homepage, collection pages, etc.
It targets people in browse mode, not those in purchase mode.
That means if you're undecided about what to buy, the popup box will help you decide. 
The idea is to make shoppers feel like they're being guided in the right direction instead of them feeling like they're being pushed to buy a product they know nothing about.
All they need to do is answer a few questions, and they'll receive personalised product recommendations. 
Amelia Gray captures leads by email-gating the recommendations. Customers must submit their contact info to receive the recommended products. 
That way, should the customer fail to go through with their purchase, they can always follow them up with specific emails or retargeting ads to get them to reconsider their stance. 
For example, if the recommended products appear too costly for the visitor, you could follow up with a cheaper alternative. 
Or, you could give them a coupon code to make the purchase more enticing.
#6. Cuddle Clones in-cart Cross-Selling
Cuddle Clones is a unique online store that offers personalised stuffed animals modelled after your pet. 
When someone adds a product to the cart, they're greeted with a popup encouraging them to purchase a gold-related product. 
And it's not just a random product. The recommended cross-sell is specifically a golf club headcover of the item in the cart. 
It's a great way to increase order value and show off the full range of products they offer without overwhelming the customer with too many choices. Plus, those who decide to add the extra item to their cart get a special coupon code that makes the purchase even more appealing.
It's about relevancy and the right timing, and it works great for golf-enthusiast customers. Plus, it shows how thoughtful and caring your business is when you think of them at every step of the buying journey.
#7. Fab's Discount Popup
Fab's discount popup ticks all the right boxes.
From the fun phrasing and offer statement to the instant gratification they receive after submitting their email address, Fab's discount popup is a great example of how to convert leads and make customers feel special. 
The visitor is automatically provided with a reason to fill out the discount form, and it's a positive reinforcement that helps to build trust and boost conversions. The 10% off their first order is spelt in capital letters and bolded to ensure it stands out. 
The marketing copy is persuasive and straight to the point. It requires the visitor only to enter their email address to receive a discount. It's a quick, simple, and effective way to capture leads and incentivise customers to sign up. 
There's no need for more than a few words. Customers already know what to do when they see the large "Enter Your Email To Receive 10% Off" text. 
7 Popups You Can Create and Add to Your Site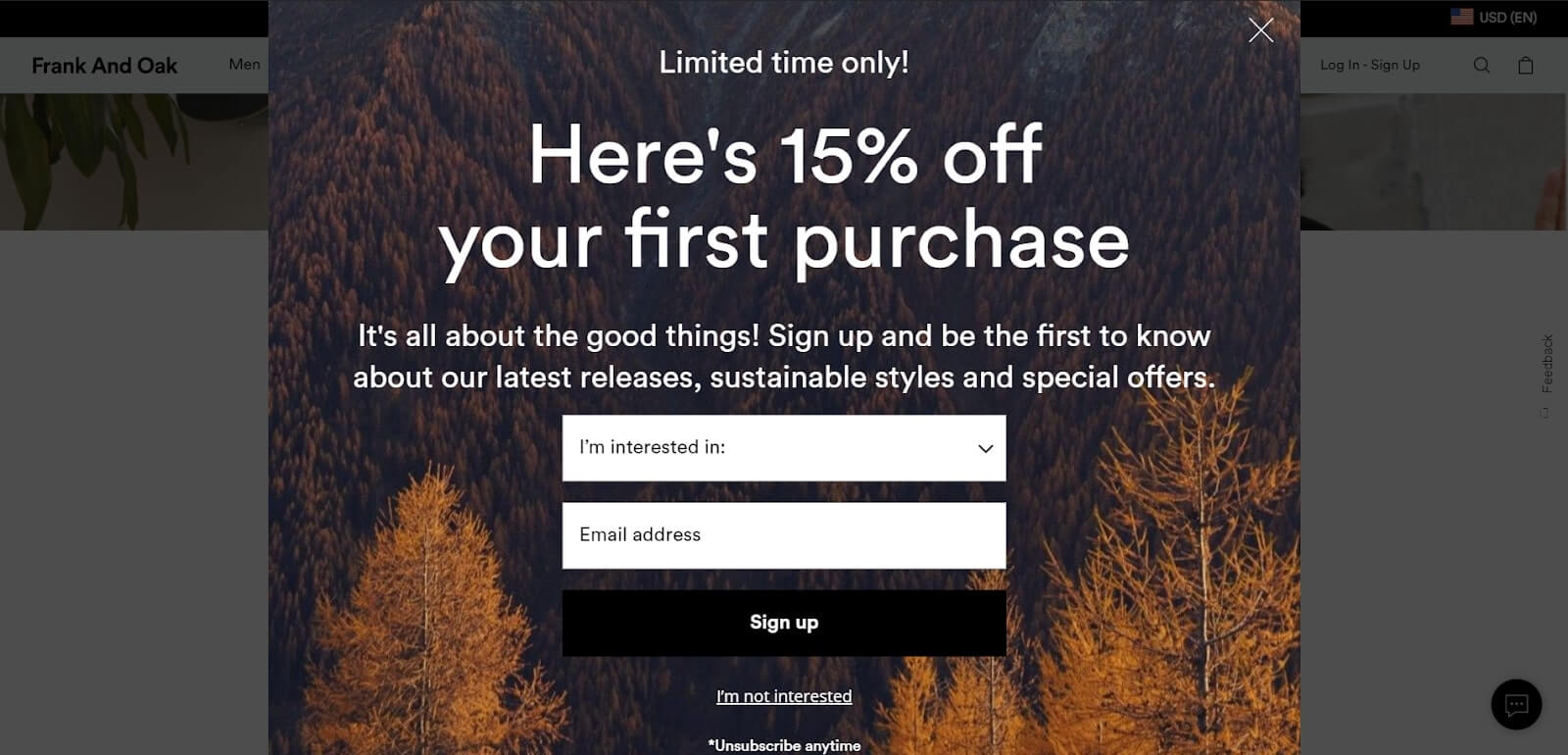 Popups are a great way to add more value to your site and supercharge your customers' browsing experience. From offering discounts or free shipping to encouraging newsletter subscriptions, there's no shortage of amazing popups you can create and add to your site.
Here are seven popup ideas to get you started:
#1. Create a Quiz Popup
Craft an engaging and informative quiz for your customers and get to understand them better. That will help you capture relevant customer information and suggest products based on their interests.
For example, you can create a quiz about which type of product or service your customers are looking for – then use the data to personalise their shopping experience.
#2. Give Away a Discount Popup
Entice customers to join your email list by offering them an exclusive discount. 
It's the most common technique in the book, and people love it. 
After all, who doesn't love getting a good deal?
Your customers can get a special discount code when they sign up, giving them an incentive to do so. 
You can even use this popup to target returning customers, offering them another discount if they continue shopping with you.
#3. Educate Customers with a Video Popup
If you have an educational video about your product or service, you can put it in a popup. 
That way, when customers land on your page, they can watch the video and learn more about your offer.
This is a great way to show off your knowledge and demonstrate the value of what you're offering in a concise, easily-digestible manner. 
It's also great for SEO — having a video on your page helps to boost your rankings.
Plus, it can give customers a deeper understanding of how their purchase will benefit them and may even convince some to click the "buy" button. 
#4. Live Chat Popup
If you want to give customers the best service possible, a live chat popup is a great way to offer an immediate response. 
You can use it to answer customer queries and provide information in real-time without them having to send off an email or pick up the phone. 
You can also use it to promote specific products or services, which is especially useful for website visitors who might be on the fence about making a purchase. 
 Ultimately, a live chat popup can help you stand out from the competition and boost customer satisfaction, leading to increased sales and better customer relationships. 
It also makes your website look modern and up-to-date.
#5. An Exit Intent Popup
When someone's about to leave your website, an exit intent popup is a great way to grab their attention and sway them to stay.
You can use it to offer discounts, recommend products or services, or simply thank the visitor for stopping by.
It's also a great way to collect feedback from visitors and understand why they didn't purchase the product.
So, if you want to keep people engaged when they're on the verge of leaving, an exit intent popup is the way to go. 
#6. A Geo-Targeted Popup
Using geolocation technology, you'll ensure you're sending the right message to the right people.
For example, if someone visits your site from Japan, you can show them a popup with an offer in their local currency. That way, they won't be confused and will likely be more inclined to accept the offer.
And if you want to go the extra mile, you can also customise the popup with localised images and text.
The more you make your visitors feel at home, the better.
#7. An Interactive Popup
We often think of popups as static messages, but you can do so much more with them. 
One of the most engaging popup types is the interactive kind.
For example, you can create a popup with a game or quiz.
You can also use a wheel of fortune or an animated spinning wheel that offers discounts and freebies, adding fun to the popup.
Interactive popups are a great way to engage visitors and help them identify with your brand.
Why Use Popups?
More modern, interactive designs are quickly replacing the old-fashioned popup designs. Think of them as an alternative experience that your visitors can engage with. 
Some popups are more than just a way to capture leads. They're also used to inform visitors about upcoming events, reward loyalty points, and redirect traffic to other pages on the website. 
People may think popups are annoying, but if done correctly, they can be a great way to capture leads and incentivise visitors to stay on your website.
Here are a Few Reasons Popups are Beneficial:
#1. Popups Work
Studies show that popups increase conversion rates.
Generally, popups have an average conversion rate of 3.09%. So, there's no denying that popups can effectively convert your site visitors into customers.
They're an effective way to gain new email leads, increase engagement, and generate more sales.
That's why even big companies like eBay, Amazon, and even Google use popups to engage their users.
#2. They're Easily Visible to Your Site Visitors
Popups are eye-catching and impossible to miss. Plus, your site visitors are naturally more likely to fill in a contact form if it's a popup than if it's placed within a page of your website.
It's the next best idea to have a live chatbot on your site.
Another great thing about popups is that they can be customised to match the look and feel of your website. That helps them blend in, which makes your visitors more likely to convert.
The key advantage popups have is high visibility. As the name says, they pop up in the middle of your web page, so people are far more likely to notice and engage with them.
Plus, they can be used to showcase your most important content. Whether it's a special offer or a clever CTA, your visitors won't be able to miss it.
#3. More Visually Appealing
Imagine seeing a traditional form with a dozen required fields to fill. Most visitors would be turned off right away and leave your site.
No one wants to fill out lengthy forms.
But what if the same form was presented in a creative and visually appealing popup? You even break the popup into smaller steps, making it much easier for the user to complete.
It's all about presentation. Popups add an element of fun to your website. They take tedious forms and make them more visually pleasing. With the right design, you can create a snazzy popup to pique your visitors' interest and encourage them to complete a form.
Popup Forms Best Practices
There's a thin line between a popup that's helpful and one that's too intrusive. So, how do you ensure that your popup is effective while still being respectful? Here are a few best practices to get you started:
#1. Offers a Clear Incentive
Make sure your popup offers a clear value to users. Whether it's a discount, free shipping, or access to exclusive content, visitors need to know what they're getting in exchange for their information.
#2. Keep It Short
Don't ask visitors to provide more information than necessary. A popup form with 6-8 fields is often enough to get the information you need.
#3. Optimize Your CTA
Your call to action should be compelling and relevant to your offer. Use actionable language like "Sign Me Up" or "Learn More Now."
#4. Make It Relevant
Your popup should be relevant to the page it appears on. For instance, if you offer discounts on a product page, mention the product in your form and give visitors a discount code.
#5. Use Smart Targeting
Target different types of visitors based on their behaviour. For instance, show new visitors a popup with an introductory offer and returning visitors a coupon code.
#6. Create Interactivity
Use interactive elements such as animations, videos, and quizzes to make your popup stand out. That will help capture the attention of your visitors and boost engagement.
#7. Analyse and Optimize
Keep track of your popup's performance by analysing important metrics such as open rate, click-through rate, and conversion rate. It can help you identify areas for improvement and optimize your popup accordingly.