Google ads have undergone a dramatic change over the past sfew years.
Since 2000, when Google first rolled out Ads (formally AdWords), it's safe to say that the last 12 months have seen the most radical changes.
These changes include:
Expanded Text Ads Getting Replaced by Responsive Search Ads
Since AdWords began, marketers have had to perfect how they craft text ads. That's because they have been doing it manually – writing, texting, and optimising their PPC ads on Google.
Over the year, Google stepped in and introduced several search ads formats. 
In 2016, they doubled the size of standard text ads by introducing Expanded Text Ads. In 2018, they made the Expanded ads even larger.
But fast forward to 2022, and they have decided to do away with it in favour of responsive search ads (RSA).
With RSA, advertisers only have to provide multiple text assets, and Google will piece them together to serve ads that load up on the SERP for every queried search.
The asset-driven and Machine-learning-powered ad format can serve over 40,000 unique variations of an ad with varied assets. 
It's an update that's glorified and critiqued in equal measure. 
Some critics argue that some of the combinations are so poorly created to perform well. Others think the change limits brands and advertisers from taking control of their ad messages and testing the processes in the SERPs.
Microsoft has announced its plan to follow Google's lead on the same and end its support for ETAs, setting the deadline to February 2023. 
Cost Per Lead (CPL) Increases Across the Board
Word Stream recently released a Google ads benchmark report that showed the cost per lead has significantly increased across the board – for 91% of industries, to be precise.
The average increase is 19%, with the Arts/Entertainment, Travel, and Furniture industries leading at 134%, 69%, and 54%, respectively.
The released data chalks up the increase to inflation and decrease in conversion rates due to ads showing up for low commercial intent queries.
| | | | |
| --- | --- | --- | --- |
| Business Category | Average Cost Per Lead in 2021 (in USD) | Average Cost Per Lead in 2022 (In USD) | Change (%) |
| Arts and Entertainment Industry | 10.90 | 25.46 | 134% |
| Physicians and Surgeons | 15.70 | 22.74 | 45% |
| Automotive – Repair, Service, and Parts | 18.45 | 19.85 | 8% |
| Animal and Pets | 21.56 | 26.25 | 22% |
| Sports and Recreation | 21.60 | 23.57 | 9% |
| Travel | 21.77 | 36.78 | 69% |
| Restaurants and Food | 22.16 | 27.18 | 23% |
| Personal Services such as Weddings, Plumbing, Cleaning | 27.31 | 32.66 | 20% |
| Health and Fitness | 30.55 | 37.79 | 24% |
| Automotives for sale | 32.24 | 34.53 | 7% |
| Real Estate | 37.65 | 49.25 | 31% |
| Industrial and Commercial | 37.92 | 41.60 | 10% |
| Shopping, Collectible, and Gifts (General) | 41.65 | 45.85 | 10% |
Google Introduces New Ad Types for Auto, Finance, and Travel
The Covid-19 pandemic brought with it an economic change that forced many advertisers to adjust their strategies constantly to combat issues related to supply chain and pandemic restrictions.
While some of these changes have negatively affected advertisers, others are positive. For example, Google has rolled out a few more ad formats to help advertisers adjust to dynamically changing needs.
In March 2022, Google introduced the vehicle listing ad format that car dealerships can use to highlight new and used cars on their lots. The ad format operates a lot like a local inventory ad and is featured at the top of the SERP, highlighting the car's image, condition, price, mileage, and location.
Microsoft is also planning to introduce a similar ad format for local car dealerships, dubbed the Automotive ad format.
The Vehicle ads format operates a lot like shopping ads, requiring the advertiser to feed their inventory regularly and submit it to Google for approval through their Merchant Centre.
The End of Smart Shopping and Local Campaigns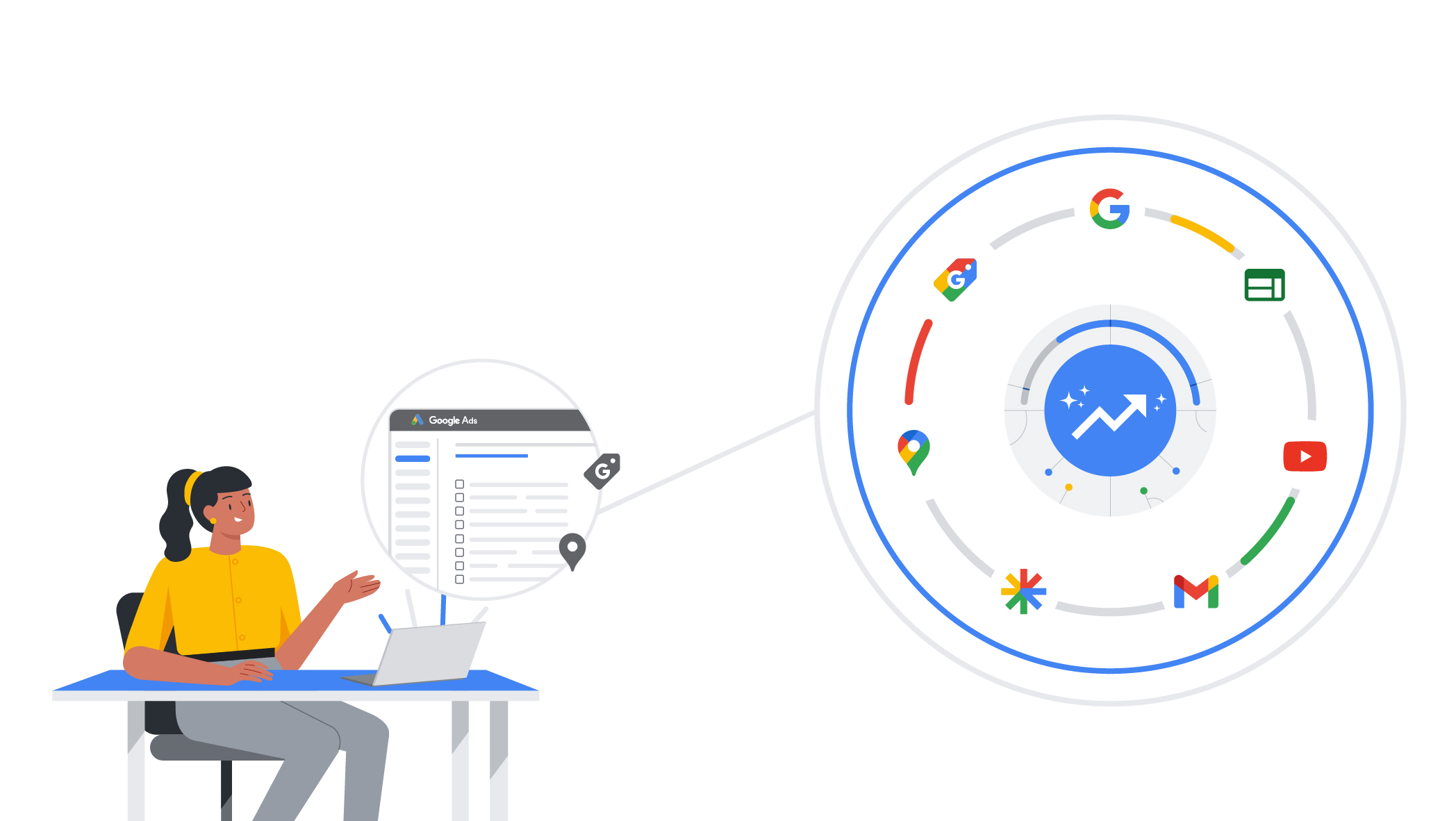 If you own an ecommerce store and have ever considered running an ad on Google, the chances are you've heard about shopping ads.
In 2018, Google introduced a new campaign type called Smart Shopping, serving product ads on Google search, display, and YouTube. Advertisers could easily access this ad campaign and manage their product feed through Google Merchant Centre.
A year later (in 2019), they released another ad campaign by the name Local Campaigns. This ad format allowed businesses to promote their Google Business Profile Page (GBP) on Google Search, Gmail, Display, Maps, and YouTube.
The two campaigns favoured small businesses, offering great ROI on smaller budgets. It also allowed them to automate much of their campaign management.
But at the beginning of the year (2022), Google pulled the plug on these two campaigns, upgrading them to their newest campaign, Performance Max.
The new campaigns came with new features, offering an even wider reach across new ad placements, including Discovery Feed. 
Many celebrated. More ad placements, more reach, and more automation all translated to increased conversion with low Cost Per Acquisition (CPA) without the hassle of managing many campaigns.
However, not all advertisers appear to celebrate the disappearance of shopping ads and local campaigns.
The fully automated campaign, Performance Max, requires a hefty budget and data to run smoothly.
Although you can still run the campaigns on smaller budgets, advertisers have reported seeing better results after running it at an ad budget of at least 100 per day.
While some advertisers celebrate this new ad campaign for its incremental reach, others lament that the additional costs are beyond their control. 
Similar Audiences Getting Phased Out
In 2017, Google introduced us to Similar Audiences (Google's version of Facebook's Lookalike audiences). The ad feature was to complement brands running their remarketing campaigns on Google.
Advertisers have been using them to boost their remarketing campaigns. But after the new privacy policy, Google has been forced to transition from Similar Audiences to something "more powerful and durable."
Advertisers have until May 2023 to wrap up their Similar Audiences campaigns. They'll no longer be available to be added to new ad groups or campaigns. 
Google wants advertisers to update their audiences before the migration. They're also advising advertisers to learn to rely on first-party data, such as customer data while creating new audiences for their campaigns.
They also recommend advertisers to take advantage of optimised targeting and smart bidding strategies to continue optimising their campaign performance.
To scale your reach beyond first-party data, you might want to take advantage of Google's Audience expansion after Google gets rid of Similar Audiences.
Microsoft doesn't appear to take Google's lead on this. The same day Google announced that it would be phasing out Similar Audiences, Microsoft announced its plan to expand its Similar Audience to more markets internationally.
Competitor Advertising Insights on Google Result Pages
Enough of the sad news. Here comes something positive.
In 2021, Google expanded its advertiser verification program, offering more transparency to users who see their ads on and off the SERP. In October 2021, they launched "My Ad Centre," allowing users to see how advertisers reach them.
Among the features included in the "My Ad Centre" is a powerful advertisement tool called "Advertiser Pages." The tool shows users all the ads the advertiser ran for the past 30 days.
To views the advertising company's page, click on the downward-facing triangular icon next to the ad. 
From there, you'll see more details from the verified advertiser, including their verified name and location.
Click on "See More Ads By this Advertiser" to see the other ads the company has published for the past 30 days.
Google even allows you to filter these ads by images, video, and text.
Google designed this new tool to offer transparency to ad views. But you can use them to spy on your competitors and see what they're doing on their end.
New Business Name and Logo Assets
How do you differentiate your brand on a crowded SERP? Or how do you prevent other advertisers from riding your coattails illegally?
Well, Google now allows verified advertisers to add a logo asset to their business name.
The new assets are only available to verified advertisers. Besides adding a visual appeal to your ad, these assets also help to boost performance. 
Google has also set some policies and regulations for uploading these assets. The policies serve to help them reduce the issues of impersonation and fraud.
Advertisers must also complete Google's verification process to use these features. Moreover, you can only use these features to highlight your legal business name. The logo is also expected to match the domain name.
If the logo doesn't match your advertising identity, Google is quick to point out that they won't approve it.
Voiceovers for Video Ads
The rapid rise of Instagram reels and TikTok shorts, coupled with the excellent editing features, must have forced Google to introduce voiceover features for their ads. 
The feature allows advertisers to add voiceovers to their existing video ads without additional editing. Before introducing this feature, Google reported that fewer than half of the video ads people published on the platform had voiceovers.
They would also do another research that showed that voiceovers increased recall rates by 25% and reduced the cost per lifted user by over 50%.
Google allows advertisers to choose between eight different voices – four men and four women – for the voiceovers. Advertisers can provide their script, preview the voiceovers, and edit the parts they're not contented with within Google ads – they don't need any prior video editing or software experience.
Audio Ads Hit Smart Speakers and YouTube
Audio streaming and other over-the-top (OTT) services have become the norm, and advertisers are beginning to pivot their marketing strategy and budget. 
Google announced that it's now ready to meet the demand of its growing audiences for podcasts and music listeners across YouTube. 
So, in early 2022, they launched their audio ad campaigns. This video marketing subtype targets users while they're listening to podcasts or music. It then serves them audio ads where visual content wouldn't have performed well.
Google even provides an example:
https://www.youtube.com/watch?v=_t6UAuvLKFs
Google has a few recommendations for its audio ads:
First, they recommend using a simple animation or static image for the ad while focusing on sound quality, conversational tone, and an effective CTA.
To complement the new ad format, Google would roll out targeting for new ad placements, such as Podcast Line-ups and Music Mood Line-ups. Advertisers can take advantage of these placements to run ads where their target audience is most likely to be listening.
The End of Google's Broad Match Test Beta Feature
Google launched a broad match beta feature in October 2022. This feature allowed advertisers to set up broad-match keyword targeting for their campaigns. It doesn't come as a surprise, considering Google has been pushing for broad matches since they introduced smart bidding.
That is a clear indication that keyword matches are here to stay. Google confirms it.
Google Ads Strategies that No Longer Work
Before we look at the Google Ads keyword strategies to consider in 2023, let's highlight three keyword strategies that no longer work:
#1. Creating Ad Groups Based on Keyword Match Types
This is a common Google ads strategy that became so popular around 2017. It was considered effective because it worked for many advertisers.
With every keyword theme you're presented with, the idea was to set up three separate ad groups targeting the same keywords differently. 
The first group would have the keywords and all of its variation in a "broad match." The second group would also have the same keyword and different variations in "phrase match," and the third group would have the same keyword and some other variation but in "exact match."
You were then to run the ads and review results, pausing the underperforming ones. 
However, Google has upgraded its ad system and changed how match types work. It no longer targets the keywords you enter but the meaning behind those keywords. In other words, entering exact-match keywords may trigger your ad for search terms that are not even in your list of exact-match keywords.
So, What Should You Do Instead?
The ad strategy that works now is to unify each ad group based on keyword themes or meaning. In other words, each ad group must bear keywords that all translate to the same meaning. 
After that, you want to go through each aggregate every 72 hours and complete a regular search tab audit – at least twice a week. We suggest you do this for a couple of months and then bring it down to once a week.
The idea is to select the keywords that aren't converting or relevant to the ad and add them to the negative keywords list. 
#2. Setting Up Your CPA or ROS Targets Too Early
Within the first three to four weeks of setting up your Google ads campaign, you'll receive a recommendation for setting up your CPA or ROS targets. 
Google has been giving this recommendation to advertisers, but in reality, it isn't benefiting their accounts in any way.
Worse, once you accept the recommendation, there's no way you can turn it off. 
So, what we suggest you do is reject it right off the bat. 
Let's give some background on why you should reject this recommendation.
Setting your CPA and ROS target too early will only hinder your campaign.
That's because Google doesn't base this recommendation on your account data but on the indexed data of other campaigns that they consider similar. 
For example, Google may recommend a CPA of $15, suggesting that you add this to your account. The CPA is usually based on other campaigns that they consider your direct competitors. 
However, not all the sites they consider your competitors don't qualify as direct competitors. For example, if your business sells gym equipment, Amazon isn't your direct competitor. You don't need to outbid them.
Your direct competitor is another company that also sells gym equipment exclusively. 
Plus, Google may be comparing data that are totally different from yours. For example, say you're only interested in tracking the end conversions. You may find they're comparing your data to click-to-call, purchases, or website visits data. 
In other words, they'll be giving you the recommendation based on what they think the conversion should cost, but not based on its actual cost. So, it's upon you to determine the actual cost. 
So, What Should You Do Instead?
Instead of relying on the recommended CPA or ROS from Google, you want to go to the keyword section of your campaign and click on auction Insights. You'll see a list of all your competitors, including the irrelevant ones.
You want to identify your direct competitors and ignore the rest. For example, in the screenshot above, Amazon isn't a direct competitor to a one-stop-baby shop, but babybunting.com.au and bunnings.com.au are. Those are the websites to compete with, not what Google considers your competition.
If you accept Google's CPA or ROS target recommendation, you're giving Google a strong signal that that's the level you're comfortable seeing your conversion value cost. 
So, if you set your CPA to $15, but end up running your campaign at $5, then you may never achieve the conversion you envisioned. 
So, instead of using Google's CPA recommendation, you want to start with the maximise click campaign for the first 15 to 90 days. After that, you want to move on to maximise conversion or maximise conversion value.
After you've gotten these two values, you want to keep going through or following through with the usual optimisation until you start to see stagnation in your results. It's at this point that you can go ahead and set your CTA targets or ROS. 
#3. Creating a Catchall Shopping Campaign
You've probably seen this strategy get hyped online. 
A catchall shopping campaign is exactly as it sounds. You set up one big campaign with all the products in your catalogue. The idea is to catch all potential searches for anything related to your products.
Instead of segmenting your products or services and splitting your campaigns based on price points, seasonality, brand, or category, you simply place all your products in a single campaign and let everything ride.
That way, you won't have to guess which product will perform well. It also means you don't have to segment the products based on conjectures or hypotheses. You run the products, obtain data, and let that do the talking instead.
It's like putting Google's algorithm to work and using the data it provides to serve the products based on demand.
If a product isn't performing as it should, you get rid of it – easy as that.
Here's what a Catchall shopping campaign looks like:
The Problem with this Strategy
First, the catchall shopping campaign screams laziness. That's because it takes extra time to set up a shopping campaign with defined ad groups. 
The ad groups must be set around different product categories. And within all those individual ad groups, you must go a step further and break down those categories to minimise their size.
That allows you to view and monitor your product feed in different sub-groups.
The catchall campaign strategy doesn't work because Google always pushes products based on impressions instead of their click-through ratios and conversion rates.
In other words, Google algorithms will continue to push products that are still aren't getting high results regardless of their cost per conversion. Google doesn't care about cost per conversion. It only cares about results.
So, while you ramp up those clicks and impressions, you may find that you're spending more than you should.
So, What Should You Do Instead?
The problem with catchall campaigns is that it's difficult to filter out underperforming products.
So, instead of taking the easy route by setting up a catchall campaign, we suggest you sort out your product-based campaign into different product groups. That will allow you to make major decisions if a whole category underperforms.
All you have to do is pause that entire ad group or asset. 
Some Final Words
It's simple, setting up a successful Google ads campaign is no longer about having a few tactical secrets up your sleeves but being strategical about how you run the whole campaign.
First, you must make sure you're setting up the campaign correctly. Make sure you have a solid, tried-and-tested campaign strategy in place. You must also schedule how long you will optimise your campaigns. We suggest doing it after every 72 hours or twice or thrice a week for the first 90 days. 
After that, you can take it down to about once a week. Anything lazier than that isn't going to get you the results you want. So, be prepared to put in the work and have a  checklist of what you need to be optimising your campaigns for.