The travel industry is a huge market, driving 5.81 trillion dollars of the global economy. Each year, travellers spend billions of dollars on flights, hotels, tours, cruises, and other travel services.
Given the enormous size and scope of the industry, it's no surprise that many travel agencies are competing for customers. While each agency offers a slightly different experience, one thing they all have in common is that they rely on technology to attract and engage potential travellers.
The travel industry is constantly evolving as technology becomes more advanced and travellers become more discerning. But with the advent of mobile applications, in particular, agencies have a powerful new tool to attract customers and drive sales.
Mobile Apps and the Tourism Industry
Interesting facts supporting the need for a mobile app:
#1. Most Downloaded App Category
According to Build Fire's study, travel and tourism are the 8th most downloaded app category. With millions of people downloading travel apps every day, it's clear that travellers are demanding more mobile solutions in their quest for the perfect trip.
Travel apps command 3.75% of the app market, more than any other service industry. That means that travel agencies have a unique opportunity to reach travellers on mobile devices and provide them with valuable services, from helpful tips on popular destinations to booking tickets, hotel rooms, and flights.
#2. Social Media Hype
72% of travellers turn to social media for travel inspiration. And when it comes to recommendations – the most trusted source is a friend or family member who has visited the destination.
With the rapid rise of social media, travel agencies must be active on platforms like Facebook, Instagram, and Twitter to reach a broad audience. But they can take this one step further by creating a social media presence within their mobile app, where users can engage with each other, share travel tips, and post photos and videos of their trips.
42% of travellers rely on mobile devices to plan their trips while on holiday.
#3. Digital Planning
While most travellers still rely on travel agents for their itineraries, many people do their own research online before booking anything.
30% use mobile apps to find the best hotel deals, while 29% use apps to compare prices of flights.
15% of users that download travel apps specifically do so to plan their trips ahead of time.
#4. Mobile Dependency
55.8% of tourists use mobile applications to check the weather.
49.1% use mobile apps for mapping features, while 62.1% use them to find nearby restaurants.
#5. Navigation
48.1% of tourists use the mobile app GPS to get travel directions while on vacation.
46% use mobile apps to find local hotels, while 36.1% use them to find popular places for shopping.
As you can see, the travel industry is becoming increasingly dependent on mobile applications.
With so many people using apps to plan their trips, find hotel deals, and travel directions, it's clear that agencies must take full advantage of this trend if they want to stay competitive.
Benefits of Mobile Applications for Travel Agencies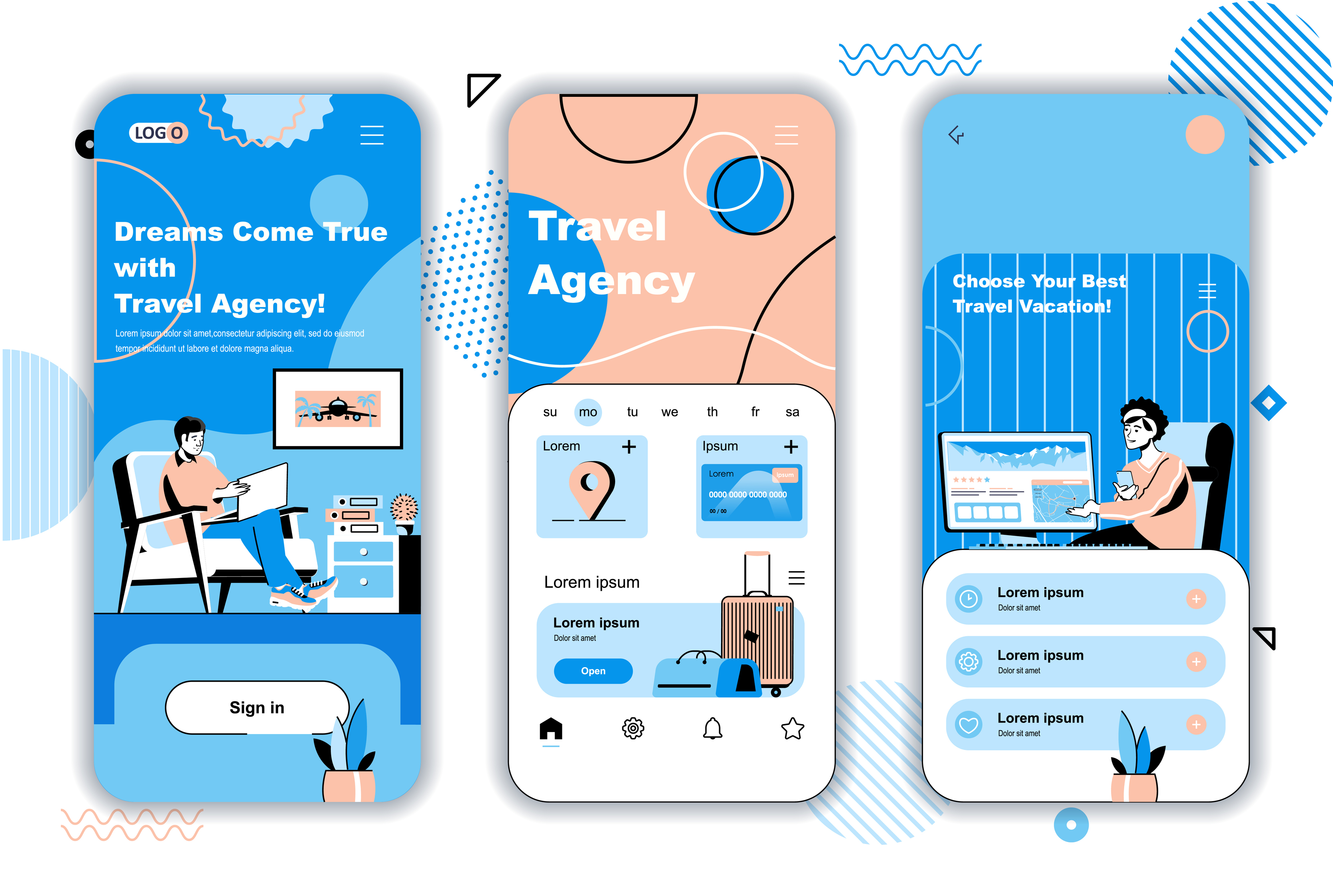 Before we dive deep into some of the reasons travel agencies should be using mobile apps, let's distinguish between different types of apps and the market segment they cater to:
Hotel Booking Apps (Booking.com, Airbnb)

Travel Planning Apps (TripAdvisor, Lonely Planet)

Transportation Apps (Uber, Lyft, Tickets.com)

Local Attractions and Events/Entertainment Apps (Fodor's Travel Guides, Time Out)

Flight Booking Apps (Hopper, Skyscanner)

Apps for packing and organizing your trip (Packing Pro, Packpoint)
---
Apps for packing and organizing your trip (Packing Pro, Packpoint)
With so many options available, it's clear that travel agencies have a wide range of mobile app choices.
Here are some of the key benefits travel agencies should expect from setting up travel apps:
Increased customer engagement and brand loyalty: Mobile apps allow users to stay connected with your agency at all times, providing a platform for communicating information directly to them and building trust.

Improved customer service: Mobile apps allow you to provide on-the-go assistance, answer common questions, and quickly resolve issues.

Improved efficiency and productivity: Travel agencies can use mobile apps to streamline processes and improve employee communication.

Increased revenue: By offering more services within an app and improving customer engagement, agencies can boost overall sales and revenue.

Overall, the travel industry is becoming increasingly dependent on mobile apps to reach customers, plan trips, and stay connected.
12 Reasons Travel Agencies Should Invest in Mobile Apps
Now that we know some of the benefits of mobile apps, let's take a closer look at why travel agencies should consider investing in them:
#1. Track Customer Actions: It's not just about travel agencies but every customer-oriented business looking to understand customer behaviour.
Mobile apps allow travel agencies to track what customers are doing, where they're going, and how they use your services.
They can then use this data to see what works best for them and adjust their actions and marketing strategy accordingly.
For example, you might find that certain marketing campaigns and promotional offers are more effective than others in driving app downloads or increasing user engagement.
This level of insight is invaluable for any business looking to optimize its strategy and maximize sales.
Mobile apps can access a range of people's personal information, such as their location, interests, and travel plans.
For instance, a mobile app will tell you:
Which introductory video or tutorial did a customer watch before making their first booking?

At what point in the travel process did a customer abandon the app or website –and can you pinpoint why?

What time of day are customers most active on your platform, and how does this affect conversion rates?

What's their preference for hotels, airlines, and other services?

What's their search history, and how can you personalize your offerings?

What's their travel destination (cafes, museums, nightlife, etc.)?
By tracking this data and using it to understand your customers better, travel agencies can better grasp what drives their behavior and delivers the best results.
#2. Create a Database of Quality Vendors: A key challenge for travel agencies is finding reliable and high-quality vendors to partner with.
Mobile apps can help to overcome this challenge by providing travel agencies with a database of vendors, complete with user reviews and ratings.
By partnering with trusted vendors and offering your customers a wide selection of services, you can improve the overall customer experience cost-effectively.
Some mobile apps also provide custom booking engines and other tools that help travel agencies manage their services.
Your customers can rate their travel experiences, from their initial booking to their home return.
Depending on the services you offer, you can base your evaluations on the following metrics:
Affordability

Comfort

Availability (often available/constantly booked)

Overall experience
You can then compile the rating and filter it based on popularity, location, or other criteria.
By leveraging the power of customer reviews and ratings, travel agencies can quickly source top-quality vendors and improve their reputation in the industry.
#3. Keep Customers Connected: Smartphones are constantly connected to the internet, making it easy for travel agencies to stay in touch with their customers at any time and place.
With a mobile app, you can send push notifications to your customers' phones whenever there's a new travel deal or promotion, allowing them to take advantage of the latest offers at their convenience.
You can also use mobile apps to provide real-time customer support, allowing your customers to get personalized help whenever needed.
For example, if a customer has trouble navigating your website or booking travel accommodations, they can simply send you a message through the app.
You can also use mobile apps to collect customer feedback after their trip, such as specific details on what they liked and didn't like about the experience.
Here are some of the customer communication features you can include in your mobile app:
Customer surveys and feedback forms

Instant alerts and push notifications

Real-time chat support

Private agents

On-demand customer service

24/7 support
Real-time updates on travel bookings, itineraries, and reservations
#4. Streamline Customer Involvement: A mobile app will make your work as a travel agency easy and more efficient.
With the right assortment of features, let your app do most of the work for you and your customers.
You just have to figure out the right functionality to add to your apps, like booking engines and customer support tools.
For example, you can use your app to help travelers do the following:
Check Availability:

Customers can quickly look up hotel, flight, or rental car availability through your mobile app.

Track Travel Itineraries:

If a customer has booked multiple travel services for their trip, your app can help them keep track of all the different bookings and schedules.

Manage Reservations:

Your customers can easily modify or cancel reservations from the convenience of their phones.

Instant Booking:

Customers can use your mobile app to book travel services as they research their trip, allowing them to plan and purchase everything in one place.

Add to Cart:

Your mobile app can also act as a digital shopping cart, where customers can save their favourite travel items and book them later.

Save Payment Information:

Customers can also store their payment information on your app, making it easy for them to make bookings and reservations without having to enter their credit card numbers every time.
By streamlining customer involvement and helping travellers do most of the work themselves, travel agencies can provide a better customer experience and build stronger relationships over time.
By enabling geolocation in your travel app, you unlock the following possibilities:
Sending out navigation tips to travellers based on their location

Notifying travellers about the nearest cafes, sightseeing spots, or attractions as they explore a new city

Offering discounts at local businesses in the area to help customers save money while they travel

Providing personalized content corresponding to where customers are currently located, such as their current weather or travel recommendations

Using cameras for augmented reality features, such as showing nearby landmarks or tourist attractions
In short, if you're looking for ways to streamline customer involvement and enhance the overall travel experience for your customers, investing in a mobile app is an excellent place to start.
#5. Provide Exclusive Offers and Deals to Build Customer Loyalty: Another key benefit of investing in a travel app is that it allows you to engage further with customers and build long-lasting relationships.
With your mobile app, you can provide exclusive offers and deals to travellers who regularly use your services or have repeatedly booked through your website.
Not only will this give customers a sense of exclusivity and a "membership" feeling, but it will also help increase their loyalty to your travel agency.
With regular and personalized outreach through your app, you can build brand awareness, showcase your offerings, and keep travellers coming back for more.
So, how do you use a mobile app to build customer loyalty?
Consider including the following features in your travel app:
A loyalty program that rewards frequent customers with points, discounts, and other perks

An interactive newsletter subscription to keep travellers informed of current news and deals

Customer testimonials or reviews so customers can see how others have benefitted from using your services

Partnership with local hotels, airlines, restaurants, and other businesses to offer additional discounts and benefits
These strategies will ensure a high return rate, increased customer satisfaction, and ongoing growth for your travel agency.
#6. Launch Efficient Re-engagement Campaigns: In addition to using your app to build customer loyalty, it can also be an excellent tool for re-engaging travellers who haven't booked with you.
Regularly prompting travellers to make bookings or visit your website through push notifications, in-app messages, and email campaigns will help improve conversion rates and boost sales.
Some tips for launching effective re-engagement campaigns with your travel app include:
Leveraging automated email marketing to send out targeted messages based on customer behaviour and past activity

Offering discounts or coupons via push notifications when travellers have left items in their shopping carts but haven't made a purchase

Incorporating gamification elements such as badges or points to increase customer engagement with your app and encourage repeat bookings

Offering customer support through an in-app chat feature so travellers can quickly get in touch if they have any questions or concerns about their upcoming trips
#7. Easy Bookings Under One Roof: One of the reasons many travellers opt to book their trips through travel apps is that they can do it all under one roof and tile.
With a mobile app, your customers can browse flights, hotels, rental cars, and more from multiple providers and make all their bookings in just a few taps.
That saves travellers a lot of time, helps them streamline the booking process, and increases overall customer satisfaction.
Simple tips for making this process even more seamless:
Offer a wide selection of travel options from multiple providers to accommodate all budgets, preferences, and needs

Include clear pricing information for every booking option so travellers can easily compare costs

Provide a streamlined checkout process with payment options like PayPal or Apple Pay to simplify the payment process and make bookings even faster.

Add features like saved itineraries, wish lists, and reminders to help travellers keep track of their upcoming trips and ensure that all of their bookings are made well in advance.
#8. Personalize the Customer Experience: One of the best ways to build customer loyalty is by providing a personalized, high-quality experience at every stage of the booking process.
A mobile app gives you a unique opportunity to do so, as it provides you with valuable data and insight into your customers' needs and preferences.
Using this data, you can create targeted marketing campaigns, suggest relevant products and services, and provide individualized support to your travellers.
Tips for personalizing your customer experience:
Collect data about each traveller's past bookings and behaviour through features like saved itineraries or booking history.

Use analytical tools and A/B testing to determine the most effective marketing strategies for each traveller.

Incorporate chatbots or live-chat features for travellers to get in touch with your support team if they have any questions about their upcoming trips.
#9. Cashless Transactions: Many travellers today prefer to use mobile payments rather than carrying cash or credit cards, and integrating this functionality into your travel app can help you meet this demand.
By offering a wide range of payment options such as Google Pay, PayPal, Apple Pay, and more, you can make it easy for travellers to book their trips from anywhere with just a tap of their phones.
Tips for optimizing your app's payment features:
Offering travellers multiple ways to pay, including both credit cards and mobile wallets

Including clear descriptions of any additional fees or processing times associated with each payment method, so customers have all the information they need to make a decision

Ensure that your payment platform is secure and encrypted to protect customers from potential data breaches or identity theft
#10. Reduce Unnecessary Paperwork: Imagine dealing with all of the paperwork that comes along with booking a trip — flight confirmations, hotel reservations, rental car agreements, and more.
A mobile app can help you streamline all this paperwork and reduce the time travellers spend on administrative tasks.
Some tips for minimizing paperwork with your travel app include:
Incorporating digital forms and e-signature functionality so travellers can book their trips online without having to print out any documents or sign any contracts

Using electronic receipts and notifications to automatically generate, send, and store all booking confirmations in one central location on the app

Integrating booking and trip management features, so travellers can manage all of their upcoming trips in one place without having to switch between multiple apps.
#11. Get Real View Pictures and Travel Experiences: How would you like to see the world through your customers' eyes?
A travel app that incorporates photo and video-sharing features can help you do just that, allowing travellers to post real-time updates and pictures of their experiences on social media.
It helps you build a stronger connection with your customers and gives prospective travellers an authentic look at your travel offerings.
Some tips for integrating photo and video-sharing features into your travel app include:
Include a user-friendly interface that makes it easy for travellers to capture and upload photos with just a few taps of their phones

Link your app to popular social media platforms like Instagram or Facebook so travellers can easily share their content with a broader audience

Provide travellers with the option to geotag or tag their photos, making it easier for other users to discover and explore new destinations.
With a mobile travel app, your customers can plan, book, and enjoy every aspect of their trip from start to finish — all with just a few taps on their phones. So why wait? Invest in your travel agency today and enjoy the many benefits of a mobile travel app.
#12. Eliminate Some of the Obstacles of Starting an Online Travel Agency:
Running an online travel agency can be challenging at times, as it requires you to constantly stay ahead of the competition and meet the evolving needs of travellers.
A mobile app can help you address some of these challenges by making it easier for travellers to find and book their trips while also providing valuable data to help you optimize your marketing strategies.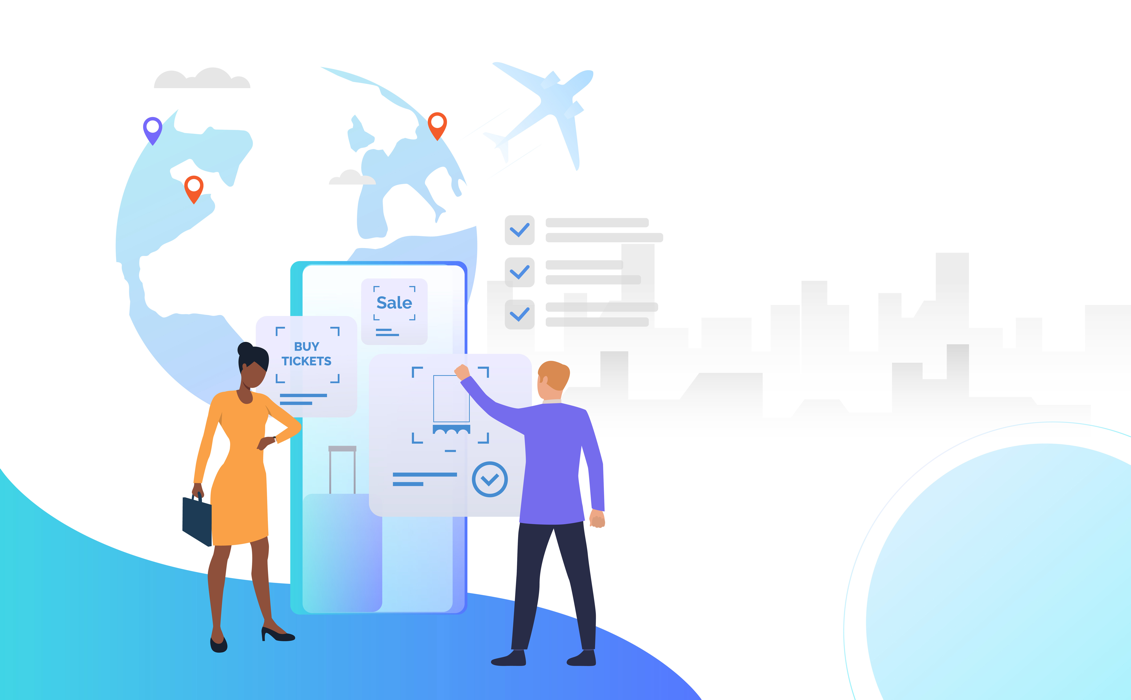 Here are some of the significant operating challenges travel agencies face and how a mobile app can help you overcome them:
Competition from online travel aggregators like Expedia or Priceline, who have invested heavily in their digital platforms and have a much larger reach than many traditional travel agencies
You can use your mobile app to extend your reach and compete more effectively with these larger players.
Managing customer expectations as travellers today have come to expect fast and easy service when booking trips online.
By offering a range of payment options through your app, you can make it faster and easier for travellers to book their trips without wasting lots of time filling out paperwork.
Data Duplication as many travel agencies rely on multiple third-party apps to manage different aspects of their businesses, such as marketing and booking platforms
With a mobile app, you can consolidate all your data into one convenient location and avoid duplication errors impacting your record accuracy.
Less online credibility: travellers may be hesitant to book trips through a smaller travel agency that doesn't have an established online presence.
Investing in a mobile app can help build trust with travellers and show them that you are committed to meeting their needs.