10 UX/UI Trends to Watch Out For in 2023
Trends are like the waves of the sea — here one minute, gone the next. Whether fashion, lifestyle, or technology, trends come and go in the blink of an eye. However, those that follow the user tend to win their hearts and outlive the rest. The same is true for trends in UX/UI design.
Personalization, data storytelling, scrolly-telling, voice user interfaces, conversational UI, and buttonless UI are some of the most exciting UX/UI design trends to watch in 2023. Our research team has scoured the globe for the latest UX/UI practices and trends set to dominate the industry this year.
Now, all that's left is to sit back and enjoy the ride.
#1. Personalization
No, we're not talking about adding someone's name to a user interface or sending them birthday messages. Personalization in 2023 will be all about using first and third-party data to tailor the user's experience to their needs and interests. We'll see a significant rise in using artificial intelligence (AI) and machine learning (ML) to create personalized experiences.
A great example of this is Netflix's ability to recommend content based on the user's viewing history. No two Netflix accounts serve the same content, as the streaming service uses AI and ML to surface the most relevant titles for each user.
Amazon is another great example of personalization with its personalized recommendations and AI-powered product discovery. Users don't just see what's on sale. They're also presented with the items they're interested in based on their past browsing purchase history.
According to a Salesforce survey report, 73% of customers expect (not wish) companies to understand their needs and preferences and deliver tailored experiences.
With many customers being vocal about their expectations and demands, it's safe to say that personalization has the power to increase customer loyalty.
Twilio ran a different survey, where 49% of the respondents claimed that they would become repeat buyers if they were offered personalized experiences.
As a UX/UI designer, you must strive to make the user's experience as personable as possible.
So, how do you make sure your design is personal?
Not every website or mobile app will require personalization, but when they do, here are a few tips to keep in mind:
Gather users' data points to understand their preferences and interests.

Use AI/ML technologies to provide personalized experiences and recommendations.

Test and iterate the design based on user feedback.

Integrate personalization tools into the UX/UI design.

Provide multiple options for users to customize their experience.
You can use many great tools and technologies to ensure personalization is a part of your UX/UI design.
They include but are not limited to:
Google Optimize: Google Optimize is a freemium web analytics and testing service that helps you test different variations of your website design to find one that optimally meets the needs of your target audience.
Its targeting feature also lets you segment your website visitors based on a range of different criteria, including demographics, interests, behaviour, and device type.
Hyperise: Hyperise is one of the most sought-after personalization tools on the market today. It allows you to customize websites, emails, and landing pages based on visitors' data. The platform also has a powerful AI engine that helps you find the best website elements to match user preferences.
Personyze: Personyze has a smorgasbord of personalization features and solutions that you can use to personalize your website and serve your visitors exactly what they're looking for, including behavioural targeting and automated segmentation. It also has powerful analytics tools to track user behaviour and preferences.
#2. Focus on Accessibility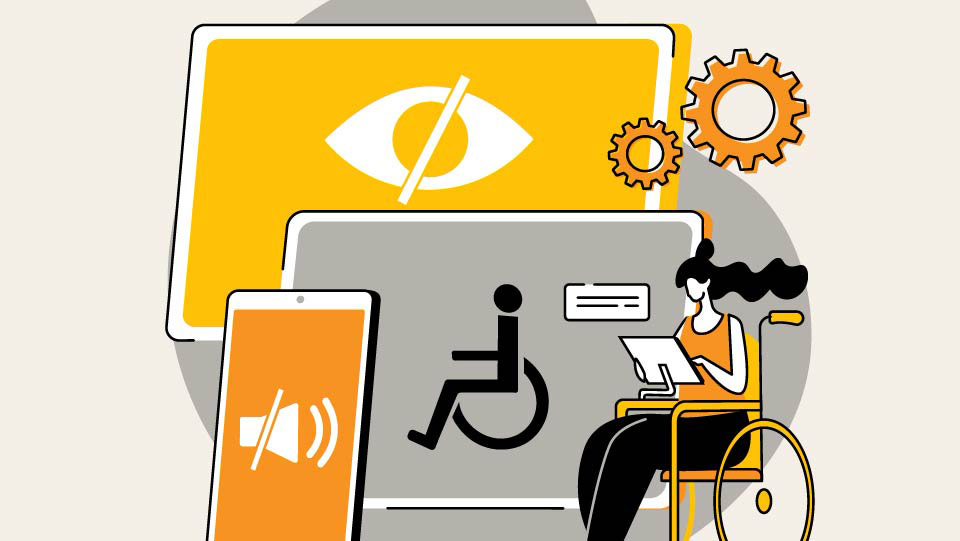 As people become more aware of accessibility issues, we'll see more UX/UI designers prioritizing it in their products.
That requires that UX designers deeply understand the best practices for accessibility and how to design for a broad range of users, including those with disability.
Your first concern should be on users who can't use the mouse. It could be that the user is blind, visually or motor impaired, or prefers to use a keyboard to complete certain tasks, such as filling out a form.
In these cases, the user is likely using a keyboard, screen reader, or emulated keyboard.
As a UX/UI designer, you want to ensure your user interface is designed such that it can be used without a mouse.
Remember, keyboard operability is also a concern with mobile devices. It's also common for users with disabilities to use external keyboards on their mobile devices, especially those who find touch gestures difficult.
Here's what you want to do:
Ensure every function can be operated with a keyboard without a specific timing for individual keystrokes.

Be sure to trap the keyboard function within a component

Avoid keyboard shortcuts if you can. And if you must implement them, you must ensure they don't interfere with common browser shortcuts and screen readers and that they can be turned off.

A change in focus shouldn't trigger a change in content, viewport, or user agent

Make sure all complex interactions conform to the practices recommended in the

ARIA Authoring Practises document
#3. Scrolly-telling
Scrolly-telling will play a significant role in the UX/UI designs of 2023. One thing we can all agree on is that normal page scrolling is boring. It's not dynamic, regardless of how much animated or video content it has.
In comes scrolly-telling. Scolly-telling, as the name suggests, is a design trend that tells a story vertically, requiring the user to scroll. It's a design trend that's been around for a few years now, but it's only recently that it began to gain traction.
Example:
https://themeisle.com/blog/wp-content/uploads/2022/10/pixie-think-website.gif
There's no limit on how far you can go with this design trend. But the core idea is that it includes a lot of full-width images and eye-catching graphics.
It may also feature advanced design elements like animations, GIFs, and parallax scrolling.
The trend is pretty common with one-page designs, but there's no reason it can't work with multi-page websites.
The scrolling can be adjusted to display more specific user behaviours. For example, you can make a transition zoom a video in and out or change the size and shape of an image.
Brands can leverage this trick to ensure a fluid or smooth display of their products.
#4. Digital Well-being
The Covid-19 pandemic changed a lot of things.
The pandemic kept people in prison in their homes for a long time. As a result, people got lazy and used to getting things done to them in the comfort of their homes.
They developed a reliance on digital products, and even after things receded to normal, some things had morphed into a habit.
As it turned out, an average person spends about 11 hours per day staring at a screen (whether smartphone, laptop, TV, or desktop).
That's nearly half their time and even more when you deduct sleeping time.
Sometimes, the on-screen time can go up to 19 hours per day.
With these big numbers comes the risk of insomnia, depression, and many other things we humans dread about.
That's why we're advised to focus on our well-being and screen time. It's probably also a good idea to add tracking tools to a mobile app that helps users take control of their unhealthy habits.
One approach you can use is to push daily statistics to users when they exceed their screen time limit.
We all know how difficult it is for one to break a habit. But this type of awareness can be a step in the right direction.
#5. VR/AR
Over the past few years, Virtual Reality and Augmented Reality have become increasingly accessible to most businesses.
They have become the go-to technologies for UX/UI designers who want to build awe-inspiring websites and applications.
Augmented Reality (AR) is real-life scenes augmented by sound, graphics, and other computer or app-generated inputs. It's where reality meets the virtual world.
When a computer simulates the real world, it becomes virtual reality. In other words, virtual reality is a computer simulation mimicking the real world.
The two are incredibly effective and can be helpful to businesses that want to create a unique experience for their customers.
So, how can VR and AR be integrated into UX/UI designs?
Through Virtual Showrooming:

You can use AR/VR to bring your in-store experiences to your customers. It's 2023, and customers are becoming apprehensive about spending too much time in public places, not when they can still enjoy the convenience of shopping in their homes.
You can save them the trip to your physical store by bringing the in-store experience to where they are. That way, they'll be more motivated to try out the product after experiencing it in the virtual world.
Use AR/VR to Enhance Personalization and Customization:

Virtual experiences can also be used to provide customized or personalized experiences for your customers.
For example, let's say you're in the business of selling cabinets. You can use virtual reality to give your customers an accurate glimpse of what the cabinet will look like in their homes.
The same can be said about custom housing and landscaping projects.
The more visualization you provide to the end user of your product or service, the more they're likely to move forward with the project or place an order.
Use the Technology to Add a Gaming Element to Your Site:

One way to go about it is to use AR/VR to showcase your product in all dimensions. Let them see how beautiful or minimalist the product is before they can invest their hard-earned money in it.
You can even gamify the whole experience by allowing your customers to earn points or discounts for every gem they find.
This strategy will only let you win customers, but you're also likely to trend in no time.
Use it to Educate Your Customers on How Your Products Work:

You can also use AR and VR to educate your customers on how your product works.

The idea is to create a virtual world where your customers can see what will happen to them when they try out your product.
Let them learn an important concept and use your product better by creating an immersive experience for them. For example, you can have them try your makeup product on a virtual face.
Let them apply the makeup and award them points whenever they do it right.
To Give Your Customers a Tour of Your Company or Store:

You can also use AR and VR to take your customers on tour. Take your whole company online and let them see how you handle various aspects. This is especially important when dealing with a safety product where the customer may be suspicious of the production process.
Encourage Virtual Try-ons:

If your brand sells makeup, clothes, jewellery, and other accessories, then you can use AR and VR to let your customers try on your products before they can buy.
People love trying on new products, especially necklaces, watches, and sunglasses. It gives them the same sensation as shopping in a physical store.
If implemented properly, AR/VR rendering can be an excellent strategy to generate more sales and drive more traffic and engagement.
#6. 3D Imagery
3D images are eye-catching and more convincing than their bland corporate illustrations counterparts. In 2023, designers will start to pay more attention to photos by editing them and making them more colourful and dynamic. Bland illustrations will be decorated, adding more information.
In an attempt to find a more interesting way to display images, they'll turn to 3D objects, hence the trend.
The style will continue to grow and evolve as the years go by.
#7. Gradients
Gradients will again play a key role in storytelling and visualization. Designers will become bolder, shifting to complex shapes and vibrant colours.
The gradient trend gives creative designers more visual options. They can use this to evoke certain feelings and emotions in the users' hearts.
It's common for brands to use soft gradients to influence the customer's thinking and actions.
Vibrant colours work well with fitness, city styles, and fashion. If you plan to keep people uplifted and concentrated, like in e-learning or fitness, we suggest you use bright colours.
#8. Dark Mode
Some of your product's users will operate in a low-light environment, while others have poor vision. You can make their life easier by enabling a dark mode.
The idea is to create a toggle button that lets users switch between light and dark modes.
Those who prefer dark mode can do so with a simple button toggle and vice versa.
#9. Bold and Large Fonts
The easiest way to know what's trending is to check with some of the world's top brands. You can go through the websites and see what they're using.
You'll notice in almost all of them that they have switched to a more readable, less informative, and minimal design.
It's, therefore, safe to say that bold and large are the new trend in 2023.
#10. Mobile-first Design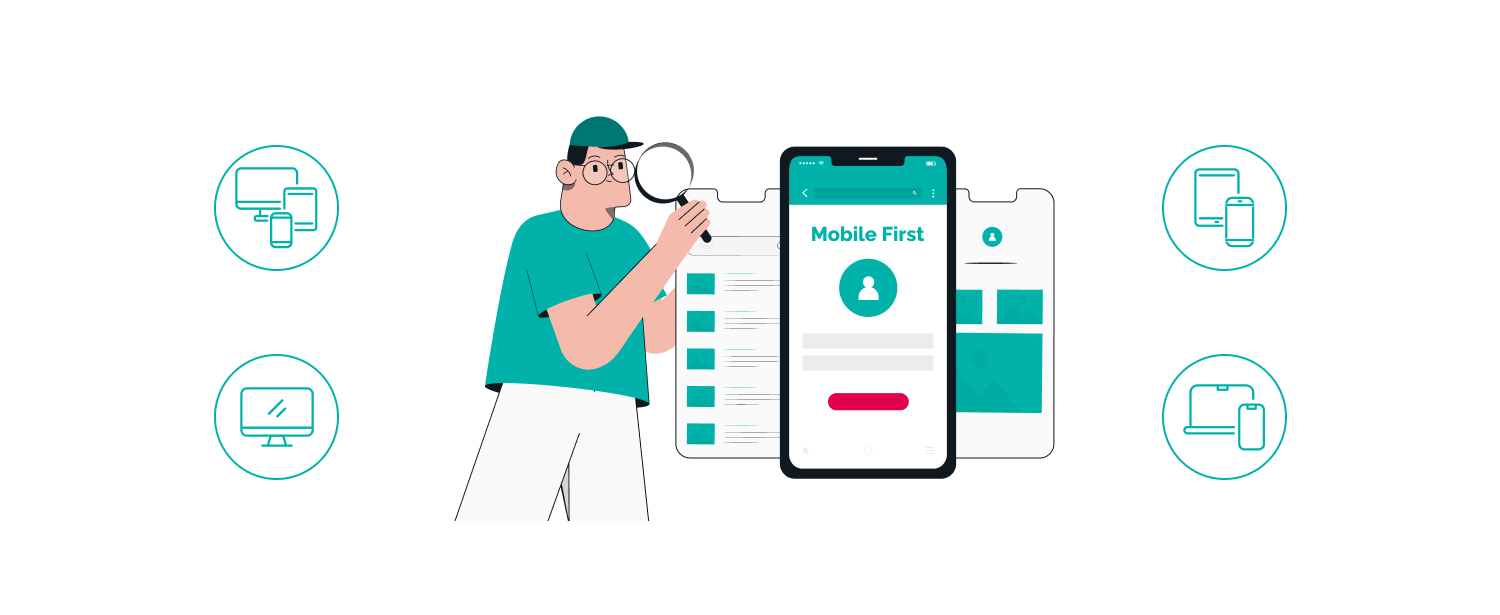 By creating a mobile-first design, you'll make a seamless buying experience for your customers regardless of their device. The truth is the vast majority of the customers you attract will view your website via a mobile device.
For this, you want to build a website that prioritizes mobile users.
Everything must feel seamless for mobile users. After that, you can tweak it to accommodate desktop and laptop users.
The Final Wrap
Knowing what's trending is only half the battle. The other half is figuring out how to apply it to your product. You want to go through these trends and see how other people use them for their web or app products.
Remember, some of these trends are here to stay and will continue to influence UX/UI design for many years.